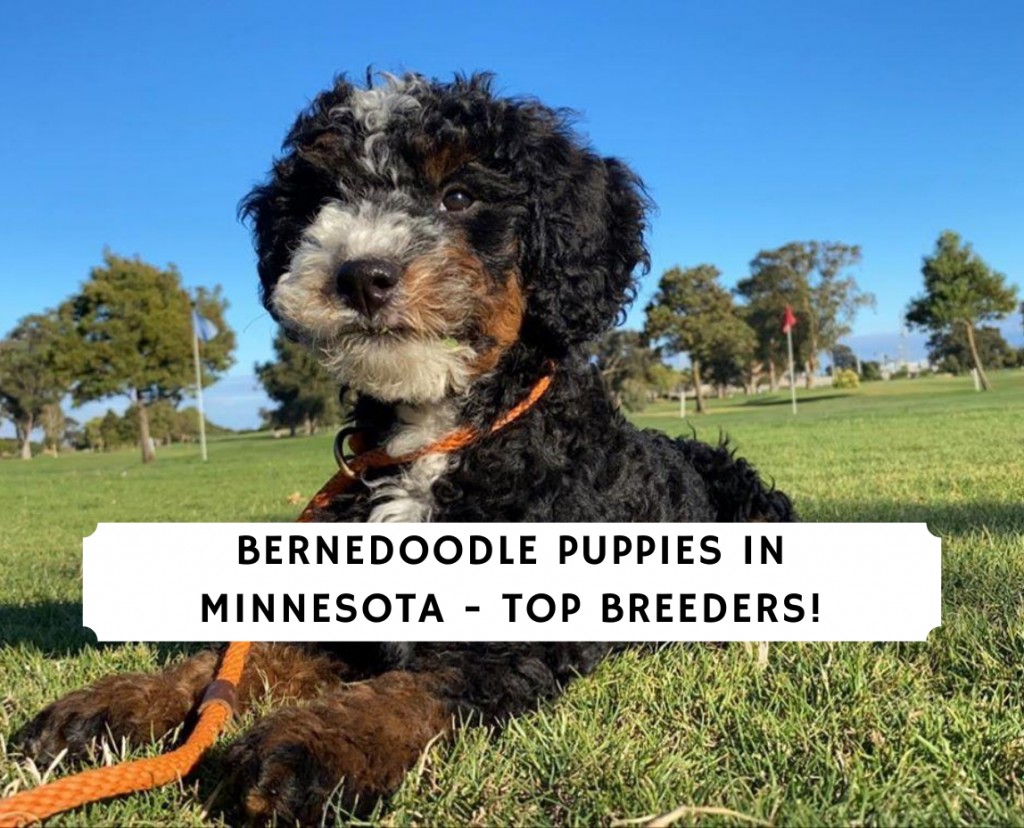 When purchasing a Bernedoodle puppy, getting a healthy dog with an excellent temperament is crucial. As with mother nature, nothing can be assured 100% of the time even with outstanding breeding practice, but you don't want a puppy with severe genetic issues. Bernedoodles can still be susceptible to diseases and health issues such as Von Willebrand disease, eye and heart disease, and hip and elbow dysplasia. The best Bernedoodle breeders in Minnesota will test for these genetic issues.
Choosing a reputable breeder is one of the steps you can take to increase the odds of having a healthy Bernedoodle by your side. When choosing the best doodle for you or your family, we know things can get pretty overwhelming and there is lots of research involved.
That's why we have come up with a list of the top 6 Bernedoodle puppies in Minnesota to help you find the perfect breeder. If you're in another state, you can check out our other top 6 Bernedoodle lists or read on as most of the breeders on the list offer various delivery options that can suit you.
Other articles you would like: Goldendoodle Breeders in Minnesota and Labradoodle Breeders in Minnesota.
Bernedoodles have become so popular in Minnesota due to their multi-color coats. Unfortunately, you won't find a reputable breeder without a long waitlist. This is one of the reasons that PuppySpot is #1 on our list. Simply because they are a community of ethical dog breeders around the United States that have Bernedoodle puppies available for sale today.
Since they are a network of Bernedoodle breeders, you can choose between a puppy based on their coat color, gender, price, generation, and size. This makes it extremely easy to select your ideal puppy and get it within a couple of weeks. We got one of our doodles from PuppySpot and had a great overall experience. They still keep in touch with us today to see if we have any questions about raising our puppy.
Another benefit of using PuppySpot is that they are responsible breeders that are thoroughly vetted. PuppySpot has a "no puppy mill" promise that is backed by the American Kennel Club. This 100 point inspection only results in less than 10% of all Bernedoodle breeders get accepted. These strict requirements give you peace of mind that you aren't supporting a puppy mill and will be getting a healthy Bernedoodle puppy in Minnesota. We highly recommend that you check them out.
Bernedoodle Puppy Information:
Generation: All generations including F1, F1B, F2, F2b, Multi-gen
Size: Tiny, Mini, Medium, and Standard Bernedoodles
Bernedoodle Breeder Details:
2. WhiskeyCreek Doodles Bernedoodles MN
WhiskeyCreek Doodles Bernedoodles MN has 20+ years of experience in breeding Bernedoodles and Bernese Mt. Dogs. All their purebred adult dogs are registered with the AKC and extensively checked with OFA and Paw Print Genetics for optimal health and temperament. They were one of the first Bernedoodle breeders in the USA.
Their Bernedoodle puppies in Minnesota are raised in their home and socialized with kids of all ages to help them grow kid-friendly. The pups are also exposed to lots of smells, sounds, sights, and scenery on their 20-acre hobby farm to ensure they are well-rounded and can easily fit into any family.
In addition to this, WhiskeyCreek Doodles Bernedoodles MN also starts the Bernedoodle puppies on crate training and doggie door training to make it an easier transition into your home.
All the pups are given age-appropriate puppy vaccines and every WhiskeyCreek Doodles pet owner receives an extensive health record listing dates of worming and vaccines their pups have had. All vet care for adults and puppies is done on-site by their on-call, local Veterinarians.
They have various delivery options such as ground transportation to MSP or FSD airports or in-person pickup at Carver, Minnesota.
When you buy a Bernedoodle from WhiskeyCreek Doodles, you buy into a vibrant community that you and your family will enjoy being part of. WhiskeyCreek Doodles are Minnesota state and AKC inspected and compliant. They offer up to a 2 year health guarantee and lifetime support.
Bernedoodle Puppy Information:
Bernedoodle Breeder Details:
Location: Near Pipestone, Minnesota [45 min. to Marshall MN, 1 hr. to Sioux Falls SD]
Website: WhiskyCreek Doodles
Email: support@whiskeycreekdoodles.com
3. Northwood Doodles MN
Northwood Doodles are a Shepadoodles, Goldendoodle, and Bernedoodle breeders in Minnesota. They specialize in F1 and F1B Bernedoodles that are going to be mostly hypoallergenic and nonshedding. They aim to breed an amazing ideal Bernedoodle puppy for you and your family.
Their parent dogs go through extensive health checks to determine that their health and genetics are in check and they won't be passing genetic diseases to their offspring. All their Bernese parent dogs are AKC registered. Most of their parent dogs live in their home while the rest live in hand-picked guardian homes.
Northwood Doodles raise their Bernedoodle puppies in Minnesota on their 50-acre home with their family of 6. Once you have selected a specific litter, Northwood Doodles requires a $200 non-refundable deposit. If you are interested in puppy training, they can link you up with a certified dog trainer nearby.
Each puppy's price depends on its color. Berdoodles that are tri-color, merle, phantom, and sable are priced higher at $3500. Meanwhile, Bi-color Bernedoodle puppies are $3200 and Black and Whites are $2800. Each pup comes with a 1-year health guarantee and lifetime support.
Bernedoodle Puppy Information:
Bernedoodle Breeder Details:
Location: Kittson County, Minnesota. About 1 hour from Thief River Falls, Minnesota.
Address: Hallock, MN 56728
Telephone: 218-754-2515
Website: northwooddoodles.com
4. Bouncing Bernedoodles in Minnesota
Just outside Rochester, Minnesota, Bouncing Bernedoodles breeds F1B and F2B Bernedoodles for families looking for a companion, service, or therapy dog.
Bouncing Bernedoodles live with all their parent dogs on an acreage where the dogs have lots of room to play around and frolic. All their dogs are extensively tested for genetic disorders and have certifications from reputable organizations like the OFA. In addition, their Bernese parent dogs are all AKC registered.
They raise their Bernedoodle puppies in kennels where they have installed in-floor heating to keep the pups safe during Minnesota winters and summers. You can rest assured that these are some of the most reputable Bernedoodle breeders in Minnesota.
Bouncing Bernedoodles MN price their pups according to size, marking, colors, and time of the year. Their litters are usually well-booked in advance and it can take a while to get your dream Bernedoodle puppy in Minnesota. To secure a spot on the waiting list, they require a $500 non-refundable deposit that can be transferred from one litter to another. This usually happens when you don't match with any puppy in the litter you had earlier selected.
The pups come with a 1-year health guarantee and lifetime support from the Bouncing Bernedoodles team.
Bernedoodle Puppy Information:
Generation: F1B, F2B Bernedoodles
Size: Mini, Medium Bernedoodles
Bernedoodle Breeder Details:
Location: Olmsted County, MN. About 1.5 hours from Minneapolis, Minnesota.
Address: Near Rochester, Minnesota
Telephone: 507-251-1909
Website: bouncingbernedoodles.com
Email: luvmydohshorses@gmail.com
5. Archer Hill Farm Minnesota
Archer Hill Farm is in Southern Minnesota and specializes in breeding Aussiedoodles, Bernedoodles, and Goldendoodles. They strive to produce quality puppies that will become the best family members for you. 
All their Bernedoodle parent dogs are selectively bred from quality parents with ideal health, excellent temperaments, and beautiful coats. In addition, their Bernedoodle puppies come with a 2-year health warranty and a 1-year hip warranty.
Archer Hill Farm price their Bernedoodles according to size, color, and marking. Generally, their Bernedoodles cost between $3500 to $4000. To reserve a puppy, Archery Hill Farm requires a non-refundable deposit of $500. 
Bernedoodle Puppy Information:
Generation: F1 Bernedoodles
Size: Petite, Standard Bernedoodles
Bernedoodle Breeder Details:
6. Houskerville Doodles MN
Houskerville Doodles MN is the brainchild of the lovely couple, Mr & Mrs. Housker. The couple breeds Aussiedoodles, Goldendoodles, and Bernedoodle puppies in Minnesota on their 80-acre farm.
Their adult Bernedoodle dogs are all tested for genetic and health conditions as well as temperaments. The dogs currently live in their home and are kept in kennels at night to ensure the dogs' safety. During the day, the dogs get to play around and enjoy the expanse of the Housker's farm.
At the time of this article, the Housker's were in the process of building an addition to their home purely dedicated to the Bernedoodle dogs with a grooming table, wash sink, whelping room, puppy playpens, and bedding area.  
When the dogs' whelp, the mamma and litter are kept on a 24/7 watch in their living room. Houskerville Bernedoodle puppies in Minnesota come with a 1-year health warranty that covers anything that could be genetically wrong with your puppy. To secure a spot on the waiting list, Houskerville Doodles require a non-refundable deposit of $500.
Generally, their Merle colored Bernedoodles go for $3800, Tri-color, Phantom, and Apricot colored Bernedoodles go for $3500 and their Black and White-colored Bernedoodles for $2800. For current pricing, please email them using the contact details below.
Bernedoodle Puppy Information:
Generation: F1B Bernedoodles
Size: Mini, Petite Bernedoodles
Bernedoodle Breeder Details:
How to Choose a Bernedoodle Breeder in Minnesota
When selecting a Bernedoodle breeder in Minnesota, be sure to conduct extensive research to properly understand the breeder and the processes they go through to breed a doodle. 
One of the things we highly recommend you ask for when contacting a breeder is health records. Good breeders will have various tests performed on their parent dogs to determine their health and genetics. In addition, they usually have a health guarantee against genetic diseases.
Here's a list of 5 test results you should ask for:
Eyes – Eyes are screened by an ophthalmologist and certified by OFA or the Canine Eye Registration Foundation (CERF)
Elbows – Elbow Dysplasia is a skeletal condition that usually affects Bernese Mountain dogs. Bernedoodles can inherit this painful disease. Elbows are X-rayed during the certification process. If they are good, they are OFA certified.
Heart – This test is conducted by a Vet and a passing certification sent to OFA.
Hips – Hips are X-rayed and certified by OFA or the University of Pennsylvania Hip Improvement Project also known as PennHip.
Von Willebrand Disease – This disease is commonly known as vWD and is caused by a lack of plasma protein called Von Willebrand Factor (vWF) that helps the blood to clot. It is usually inherited by the Bernedoodle from its parent breed, the Bernese Mountain dog. It results in excessive bleeding from the dog's body parts even from very minor wounds. This disease is usually checked with a blood screening or DNA test.
The breeder should be able to provide you with these results as well as for the past multiple generations of the breeding stock.
Conclusion for Bernedoodle Puppies in Minnesota
There are tons of good Bernedoodle puppies in Minnesota since doodles are growing in popularity. Our top 6 Bernedoodle breeders in Minnesota is a guide to help you locate your future Bernedoodle. We wish you all the best as you start your journey to becoming a Bernedoodle owner! 
Other articles you will like:
Garrett loves animals and is a huge advocate for all Doodle dog breeds. He owns his own Goldendoodle named Kona. In addition, he volunteers at the Humane Society of Silicon Valley, where he fosters dogs and helps animals. Garrett enjoys writing about Doodles and believes that dogs can teach humans more about how to live than humans can teach a dog.
Why Trust We Love Doodles?
At We Love Doodles, we're a team of writers, veterinarians, and puppy trainers that love dogs. Our team of qualified experts researches and provides reliable information on a wide range of dog topics. Our reviews are based on customer feedback, hands-on testing, and in-depth analysis. We are fully transparent and honest to our community of dog owners and future owners.