If you're searching for black Goldendoodle puppies for sale, then this list will help you with the most reputable and trustworthy breeders. Many reputable Goldendoodle breeders are happy to match you with your perfect puppy. Below you will find a list of some of the most reputable Goldendoodle breeders across the United States. These breeders are known for providing their customers with healthy and beautiful puppies. If you are ready to welcome a black Goldendoodle into your family, check out the list below and contact them today.
Before scrolling down this list of black Goldendoodle puppies for sale, you might be interested in our other recommendations: Best Mini Goldendoodle Breeders in the United States and F1 Goldendoodle Puppies For Sale.
Black Goldendoodle Dog Breed Info
Before we get into the breeders, it is essential to clear up any misconceptions about Goldendoodles. Despite their name, these dogs can be born in a variety of colors. The "golden" in Goldendoodle refers to the Golden Retriever parent that is used for breeding. However, Goldendoodle puppies can be black if both the parent dogs used during breeding carry the recessive black gene.
Related Goldendoodle Articles: Types of Goldendoodle Colors and Types of Goldendoodle Coats.
Black Goldendoodle Breeders in the United States
Black Goldendoodles are rare in color but not impossible to find. The breeders below are known to have bred black Goldendoodle puppies in recent years. However, the color of the puppies cannot be guaranteed until after they are born.
Get started in advance with our recommendations for your black Goldendoodle: Best Dog Bed For a Goldendoodle and Best Comb For a Goldendoodle.
1. Keepsake Goldendoodles
First on the list of breeders with Black Goldendoodle puppies for sale is "Keepsake Goldendoodles." At Keepsake Goldendoodles, located in Norton, Ohio, their goal is to provide all customers with healthy, social, and active Goldendoodles. Starting as a Havanese breeder, Keepsake Goldendoodles has been continually approved and honored by the American Kennel Club (AKC). They even received a Breeder of Merit award for their quality Havanese puppies. The AKC only recognizes purebred dogs in their program. So, because Goldendoodles are a hybrid mix of Golden Retriever and Poodle, the Goldendoodle puppies cannot be AKC certified.
However, knowing the excellent success Keepsake has had with their purebred dogs, you are guaranteed to get top-quality care when it comes to the Goldendoodles. The founders of Keepsake Goldendoodles have over 30 years of experience in breeding and obedience training, with many of their dogs going on to win awards in the show ring. Two of the founders are trained and experienced veterinary technicians guaranteeing they put the health and safety of their dogs first and foremost.
You can find a list of all parent dogs on their website. For each parent dog, you can find the results of the health tests that these dogs have undergone to ensure they will not pass down any genetic problems to their offspring. Along with each parent dog, you can also find upcoming pairings for litters. With each pairing, you can see the two-parent dogs being used, the expected size of the puppies, and the expected colors of the litter. Remember, color is never guaranteed as many factors are affecting this.
However, they do currently have dogs who carry the black gene. The cost of Goldendoodle puppies ranges from $3,000 to $3,500 at Keepsake Goldendoodles. This can vary slightly based on the size and color of the puppy. If you are interested in adopting one of these dogs, fill out the Puppy Adoption Questionnaire on their website. Based on this questionnaire, if you are judged a good fit for a Goldendoodle puppy, Keepsake Goldendoodles will contact you with further steps such as deposits and waiting lists.
Keepsake Goldendoodles Details
2. Lakeview Doodles
Lakeview Doodles, located in Rochester, New York, has provided customers with high-quality English Goldendoodles for over 15 years. Now, if you are wondering what the difference between an English Goldendoodle and a standard Goldendoodle is, we got you covered. English Goldendoodles have English Cream Golden Retriever parents as opposed to American Retriever parents. English Cream Goldens are lighter in color. That being said, these dogs can still have the recessive black gene, meaning they can create black puppies.
At Lakeview Doodles, you can choose from a variety of Goldendoodle sizes. They have miniature, petite, and tiny puppies for adoption. All puppies, regardless of size, are born and raised in the family home, ensuring they are socialized from the very first moments of their lives. All parent dogs can be found on their website. You will find a photograph of each parent, along with all health certifications. These certifications ensure these dogs are free of common genetic ailments found among the breed; this reduces the likelihood that puppies will suffer from these ailments.
Lakeview Doodles currently has parent dogs who carry the recessive black gene. Prices can vary depending on the size of Goldendoodle you desire. Tiny petite puppies are $4,000, and the other sizes are $3,500. You will also have to pay a small $250 non-refundable deposit for reserving your spot on the waiting list.  This deposit is taken off the final price of your puppy. If you are interested in adopting a Lakeview Doodle, you can fill out an application form on their website. Once your application has been approved, Lakeview will contact you with further details regarding your new puppy.
Lakeview Doodles Details
3. Almond Blossom Doodles
Almond Blossom Doodles, located in beautiful central California, is California's first English Goldendoodle breeding program. With over 15 years of experience, Almond Blossom Doodles provides its customers with beautiful and health-tested miniature and medium-sized Goldendoodle puppies.  All puppies at Almond Blossom Doodles are treated as part of the family from the very day they are born. Almond Blossom takes a hands-on approach to breed Goldendoodles, providing each puppy with personalized care and socialization early in life.
They want their puppies to be happy and healthy when given to their forever homes, where they will continue to enrich and be enriched by their new family. All puppies at Almond Blossom Doodles are ready for pickup at eight weeks of age. Each puppy comes with a two-year health guarantee, collar, leash, and snuggle puppy to make their transition home more manageable. Each puppy has also undergone dewclaw removal, deworming, vaccinations, and microchipping before adoption.
Currently, Almond Blossom Doodles have dams and sires that carry the recessive black gene. Hence, puppies have the potential to be born black. These parent dogs are also fully health-tested and registered with the appropriate agencies to ensure they are in perfect health before giving birth. If you are interested in adopting a well-socialized and healthy Goldendoodle puppy from Almond Blossom Doodles, contact them today. They are happy to help you with all the following steps to welcoming home a beautiful Goldendoodle puppy.
Almond Blossom Doodles Details
4. My Little Doodle
Last on the list of breeders with Black Goldendoodle puppies for sale is "My Little Doodle." At My Little Doodle, they specialize in breeding Goldendoodle puppies with the great temperament of Golden Retrievers and the intelligence and non-shedding coat of Poodles. Located in Winter Springs, Florida, My Little Doodle is a small home-based breeder. The small size of this breeder means they typically only have about two litters a year. This small amount of litter guarantees your future puppy is given direct attention and care.
My Little Doodle focuses on breeding medium-sized Goldendoodles. These dogs can be in a variety of colors, including black. All parent dogs are health tested thoroughly to prevent the transfer of genetic diseases to offspring. When adopting from My Little Doodle, you will be given a two-year health guarantee. This ensures your puppy is in good health at the time of adoption. You will be required to pay a non-refundable deposit to hold your spot on the waiting list. This deposit will then be deducted from the final price of your puppy. However, puppy prices vary depending on the color, size, and availability of the litters.
All puppies at My Little Doodle are exposed to Early Neurological Stimulation (ENS) from an early age. This training aids in the growth and development of robust immune systems, healthy cardiovascular functioning, and stress management. Puppies are also started on crate and litter box training before adoption. If you are interested in adopting a Goldendoodle puppy from My Little Doodle, check out their website. Here you can find a copy of the health guarantee and contract that will be required at the time of adoption. Once you are familiar with these documents, contact My Little Doodle to learn about the next steps of bringing home a puppy of your own.
My Little Doodle Details
Conclusion For "Black Goldendoodle Puppies For Sale"
As you can see, there are many Goldendoodle breeders across the United States. These breeders are reputable and proven to provide customers with top-quality dogs. However, not all breeders are as responsible as those listed above. When choosing a breeder, always ensure that they conduct health tests on their parent dogs. This ensures your puppy is least likely to develop any genetic diseases. Always avoid puppy mills, as they mistreat their dogs resulting in sick and bad-tempered puppies.
Another thing to consider when choosing a breeder is location. Some breeders are willing to ship puppies across the country, while others have a strict policy against this practice. If you are worried about transportation, inquire about the breeder's shipping policy before committing to a waiting list. Those who cannot pick up their puppy at the proper time may lose their spot on the list or have their puppy sold to another family.
Lastly, if you are looking for a specific color of Goldendoodle, inquire about the parent dogs used in breeding before paying a deposit. In particular, if you are looking for a black Goldendoodle, you should ask if current parents host the recessive black gene. If their dogs do not have this gene, you will not get a black puppy. It's also important to be open-minded about color when adopting a Goldendoodle. Even if both parents carry the black gene, it does not guarantee there will be black puppies. Keeping an open mind allows you more options for these beautiful puppies.
To learn more about the Goldendoodle dog breed, you can check out our other helpful guides:
You can learn more about the black Goldendoodle by watching "Our Puppy Routine with a Black Goldendoodle" from A&B down below: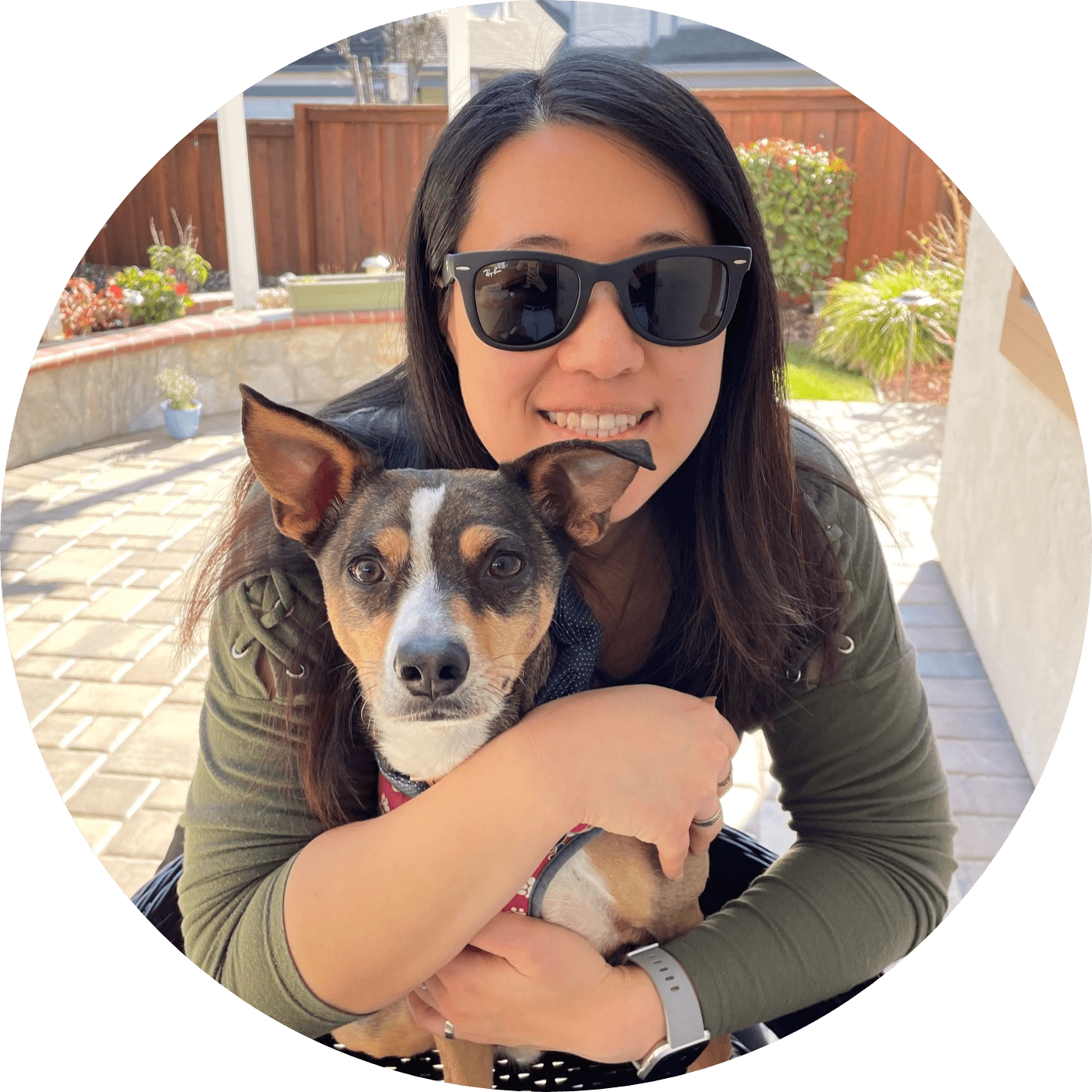 Dr. Sabrina Kong graduated from the Royal Veterinary College in England in 2016 and has been working at a small animal clinic in Northern California since then. She grew up in the Bay Area and got her bachelor's degree from Cal Poly San Luis Obispo. She also became a Certified Canine Rehabilitation Practitioner through a program at the University of Tennessee.
When she isn't in the clinic taking care of her four-legged patients, she enjoys traveling and trying new foods with her friends and her three-legged dog, Apollo. She adopted Apollo from her clinic when he was a puppy with numerous health issues. Dr. Kong truly cares about taking care of animals.