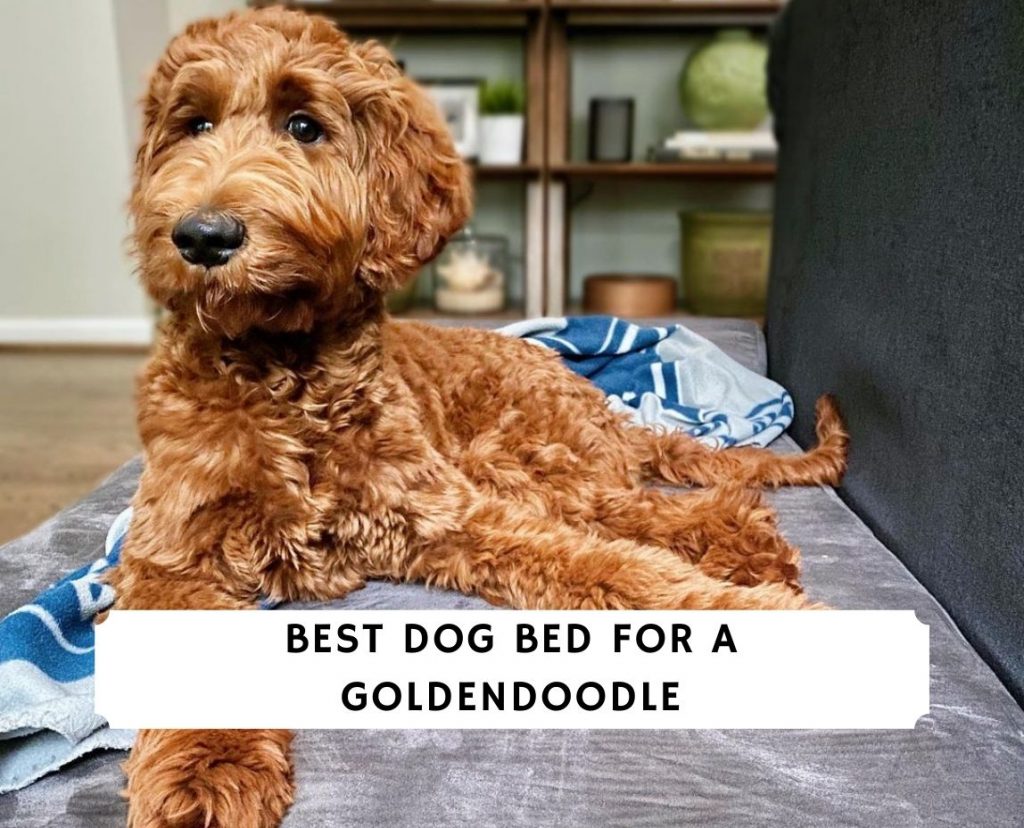 A Goldendoodle is a hybrid breed that has the genes from both the Golden Retriever and Poodle. The first Goldendoodle came to life around the 20th-century. Since then, it has been a source of love and comfort for many owners like you. 
There are so many people like you who love their Goldendoodle. This breed of dogs is loyal, friendly, intelligent, and crazy for outdoor adventures. They get super get tired and loves to unwind after a long outdoor adventure. Just like us, a Goldendoodle loves to relax on its bed for a majority of the day. This is why a comfortable bed is an important dog accessory. 
There is nothing more comfortable than a dog bed for a Goldendoodle. Their bed will quickly become one of their most favorite objects where they spend most of their downtime. Luckily for you, we've tested all kind of dog beds to help you make an easy decision.
In a rush? Here are the top picks!
Image
6 Best Dog Beds for Your Goldendoodle
Several brands make amazing dog beds for Goldendoodles. With so many available options, it becomes hard to pin down the right bed. Consider yourself lucky as we have done all the homework for you. Below is a list of top Goldendoodle beds for your lovely pet. 
If you have a standard sized Goldendoodle, this is the right dog bed. All big Goldendoodles require more than just a normal bed to help support their joints and provide them a spot to rest. The Big Barker is a 7 inch pillow bed with all the features that enhance a dog's quality of life. 
This is an orthopedic dog bed that perfect for older and bigger dogs. Unlike other dog beds, this bed doesn't flatten with time, is very easy to clean, and has a wonderful and unique design. This dog bed distributes your Goldendoodle's weight equally throughout its surface. Irrespective of your pet's weight, this bed doesn't fail to provide a comfortable surface for your dog and it will be one of their favorite spots!
Since 80% of large dogs go through joint pain as they grow old have a good dog bed is essential. The most common painful conditions are arthritis and hip dysplasia. These conditions can can ruin a Goldendoodle's quality of life if they don't have a supportive bed. To cater to these health issues, the Big Baker came up with this orthopedic bed.
This bed gives an old dog the rest it needs and provides comfort for young and healthy puppies. It has a unique 3-stage foam construction that is comfortable on a dog's joints. The middle layer of the foam provides support and prevents pressure points from hitting the hard floor.  
This is not just an orthopedic bed – it is much more. This bed has a wonderful design. With a velvet couch, this bed looks like an extraordinary piece of furniture. Additionally, it is also very easy to clean as you just unzip the cover and wash it in a machine. 
Features
Size: 48 X 30 X 7 inches
Material: Microfiber
Color: Khaki
Type: Orthopedic Dog bed
It comes with a 3-stage construction foam
Velvet Couch
Machine washable
This PetFusion's dog bed is everything your Goldendoodle puppy needs to rest on. This bed comes with so many premium components like solid memory foam and a waterproof liner. The liner works as a water and tear-resistant cover for the mattress in case your Goldendoodle loves to scratch or has an accident. The foam is of superior quality and provides great comfort. 
This bed is very good for Goldendoodles with orthopedic issues. The design and mattress reduce joint pain in dogs and improve your pet's mobility, health, and energy. Additionally, this dog bed also works as a calming bed for your Goldendoodle. If your dog suffers from anxiety, this bed is its savior. 
The ultimate dog bed is highly durable as it comes with a comfortable and strong polyester twill. The bed's smart design consists of an outer pillow that provides immense support to the Goldendoodle's head and neck. This pillow comes enclosed in a washable and waterproof cover. If required, you can also get a replacement cover available separately.
There are a few things that you must know when you buy this bed. The bolsters come with their covers on. You just have to insert the memory foam and close the zip. The pillow and the mattress cover both are very easy to clean. You just have to remove the cover and wash them in a machine. While washing, do not apply bleach to the covers. 
Features
Size: 36 x 28 x 9 inches
Material: Polyester, Cotton
Color: Slate Grey
Type: Orthopedic 
It comes with a 4-inch memory foam
Durable polyester
Water-resistant covers
Non-skid bottom
Can hold a weight of 100 plus pounds
Machine washable
This is a very high-rated dog bed for mini Goldendoodles. The best thing about this bed is its comfort level as it has gel memory foam. This therapeutic foam provides a comfortable environment for your dog and relieves him from all kinds of pains. 
The memory foam supports your Goldendoodle and caters to his health issues such as joint pains and arthritis. It releases pressure with high density to support the areas of pain.
 This bed comes with two long and two short bolsters sides which support your Goldendoodle's head and neck and provides them with a comfortable position to rest. These bolster sides come with zippered covers. The mattress cover and the bolster covers are machine-washable. You can easily slide off the removable covers and clean them conveniently. 
 This dog bed is available in multiple sizes. You can choose from small, medium, and large. The bed size depends on the size of your Goldendoodle which they are micro, teacup, mini, medium, or standard. Make sure you measure its size before you head out to buy its bed. 
This dog bed comes in a light grey color. This is a perfect neutral shade that can blend well with your home's interior.  The bed arrives in a vacuum packing. You just have to unzip it and wait for the next 72 hours for it to inflate. 
Features
Size: 21 x 16.5 x 12 inches
Material: Plush fabric
Color: Grey
Type: Orthopedic
Memory foam
Lounger pillow bed
Waterproof inner lining
Removable covers'
Machine-washable
If you want an orthopedic dog bed you should consider the Laifug dog bed. This bed has an ergonomic design that supports all the beauty and health requirements. 
This orthopedic dog bed for Goldendoodles is perfect for the standard size. It comes with memory foam which is super soft 40D. This combination of memory and softness gives your dog immense comfort and support. The best feature about this memory foam is that it doesn't flatten. The company guarantees that the mattress won't flatten for the next three years. 
This bed comes with a very smart design. It comes with a high 3-inch pillow and a high 1.8 inch pillow. These pillows play a big role in supporting your pet's head and neck while it rests. The pillows give your dog the security he requires to spend a comfortable night. 
The mattress and the pillows both come with covers. They are microfiber covers and are so soft to touch. These covers are also water-resistant and you can unzip these covers and throw them into a washing machine. Within minutes, they will be as clean as they were when the bed first came in. The mattress has an inner waterproof liner that protects the memory foam from all kinds of liquids. 
There is no doubt that this bed will become your Goldendoodles favorite resting spot with a great design and structure. 
Features
Size: 50 x 36 x 10 inches
Material: Memory foam
Color: Grey
Type: Orthopedic
Microfiber covers
It comes with two pillows
Machine-washable
Isn't buying a high-quality bed for a Goldendoodle a dream of every dog owner? If that is your dream too, choose the Dogbed4less bed!
This bed is a premium quality dog bed at an affordable price. It comes with memory foam, heavy covers, and a smart design and structure to support your puppy's sleep needs. This bed carries some very amazing features that look after your dog's health needs. This dog bed is a true example of a purchase that delivers great money value. 
Additionally, the bed comes with a memory foam that supports your Goldendoodle's orthopedic needs. The extra-large foam measures 40″ x 35″ x 4″. This gel-infused foam is hypoallergenic and releases pressure from your dog's joints. Additionally, this bed doesn't flatten easily over time like some of its competitor products. It retains its original shape and structure for as long as three years. 
The mattress of this bed comes with an inner liner. This liner is waterproof and absorbs all the liquids in case your Goldendoodle isn't fully potty trained. This saves the mattress and increases its life.
The dog bed comes with one internal cover with a zipper and one external khaki cover, both for the foam. The khaki cover is extremely durable and has a zipper too. Both covers are easily washable. When you buy this bed, you also get one free micro suede brown external case and an extra-large foam pad.  
Features
Size: 40 x 35 x 4 inches
Material: Microfiber cover
Color: Khaki
Type: Orthopedic 
Memory foam
Inner liner
Pillows
Washable zipped covers
It comes with a free external case
Your doodle will love this dog bed. It is made with extra love and care, keeping in mind all your dog's needs. This is a luxurious bed with extravagant features and there is no way your dog won't get solid, deep sleep. It comes with cushioned poly-fill pillows to give your dog an easy and comfy environment.
The bed foam has a water-resistant liner and is very durable. This long-lasting foam helps to release your dog's joint pains. This bed has a size of 36 in x 28 in x 9 inches. This size is perfect for a couple of small Goldendoodles or one standard sized Goldendoodle. Irrespective of the size of your dog, this bed provides very nice hip, bone, and head support for your lovely dog.
In addition to all the above characteristics, this bed comes with very soft and durable covers. These top-quality covers are hair resistant, tear-resistant, and do not slip easily. The covers are also machine-washable which means cleaning this bed will be easy.
Features
Size: 36 x 28 x 9 inches
Material: Polyester
Color: Grey
Type: Orthopedic
Poly-fill pillows
Memory foam
Tear-resistant covers
Machine-washable
How to Choose a Dog Bed for a Goldendoodle?
A dog bed for a Goldendoodle is an essential accessory where they will spend most of their time throughout the day. There are so many factors that play a role in deciding what kind of bed you should buy. Since every Goldendoodle is different, you need to ensure that the bed you choose meets all the needs.
Take a look at all the considerations before your final purchase. Your dog's age and health issues will also play an integral role in selecting the right type of bed for them.
1. Size 
Your Goldendoodle's dog bed must complement its size. Before you buy a dog bed, make sure you are aware of your Doodle's size. Measure your dog's length and width to determine the size of the bed. If possible, get an understanding of your pet's sleeping position to make an informed decision. 
2. Material 
Once you are out on your search, you will find various beds available in all kinds of materials. Choose a material that suits your dog's habits. If your Goldendoodle isn't potty-trained, choose a material that is waterproof and easy to clean. Also, consider a dog bed with grip on the bottom because Goldendoodles tend to like to run and jump on their beds.
3. Shape
The shape of the bed is as important as the size. Different Goldendoodles sleep differently. Buy a bed in the shape that compliments the sleeping position of your pet. Some Goldendoodles like round dog beds where they can curl up into a ball while others like rectangular beds they can stretch out on.
4. Type
You will find plenty of dog bed types. There are donut style beds, pillow style beds, orthopedic dog beds, dog mats, and many more. It all comes down to your dog's needs, habits, and requirements. If you Goldendoodle has joint pain, we highly recommend an orthopedic dog bed to relieve their joints.
5. Color and Design
Your Goldendoodle's dog bed becomes an important accessory of your living room. So when you choose one, keep in mind the interior and design of your house. Choose a bed design and color that makes your dog feel a part of your family. You won't want a large dog bed that sticks out like a sore thumb when you have guests over.
6. Maintenance 
At the end of the day, you will have to clean your Goldendoodle dog bed. If you want to make this easy, choose a bed that is easy to clean. The best ones are those that can easily wash in a machine. So choose a dog bed with removable covers that are easily washable.
Conclusion for the Best Dog Bed for a Goldendoodle
There's nothing more important than your Goldendoodle's sleep. Since Goldendoodles are so adorable and easygoing, they need all the comfort they can get while sleeping. Do not forget to consider all the above factors before you head over and buy a dog bed. Make sure you get your puppy the most comfortable bed ever so they can chill out after a very playful day.
Garrett loves animals and is a huge advocate for all Doodle dog breeds. He owns his own Goldendoodle named Kona. In addition, he volunteers at the Humane Society of Silicon Valley, where he fosters dogs and helps animals. Garrett enjoys writing about Doodles and believes that dogs can teach humans more about how to live than humans can teach a dog.
Why Trust We Love Doodles?
At We Love Doodles, we're a team of writers, veterinarians, and puppy trainers that love dogs. Our team of qualified experts researches and provides reliable information on a wide range of dog topics. Our reviews are based on customer feedback, hands-on testing, and in-depth analysis. We are fully transparent and honest to our community of dog owners and future owners.