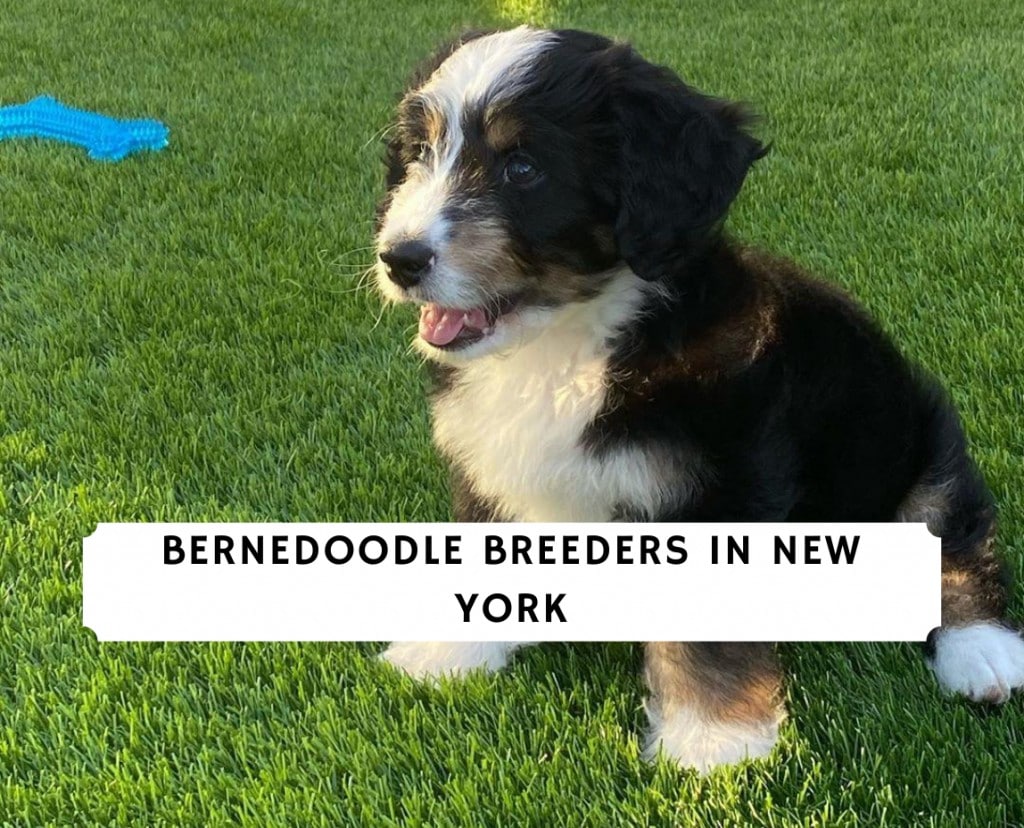 Bernedoodles are a popular crossbreed that can sometimes be challenging to find. When you search for Bernedoodle breeders in New York, you want to know that you're getting a healthy dog from a reputable breeder. Not all breeders are the same so it's important that you do a lot of your own research before putting a deposit down on a Bernedoodle puppy.
The challenging part is really finding a Bernedoodle breeder that isn't running a puppy mill or fronting for a puppy mill with their dogs. We saw several of these as we researched Bernedoodles puppies for sale in New York. You have to be careful and do considerable research; if you buy a Bernedoodle from a puppy mill, you may end up with a dog that has genetic diseases that will cost a fortune in medical bills.
We've done some of the hard work for you and found the best Bernedoodle breeders in New York, so we can present you with a list of suitable options to check out. Of course, always do your research because breeding practices do change.
Other articles you will like: Goldendoodle Breeders in New York and Labradoodle Breeders in New York.
Shady Oaks is one of the best Bernedoodle breeders in the New York – and the nation, even. They focus primarily on breeding miniature multi-generational Bernedoodles that have a consistent coat and temperament. Additionally, all their Bernedoodle parent dogs undergo rigorous health tests to ensure that the puppies will be healthy. All their puppies are veterinarian checked at eight weeks, de-wormed, and up to date on vaccinations prior to going to their forever home.
One aspect that differentiates Shady Oaks from other Bernedoodle breeders is that they have a deep understanding of how dog coat genetics work. This allows them to produce Bernedoodle puppies that are low to non-shedding as well as mostly hypoallergenic. Their puppies typically have a wavy coat style that is highly desirable. In addition, all of their puppies are raised inside a family home and not outside in a kennel. They are treated like pets and raised in a loving environment.
This Bernedoodle breeder also offers training prior to receiving your puppy. This is a huge plus if you plan on making your Bernedoodle a service dog or emotional support animal! They partner with Heel House K9 which works on basic obedience, potty training, and well as crate training. This will enable your puppy to receive the best possible start in life as they will learn basic commands.
Shady Oaks has a wonderful flight nanny who delivers Bernedoodle puppies across the United States at an extremely affordable price. We highly recommend this Bernedoodle breeder if you're looking to get a new puppy that will be healthy and happy.
Bernedoodle Puppy Details:
Size: Mini Bernedoodles
Generation: Multi-Generation (low shedding and hypoallergenic)
Bernedoodle Breeder Details: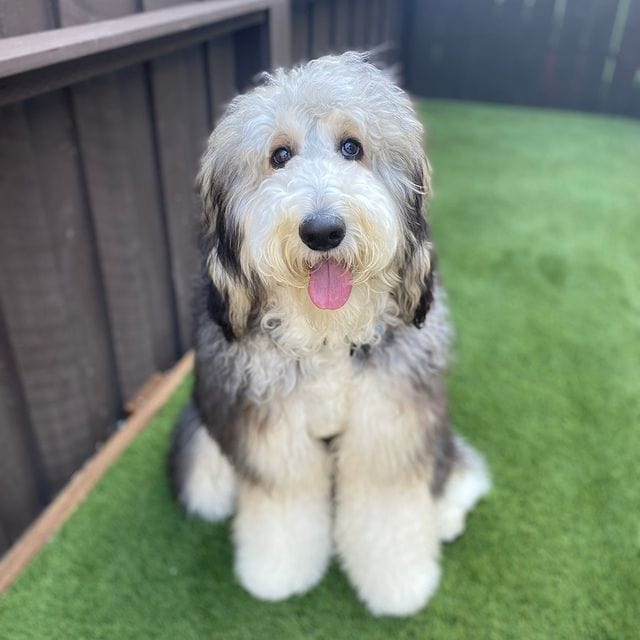 Premier Pups is a one-stop shop for providing small breed puppies to customers including miniature Bernedoodle puppies.
Their team members are a family of dog lovers. They are knowledgeable and are willing to answer any questions you may have to help your mini Bernedoodle puppy adjust to the new surroundings as quickly as possible.
Before the puppies arrive at your home, an on-site veterinarian thoroughly checks your puppy alongside a Premier Pups Puppy Care specialist. Health examinations before departure include abdomen, heart, knee, and vision. Also, you get a 10-year health guarantee with every miniature Bernedoodle puppy for sale.
You can also ask to perform the Chem 10 blood test, a thorough examination of the puppy's organ function. It helps detect mainly issues with liver and kidney functions.
Premier Pups' 24/7 on-site staff strives to solve any query you might have. You can either pick up your Bernedoodle puppy by visiting their facility in Ohio or choose from various available delivery options through both road and airways. Premier Pups regularly delivers Bernedoodles to New York. If you're looking for a mini Bernedoodle, we highly suggest you reach out to Premier Pups.
Bernedoodle Puppy Details:
Size: Mini Bernedoodle puppies
Generation: All generations
Bernedoodle Breeder Details: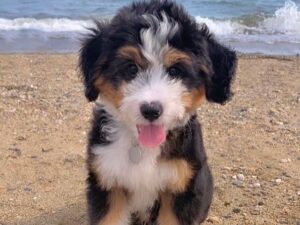 Many future Bernedoodle owners struggle to find a breeder they're most comfortable with. After all, you're likely going to be putting a deposit down several months in advance to getting a puppy. It's not easy finding the best Bernedoodle breeders in New York which is why we recommend PuppySpot on the top of our recommendations.
PuppySpot is the go-to spot for a Bernedoodle puppy because you're dealing with breeders that are strictly screened, licensed, and state-approved. With a few searches and clicks, you'll be a few steps closer to introducing a Bernedoodle companion into your home. Since they are a network of reputable dog breeders, they have Bernedoodles puppies for sale today. You can use PuppySpot's one-of-a-kind feature to find the age of a dog, the color, the coat type, and much more.
In case you're unsure about raising a Bernedoodle puppy, there are numerous listings with a variety of dog breeds. Our team highly recommends you check out PuppySpot first before contacting each individual breeder yourself. We bought one of our Goldendoodles from them and had a really great experience. All puppies come with a health guarantee, health inspection, and certifications. PuppySpot is backed by the American Kennel Club (AKC) as well!
Bernedoodle Puppy Details:
Size: Mini, Medium, and Standard Bernedoodle puppies
Generation: All generations and multi-generational Bernedoodle puppies
Bernedoodle Breeder Details:
4. New York (NY) Bernedoodles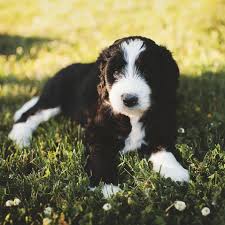 New York Bernedoodles is one of the original (and only) breeders located on Long Island in New York. You really can't surpass the original, particularly when they have a good reputation and follow best practices for the Bernedoodles that they breed.
Their Bernedoodle puppies in New York are raised in the home as part of the family and no cages or kennels are ever used. Dogs get plenty of love and attention and are raised around kids and other pets of the home. This means that the puppies will be well socialized which helps them transition to their forever home. They breed mini Bernedoodles and teddy bear Doodles. In addition, they also have standard Bernedoodles if you're looking for a larger dog.
You can find a multitude of information about the Bernedoodle dog breed but also about the breeder by checking out their website. They share pictures, planned litter dates, and other news. The pictures and information about dams and sires will give you a sense of how big a potential Bernedoodle dog will be and show their coat colors. Contact this Bernedoodle breeder to determine whether the waitlist has been opened.
Bernedoodle Puppy Details:
Bernedoodle Breeder Details:
5. Bella Bernedoodles New York
Bella Bernedoodles is located in Worcester, New York which gives them the versatility to serve a lot of areas in the state. They breed both standard and miniature Bernedoodle puppies. Bella Bernedoodles is well known and reputed across the northeastern United States in places like New York, New Jersey, Pennsylvania, Vermont, and Connecticut.
They have a lot of good ratings and testimonials that you can find on their website and in basic search results. They have a lot of neat pictures there and on their Facebook page. You can view exactly what the parent Bernedoodles look like and what you can expect in a puppy.
This company breeds solely from champion Bernedoodle bloodlines. All parents and puppies are health tested and you receive your puppy with their age-appropriate treatments and vaccinations. In addition, their Bernedoodle puppies in New York are socialized and well taken care of. They play with people and other animals. In addition, you will meet the breeder, get to know them, and view their breeding facility.
Bernedoodle Puppy Details:
Size: Medium and Mini Bernedoodle puppies
Generation: Multi-generational, championship Bernedoodle puppies
Bernedoodle Breeder Details:
6. Adirondack Mountain Doodles New York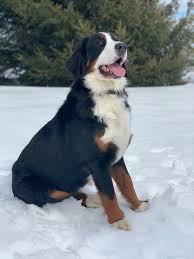 This breeder is located in Northern New York, near the Adirondack Mountains just as their name suggests. They breed both Pyredoodles and Bernedoodles; the team began breeding Bernedoodle puppies in 2019 and they've done great so far. Their Bernedoodle puppies are F1 medium standard sizes. This means that they come from a Bernese Mountain Dog and a Poodle and they are the first generation of crossbred offspring.
All of the parents have been health tested and have great temperaments. They are family pets that are loving, calm, and fun all in one bundle. In addition, their Bernedoodle puppies in New York are gorgeous and loyal, while also being super smart and well socialized.
This Bernedoodle breeder family has a Facebook page where you can follow the parents and the puppies and get to know the whole family. There are tons of pictures and reviews to check out as well! The dogs are socialized and treated like part of the family with no kennels and cages to keep them contained.
Bernedoodle Puppy Details:
Size: Medium and Standard Bernedoodle puppies
Generation: Multi-generational, F1 Bernedoodle puppies
Bernedoodle Breeder Details:
7. Bernedoodles at Willow Ridge Kennels
Bernedoodles at Willow Ridge Kennels is located in Rochester, New York. They run a breeding and training facility that is focused on Bernedoodle puppies. They've been breeding since 2018 and have exceptional recommendations and testimonials as well.
Their Bernedoodle puppies in New York are loyal, intelligent, playful, and easy-going. They have regular litters but they tend to be fairly small so it's important to stay up to date and watch their website regularly. The benefit of this Bernedoodle breeder is that they start training practices and working with the puppies early.
The Bernedoodle puppies are raised and started with house training as well as are loved on and socialized. They can even typically understand some basic commands like sit before they go home with you. All Bernedoodle puppies are healthy, happy, loved, and will make a great addition to any home!
Bernedoodle Puppy Details:
Size: medium and standard size Bernedoodle puppies
Generation: Multi-generational Bernedoodle puppies
Bernedoodle Breeder Details:
Location: Rochester, New York
Phone: 585-944-4300
Email: info@willowridgekennels.com
Facebook: Social Media
8. Country Hill Bernedoodles NY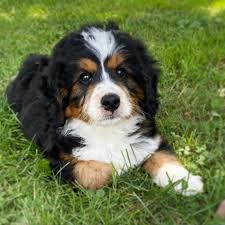 Country Hill Bernedoodles is located in Fillmore, New York. Andrea stays busy and her litters are usually spoken for ahead of time. Currently, her waitlist is even full but you can certainly watch for opportunities that might open up with her.
This breeder raises high-quality puppies that are raised to be family companions. This Bernedoodle breeder is a family that lives on a small farm area in Western New York. The breeding dogs are members of the family and the Bernedoodle puppies are raised in the same way so they are healthy and socialized.
Their Bernedoodles are currently tri-colored F1 standard sizes but they sometimes rotate their specializations. They have a multi-generational setup that includes F1B and F2 Bernedoodle generations as well. The parents are all AKC registered and genetic health tested before they being breeding. All their Bernedoodle puppies in New York come with a two-year health guarantee.
Bernedoodle Puppy Details:
Size: Medium and standard size Bernedoodle puppies
Generation: Multi-generational, F1, F1B, F2 Bernedoodle puppies
Breeder Details
What Do the Sizes Mean for Bernedoodles?
There are many different size ranges of Bernedoodles. You can find small, standard, and even mini or toy Bernedoodle puppies. A popular breed is the Teddy Bear Doodle which is the toy size. The most common sizes are mini or standard.
The classifications are determined based on the parent dogs, and always depends on what size Poodle and Bernese Mountain Dog are bred together.
Standard Bernedoodle – Standard sized Bernedoodles typically grow to somewhere between 23 to 29 inches at their shoulder height. They can weigh anywhere from 50 to 90 pounds. The weight and height could be dependent on the sex of the dog as well. Standard Bernedoodles live anywhere from 12-15 years on average.
Mini Bernedoodles – Mini Bernedoodles are not mini like tiny or micro dogs. They are still a pretty good size but smaller than a standard Bernedoodle. They usually reach a height between 18 to 22 inches and a weight somewhere between 25 to 29 pounds. Mini Bernedoodles typically live about 15 to 17 years.
Toy (Teddy Bear Bernedoodles) – These cuties are fairly small without being tiny. They measure somewhere between 12 to 17 inches at the shoulder and could weigh anywhere between 10 to 24 pounds. They have the longest recorded lifespans of about 17 or 18 years on average.
How to Choose a Bernedoodle Breeder in New York (NY)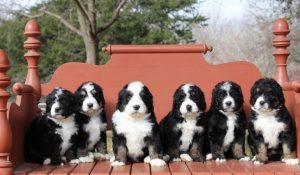 When you're choosing a Bernedoodle breeder in New York, there are some things that you should know in order to make your decision. You certainly don't want to find yourself dealing with a bad breeder or a puppy mill in disguise.
Bernedoodles continue to increase in popularity and breeding is still fairly new and growing. We have a few tips for you to consider before you choose your breeder.
Do Your Research
The best way to find a quality Bernedoodle breeder in New York is to look hard and really sort through the details. You will want to make sure that you're working with a quality breeder and not one that you will regret supporting. Verify all testimonials and reviews.
Medical Checks
Most reputable breeders will make the medical information of parents and any testing of both parents and puppies readily available to buyers. Before you commit to a Bernedoodle breeder, you should ask about health tests and what type of health provisions have already been provided. Typically, Bernedoodle breeders who believe in the health of their dogs will also offer a puppy warranty.
Ask Questions
Don't be afraid to ask questions and make the effort to get to know a Bernedoodle breeder. Not every breeder allows visits since many breed out of their homes but some do. You will be able to tell if a breeder is not being forthcoming or open with information about the puppies. You want to find a breeder that you can trust.
Frequently Asked Questions
Are Bernedoodles good with children?
Yes! The Bernedoodle is a sweet, loving, and playful dog that will get along just fine with your children! Remember that you will need to supervise younger kids as they play with your new puppy. Your pup will have big ideas – he doesn't realize just how small he is! Furthermore, your kids are sometimes stronger than they think!
Choose from Bernedoodle breeders in New York who have opted to socialize puppies with children. Ideally, your dog will have been loved and handled frequently in his earliest weeks. 
What is the lifespan of a Bernedoodle?
Your Bernedoodle, if cared for properly, can live to be between 12 and 18 years old! Bring your dog to the vet regularly to mitigate, detect, and treat health conditions, and ensure that he's exercised and fed appropriately. 
Do Bernedoodles bark a lot?
No! Your Bernedoodle is all but guaranteed to be a chill little dude, with hardly a bark to be heard. In addition, the dogs only need moderate exercise (usually up to an hour a day) so they're great dogs for apartments and other close living quarters.
Conclusion for Bernedoodle Breeders in New York (NY)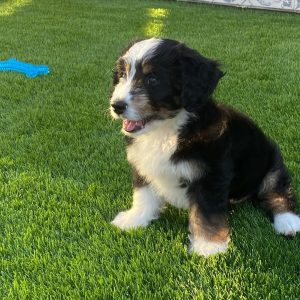 The Bernedoodle is a sweet, family-friendly, and smart dog that's created by crossing a Bernese Mountain Dog with a Poodle. The teddy bear fluffiness of your dog combined with his playful nature makes him a wonderful family pet! As an added bonus, the dogs are largely hypoallergenic and enjoy long lives. 
Looking for the top Bernedoodle breeders in New York may feel overwhelming but we've got you covered! Choose from any of the breeders listed in our guide and bring your new Bernedoodle puppy home very soon!
Check out these other articles:
Garrett loves animals and is a huge advocate for all Doodle dog breeds. He owns his own Goldendoodle named Kona. In addition, he volunteers at the Humane Society of Silicon Valley, where he fosters dogs and helps animals. Garrett enjoys writing about Doodles and believes that dogs can teach humans more about how to live than humans can teach a dog.
Why Trust We Love Doodles?
At We Love Doodles, we're a team of writers, veterinarians, and puppy trainers that love dogs. Our team of qualified experts researches and provides reliable information on a wide range of dog topics. Our reviews are based on customer feedback, hands-on testing, and in-depth analysis. We are fully transparent and honest to our community of dog owners and future owners.