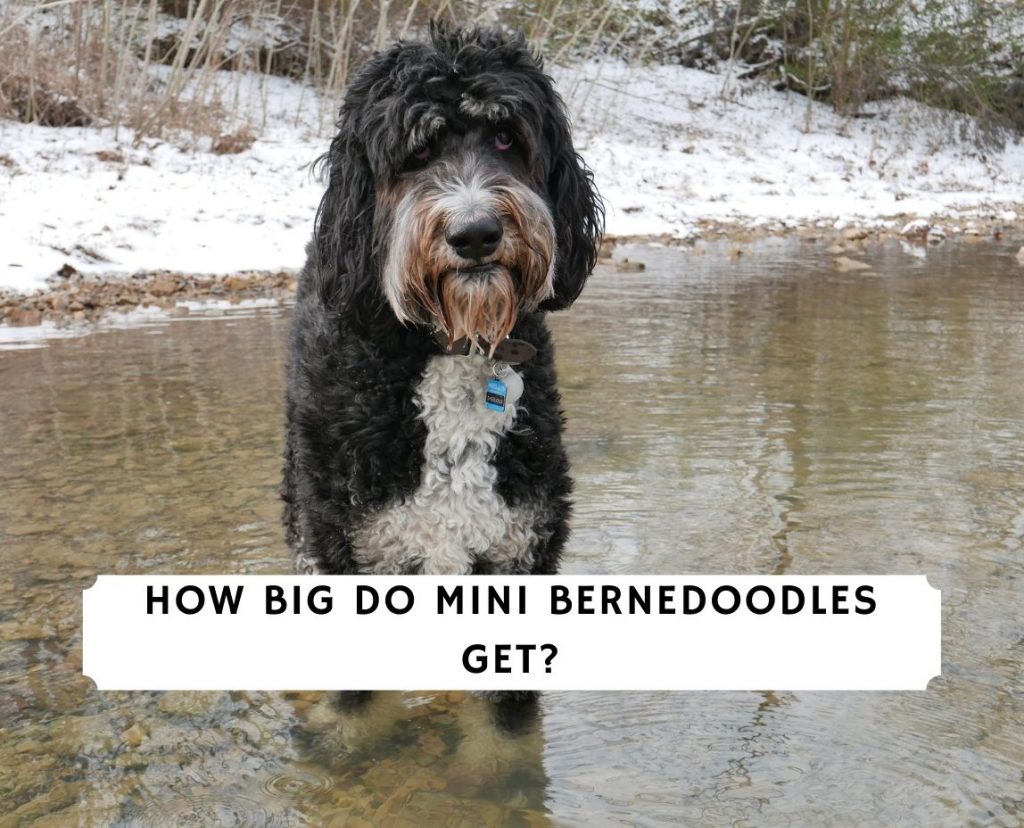 With the intelligence of a Poodle and the Bernese Mountain Dog's temperament, it's no wonder why the mini Bernedoodle is gaining popularity amongst dog lovers everywhere. We know the "mini" in this Doodle's name is small, but how big do Mini Bernedoodles get once they're fully-grown adults?
The Mini Bernedoodle, also known as the Toy Bernedoodle or Miniature Bernedoodle, was first bred in Ontario, Canada, by Swiss Kennel's Sherry Rupke in 2003. As the name suggests, the mini Bernedoodle is a cross between the Bernese Mountain Dog and either a Miniature or Toy Poodle. As a result, the mini Bernedoodle typically stands between 18 to 22 inches and weighs 25 to 50 pounds.
Other articles you would like: Mini Bernedoodle Breeders in the U.S.
Miniature Bernedoodle's Size
The Bernese Mountain Dog and Poodle breed parents' create a hybrid dog with advantageous qualities. Some of such advantageous qualities include the strength and intelligence of the Bernese and the long, wavy fur that can be attributed to their Poodle parent's genes. However, due to their size discrepancy, they can come in a variety of ranges.
While there is a large variety of sizes of this dog breed, the average height of the mini Bernedoodle most frequently falls anywhere between 18 to 22 inches. Considering the mini Bernedoodle parents' weight, miniature Poodles usually fall between the range of 15 to 17 pounds. On the other hand, Bernese males weigh between 85 to 110 pounds, and their females fall between the range of 79 to 110 pounds. Mirroring its canine parents' weight, the miniature Bernedoodle can weigh anywhere between its parent's weight ranges, but most times falls between the middle and weighs between 25 to 50 pounds.
What Factors Affect The Size of a Mini Bernedoodle?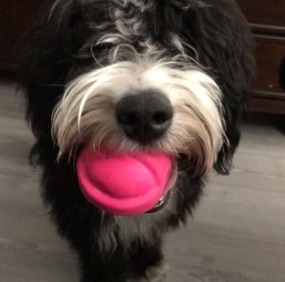 As mentioned earlier, the primary factor affecting the size of a mini Bernedoodle is its parents' size, specifically the size and breed of its Poodle parent whether it was a Toy, Miniature, or Standard-sized Poodle. If it is a multi-generation Bernedoodle, it highly depends on the sizes of Bernedoodles bred together.
However, in addition to the size of the parent dogs, the mini Bernedoodle size is also significantly dependent on its health, nutritional status, daily routine, and immediate environment. When these factors are favorable, the mini doodle has a higher chance of developing at a much healthier and faster rate.
How Big Can Mini Bernedoodles Get?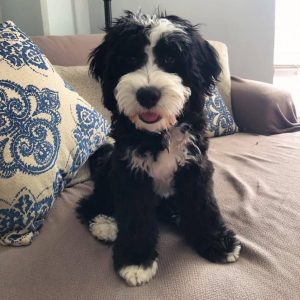 A reputable breeder will sell mini Bernedoodles that can grow to a maximum weight range of 30 to 40 pounds and a whopping range of 18 to 22 inches in height. However, that adult male mini Bernedoodles usually grow a lot bigger than their female counterparts.
It's worth mentioning that with newer breeders, Miniature Bernedoodles can exceed 40+ pounds. Since these are hybrid dogs and the Bernese Mountain dog grows so large, it's difficult to predict exactly how large a Bernedoodle will get.
When is a Mini Bernedoodle Full Grown?
Depending on the doodle's health and nutritional status, most mini Bernedoodles reach full maturity within 8 to 10 months of birth. We also wrote an in-depth article on "When is a Bernedoodle Full Grown?" to give you some ideas on how you can predict your dog's weight. As a general rule of thumb, you can double your mini Bernedoodle's weight at the 3-month mark, and that's how big they will grow.
Conclusion For How Big Do Mini Bernedoodles Get?
If you want fantastic canine qualities packaged in a miniature breed, the mini Bernedoodles are your best bet. Like every other pet, doodles require tender care, love, and affection from their owners. Be sure to engage in activities that strengthen your bond and don't forget to enjoy the journey every step of the way.
It's worth noting that in addition to highlighting the great qualities of its dog parents, the Toy Bernedoodle also silences some common health problems faced with its lineage. They are low shedding dogs and have far fewer health complications than standard-sized Bernedoodles like elbow dysplasia and mast cell tumor. If that isn't enough, the beautiful temperament of the mini Bernedoodle makes it suitable as a great companion and lovely addition to any dog-loving family. Needless to say, you can't go wrong with adopting one of these mini power pups.
For more information about the Bernedoodle dog breed, check out:
You can learn more about the Mini Bernedoodle dog breed by watching "Meet Dakota The Mini Bernedoodle" from SoCal Pet Partners TV down below:
Garrett loves animals and is a huge advocate for all Doodle dog breeds. He owns his own Goldendoodle named Kona. In addition, he volunteers at the Humane Society of Silicon Valley, where he fosters dogs and helps animals. Garrett enjoys writing about Doodles and believes that dogs can teach humans more about how to live than humans can teach a dog.
Why Trust We Love Doodles?
At We Love Doodles, we're a team of writers, veterinarians, and puppy trainers that love dogs. Our team of qualified experts researches and provides reliable information on a wide range of dog topics. Our reviews are based on customer feedback, hands-on testing, and in-depth analysis. We are fully transparent and honest to our community of dog owners and future owners.