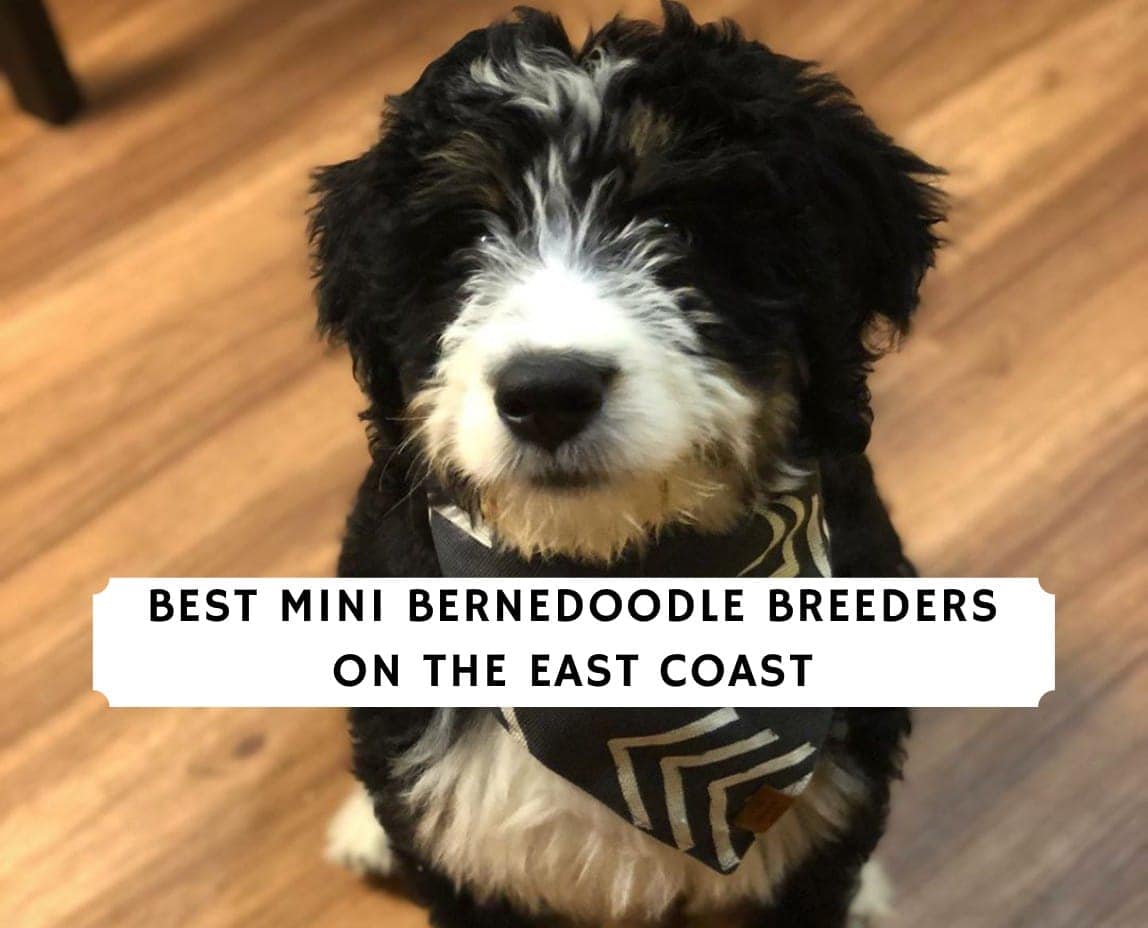 Smart and goofy, the mini Bernedoodle is an adorable fluffy teddy bear. Their adorable nature and easygoing temperament makes them a perfect companion for families, children, and singles. Whether you're watching a movie or going for a walk, a mini Bernedoodle will enjoy your company.
Miniature Bernedoodles are a type the doodle dog that typically weighs less than 30 pounds and stands around 12 to 17 inches in height. The Poodle Bernese Mountain dog mix is not registered with the American Kennel Club (AKC) or Continental Kennel Club (CKC), making the search for a reputable mini Bernedoodle breeder more difficult.
If you've set your heart on getting one of these small designer dogs, here are the top 5 mini Bernedoodle breeders on the East Coast. These Bernedoodle breeders go over and above to deliver quality mini Bernedoodles that you will treasure for a lifetime.
Other articles you might like: Bernedoodles Breeders in Florida, Bernedoodle Breeders in Virginia, and Bernedoodle Breeders in Pennsylvania.
1. Highfalutin Furry Babies Florida
Highfalutin Furry Babies is a boutique mini Bernedoodle breeder in Florida. They specialize in raising beautiful mini Bernedoodle puppies from the best breeding lines that make ideal companions, therapy dogs, and service dogs.
This mini Bernedoodle breeder has over a decade's expertise and knowledge on the Bernedoodle dog breed to provide you with a perfect companion, no matter what your needs are. At age 2, their select adult dogs undergo health testing, including genetic testing, to ensure they don't have any hereditary illnesses that will affect your mini Bernedoodle's life.
At 4 weeks of age, Highfalutin Furry Babies begin potty and crate training. Even though most mini Bernedoodle puppies don't understand how potty training works until 16 weeks of age, they know the command "go potty" before leaving for your home.
The cost of a mini Bernedoodle from this breeder depends on the markings, color, and type of Bernedoodle. You can, however, expect to pay upwards of $3875 for one of their mini Bernedoodles on the east coast.
Your mini Bernedoodle with come with a 2-year genetic guarantee, the first round of puppy shots administered, a health certificate by a licensed vet,  Biosensor puppy stimulation, organic treats, lifetime support among others.
Highfalutin Furry Babies don't ship puppies as cargo. They encourage interested singles or families to either pick up their puppies from their residence or have it hand-delivered anywhere in the world except Australia. Hand delivery is between $250 to $575 depending on your location. Airline travel prices are not included in this price.
This mini Bernedoodle breeder believes in giving back to the community. Every year, they donate certain Bernedoodles to families in desperate need of a therapy or service dog. In the past, they have donated to children with disabilities, 9/11 survivors, firefighters, police, injured veterans, police, and many others.
Mini Bernedoodle Details:
Size: Mini Bernedoodle puppies. They also have all other Bernedoodle sizes from teacup to standard Bernedoodles.
Generation: F1 Bernedoodle puppies
Mini Bernedoodle Breeder Details
2. Bantry Bay Bernedoodles Virginia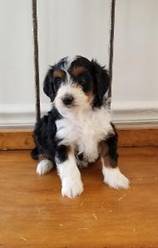 Bantry Bay raises beautiful Bernedoodles ranging from mini to standard sizes. All their Bernedoodles have great dispositions with sweet and playful temperaments. Moreover, their Bernedoodles are hypoallergenic with low to no shedding which makes them perfect for anyone who doesn't want to spend their days vacuuming or suffering from pet allergies.
Their mini Bernedoodles coat types range from curly, wavy/shaggy, to a loose curl/wavy. In addition, they come in a myriad of coat colors from blonde, sable, phantom, tri-color, black and white, sable to sable-tri. This mini Bernedoodle breeder on the east coast has one of the widest selections of coat colors.
Bantry Bay raises the mini Bernedoodle puppies around their children and pets. They understand that for mini puppies to become well-socialized and have exemplary behavior, they must introduce the puppies to various noises and people at an early age.
They use the rule of 7s. They expose their mini Bernedoodle puppies to different situations, people, noises, and pets a minimum of 7 times. This has helped them to produce puppies with sweet, easygoing, steady, and loving temperaments.
The mini Bernedoodles come with a 14-day health guarantee and a 24-month genetic health guarantee. Before your mini Bernedoodle leaves for your home at 10 to 12 weeks old, it will receive a comprehensive health check and be up-to-date on shots and dewormings.
The breeder prices their mini Bernedoodles according to their coat colors. Solid colors range from $3200 to $4200, bi-colors from $3500 to $5000, tri-colors, and sable tri-colors from $4500 to $7500. Before purchasing a mini Bernedoodle, you can call and set an appointment to visit their residence.
Mini Bernedoodle Details:
Size: Mini Bernedoodle puppies. They also have medium and standard Bernedoodles.
Generation: F1, F1b Bernedoodle puppies
Mini Bernedoodle Breeder Details
Location: Frederick County, Virginia. Located in the middle of the east coast.
Website: Bantrybay Bernedoodles
Telephone: 540-331-1945
Email: bantrybaybernedoodles@gmail.com
3. New England Bernedoodles
New England Bernedoodles is a small family-owned breeding business in Keene, New Hampshire. They breed top-notch mini and standard Bernedoodles that are asthma, allergy-friendly, and low shedding.
This breeder is keen on the mini Bernedoodles temperament so that the dog will excel in gentleness, love, trainability, and have a sweet demeanor. Their mini Bernedoodles have exceptionally beautiful coats which will make snuggling up to your New England Bernedoodle like a dream.
At New England Bernedoodles, puppy socialization begins at an early age. The breeder has a whelping room designed for the mother Bernedoodles inside their home. In addition, the mini puppies are house dogs from day 1 and are not whelped or raised outside in kennels. They are cherished and loved on as family pets. As they grow older, the mini Bernedoodles romp and play in their luscious 6 acres.
They health and genetic test all their breeding parents through Paw Print Genetics and OFA. Only the best dogs make the cut to ensure your mini Bernedoodle will be born healthy and stay healthy as possible down the line.
Their mini Bernedoodle puppies price starts at $3450. Their waiting list fills up early and you will likely be waiting several months. Once you've settled on getting a mini Bernedoodle from this breeder, get a slot on the waiting list.
This mini Bernedoodle breeder on the east coast has two delivery options – ground transportation and flights. The breeder delivers free of charge to families within a 4-hour drive from Keene, New Hampshire.
If you're outside the 4-hour radius, the breeder can fly your mini Bernedoodle puppy to you for $650. Alternatively, you can pick the puppy from the breeder's residence as you enjoy the sights and scenes of Keene, New Hampshire.
Aside from breeding Bernedoodles, the breeder also produces Australian Labradoodles and will add Sheepadoodles to the list in late 2021.
Mini Bernedoodle Details:
Size: Mini Bernedoodle puppies. They also have medium and standard Bernedoodles.
Generation: F1, F1b Bernedoodle puppies
Mini Bernedoodle Breeder Details
Location: Keene, New Hampshire. Located on the northern end of the East Coast.
Website: New England Bernedoodles
Email: newenglandbernedoodles@gmail.com
4. Sterling Brook Doodles
Sterling Brook Doodles believes that every puppy should be given a happy and healthy start to life. With this in mind, the mini Bernedoodle breeder focuses on quality, not quantity. 
They raise every mini puppy with the utmost love and care. Every new mini Bernedoodle litter is raised in the breeder's home and given a social experience with children, adults, and other pets. You can rest assured your mini Bernedoodle will come well-socialized which helps with anxiousness and stress.
For over 10 years, the family-owned mini Bernedoodle breeding business has maintained top-notch standards of excellence. Whether you are a new or experienced Bernedoodle owner, Sterling Brook Doodles takes you through every step of the way.
They take time to answer your questions, discuss your concerns, and even refer you to another reputable mini Bernedoodle breeder if they can't honor your request for a puppy at that time.
The breeder provides all new owners with a 1-year health guarantee and vaccination worming records. If you will raise your puppy on NuVet Plus Vitamins, the breeder will extend the health guarantee for 2 years. They sell mini Bernedoodles as pets with a spay and neuter contract. You must spay and neuter your mini Bernedoodle at 6 or 7 months.
They price their mini Bernedoodles according to color rarity and markings. Black and white bi-color, red and white, chocolate and white, and tri-parti's start at $3500. Sable and tri-color mini Bernedoodles range from $3500 to $4000.
The breeder also offers virtual puppy training services to help you set the tone for your lifelong companionship. The training covers everything from crate set-up, approach, and attitude towards your new mini Bernedoodle puppy, customized puppy schedule, potty training, and socializing.
The training service costs $350. In addition, you have the option to have a puppy preparation package to complement the training. The package contains everything you will need to get started with your mini Bernedoodle from a crate, puppy food, collar, training bells, antler among others. Aside from Bernedoodles, Sterling Brook doodles also breed Aussiedoodles and Goldendoodles.
Mini Bernedoodle Details
Size: Mini Bernedoodle puppies. They also have medium and standard Bernedoodles.
Generation: F1, F1b Bernedoodle puppies
Mini Bernedoodle Breeder Details
Location: Sterling, Connecticut. Located on the northern end of the East Coast.
Website: Sterling Brook Doodles
Telephone: 401-487-4036
Email: sterlingbrookdoodles@yahoo.com
5. Windy Acres Puppies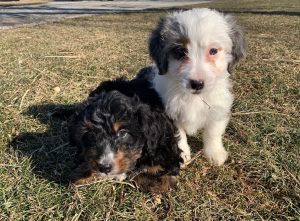 Windy Acres Puppies is a family of breeders that is located in Atwood, Illinois. The owner, Randall, has always grown up around dogs since he was a little kid. His breeding practices started back in 2005 when he focused on Labradors. Since then, he has branched out to several different dog breeds including mini Bernedoodles. If you're interested in other designer dog breeds, you can also check them out on their website.
Their mini Bernedoodle puppies are slightly smaller than the average size miniature Bernedoodle you will find. They are called Tiny Berndoodles and are typically weigh between 15 to 20 pounds which is great if you're looking for a smaller-sized puppy. They breed F1B Tiny Bernedoodles (75% Poodle and 25% Bernese Mountain Dog) which will be mostly nonshedding and hypoallergenic since they inherit more Poodle genes. They treat all their puppies as a family which means that they will be well socialized with children and transition easily to your home. Additionally, all the parent dogs are health tested, OFA certified, and come with a 2-year health guarantee.
They also ship and transport their puppies all around the United States. Costs vary based on the destination, but they ensure that you will be getting a healthy and happy mini Bernedoodle puppy. Feel free to schedule a visit or contact them today. We personally think this is one of the best Bernedoodle breeders and have spoken with the owners.
Mini Bernedoodle Breeder Details
Location: Atwood, Illinois
Website: Windy Acres Puppies
Phone: 217-722-9615
Email: windyacrespuppies@gmail.com
How to Choose a Mini Bernedoodle Breeder on the East Coast
Do lots of research. It may seem obvious, but you will need to do a lot of research to find a reputable mini Bernedoodle breeder on the east coast. Since the rise of the doodle dog, there are tons of puppy mills that are selling unhealthy dogs with genetic diseases.
Health and Genetic test. The only way to mostly guarantee you are getting a healthy Bernedoodle puppy on the east coast is if the breeder provides you with health and genetic testing from the parent dogs. This helps to ensure that your puppy will be healthy and free of all hereditary diseases.
Puppy Health Warranty. You'll notice that breeders on the east coast will often have a puppy health warranty of 1 or 2 years. This means that the breeder strongly believes in the health of their dogs. It's reassuring if you can buy a mini Bernedoodle from someone with this warranty.
Reputation. The best mini Bernedoodle breeders have a solid reputation for past testimonials and reviews. Always check their website, Google reviews, their Facebook page, or Yelp to make sure the breeder has a well-known reputation. In addition, I wouldn't suggest anyone buy from a mini Bernedoodle breeder whose business is less than 1 year old.
Conclusion for Mini Bernedoodle Breeders on the East Coast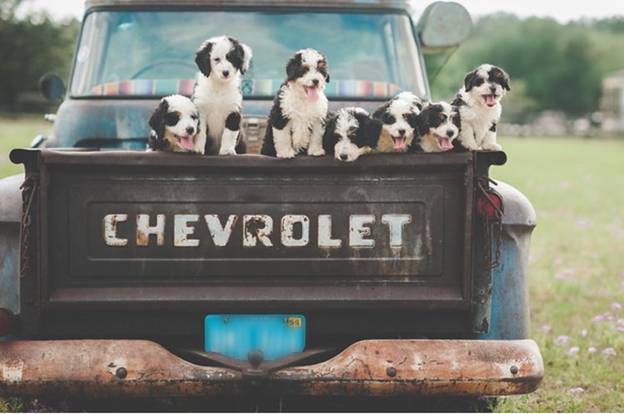 Purchasing a mini Bernedoodle from a reliable and experienced breeder like the ones on this list will help you ensure fewer health risks and temperament issues in your mini Bernedoodle. Remember, since mini Bernedoodles have become one of the most popular hybrid dog breeds, there are tons of backyard breeders who are selling these dogs for cheap prices. However, you may end up spending a lot more money on medical bills in the long run if your dog has health issues. If you're located on the east coast, consider one of the breeders on our list.
Other articles you might like:
Garrett loves animals and is a huge advocate for all Doodle dog breeds. He owns his own Goldendoodle named Kona. In addition, he volunteers at the Humane Society of Silicon Valley, where he fosters dogs and helps animals. Garrett enjoys writing about Doodles and believes that dogs can teach humans more about how to live than humans can teach a dog.
Why Trust We Love Doodles?
At We Love Doodles, we're a team of writers, veterinarians, and puppy trainers that love dogs. Our team of qualified experts researches and provides reliable information on a wide range of dog topics. Our reviews are based on customer feedback, hands-on testing, and in-depth analysis. We are fully transparent and honest to our community of dog owners and future owners.