Finding the perfect breeder for your new puppy is never an easy task because you want to find a reputable breeder. When it comes to purchasing specialty dog breeds like the Bernedoodle, this can be even more of a challenge. This dog breed is gorgeous and in high demand due to their nonshedding and hypoallergenic coats. This means you may be hard-pressed to find quality Bernedoodle breeders in Pennsylvania because of that demand.
Most of the time when you purchase a Bernedoodle puppy in Pennsylvania, you will have to be added to a waitlist. This is pretty normal, especially if you're purchasing a Bernedoodle from a high-quality breeder. We assure you that if you do waitlist, it is typically well worth the wait for these friendly, loyal, and beautiful dogs.
We've done a lot of independent research to sift through the options and provide you with some of the best Bernedoodle breeders in Pennsylvania. Most of the breeders are near the Eastern side of the state, but there are a few other breeders spread out in other areas. We hope you will stick with us while we share with you the best places to get a Bernedoodle puppy.
Premier Pups offers the best mini Bernedoodle puppy adoption experience in the country. Dealing with small breed puppies under three categories – doodles, designer, and purebred puppies – Premier Pups is an expert in their field.
All their miniature Bernedoodle puppies are raised in a loving environment under the care of passionate dog breeders. Before the puppy reaches its "fur-ever" home, it will be trained, vaccinated, and fully health-checked for medical defects.
Premier Pups ensures the quality and well-being of their puppies they sell by maintaining and selecting dependable mini Bernedoodle breeders. They put effort into strengthening their relationship with the breeders by visiting them regularly. They require all their miniature Bernedoodle breeders to be USDA certified.
To insure your puppy's future, you can buy Fetch pet insurance through Premier Pups at a discounted rate. It gives you accident and illness coverage at your choice of vets!  If you purchase pet insurance for 6 months, you also get a 10 year health warranty on your Mini Bernedoodle. You see any individual Bernedoodle breeder offering this type of health warranty.
The insurance includes injury and illness exams, accidental medication, diagnostic, chronic and hereditary problems, specialist treatment, and holistic therapies. We highly recommend that you check them out. They will transport your mini Bernedoodle to Pennsylvania as they are located close by in Ohio.
Bernedoodle Breed Information
Size: Miniature

Bernedoodle

puppies
Generation: Multi-generational Bernedoodles
Bernedoodle Breeder Information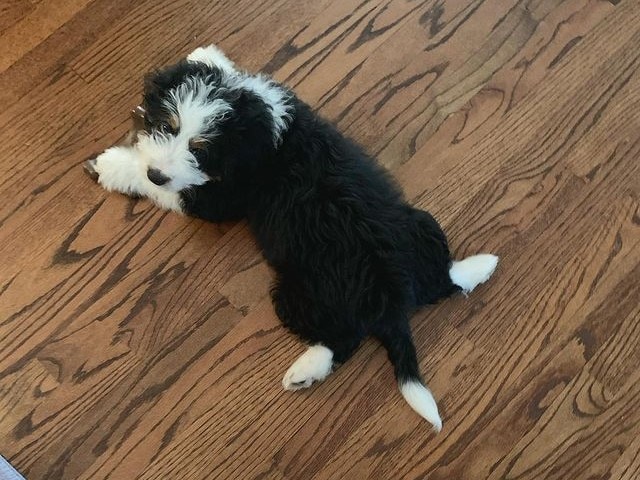 PuppySpot is a top breeder on our list because they are comprised of a network of reputable breeders. There are several benefits to using a network of Bernedoodle breeders. Most importantly, all kennels are thoroughly screened and must be state-registered and licensed. This means that you won't be purchasing a Bernedoodle puppy from a puppy mill and they will likely be a lot healthier. Second, a network of breeders likely has puppies available today. If you go with an individual breeder, you're likely going to have to wait on a puppy waitlist for over six months to get your Bernedoodle puppy. 
When using PuppySpot, you can choose your perfect Bernedoodle based on coat color, age, size, and generation. If you use an individual breeder, chances are you won't get your pick of the litter unless you placed your deposit very early. With PuppySpot, you can see the dog you're about to bring home – no wait required. 
Their screening process is backed by the American Kennel Club (AKC). If the Bernedoodle puppy you want isn't located in Pennsylvania, they can also easily fly them out to you using their private airline carrier.
Bernedoodle Breed Information
Size: Miniature, medium, and standard

Bernedoodle

puppies
Generation: F1, F2B, F2, F2B, and Multi-Gen

Bernedoodle

puppies 
Bernedoodle Breeder Information
3. Bernedoodles of Love Pennsylvania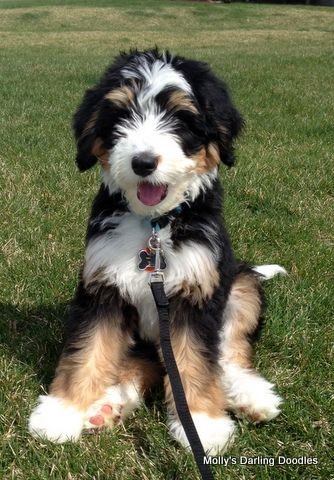 What better place to purchase a dog than a breeder that loves doodles so much, they put "Love" in their title. This breeder raises both Goldendoodles and Bernedoodles in miniature and medium sizes near New Holland, Pennsylvania.
All Bernedoodle puppies and parents are raised as part of the family. Additionally, they are provided a loving and caring family home until they are picked up to join yours. These Bernedoodle puppies are socialized with other pets and children. This family is a small Bernedoodle breeder in Pennsylvania, but they have been raising puppies for 20+ years.
Every Bernedoodle puppy comes with a certificate of health from their veterinarian, the first round of both shots and worming treatments, and a health guarantee. Additionally, you will have a puppy purchase agreement and potentially a waitlist. At the end of the day, you're getting a happy, healthy, and loved Bernedoodle from a family-owned business.
Bernedoodle Breed Information
Size: Miniature & medium Bernedoodle puppies
Generation: Multi-generational

Bernedoodle

puppies
Bernedoodle Breeder Information
4. Country Haven Puppies PA
Country Haven Puppies PA primarily breeds F1 mini Bernedoodles in Myerstown, Pennsylvania. Since they are dedicated solely to this breed, they can emphasize quality care in all of their litters. This is a small Bernedoodle breeder that strives to breed loyal and loving companions. They have tons of positive testimonials and reviews online and you can even follow one of their Bernedoodles on Instagram to get a sense of what your dog will look like.
This family has been breeding mini Bernedoodles in Pennsylvania since 2017. They have put a ton of research, time, and love input into their dog breeding process. In return, they have happy customers who get loving, healthy, and happy Bernedoodle puppies.
This breeder has a waitlist. On their website, you can see photos of past and current Bernedoodle puppies and parents. The dogs are gorgeous and they also offer the ability to have trained puppies through an experienced and viable puppy trainer. The parent dogs live in guardian homes aside from when they are breeding.
Bernedoodle Breed Information
Bernedoodle Breeder Information
5. Hoops Bernedoodles Pennsylvania
This dog breeder is exclusively found on Facebook; they do not appear to have a website but they do have a phone number and email readily available. They are located in Crystal Spring, Pennsylvania.
On Facebook, you can see all sorts of updates, pictures, and videos of their Bernedoodle puppies playing together. The puppies are raised in their own home and treated as part of the family. This is a small family Bernedoodle breeder in Pennsylvania that only has a few litters per year. With only the Facebook page, it's harder to find specific information about the parents but you can always ask for more information like health tests.
All the Bernedoodle puppies in Pennsylvania are registered and are health certified. The parents have been health tested and the breeder works closely with you and makes that information available. This breeder has a reputable background and a lot of great reviews from previous buyers.
Bernedoodle Breed Information
Size: Miniature

Bernedoodle

puppies
Generation: F1B multi-generational

Bernedoodle

puppies
Bernedoodle Breeder Information
6. K R Puppy Sales PA
K R Puppy Sales PA is another family-raised Bernedoodle puppy operation in Pennsylvania. They love raising both Bernedoodles and mini Goldendoodles that have beautiful coat colors. These two doodle breeds are lovable for their loyalty and temperament, but also because their coats tend to be hypoallergenic. In addition, they learn quickly and train pretty easily because they are food motivated dog breeds.
They allow people to come to meet the Bernedoodle puppies as well as visit their location in Pennsylvania. They do prefer you schedule to meet their facilities ahead as they don't typically do walk-in visits. Their website is loaded with positive reviews and pictures of Bernedoodle puppies in their new home.
This small breeder Bernedoodle breeder in Pennsylvania and is located on a little family farm. The puppies get their first round of shots and a full veterinarian checkup before you pick them up. In addition, they also are started on dry dog foods and mostly potty training, although that will most likely not be complete when you bring the Bernedoodle puppy home. This family also accepts texts at their listed number! They accept cash or PayPal as payment methods.
Bernedoodle Breed Information
Size: Standard size, approximately 80-pound

Bernedoodle

puppies
Generation: F1

Bernedoodle

puppies
Bernedoodle Breeder Information
Location: Fredericksburg, PA
Phone: 717-205-5113
Email: krpuppysales@gmail.com
Website: K R Puppy Sales PA
7. Peaceful Valley Puppies Pennsylvania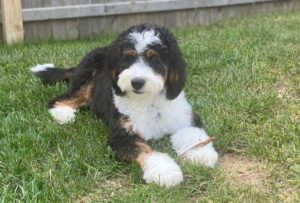 This small family Bernedoodle breeder is located in Pine Grove, Pennsylvania, which is near the Harrisburg area. They raise mini Bernedoodles and Goldendoodles. Each dog, from parent to puppy, is loved and raised as part of the family. By the way, the family has seven members so they get plenty of love, socialization, and interaction.
The Bernedoodle puppies are raised to be good-looking as well as happy and healthy. They are raised to be family pets and the breeders are open and have plenty of information available about their breeder facilities and puppies. Additionally, they have really great reviews and testimonials you can check out too.
You can read about the parents on their website. They give you a personal paragraph describing the personality and character of their dogs. These dogs are raised and cared for on the farm and they do require a puppy application. They also have a waitlist, but they are a responsive and friendly Bernedoodle breeder in Pennsylvania.
Bernedoodle Breed Information
Size: Mini Bernedoodle puppies
Generation: multi-generational

Bernedoodle

puppies
Bernedoodle Breeder Information
Choosing a Bernedoodle Breeder in Pennsylvania
It is important to be careful when you're looking for a breeder for a designer breed like the Bernedoodle. There are several puppy mills out there that give the breeding community a very bad name. In 2018, Pennsylvania had 10+ known puppy mills that were registered breeders that should have been shut down, but they continued to sell unhealthy puppies.
It's important to take the time to really dig into your options and know you're selecting a quality Bernedoodle breeder in Pennsylvania. Here are some of our recommendations for choosing the best breeder.
Medical / Health Background
Most reputable breeders have the parent dogs tested and certified by a veterinarian to know if they have any health issues or genetic diseases. Reputable Bernedoodle breeders will readily supply that information to you and be totally open and forthcoming.
Before you spend money buying a Bernedoodle be sure to ask about any health checks they have done. You will also want to know if the puppy you are purchasing has been seen by a veterinarian and whether or not any vaccinations or worming treatments have been provided to your future Bernedoodle puppy.
Research, Research, Research!
There are a lot of puppy mills and backyard breeders out there, unfortunately. They've become skilled at making themselves look like legitimate Bernedoodle breeders in Pennsylvania and you may never know if you don't dig into the information and see what you can find.
This may take some careful investigation, but if you look and do some basic searches you can find out pretty quickly whether a breeder is reputable or not. Ask several questions about the parent dogs, look for testimonials, and ask about health checks.
Get to Know the Breeder
Reputable breeders want their Bernedoodle puppies to go to reliable and loving homes. Most of them will gladly have conversations with you because they want to get to know you a little bit as well. Many breeders have application processes to verify you can adequately care for a dog.
Don't be afraid to ask questions about the puppies, how they are raised, and what you can expect when you bring your puppy home.
Bernedoodles Explained
If you've heard of the Bernedoodle, but you're not really sure what type of dog they are, we will help explain them to you. Bernedoodles are a specialty breed that comes from a Poodle and a Bernese Mountain Dog. These dogs are bred for companionship, loyalty, and their gentle nature.
Bernedoodles make great family dogs because they are gentle by nature and nonaggressive towards strangers or children. They love to run, play, and can certainly be goofy as well. They are a very intelligent dog breed and are usually pretty easy to train.
You just really can't beat this breed overall. There are multiple sizes and you could potentially get a Bernedoodle ranging anywhere from 10 to 90 pounds. You can typically plan an approximate size from the breed and the parents.
Bernedoodles live long and healthy lives with an average somewhere between 12 to 18 years. Interestingly, toy and mini Bernedoodles tend to live the longest of the breeds, but they all have decent life spans.
Conclusion for Bernedoodle Breeders in Pennsylvania (PA)
Bernedoodle breeders n Pennsylvania are trending and it's likely you've seen several of their tri-color dogs roaming around the neighborhood or dog park. People love Bernedoodles because they don't shed as much fur as Bernese Mountain Dogs and they are hypoallergenic if you have any pet allergies. Overall, if you're looking for Bernedoodle breeders in Pennslyvania we hope that you were able to find one from our list. Chances are you will be put on a waitlist, but these dogs are well worth the wait!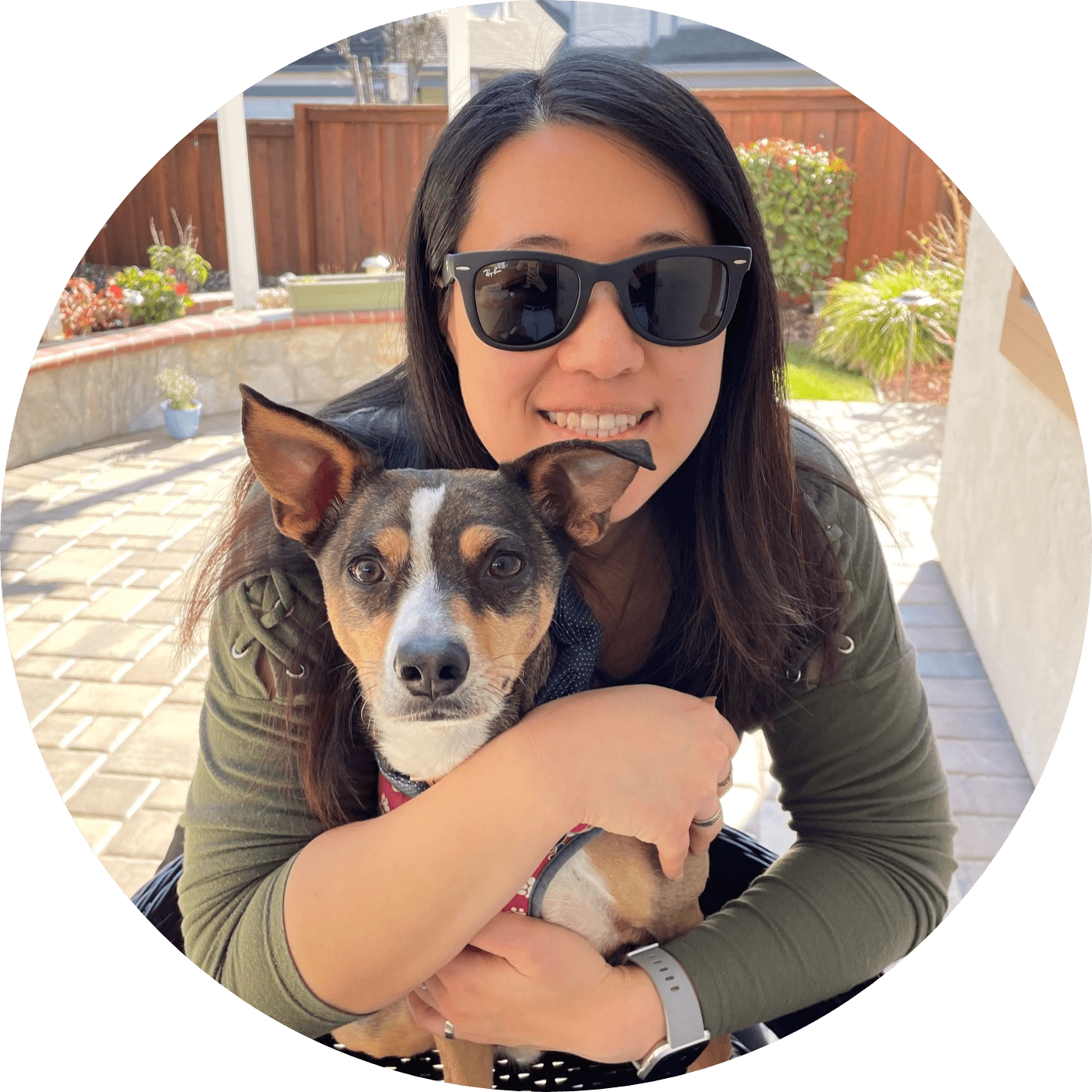 Dr. Sabrina Kong graduated from the Royal Veterinary College in England in 2016 and has been working at a small animal clinic in Northern California since then. She grew up in the Bay Area and got her bachelor's degree from Cal Poly San Luis Obispo. She also became a Certified Canine Rehabilitation Practitioner through a program at the University of Tennessee.
When she isn't in the clinic taking care of her four-legged patients, she enjoys traveling and trying new foods with her friends and her three-legged dog, Apollo. She adopted Apollo from her clinic when he was a puppy with numerous health issues. Dr. Kong truly cares about taking care of animals.