With their soft, cuddly fur and active personalities, Bernedoodles can be a great choice when looking to add a canine friend to your family. With this in mind, you might be wondering "How long do Bernedoodles live?" In general, a Bernedoodle's lifespan is between 12 and 18 years. However, we need to understand more about this Doodle breed since there are tons of variations and sizes. Bernedoodles are designer breeds, meaning they are a mix of two purebred breeds. For the Bernedoodle, these two breeds are the Bernese Mountain Dog and Poodle.
These dogs often have a lot of energy and enjoy playing outside and running around. However, their soft and gentle demeanor makes them lovable and loyal friends to families. With their Poodle influence, they are also very intelligent and therefore easy to train. Their curly or wavy coats also come in three main colors including black, white, and brown. If you're looking for a friendly, clever yet goofy four-legged friend, a Bernedoodle may just be the perfect fit for you.
Lifespan of Bernedoodles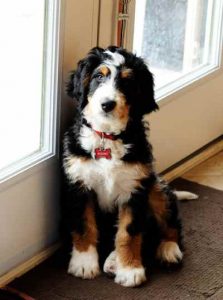 Among the many factors and considerations to make as you choose the right breed of dog for you is their lifespan. While most dogs are in the 8-18 year range, particular breeds may have longer life spans than others. This can be an important thing to know as you prepare for how long you get to have your precious Bernedoodle around.
For most Bernedoodles, the typical lifespan is between 12 and 18 years. Within that six-year range, there are certain characteristics and contributing factors that may determine how long a Bernedoodle will be with your family.
Whether you're just interested in the breed or have a Bernedoodle and looking for ways to best care for your friend, we're here to help. Next, we share some of the key factors that influence the lifespan of a Bernedoodle, some common health issues that may arise particularly with Bernedoodles, and other steps you can take to improve the lifespan of your Bernedoodle.
Factors that Influence the Lifespan of a Bernedoodle
When considering the life expectancy of a Bernedoodle, there is a range of factors to consider that play a major role in just how long a Bernedoodle will ive. Knowing these key factors can help you keep an eye out for any potential problems and look to address risk factors before they become a problem, if possible.
Genetics
One of the key factors that determine the life expectancy of a Bernedoodle is genetics. The Bernese Mountain Dog and Poodle parent of the Bernedoodle have a lot to say about just how long the puppies will live. Uniquely for mixed breeds like the Bernedoodle, is the reduction in the likelihood of health concerns. This is because mixed dogs inherit a genetic trait called Hybrid Vigor. Purebred dogs tend to pass the same hereditary diseases down from one generation to the next.
Puppies from quality breeders who conduct health testing and are very intentional about the dogs they use in breeding can help to reduce the chances of developing severe health concerns. Often, breeders select the Bernedoodles that are in the best health and have not developed medical concerns. Pedigrees of the dogs are also factored in to identify any genetic-related health issue that may arise in later generations. 
Related: Best Bernedoodle Generations
Size
Stemming from the genetics of the Bernedoodle, the size is also a key consideration that greatly affects life expectancy. Overall, smaller dogs tend to have longer life spans. As Poodles can be sizes ranging from Toy to Miniature to Standard, so can Bernedoodles. Standard Bernedoodles have a height that can be up to 29 inches tall and a weight between 50 and 90 pounds. Miniature Bernedoodles get up to be 22 inches tall and weigh 25 and 29 pounds. And Tiny Bernedoodles, the smallest size, get to be only 12 to 17 inches tall and a weight between 10 and 24 pounds.
These three sizes also put Bernedoodles in a range for their life expectancy. Tiny Bernedoodles tend to have a lifespan closer to the 18-year maximum. Miniature Bernedoodles, which are slightly larger than the Tiny sizes, have a slightly lower life expectancy that ranges closer to the 14 to 17-year span. Finally, Standard Bernedoodles, which are the largest size, have a lower life expectancy that can be estimated to be more around the 12 to 15-year range. As with other Doodle mixed breeds, the size of the Poodle can greatly affect the overall life span of a Bernedoodle. Keep these ranges in mind when determining which size Bernedoodle is best for you.
Related: When is a Bernedoodle Full Grown?
Nutrition
Just like humans are affected by the food they eat, so are dogs. The nutritional quality of Bernedoodles can affect their lifespan. When meals are given the right amount of proportions to your dog's size, it can support the dog's overall well-being. The diet and quantity of food should be different when comparing a large Standard Bernedoodle with a Tiny Bernedoodle. Even the type of dog food purchased can either contribute to the specific size dog's health or be the wrong match to support their growth and development.
Related: Best Dog Food for a Bernedoodle
Access to Care
When it comes to owning a pet, staying up-to-date on their vaccinations, deworming and other medical check-ups can help prevent medical concerns from arising. Without access to care or identifying health issues, a Bernedoodle can be suffering from a medical concern and you may not be aware of it. Those undetected health issues can therefore influence the Bernedoodle's overall life span and quality of life.
Quality of Life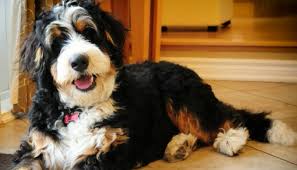 A more general factor that affects the life expectancy of a Bernedoodle is their environment, daily life, and sense of connection. The home in which a dog lives, the amount of exercise they are allowed and other environmental factors can play a role in determining how long a Bernedoodle will live.
Since Bernedoodles are highly social, they also require regular connections with people or other dogs to have the best chances of quality life. When determining the life span of a Bernedoodle, there are key considerations that factor into what you can expect. While some of these factors may be out of the control of pet owners, others can be taken into consideration into how Bernedoodles are raised and cared for.
Common Health Issues
Like other breeds of dogs, both purebred and hybrids, certain health concerns are more apparent for Bernedoodles than other breeds which could influence their life expectancy. These common health issues are important to watch out for and address immediately should they arise to keep the Bernedoodle happy and healthy.
Gastric Dilatation and Volvulus (GDV) – this issue happens when the dog's stomach is swollen due to increased food or gas.
Hip Dysplasia – an orthopedic issue that causes hip joints to form out of place. It's more commonly found in larger dogs, like Standard Bernedoodles.
Elbow Incongruity – an orthopedic issue that causes limping or stiffness and swollen elbows.
Cranial Cruciate Ligament Ruptures – a knee issue that involves a tear in the CCL
With proper care and prevention, risks of developing health issues like these can be minimized. Any of these major health issues can significantly lower the lifespan of a Bernedoodle.
How to Improve a Bernedoodle's Life Expectancy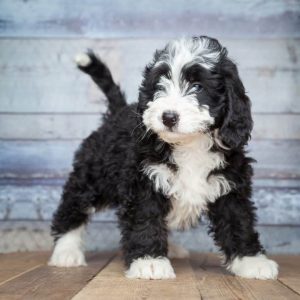 As a dog owner, you want to do what's best for your canine friend. To help improve the quality and length of life for your Bernedoodle, there are some easy things you can do to support them.
Promote a Healthy Diet – Serve your dog the right kind of dog food that fits their unique needs based on their size and current condition. With a variety of types of dog food out there, you can be sure to find the right fit for what your Bernedoodle requires.
Encourage exercise – Be sure your Bernedoodle can get outside and play or engage in some level of activity every day. As playful pups, they require burning off energy and engaging in quality exercise.
Stay up on veterinary checks – Going to your local veterinarian regularly can provide confidence in your Bernedoodle's health and help you to address any medical concerns quickly.
Mental Exercises – Keep their brains active as well as their bodies by staying up on training and mental exercises. As Bernedoodles can be quite intelligent, they may also find joy in new tricks or puzzles you have for them.
Keep them Groomed – Prevent external health conditions with regular grooming. Bath them once in a while and brush them every day or every other day. You'll also want to brush their teeth occasionally to prevent any issues with gum or tooth decay.
Conclusion For "How Long Do Bernedoodles Live"
As a small, hybrid breed, the Bernedoodle can have a high life expectancy among breeds. By knowing the factors that affect the Bernedoodle's life span, common health issues, and steps you can take to improve their quality and length of life, you and your Bernedoodle friend can enjoy a long life together.
For Bernedoodle guides and info, check out:
If you're unsure if a Bernedoodle is right for you, you should see this video explaining this dog breed:
Garrett loves animals and is a huge advocate for all Doodle dog breeds. He owns his own Goldendoodle named Kona. In addition, he volunteers at the Humane Society of Silicon Valley, where he fosters dogs and helps animals. Garrett enjoys writing about Doodles and believes that dogs can teach humans more about how to live than humans can teach a dog.
Why Trust We Love Doodles?
At We Love Doodles, we're a team of writers, veterinarians, and puppy trainers that love dogs. Our team of qualified experts researches and provides reliable information on a wide range of dog topics. Our reviews are based on customer feedback, hands-on testing, and in-depth analysis. We are fully transparent and honest to our community of dog owners and future owners.