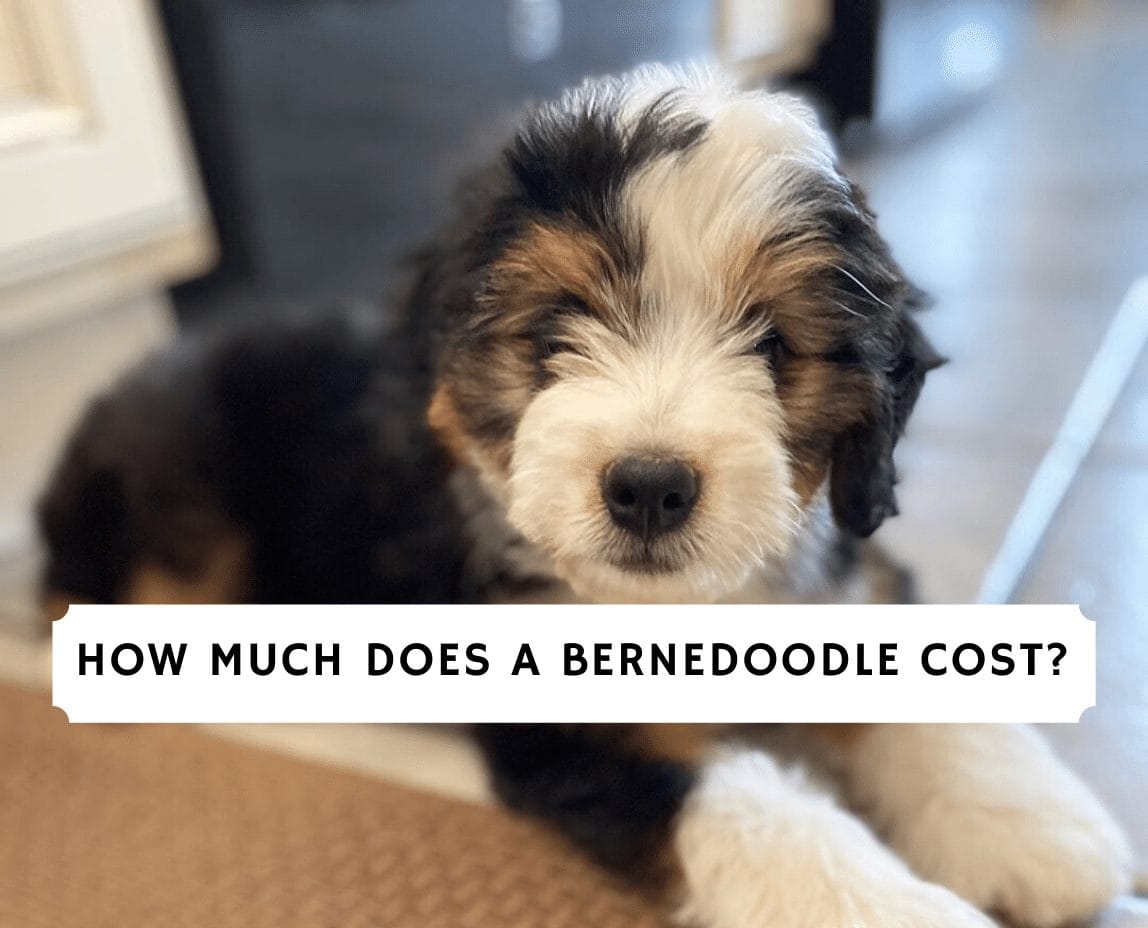 For the last two decades, Bernedoodles have been incredibly popular due to their multi-colored coats and teddy-bear curls. Also, Bernedoodles usually have a more calm and friendlier personality when compared to an energetic Goldendoodle.
The best aspect of a Bernedoodle dog is it inherits genetics that makes them nonshedding as well as hypoallergenic. This makes the Bernedoodle a wonderful family dog for people who struggle with allergic reactions to pets and don't like shedding dog hair. For these reasons, the demand for Bernedoodles is high, and so are the prices. We've looked at over 10+ different breeders from the United Bernedoodle Registry (UBR) to identify "how much does a Bernedoodle cost."
If you're thinking of purchasing a Bernedoodle from a breeder, we suggest you read some of our articles like Bernedoodle Generations Overview (F1, F1B, F2, F2b, etc.) so you can select the right kind of Bernedoodle in terms of coat type, coat color, and sizing.
If you're thinking of buying a Bernedoodle puppy, we recommend two breeders: Premier Pups and PuppySpot. Premier Pups is offering our blog readers $250 off for a new mini Bernedoodle puppy with coupon code WLD250.
What is the cost of a Bernedoodle?
Despite being a crossbreed dog between a Bernese Mountain Dog and also a Poodle, Bernedoodles are one of the highest-priced doodle dogs because of their multi-colored coats. The expense of a Bernedoodle is most likely going to range anywhere from $500 to $5000, depending upon whether you adopt or purchase a Bernedoodle.
If you're purchasing a Bernedoodle puppy, here are some sample costs from real breeders:
The regular cost of a Bernedoodle puppy from a reputable dog breeder is going to be roughly $2,000 to $5,000+. If you want a more unique colored Bernedoodle such as a Merle or a micro mini Bernedoodle, you will be paying a lot more money (at least $4,000+). Generally, the smaller-sized Bernedoodles such as the mini will cost more money because they are slightly more difficult to breed.
What is the price to adopt a Bernedoodle?
The price of adopting Bernedoodle is going to be ideal for people on an extra tight budget. The cost of adopting a Bernedoodle will only be $100 to $500 in adoption fees. You can read more about rescuing or adopting our Top 8 Bernedoodle Rescues article.
You might have to get additional shots, neutering, or medications that may cost extra, but this is the cheapest approach. Because of the extremely high demand though, it's very difficult to find a Bernedoodle to rescue or adopt. If you want to adopt a Bernedoodle you'll have to frequently investigate your local humane society, shelters, as well as Facebook pages to see if they have any type of doodles that you can adopt.
Buying a Bernedoodle Puppy

If you're buying a Bernedoodle from a reputable dog breeder, the typical cost will be $3,000 to $5,000. However, the price of a Bernedoodle can vary significantly based on several different factors.
What determines the price of a Bernedoodle?
Bernedoodle Coat Color
There are numerous combinations of Bernedoodle coat colors and the cost is also going to vary based on how many unique colors you want. For example, a tri-colored Bernedoodle, Parti Bernedoodle, Phantom Bernedoodle, or Merle Bernedoodle is going to cost substantially more than a single or two-colored Bernedoodle. Expect to pay an additional $1,000+ depending on what colors you want in a Bernedoodle.
Demand
Right now, the Bernedoodle is the third most prominent crossbreed doodle behind the Goldendoodle and Labradoodle. Dog breeders can't simply just breed more dogs because it risks the reputation of their business as well as the health of their dogs. They will increase the total cost of a Bernedoodle puppy instead. This is a major variable that drives the price of a Bernedoodle.

Breeder Performance and Trustworthiness
The track record of a Bernedoodle breeder increases the price of a puppy. If you get a Bernedoodle from a good breeder, there are several health tests a breeder goes through to maintain the quality of their Bernedoodle pups. Each trustworthy dog breeder will do health tests on their adult dogs to maintain healthy hips, joints, hearts, patellas, as well as eyes.
If you want to buy a Bernedoodle puppy, it's a 10 to 15-year investment, so you need to make sure that you are buying one from a trustworthy dog breeder. There are lots of at-home dog breeders, cheap breeders, and also puppy mills that have lower-priced Bernedoodles. You shouldn't be purchasing from these breeders of you'll have significant health costs later down the line.
Breeder Location
Geographic area impacts the price of a Bernedoodle by around $300 or more. Bernedoodles in California or New York will generally cost you more money when compared to a breeder in the midwest. This essentially accounts for the cost of living adjustment with the land. You'll have the ability to obtain a lower-priced Bernedoodle from a breeder in the midwest, however, you'll also have to spend money for the pup to be transported to you. Besides, it might be challenging for you to see their facilities, inspect the parent Bernedoodles, and see the puppies when you are selecting a Bernedoodle for puppy pick-out day.
Size of a Bernedoodle
The three sizes are Bernedoodle are the mini Bernedoodle, medium Bernedoodle, and standard Bernedoodle. Within the mini Bernedoodle size group, there are also teacup and micro mini sizes. These smaller-sized Bernedoodle dimensions are going to cost around $1,000+ more than the base cost of a Bernedoodle. It's not shocking to see a tri-colored, micro mini Bernedoodle cost more than $5,000.
Bernedoodle Coat Type
Bernedoodles can have three different coats: straight, wavy, or curly. Coat type is heavily dictated by the generation of Bernedoodle. Generally, Bernedoodles with more wavy or curly coats (i.e. F1B) will be priced higher than Bernedoodles with straight coats (i.e. F1). This is because wavy and curly coats are more nonshedding and hypoallergenic. Therefore, you will usually pay more money for F1B, F1BB, F2B, or F2BB Bernedoodles because of the truth that they include a substantial amount much more Poodle genetics.
How much does a mini Bernedoodle cost?
A mini Bernedoodle (less than 35 pounds) typically will cost around $4,000. This assumes that the mini Bernedoodle isn't a micro mini Bernedoodle (less than 20 pounds). The micro mini Bernedoodles are technically mini Bernedoodles, but they will cost more money. Micro mini Bernedoodles are more challenging to reproduce because you continuously breed "runt" dogs together to get smaller and smaller sizes.
What is included in the cost of a Bernedoodle?
Bernedoodle costs differ depending on what the dog breeders include when you pick up the puppy. Usually, the price of a Bernedoodle puppy will come with any initial vaccinations, deworming, a blanket, and also some puppy food they have been feeding their dogs. Furthermore, when you buy from a reputable dog breeder, you will almost always get a health warranty of 1 or 2 years. 
Long-term costs of a Bernedoodle
The initial price you pay for an adopted Bernedoodle or Bernedoodle puppy is very small relative to the total cost you will invest throughout your pet's life. You going to be paying for health checkups, food, toys, etc. You must anticipate spending at least $1,000+ every year on your Bernedoodle. We provided a breakdown of some of the most common expenses:
Dog Food ($300+ yearly)
Food prices will certainly differ based on the size of your Bernedoodle. However, you're likely feeding your dog quality food so expect to pay at least $500 for dog food alone. If you feed your dog cheaper food with added fillers, you can budget around $300.
Grooming ($300 each year)
Bernedoodles do not shed hair, so you're going to have to groom them regularly. The cost to have your Bernedoodle groomed is around $100 for each session. You going to have to do this a minimum of 3 to 4 times a year. Grooming a Bernedoodle includes numerous things like a bath with shampoo, a haircut, nail trimming, and ear care.
Health Care ($700 to $2,000+ each year)
The expense of a Bernedoodle is rather substantial when you take into consideration healthcare costs. You'll have to take your dog to get vet exams and potential surgeries. One of the most expensive degenerative diseases with a Bernedoodle is hip dysplasia. Older Bernedoodles will usually need surgery to correct this issue.
Dog Training / Boarding ($700+ per year)
Training classes, boarding, and also doggy daycare are very expensive. If you're going on several trips or vacations, you'll need to board your dog. The cost is normally around $100 every day to board a pet, so this expense could be substantially greater if you take several trips a year. You'll also want to do basic training for your dog every year, which can range from about $100 per class.
Puppy Accessory Costs
Dog Crates ($50): Crates are useful to separate your dog away when you're doing other things around the house. Also, you likely want to crate-train your dog at night.
Dog bed ($60): I've spent well over this amount of money because my Bernedoodle chews at his bed and scratches the zipper apart. Dog beds aren't exactly cheap.
Toys and Treats ($200): You'll need to get a dog collar, dog harness, treats, and maybe a wooden pet dog house.
Conclusion for How much does a Bernedoodle cost?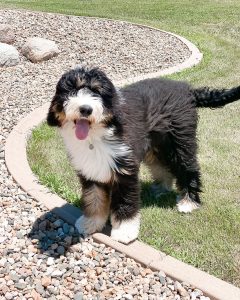 The complete Bernedoodle cost is large over the lifetime of your dog. If you buy a Bernedoodle puppy for $2,000 and it lives to be 13 years old, you will be spending at the very least $20,000. You'll need to budget and take these costs right into consideration to decide whether or not a dog is affordable for you.
You can sometimes find a Bernedoodle at a significantly reduced price if you adopt or rescue. However, this is usually really difficult since most people will not put their Bernedoodle up for adoption.
Do breeders require a deposit for a Bernedoodle puppy?
Yes, when you want to buy a Bernedoodle puppy, you will usually pay between $300 and $600 as a deposit for a puppy. This reserves your spot in line so you can get one of these dogs.
Garrett loves animals and is a huge advocate for all Doodle dog breeds. He owns his own Goldendoodle named Kona. In addition, he volunteers at the Humane Society of Silicon Valley, where he fosters dogs and helps animals. Garrett enjoys writing about Doodles and believes that dogs can teach humans more about how to live than humans can teach a dog.
Why Trust We Love Doodles?
At We Love Doodles, we're a team of writers, veterinarians, and puppy trainers that love dogs. Our team of qualified experts researches and provides reliable information on a wide range of dog topics. Our reviews are based on customer feedback, hands-on testing, and in-depth analysis. We are fully transparent and honest to our community of dog owners and future owners.