Dog lovers around the world praise the temperament of the Bernedoodle. Before learning about Bernedoodle health issues, it's essential to understand this mix. These dogs are a reasonably calm yet friendly breed. This makes them ideal pets for the disabled, children, the elderly, and anyone who enjoys an intelligent and gentle Doodle breed. Bernedoodles are a designer breed. This means that they possess a diverse genetic combination resulting from a Bernese Mountain Dog and a Poodle.
The diverse gene pool does mean that the Bernedoodle is a generally healthy dog compared to purebreds. The Bernedoodle is considered to be more healthy than both the Bernese Mountain Dog and the Poodle. However, all dogs are genetically predisposed to particular conditions that are prevalent in their breeds. We examine common ailments in the Bernedoodle and learn how to prevent and manage the health of this breed.
Before scrolling down this article "Ways To Prevent Bernedoodle Health Issues," check out Best Bernedoodle Generations and Do Mini Bernedoodles Shed?
Understanding the Bernedoodle's Predisposition to Illness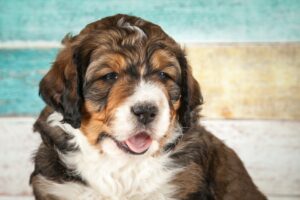 The Bernedoodle can be genetically predisposed to ailments common in both the Bernese Mountain Dog and the Poodle. The poodle is a generally healthy breed. However, the Bernese Mountain Dog can suffer from a wide range of health issues and typically have shorter life spans than other breeds (5-8 years). There is no reason to fret as you can expect a 12- 15 year life span for your Bernedoodle.
Bernedoodle Question: How Long Do Bernedoodles Live and When is a Bernedoodle Full Grown?
Genetic Health Issues for a Bernedoodle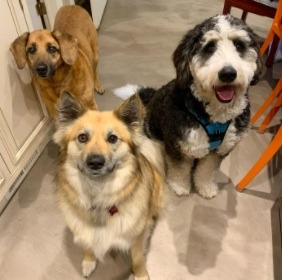 There are several common health issues that Bernedoodles are genetically at a higher risk of developing. Common health issues for the Bernedoodle include:
Degenerative Myelopathy: This muscular disorder results in a progressive loss of muscle and weakness.
Cancer: including malignant histiocytosis, which affects Bernese Mountain Dogs at a disproportionate rate. This type of cancer is not treatable and fatal.
Heart Disease: Any disease that affects the heart or blood vessels.
Bernedoodle Question: Are Bernedoodles Hypoallergenic?
Genetic Health Issues for a Poodle
There are specific illnesses that Poodles are genetically predisposed to be at a higher risk of developing. Common health issues for the Poodle include:
Hypothyroidism: When the thyroid is inactive, the metabolism slows down and doesn't produce enough hormones. This can lead to weight gain, behavior changes, hair loss, and skin issues.
Skin Disease: including sebaceous adenitis; itchy, flaky, and painful skin disorders.
Severe Gas or Bloating: Can Lead to Severe Hypertension- If untreated, organ damage, including organ failure, could occur.
Bernedoodle-Related Article: Bernedoodle Colors
Common in Both Poodles and Bernese Mountain Dogs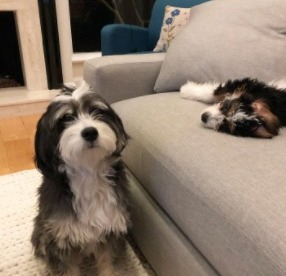 Some conditions are common in both sides of the Bernedoodle's genetic makeup. Because these conditions are a risk on both sides of the Bernedoodles genetic composure, these conditions are the highest risk to your dog.
Hip Dysplasia: This is a painful joint disorder in which the hip socket isn't functioning correctly or staying in place, causing excessive friction in the joint socket. This condition is common in larger breeds and results in joint deterioration. Ultimately this will negatively impact your dog's mobility and quality of life. Other common joint issues include joint deterioration due to dislocation issues in the knees and elbows.
Von Willebrand's Disease: This condition affects the dog's blood clotting ability and causes excessive, prolonged bleeding in cases of lacerations. The severity of issues varies.
How To Prevent Health Issues in Your Bernedoodle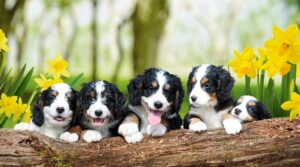 There are several things you can do to prevent your Bernedoodle from falling ill. The following preventative measure will save you in veterinary costs, prevent unnecessary pain from illness, and set your dog up for long, healthy life.
1. Choose a Reputable Breeder
The first step in ensuring that your Bernedoodle stays healthy is to choose a reputable breeder. This is important because many health ailments can be prevented by a breeder who completes the necessary genetic testing. A reputable breeder should have the paperwork available to show you that Bernedoodle's parents are healthy genetically.
2. Genetic Testing
Having a DNA test performed on your dog can provide insight into what health ailments may be a risk and aid in the prevention. The veterinarian will have the information needed to know what illnesses to watch for. These tests are relatively inexpensive and a worthy investment.
3. Feed Your Dog a Quality Food
Many people underestimate the importance of feeding your dog quality food that contains natural ingredients. Check the ingredients to ensure your dog is getting essential vitamins. Ask you vet about the best supermarket brands that are affordable and healthy. It is also necessary to control your dog's food intake and not overfeed your Bernedoodle. Obesity will increase the risk of your dog developing many health issues, including heart disease and joint disorders. You can check out our list of the best food for a Bernedoodle to get started.
4. Keep Your Bernedoodle in Physical Shape
Bernedoodles need a moderate amount of exercise. They enjoy the outdoors and are happy to tag along on outdoor adventures. The amount of time necessary for walks will vary based on the size and age of your Bernedoodle. They do require a few short walks or one long walk a day.
5. Read Your Dog's Body Language and Watch For Health Concerns
Pay attention to your dog's body language. Notice if they seem to be in pain, if there are changes in behavior, eating habits, or bowel movements. Suppose something seems off; visit your veterinarian immediately. Seeking immediate treatment is vital for a successful diagnosis, treatment, and prognosis.
6. Brush Your Dogs Teeth
This is admittedly an often forgotten but essential practice in your dog's hygiene regimen. Not brushing your dog's teeth will lead to gum disease and tooth decay. These issues can cause inflammation that can lead to other health issues.
What If My Bernedoodle has Developed a Health Issue
If your Bernedoodle has developed one of the conditions above, there is no need to panic. Health issues often arise no matter how much we attempt to prevent them. Most conditions are treatable by a licensed veterinarian. Seek veterinary assistance. There are medications and treatments available to provide your Bernedoodle with the best quality of life possible.
Conclusion For "Bernedoodle Health Issues"
For more information about the Bernedoodle, or find a reputable dog breeder, visit the United Bernedoodle Registry's website. The website also provides information on training your Bernedoodle, motivating, and caring for your beloved pet.
The Bernedoodle dog breed was also mentioned in these articles:
To learn more about health issues, watch "Top 10 Common Dog Health Problems and Solutions" from WatchMojoLifestyle down below: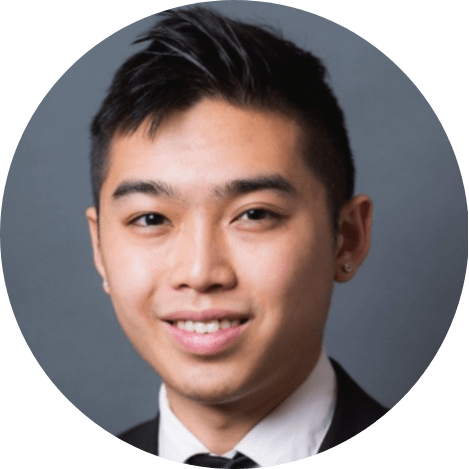 Andy is a full-time animal rescuer and owner of a toy doodle. When he's not saving dogs, Andy is one of our core writers and editors. He has been writing about dogs for over a decade. Andy joined our team because he believes that words are powerful tools that can change a dog's life for the better.
Why Trust We Love Doodles?
At We Love Doodles, we're a team of writers, veterinarians, and puppy trainers that love dogs. Our team of qualified experts researches and provides reliable information on a wide range of dog topics. Our reviews are based on customer feedback, hands-on testing, and in-depth analysis. We are fully transparent and honest to our community of dog owners and future owners.