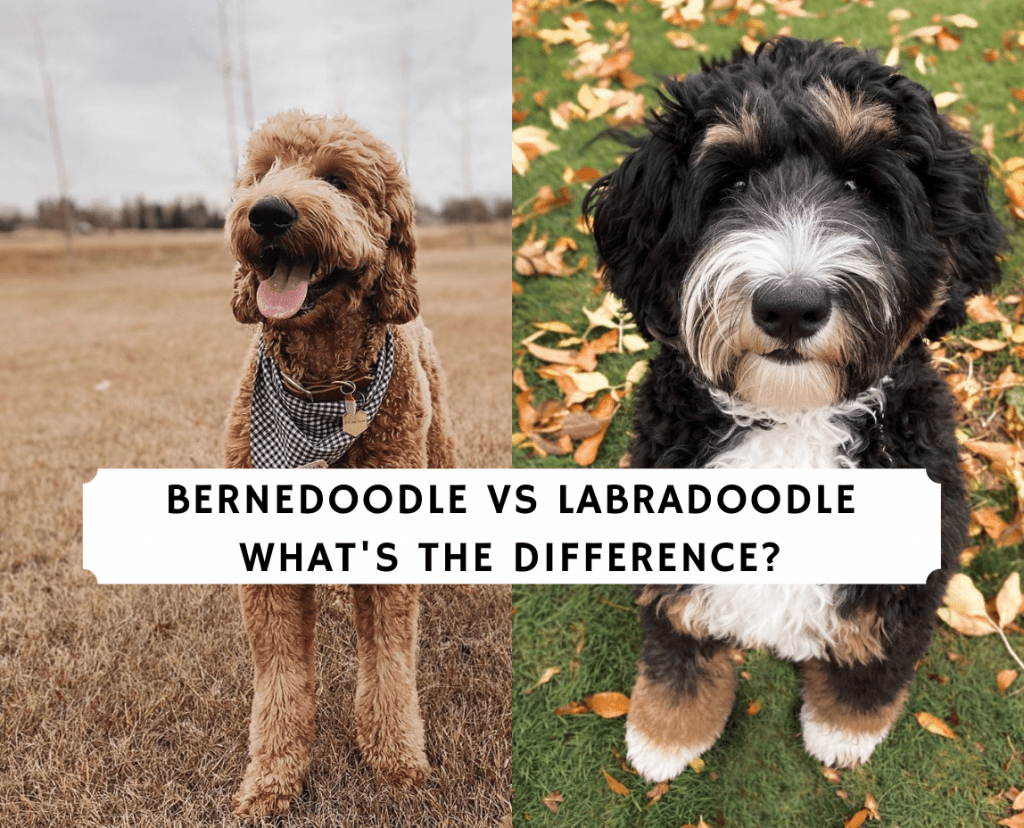 The Bernedoodle and Labradoodle are two of the most popular Doodle dog breeds aside from the Goldendoodle. If you're choosing between the Bernedoodle or Labradoodle, it's important to full knowledge of each of these dog breeds. In this article, we go in-depth and compare the Bernedoodle vs Labradoodle.
As a general summary, here is a high-level comparison between the two dog breeds:
The Bernedoodle is a cross between the Bernese Mountain Dog and Poodle while the Labradoodle is a cross between the Labrador Retriever and the Poodle.
Bernedoodles typically have tri-color or two-color coats (there are several variations of brown, white, and black colors). On the other handle, Labradoodles are typically a solid coat color (cream or apricot).
Labradoodles typically have more energy than a Bernedoodle. Of course, this highly depends on the genetics they inherit, but a Labrador will typically have more energy than a Bernese Mountain Dog.
Depending on the generation of Labradoodle or Bernedoodle, they both typically have a nonshedding and hypoallergenic coat. This means that you will have to groom both of these Doodles with regular brushing, haircuts, and grooming sessions. The upside is that you won't have to vacuum up dog hair from your floor or worry about getting dog hair on your clothes.
In general, the standard Bernedoodle is going to be larger than the standard Labradoodle. However, there are several sizes of each dog including tiny, miniature, and medium sizes.
Origins of the Bernedoodle and Labradoodle
One similarity between these two dog breeds is that they are both doodles: hybrid dogs that come from the lineage of the Poodle. People typically like to breed dogs with Poodles because they don't shed hair and are hypoallergenic for people worried about pet allergies.
The Bernedoodle, which is originally from Canada, is a mixed dog breed of a Bernese Mountain Dog. The Bernese Mountain Dog is a giant dog breed known to be herding dogs in the Swiss Alps and can survive in cold temperatures. They are gentle, calm, and strong dogs.
The Labradoodle has an Australian origin and is a mixed breed of a Labrador Retriever and a Poodle. The first Labradoodle was bred to be a perfect guide dog that would be hypoallergenic back in 1989.
 The cross between a Labrador Retriever and Poodle was a huge success and proven to be intelligent and loyal to their owners. Thus, these Doodles became a nationwide sensation and are arguable the most popular crossbred dogs of all time.
The Labrador Retriever is the #1 most popular purebred dog in the world according to the American Kennel Club (AKC). It's no surprise that the Labrador Retriever is friendly, active, and highly obedient. You will see several of these traits present in the Labradoodle.
Size and Appearance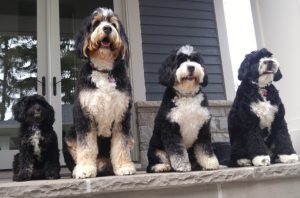 Thanks to a wide variety of Poodle coat types, most of the Labradoodle and Bernedoodle come in an assortment of colors and sizes. The most common Bernedoodle sizes are the Tiny Bernedoodle, Miniature Bernedoodle, and Standard Bernedoodle. Conversely, the most common Labradoodle sizes are Miniature Labradoodle, Medium Labradoodle, and Standard Labradoodle.
Most common Bernedoodle sizes and weight:
The tiny Bernedoodle stands at 12 to 17 inches tall and weighs around 10 to 24 pounds.
A miniature stands as tall as 18 to 22 inches and weighs 24 to 49 pounds.
A standard Bernedoodle stands at 23 to 29 inches tall and weighs around 70 to 90 pounds.
Most common Labradoodle sizes and weight:
A standard Labradoodle weighs around 50 to 65 pounds and stands around 22 to 24 inches tall.
A medium stands as tall as 17 to 20 inches and weighs around 30 to 45 pounds.
The miniature Labradoodle stands 14 to 16 inches tall and weighs around 15 to 25 pounds.
The average Bernedoodle is bigger than the average Labradoodle due to the Bernese Mountain Dog genetics. In addition, there are three common coat types between the two dog breeds: straight coats, wavy coats, and curly coats.
Bernedoodles are enormous dogs that usually have wavy and curly coat types. Generally, the curly coat types are known to be hypoallergenic because they are low to non-shedding. Wavy and curly coats on their own are considered low-shedding compared to straight coats.
Tiny and Mini Bernedoodle are so cute that they have a resemblance to multi-colored teddy bears. Many people opt for these smaller size dogs because they are so good at turning heads and grabbing attention. In addition, they typically need less exercise and can fit in smaller living spaces than a standard-sized Bernedoodle. There is no standard color, but the most common colors are black, brown, and white or a combination of the three colors.
Labradoodles, on the other hand, can have either curly, wavy, or straight coat types. If you are looking for a hypoallergenic Doodle, the straight-haired Labradoodle is not ideal. Straight coats shed just as much hair as other short-haired dogs. Labradoodles are available in a variety of colors and the most common colors are cream, tan, apricot, and chocolate.
Temperament
In general, Labradoodles will be a much more active dog breed. A Bernedoodle is usually very relaxed, easy-going, and sometimes strong-willed. They may not have the sporadic energy that Labradoodles do but they are also playful, cuddly, affectionate, and love spending time with their human parents. These cute attention seekers do not do well when left alone all day because they always crave human interaction. The Bernedoodle is a very smart breed and also loyal to their families.
The Labradoodle is a smart breed too, but not as stubborn as the Bernedoodle. Their temperament is full of energy and thirst for adventure. Their ancestors, the Labrador Retriever, is a very good hunting dog and have passed on these good qualities to their offspring. They are always alert and they make good service and therapy dogs.
On average, Bernedoodles are less active compared to Labradoodles. However, both dogs can make the ideal family pets because they are friendly and get along well with children, adults, strangers, and other pets. They're so gentle-natured and they won't make good guard dogs. Both the Labradoodle and Bernedoodle bark infrequently and are more likely to befriend an intruder than scare them away. Imagine having a burglar invade your home and your Doodle would probably be eating out of their hand before you realize there is an invasion.
The lifespan of the Bernedoodle vs Labradoodle

Both dogs have an estimated life expectancy of 12 to 18 years. They also have a gestation period of about 60 to 64 days. Of course, this highly depends on the size, genetic disease, and other unknown factors. In general, smaller Doodles will tend to live longer than larger Doodles. Also, before you ever purchase a dog, you should make the breeder does health checks for any genetic diseases. Genetic diseases can drastically impact the lifespan of a Bernedoodle or Labradoodle.
Health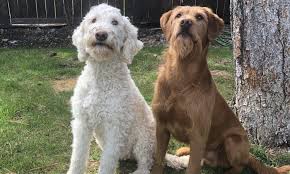 Dogs that are purebreds tend to suffer from many genetic diseases because their gene pool is limited and breeders use the same dogs to create the same offspring. Generally, it is understood that introducing a new gene pool by crossing two breeds that are prone to different sets of genetic concerns usually results in a healthier offspring. This phenomenon is termed "Hybrid Vigor" and is one of the reasons people love Doodles. Various generations of Labradoodle and Bernedoodles have different degrees of benefit from Hybrid Vigor. However, crossbreed dogs will almost always be healthier than their purebred counterpart.
Basically, the higher the percentage of one breed there is, the less benefit they gain from the cross. An F1 Bernedoodle or Labradoodle will have the most hybrid vigor and reduce the chances of inheriting genetic diseases. 
Overall, they are well-rounded and healthy dogs, but as with all animals, they can be susceptible to some health issues similar to those of their parents. Health issues like Hip and Elbow dysplasia, eye and heart diseases, Progressive Retinal Atrophy (PRA), and Von Willie brand disease are all common in both the Labradoodle and Bernedoodle.
However, proper breeding and health screens of the parents of the puppy are vital in preventing the transfer of these diseases from parents to offspring. A reputable breeder will always show you health checks before they would even consider breeding these two dogs.
Grooming Needs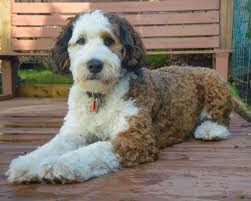 It is recommended to groom Labradoodles and Bernedoodle regularly at home and professionally every 6 to 12 weeks. Due to the curly and wavy nature of their coat types, their hairs are prone to matting and tangling. Hence, Bernedoodles and Labradoodles must be brushed 2 to 3 times a week with a specialized dog brush and comb. The hair length will determine the frequency of brushing needed with longer hair needing to be brushed more. Brush through the coat thoroughly and follow the natural direction in which it grows. Try to avoid back-brushing as this hurts Bernedoodles and Labradoodles skin.
In addition, you'll need to give both the Bernedoodle and Labradoodle a bath every few months. However, you do not want to over-wash them because it may lead to the stripping of the natural oils that keep their coat and skin moisturized away. Avoid harsh shampoos and stick to dog shampoo or conditioner for sensitive skin. Oatmeal formulas tend to be fairly gentle and work well for both Labradoodles and Bernedoodles.
When grooming your Doodles hair, always remember that it has to be dry before starting. Unlike humans, where cutting the hair usually gets easier when wet, a dog's fur should be dry when cut. The inner corners of the eyes and along the bridge of the nose should be properly trimmed with a pair of round-end or blunt scissors. You can also use these scissors to trim the rear end of the dog. Keep this portion nice and short for sanitary reasons.
While grooming your Doodle may be the least fun part of owning a Labradoodle or Bernedoodle, it's an opportunity for you to bond with the dog. Doodles love attention and love spending time with their owners. They enjoy it so much that regular grooming may even become something they look forward to with delight.
Grooming needs highly depends on the Labradoodle or Bernedoodle coat type. Based on their parents, Doodles are also classified into generations which helps to determine what type of coat they will have. The most popular Bernedoodle and Labradoodle generations are:
The F1: An F1 Doodle, also known as the first generation Bernedoodle or Labradoodle, is one where the parents are a Poodle and another breed. The offspring here is 50% Poodle and 50% the crossbreed. This generation tends to have straight or wavy coats that may shed. If you Labradoodle or Bernedoodle has a coat that sheds, you will need to groom them less.
The F1B: An F1b Doodle is where a Poodle is bred with an F1 Doodle, making the puppy 75% Poodle. Since it has so much Poodle genetics, they tend to have coat types that are wavy and curly. This type of Labradoodle or Bernedoodle will require a lot more grooming.
The F2: An F2 Bernedoodle or Labradoodle is where two F1 dogs are bred together. They tend to have a coat type that is straight or wavy. Oftentimes their coat will shed so they will require less grooming.
Training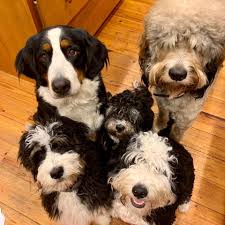 Dogs tend to emotionally bond to whoever feeds them and it is a fantastic tool to use when training your puppy. It is very beneficial to sit on the floor and hand-feed your puppy for the first week or two after they arrive home to you. Trainer Dawn Sylvia-Stasiewicz (trainer to Barack Obama's dogs) says, ''it is the foundation for ALL training.''
 Bernedoodles, generally, are an incredibly intelligent dog breed. This makes training them usually very easy to train. However, they are notoriously stubborn and smart enough to decide which commands they will or will not obey. It is no surprise they inherited intelligence from both their ancestors, the Bernese Mountain Dog and Poodle. This, however, can make puppy training them a little difficult. This occurs in adolescence, and it can be very frustrating since they mature rather slowly. It is advisable to start training a Bernedoodle immediately when they are brought home. Patience and consistency are very vital during these periods if you want a Bernedoodle who will listen to commands.
The training of the Labradoodle is quite different. During the initial stage of the Labradoodle training, you must wear them out a little before training. Wearing them out will help endeavor that they learn new tasks quickly and do not lose focus. In addition, Labradoodles are typically more food motivated than Bernedoodles which make them easier to train.
Due to their high intelligence and social nature, Labradoodles are easy to train as long as you follow the right techniques, and they are generally quite eager to learn new tasks. Labradoodles are also people-pleasers and bond to their humans well. As with all breeds, consistent dog training is important.
Cost and Maintenance
Doodles are quite expensive due to their nature as hybrid dogs and also because there is a high demand for them. Despite the fact that they have been around since 2003, Bernedoodles are still considered a fairly new breed, and this has added to the cost because there aren't many breeders.
Another reason why they are in high demand is that they are considered to be hypoallergenic, which is good for owners who are allergic to dander.
Depending on features like the size and color, a Bernedoodle puppy can cost between $2500 to $5000. Their adoption price is around $100 to $500, but they are typically very hard to adopt. Bernedoodles are more expensive than a Labradoodle. The price of a Labradoodle puppy is typically around $1200 to $3000.
Those cute and cuddly dog breeds are so adorable, but they love to be up and never want to miss their daily exercise. If you have a busy routine, you should reconsider your decision to buy or adopt a Bernedoodle or Labradoodle. They always want to be around you and will develop separation anxiety if you're not home with them. They can pounce and play all day and cuddle up all night. This can be frustrating at times when you need your space and they are all over you.
Furthermore, considering the general equipment needed to house a dog, professional training and grooming, veterinarian visits, and feeding which can easily cost around $400 to $1000+ a year.  Mini Doodles are a lot cheaper to feed because they eat less than the standard Doodle, but they also live longer than larger dogs. If you don't mind doing a bit of work yourself like grooming, there is quite a lot of money to save each year.
An average Labradoodle or Bernedoodle has a life expectancy of around 12 years, so those expenses which are only a few hundred dollars a month will end up costing you $10,000 to $20,000+ over the lifetime of the dog.
However, raising a child from 0 to 18 years old, according to the US Department of Agriculture, is expected to cost up to $233,000, so looking at the bigger picture, $20,000 isn't that bad for all those years of great fun and love you will have with your Labradoodle or Bernedoodle.
Conclusion for Bernedoodle vs Labradoodle
Labradoodles and Bernedoodles are two similar yet very different dogs. In general, the Bernedoodle will be bigger than a Labradoodle and have more coat colors. However, Labradoodles are the more active dog breed that tends to be easier to train. Both the Bernedoodle and Labradoodle will have similar grooming needs, similar lifespans, as well as similar coat types. We that you learned something about the Bernedoodle vs Labradoodle dog breeds!
Garrett loves animals and is a huge advocate for all Doodle dog breeds. He owns his own Goldendoodle named Kona. In addition, he volunteers at the Humane Society of Silicon Valley, where he fosters dogs and helps animals. Garrett enjoys writing about Doodles and believes that dogs can teach humans more about how to live than humans can teach a dog.
Why Trust We Love Doodles?
At We Love Doodles, we're a team of writers, veterinarians, and puppy trainers that love dogs. Our team of qualified experts researches and provides reliable information on a wide range of dog topics. Our reviews are based on customer feedback, hands-on testing, and in-depth analysis. We are fully transparent and honest to our community of dog owners and future owners.