Look no further than the Bernedoodle if you want a companion that will stay by your side forever. This hybrid breed, also known as the Bernese Mountain Poo, is a combination of the Bernese Mountain Dog and the Poodle. They combine the best characteristics of both breeds which means they will typically be multi-color, nonshedding, and hypoallergenic.
The intelligence and low shedding coat of the Poodle with the laid-back, loyal nature of the Bernese make the Bernedoodle one of the most popular dogs in Los Angeles. Any pet owner who has owned either of those breeds knows the Bernedoodle is a special dog!
Despite their funny names, these dogs make excellent pets, and they are especially good with children. So it's no wonder this designer breed has become so popular so quickly. If you want a fluffy dog that will be your life companion, here are the best Bernedoodle breeders in Los Angeles!
Other articles you would like: Bernedoodle Dog Breed Guide and Bernedoodle Rescues.
1. Teddy Bear Love Bernedoodles
Teddy Bear Love Bernedoodles has a small breeding program with a small number of dogs to produce this magnificent, intelligent, low-shedding breed. The ranch is located in the beautiful rural community of San Jacinto Valley in southern California. They are conveniently located near Riverside, Orange, San Diego, and Los Angeles counties.
The family has been breeding dogs for more than 25 years, and they share a wealth of information with their customers. All Bernedoodle puppies purchased from Teddy Bear Love® Bernedoodles come with an unprecedented 5-year health guarantee.
Teddy Bear Love Bernedoodles Puppy Information:
Size: Teddy Bear, Mini, and Standard Bernedoodle puppies
Bernedoodle Breeder Information:
2. Riverdoodles California
Riverdoodles California does not maintain kennels but rather is a family-owned and operated business. As a result, all puppies are raised in the family's Brea, CA home on a 5-acre ranch. Until they leave and become part of your family, all of their pups and dogs are considered family members.
Socialization is achieved through a playful environment that includes a lot of stimulation and love from their children. In addition, they adhere to their own high standards, which include:
A long line of health tests for parents and grandparents
Every day, puppies are handled many times
Socialized well with kids, other dogs, and household noises
Early neurological and sensory stimulation
Environments & playtime both indoors & outdoors
Litter box and dog door trained
Optimal nutrition and vitamins
Before they go home, puppies are examined individually
Microchips, dewormers, and vaccines
Health guarantee of two years
When they are about four weeks old, the pups graduate to their air conditioning/heated pup houses and need more room to play. The puppies can sleep inside the pup house, but they can also play outside on the artificial turf while stretching their little legs. In addition, they learn quickly how to use the doggie door and go to the bathroom outside, which is great when you bring your pup home!
Bernedoodle Breeder Information:
For more check out: Bernedoodle Puppies in Michigan! and Bernedoodle Breeders in Colorado!
3. Beloved Bernedoodles
Beloved Bernedoodles specialize in standard F1 and F1b Bernedoodle puppies.
DNA testing through Paw Print Genetics has cleared all of their puppy parents from all common diseases for their breed, and their hips and elbows have been evaluated through OFA and PennHip with good or excellent scores. In addition, their dogs have great temperaments – they are intelligent, loving, athletic, cuddly, and fun. They adore them!
They encourage you to fill out and submit their puppy questionnaire as soon as possible if you are interested in getting on their waiting list.
Bernedoodle Breeder Information:
4. Woodcreek Ranch Bernedoodles
Home-raised and well-socialized puppies are the hallmark of Woodcreek Ranch Bernedoodles.
Bernedoodle puppies are bred for health, temperament, and conformation. As well as genetic testing for DM, and VWB, their adults have undergone Hip and Elbow certification by the Orthopedic Foundation for Animals (OFA).
Be sure to check out their Instagram to see pictures of all their cute pups!​ Puppies start at $4500.
Bernedoodle Breeder Information:
5. Cedar Creek Puppies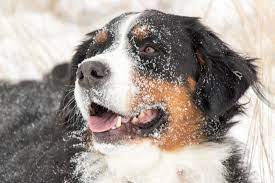 Since 2007, Cedar Creek Puppie has supplied top-quality, well-socialized, healthy, beautiful Bernedoodle and Aussie Bernedoodle puppies. This small family breeder places a high value on health, longevity, and good orthopedics.
In a puppy's first 16 weeks, she will learn more than she will be able to in her lifetime. The imprinting period lasts 16 weeks. An 8-week-old puppy has about the same number of brain cells as a sixteen-week-old puppy – but the brain is approximately ten times larger.
It is not the size of the brain cells themselves that has increased so dramatically, but the number of connections established among them. All the experiences that the puppy has during these first critical months of life result in establishing these connections.
Cedar Creek provides your puppy with an enriched learning environment during her first few weeks. A structured, research-based program gives your puppy every advantage whether they are there for eight weeks or participate in a puppy starter camp.
Bernedoodle Breeder Information:
Bernedoodle Puppies in Los Angeles
It is not uncommon for Bernedoodles to be a bit headstrong when they are young. This is particularly true of miniature and toy Bernedoodles. This is why you should start socializing and training your Bernedoodle puppy as early as possible. Training them properly is more complicated than it is for some other breeds.
A well-bred Bernese Mountain Poo should be an easy dog to train. This breed inherits intelligence, eagerness to please, and a calm demeanor from its parents. It is unrealistic to expect every dog of this hybrid breed to have an ideal temperament.
It is more often than not the case that Bernedoodle puppies are not that different from other pets. You have to be prepared for a bit of mischief and more than a few ups and downs before you can consider them fully trained! Be patient with them.
Sometimes, these adorable and fluffy puppies can be a bit more stubborn than your average dog. This trait is most prominent during the puppy years. Usually, it goes away once your dog grows up and goes through all of the training phases. It comes from the Bernese Mountain Dog line, so Bernedoodle crossbreeds with less of the Bernese Mountain dog breed may not have this problem. It depends on the individual dog.
How to Choose a Bernedoodle breeder in Los Angeles?
You should take only one piece of advice from us: no matter where you begin your search for a good breeder — a personal recommendation or a web search — you should physically visit the breeder's home. Pictures and websites can be misleading, so it's best to see for yourself where the puppies were born and how they're being raised. In addition, you should expect to see the Bernedoodle puppies' mom and where they live.
Bernedoodle breeders who love their dogs and have nothing to hide are good breeders. On the other hand, the breeder who refuses to let you see the puppies up close and handle them refuses to show you the puppies' parents, or wants to bring a pup to you at a different location-you should move on.
Where do you find a Bernedoodle breeder?
Prepare a list of questions and ask the breeder to meet you in person. It is essential to find an ethical, reputable breeder to ensure your new puppy's health. Contacting the breeder and not seeing where the puppies were born or how they are currently living can be a sign of a dirty breeding business or puppy mill. Prepare a list of questions to ask during a visit to the breeder, including:
How long have you been breeding dogs?
Do you breed only Bernedoodles?
What is your routine for cleaning, feeding, and playing with your dogs?
Are you a registered dog breeder?
Would you be able to provide me with a veterinarian's statement of the dogs' physical health?
Is it possible to meet the pup's mother or parents?
Could you provide references from individuals or families who have purchased dogs from you in the past?
Are there any genetic issues or problems with the types of dogs you breed?
Can I come back more than once before making a purchase?
Conclusion for Bernedoodle Breeders in Los Angeles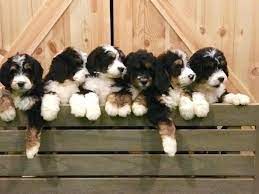 Perhaps you've always dreamt of owning a Bernedoodle and are looking to add them to your family. Almost anyone can raise puppies, but a reputable dog breeder will have the attitude, demeanor, and paperwork to ensure you are buying a healthy puppy from a reputable source.
You will also like:
Garrett loves animals and is a huge advocate for all Doodle dog breeds. He owns his own Goldendoodle named Kona. In addition, he volunteers at the Humane Society of Silicon Valley, where he fosters dogs and helps animals. Garrett enjoys writing about Doodles and believes that dogs can teach humans more about how to live than humans can teach a dog.
Why Trust We Love Doodles?
At We Love Doodles, we're a team of writers, veterinarians, and puppy trainers that love dogs. Our team of qualified experts researches and provides reliable information on a wide range of dog topics. Our reviews are based on customer feedback, hands-on testing, and in-depth analysis. We are fully transparent and honest to our community of dog owners and future owners.