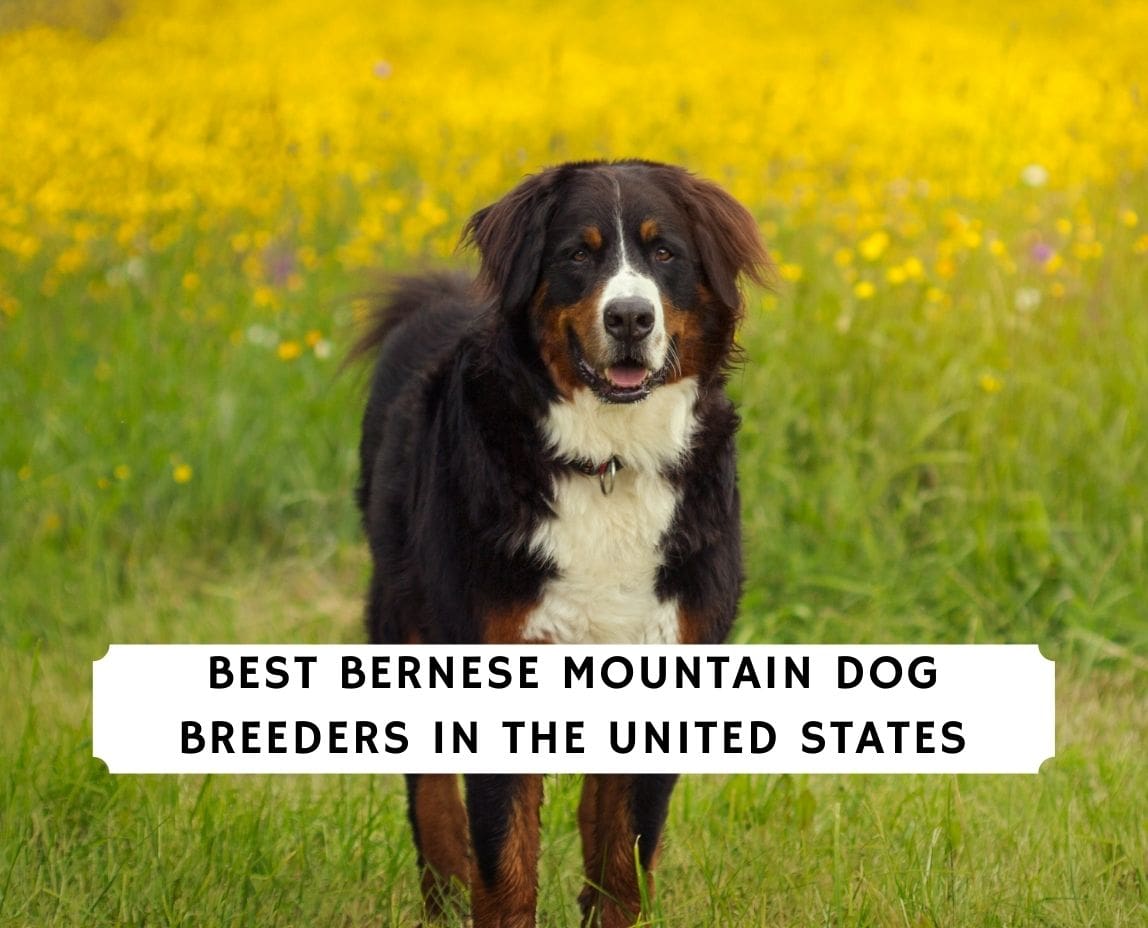 If you're searching for the best Bernese Mountain Dog breeders in the United States, then you probably know how unique this dog breed is. The Bernese Mountain Dog can trace its ancestry back to the ancient Romans when they brought them to Europe two thousand years ago. As we know it today, the breed originated in Switzerland as a farm and working dog in the early 1900s. The "Berners" (a most common nickname) made its debut in the US in 1926 and quickly became a favorite pet and working dog.  This breed is much loved due to its charming, easy-going, and playful personality. Bernese Mountain dogs are intelligent and lovable and are known as "gentle giants" due to their sweet and loving nature.
Before scrolling down the list of Bernese Mountain Dog breeders in the United States, here are a few dog breeds you might be interested in raising: Best English Golden Retriever Breeders and Best Australian Shepherd Breeders.
Bernese Mountain Dog Breed Info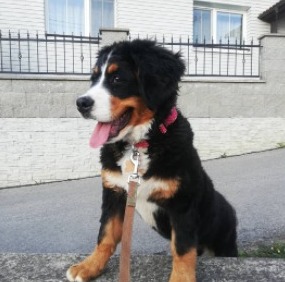 Bernese Mountain Dogs are tough and sturdy dogs, very physical, and are up for any adventure. However, they can be susceptible; therefore, training through positive reinforcement, kindness, and care is essential to keep your gentle giant happy and stress-free. Due to their high energy and intelligence, it's vital that training and socialization start early while consistent and often. Bernese Mountain Dogs are friendly, very social, full of energy, and are playful.
They can also be shy and have a higher prey drive; thus, early socialization is essential. They also need a ton of vigorous exercise-no couch potatoes. As a long-haired dog, these dogs shed a lot. Regular grooming must be part of their routine. Bernese Mountain Dogs are calm, patient, and easy to train. This makes them popular family dogs; they make great and loyal companions. As always, you should research any breeder before you buy your dog or puppy. Whole Dog Journal published an excellent guideline for spotting an ethical breeder.
Signs of a Good Bernese Mountain Dog Breeder:
The breeder does something with his or her dogs, whether that person is a hobbyist, part of a club or community, or a competitor.
You want to buy from a nosy breeder, asks you all kinds of questions, is judgemental. A good breeder is paranoid, and their main job is to support their dogs, not use their dogs to support themselves. They will probably check your references.
The breeder will also be happy to provide references, including their vet.
A good breeder will speak at length about the adult dogs, the breed, the quality, and accomplishments. They will also share any results of all testing done and share why that testing is done.
Another strong marker is how often they breed and the age of the sires. A good breeder only breeds adult dogs and doesn't breed often. A Momma dog should be two years-older is better and should only be having 1-2 litters a year.
A dog is a huge commitment and should not be taken lightly. Talk to other owners of Bernese Mountain Dogs, read up on the breed. Know the health issues, the care needed, the type of training it takes, etc. Be confident that you can provide a good loving home to these loveable puppies before you buy one.
The Bernese Mountain Dog was also mentioned in Best Bernese Mountain Dog Rescues and Bernedoodle Dog Breed Guide.
Bernese Mountain Puppies For Sale in the United States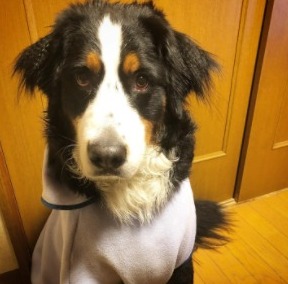 If you're planning to purchase from unknown Bernese Mountain Dog breeders in the United States, we recommend that you do your research. It's best if you keep an eye out for any signs of red flags because without paying attention, you'll never know if you're dealing with a puppy mill or not.
You can prepare in advance for the arrival of your Bernese Mountain Dog with our recommended products: Best Shampoos Groomers Use and Best Dog Nail Grinder.
1. Relentless Ranch
First on the list of Bernese Mountain Dog breeders in the United States is "Relentless Ranch." Relentless Ranch is outside of Aspen, Colorado, and is a 2,600-acre ranch where her dogs are raised in the house as pets, but they work on the ranch to hone their natural working and herding instincts. Catherine has been working and competing with Berners for over 19 years and started breeding ten years ago. Her Bernese Mountain Dogs compete in agility, performance, conformation, and obedience.
Relentless Ranch is AKC registered, an AKC Breeder of Merit, is part of the Bred with H.E.A.R.T. program, and is part of local Bernese clubs. She breeds puppies about 1-2 times a year, and puppies will have their genetic testing papers, insurance, will be vaccinated and microchipped. Per the contract, you will be required to send pictures and stay in touch with her for the life of your dog. Please find the link to her email on the site to inquire about puppy adoption and any questions, and Catherine will reach out to you. She can also be followed on Instagram.
Relentless Ranch Details
2. DeerPark Dogs
Denise was a dog groomer before she was a breeder and competitor. She has been an AKC conformation judge since 1997 and is AKC registered and a part of the Bred with H.E.A.R.T program, and has been a breeder since 1975. DeerPark Dogs are raised in the home as pets, and the breeder also raises Berger Picards (a French herding dog). The breeder will respond to any questions about the breed and work to ensure her dogs' right home. She breeds health and temperament. Click on the link below to read more about this breed and the available dogs.
DeerPark Dogs Details
3. Rossingham Berners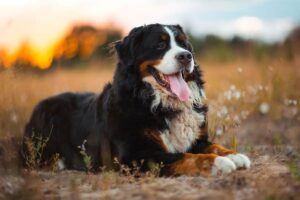 Marc Ross raises his Bernese Mountain Dogs to be a healthy, good-tempered family companion. His mission is to breed for longevity, temperament, and overall health. All of the dogs from Rossingham Berners registered with the Berner Garde Foundation and are health tested for specific genetic defects. Rossingham Berners utilizes socialization and desensitization techniques, including grooming, human and animal interactions, litter box training, textile learning, etc.
The puppies are never left alone in their kennels, and their dogs will be vaccinated, dewormed, microchipped. They will have their dewclaws removed and will have a one-year health guarantee. The breeder will send your puppy home with a toy or blanket. Rossingham Berners compete in obedience, conformation, and rally.
The breeder is registered with the Institute of Canine Biology, is CHIC certified, is a Breeder of H.E.A.R.T., has completed the AKC Whelping and Medical Intervention Course, and has a health testing level of excellence from Good Dog. Marc Ross has a Facebook page and a website to visit, where you can see his championship dogs and read more about his kennel.
Rossingham Berners Details
4. MahaRaja Bernese Mountain Dogs
MajaRaja Bernese is a preservation breeder that breeds under the AKC breeding standards. Their dogs are shown in obedience, rally, and conformation, and Carol Fox has been part of local breeder clubs, has been showing for 30 years, and is the owner of Blue Ribbon K9 Academy. They are also an AKC Breeder of Merit. Puppies from MajaRaja Bernese are enrolled in the BernerGarde Foundation and grow through various health DNA screens.
They breed only 1-2 litters per year. The puppies are brought up with various enrichment practices, such as noise and household desensitization, crate training, socialization, surface and textile enrichment, basic manners training, and house training. MajaRaja Bernese will send the puppy home with you at ten weeks old, and they will be microchipped. They will ask you to take your puppy to the vet within 72 hours of taking ownership. The breeder works to make sure all Bernese Mountain Dogs go to safe and healthy forever homes.
MahaRaja Bernese Mountain Dogs Details
5. Barefoot Springs
Dogs and puppies at Barefoot Springs are raised around other animals and livestock on a large acreage area, and the breeder has a natural water source. Her dogs are enrolled in the BernerGarde Foundation (a genetic database where you can see her dogs' health and genetic testing). When you take home your puppy from Barefoot Springs, the breeder will include a puppy starter kit, their health records, a bag of puppy food, records of their vet visits, and they will have had their set of vaccines.
Your puppy will come with AKC limited registration, a spay/neuter contract, and the breeder offers a one-year health guarantee. However, Barefoot Springs provides lifetime support and will take the dog back if you no longer care for them. Barefoot Springs use the ENS (Early Neurological Stimulation) method of puppy raising, including socialization, desensitization, getting the dog used to touch, sound, and textiles. To find out more, including what's included in the application, check out Barefoot Springs on Facebook, Twitter or click on the link below.
Barefoot Springs Details
6. Magic Bernese Mtn. Dogs
Bruce Brauersfeld is a licensed vet, and he and the co-owner have been showing and competing Bernese Mountain Dogs since 2000, in such events as obedience, performance, draft, and conformation. The breeders regularly travel to other countries to see or learn about this breed and add certain bloodlines to their pedigree. Their focus as a breeder is the improvement and preservation of the breed.
Magic Berners is AKC registered and an AKC  Breeder of Merit. The dogs have a regular exercise regimen that includes water exercise, hiking, and skiing trips with the family. The dogs are generally raised as pets and companions rather than show dogs, and they are grown in the house. The breeders make sure they are never alone, and when you take your puppy home, they will have their limited AKC registration, be vaccinated, and microchipped.
Magic Bernese Mtn. Dogs Details
7. Bear Acres Kennel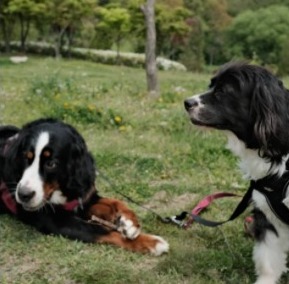 Breeding and showing Bernese Mountain Dogs since 2000, Bear Acres is an AKC Breeder of Merit, competes in conformation events, and offers a 5-year health guarantee. Bear Acres Berners get vet NuVet Plus supplements; you will be encouraged to follow that precedent. If you do, they will extend the health guarantee. The breeder does offer anytime support for your Berner Dog.
People can visit Bear Acres, except when they have newborn puppies; they want to limit exposure. Bear Acres Berners are health tested and cleared of genetic diseases and occasionally have adult dogs for adoption. Not all of Bear Acres Berners are for show, and the dogs are part of the family. Click on the link below to see more information on championship lines, how the puppies are raised, and see the puppy application. Their Berners are also raised with Newfoundlands.
Bear Acres Kennel Details
Conclusion For The "Best Bernese Mountain Dog Breeders in the United States"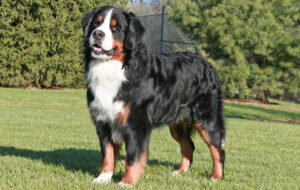 Bernese Mountain Dogs are part of the Swiss Mountain dog family, the Appenzeller, Greater Swiss Mountain Dog, and the Entlebucher. These dogs are crazy strong, love to herd, need regular grooming as they shed so much! Bernese Mountain Dogs are great to train because they are patient, calm, brilliant, and extended to please you. Despite their high energy levels, a Bernese Mountain Dog can be lazy and will lay around if you let them. A bored dog can be destructive, and it's not optimal for their health as a big dog either.
Like many large dogs, the average lifespan of this breed is only 7-10 years. It's also common for these dogs to attach themselves to one person. Some training tips that the experts share a focus on the positive, as punishing your gentle giant will stress them out, cause hurt and confusion. Start training them immediately, but keep the sessions short, especially in the beginning. Start with leash training, then move to basic commands. It's also vital that everyone uses the exact command words for enforcement of specific orders.
There's a lot to love about Berners; they are playful, affectionate, and loyal, but there is a lot of care needed as well. Do your research, reach out to any breeder and go through the steps necessary to make Bernese Mountain Dogs part of your family.
Check out other articles with mentions of the Bernese Mountain Dog:
You can learn more about the Bernese Mountain Dog by watching "Bernese Mountain Dog" Characteristic and Care" from AnimalWised down below: