Your dog might love hanging out with you and your family. But, just like anyone, even dogs need a place where they can unwind by themselves every now and again. Many homeowners give their dogs personal space by learning how to build a doghouse under stairs.
If you're wondering how you can do this for your dog, you're in luck. Today, we're covering why you may want to install a dog room under stairs and a step-by-step guide on how to do it. Keep reading to learn more!
Before you scroll down this guide, "How To Build a Doghouse Under Stairs," you can check out these other dog guides from our team at We Love Doodles: How to Build a DIY Dog Grooming Table and Best Double Dog Houses.
Why Should You Build a Doghouse Under Stairs?
In most houses, the area under and behind the staircase is either empty space or taken up by another stairway to a lower floor. When there is no stairway, the floor usually extends to the exterior wall, creating a natural storage area that, in most cases, sits empty.
Newer homes sometimes attempt to convert that space into storage by creating a small closet or nook. This illustrates just how much space exists under most staircases!
How Much Room Do You Need to Build a Doghouse Under Stairs?
The amount of space you need to build a doghouse under stairs depends on the size of the staircase. Then, the question ends up being how much space you have rather than how much you need. No matter the amount of space, you can create a dog house! The size of the area under your stairs will dictate how big your dog house can be. Naturally, if you have a bigger dog, you'll want more room.
For context, the average length behind a stair from the bottom step to the wall is approximately 5 to 8.5 feet. The average height from the bottom of the stringer to the floor can range from a few feet to ten feet. The average stair width in the USA is 33 inches to over 40 inches.
Several square feet of unused space under the stairs will make the perfect doghouse. For example, if the depth of space under a staircase is 8 feet and the width of the stairway is 3.5 feet, you have 28 total square feet, of which the majority can be used to create a solo hangout zone for your dog.
Easy Dog Room Construction
Another reason behind or under your stairwell is ideal for creating a "dog space" is that over half the actual construction work is already done for you. You do not need to worry about a ceiling unless nails are poking through (which likely means you have larger issues on your hands).
The walls are usually completed, except for one side, allowing easy access to your workspace. Even if the stairway is completely enclosed, creating an entrance and gaining access to that space is not a major undertaking.
In most cases, all you need to do is come up with a flooring surface for your dog to sit or lay on, and if you want, finish off the exposed stringers and risers directly under the stairs. The budget is also very low unless you decide to create a palace for your canine.
Multi-Purpose Options
If you are having difficulty justifying creating a special place for your dog, remember that you can use the space you do not use for a dog room for other storage. For example, use the taller part of the stairwell to add a closet for jackets or recessed shelving.
Dog House Under Staircase: Things To Remember
Your dog room under the staircase can be just about any design you want, from a cutout space for the dog to lie down to something more sophisticated with doors, windows, bedding, etc. Regardless of what style and model you choose, keep the following in mind:
Room to Move
Room to move is particularly important to consider if you are sharing the under-stair space with the dog and something else like bookshelves, pantry shelves, or general storage. You do not want so confined a space that your dog cannot comfortably position itself when it wants to rest.
Most dogs do not want space so confining they cannot achieve a quick exit if they want.
Access for Cleaning
Keeping your dog's room clean is challenging. The most difficult cleaning task will be the hair your dog sheds. Because dog hair can get into everything, you need to be able to access the space to remove bedding and clean up stray hair.
Building Your Under-Stair Dog House: Tips & Ideas
Here are a few ideas for your dog's room under a staircase. We've also included a few tips on how to go about creating the space.
Safety First
Make sure you follow all safety protocols related to activities on a construction site. Verify there are no wires or piping near where you will be drilling or cutting, and always wear protective eyewear.
Make sure that any paint you use is safe for use around pets. Most exterior paints are fine. You also need to sand any round edges on your materials and make sure no nails or staple points are sticking out in the wall or floor of your dog room. If you include lighting in your dog's new space, ensure there are no exposed wires.
Under Stair Doghouse Ideas
When it comes to decor ideas for your dog's personal area, your imagination is the limit! Some people opt for a simple finished space with room for a dog's bed, while others create a full-on dog room with lighting, furniture, toys, and a door or gate. Here are some great ideas for a dog house under a staircase.
1. Simple Cut Out
Make sure you know what you are cutting into, outline a "door" for your dog, and open up the space. Add trim to the opening If you want to finish the look. Place a dog bed in the new open space and let your dog relax and explore!
2. Add a Gate or Door
If you are building a larger space than just a simple access door, consider adding a custom-made door or pet gate to the space.
With some trim, a door will make the space flow naturally with your home and let you control access. A pet gate also gives the space a certain aesthetic, and you can put your pet in there if you need them out of the way for a bit.
3. Pallet Kennel
Fitting pallets to your open space and constructing a door or gate from the pallets will get you affordable access to raw materials and softwood. Make sure you sand and stain or paint any pallet pieces you use.
4. Open Space With Dog Crate
If you do not feel like building a door or finishing the space or are on a budget, one suggestion is to cut out an open space and stick your dog's crate in there.
The dog crate concept works if your dog likes hanging out in their crate. A side benefit to this is that by fitting it, you cut the exact size space you need, and cleaning the area is just a matter of removing the crate.
How to Build a Doghouse Under Stairs
Here are a few basic steps you should follow to ensure you build a space your dog will love without endangering yourself, your family, or your pet.
What You Need
The tools you need are fairly simple:
Jigsaw (electric and hand)
Carpentry pencil
Drill
Nails
Hammer
Sandpaper or sander
Wall scanner (or stud finder, wire detector, and metal detector)
Carpenter's glue
Find Studs, Wires, and Piping
The inward wall of the space under a staircase usually will only have studs. That said, you never know, so you must make sure before you start drilling or cutting. Use a stud, wire, and metal detector to make sure.
If you are unsure about the wiring or plumbing, have a professional come out and mark where either might be located.
Pencil Your Design
Before cutting anything, map out your design with a pencil to give yourself something to follow when you are cutting. It does not have to be a work of art, as you will finish it and cover any rough-cut edges.
Drill a Starter Hole, Then Cut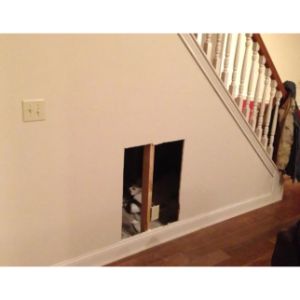 Start the cutting by drilling a single hole in the middle of the space you are cutting out. Insert your electric jigsaw blade into the hole and cut your way to the design lines. Use the hand jigsaw to cut out the last 2 or 3 inches at the bottom of the drywall. Cut out your design.
Remove Cut Material and Finish
Once your cuts are done, remove the drywall and start the project's finishing phase. Because you are the one deciding how to finish your project, only you know what materials you are using. Here is some general advice.
Make sure that all edges and points get sanded down
Clean up debris from under the stairs before putting any bedding down
If you are creating a full-on room, use reinforcing methods for doorways
Attach exterior trim with glue rather than nails
Add bedding you can easily remove for cleaning
Introduce Your Animal to Its New Space!
Show your dog their new space with bedding and let them explore. If you use a bed your dog already uses, the dog's scent will put them at ease. If you don't use one of their old beds, let them look around at their own pace.
You do not want to force the animal into the space, as it might create an association between the space and stress that will prompt the animal to avoid the area altogether.
Frequently Asked Questions
Can you make a dog house out of plywood?
You can build your dog house out of plywood. However, we recommend using 3/4″ plywood for more durable construction.
What floor surface is best for dogs?
If you're looking to make your under-stair dog house extra comfortable for your pup, use one of the following flooring materials: tile, laminate, carpet, or engineered wood.
Do dogs prefer dog houses?
Most dogs like to have special, cozy places where they can relax and feel safe. Younger dogs are more likely to use a dog house for the first time, while older dogs may be more hesitant.
Give Your Dog Their Own Space: Build a Doghouse Under Stairs!
The process of building a dog room under stairs is fairly simple. The keys are ensuring you have adequate space for your animal and deciding how elaborate you want to get with the new space.
When completed, you will have a space your pet will love to hang out in when they need a break or just want to nap. Happy building!
If you find this guide, "How To Build a Doghouse Under Stairs," helpful, check out these other dog-related guides from our team:
You can learn more about this topic by watching "Building a Dog House Under the Stairs for our Dogs (Council House Makeover)" down below:
Garrett loves animals and is a huge advocate for all Doodle dog breeds. He owns his own Goldendoodle named Kona. In addition, he volunteers at the Humane Society of Silicon Valley, where he fosters dogs and helps animals. Garrett enjoys writing about Doodles and believes that dogs can teach humans more about how to live than humans can teach a dog.
Why Trust We Love Doodles?
At We Love Doodles, we're a team of writers, veterinarians, and puppy trainers that love dogs. Our team of qualified experts researches and provides reliable information on a wide range of dog topics. Our reviews are based on customer feedback, hands-on testing, and in-depth analysis. We are fully transparent and honest to our community of dog owners and future owners.