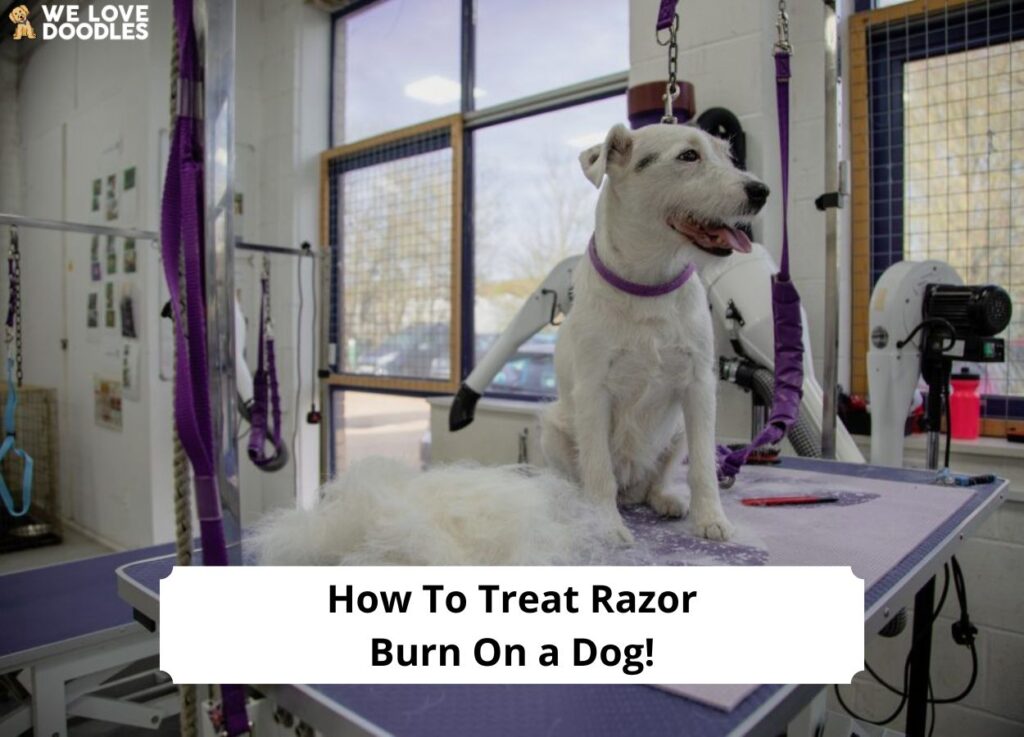 Razor burn, also known as clipper burn, brush burn, or razor rash, is among the most frequent problems encountered when grooming dogs. It may happen when you're grooming your pet or even during a professional grooming session, and you might not be aware of it. Thankfully, you can treat a razor burn on your dog in a variety of ways.
Natural treatments include Aloe vera gel or antibiotic ointments. Before you do that, make sure to cleanse the area. It's also important to protect the razor burn from scratches, so you should also get an E collar.
Before you scroll further down this in-depth guide, "How to Treat Razor Burn on a Dog," check out: How to Treat Shock Collar Wounds For Dogs! (2023) and Kennel Nose Guide: How to Properly Treat It! (2023).
What is Razor Burn?
The name itself gives it away.
The face, beneath the arms, and around the genital area are the most susceptible spots for razor burn because it is a sensitive skin condition. Razor burn can result from shaving your pet's coat short — for example, when you have to do it in the springtime to make them more at ease in the heat.
Even with the proper equipment, some dogs' extremely sensitive skin makes them vulnerable to razor burn. Other dogs are immune to the problem for the majority of their lifespans, but as they age, their skin thins and they become more sensitive. Others don't get razor burn since they have thicker skin.
What Causes Razor Burns?
Here are some potential causes why your dog may have gotten a razor burn.
Dull Clipper Blade
The most frequent cause of razor rash is a dull clipper blade. As you slide the blade through the dog's coat, it has a tendency to tug and drag the fur. This will cause the skin to become sensitive and inflamed.
In addition, amateur dog groomers often exert more pressure on the clipper to make up for the drag. This worsens the situation.
Overheated Clipper
Your dog may get razor burn in addition to having dull clipper blades. Another potential cause is an overheated clipper. This issue frequently arises while grooming big dogs since it takes longer to groom their coats.
The clipper blade will become hot and harm the animal's skin if the groomer doesn't allow it to come to room temperature. The clipper burn will also be more intense if used with a dull blade.
Skin Sensitivity
Some dogs are more susceptible to getting clipper burn because of their extremely delicate skin. You must let the groomer know if your dog has a record of any skin infection.
Cutting Too Near to the Surface of the Skin
Giving your dog a tight shave increases the risk of clipper burns. Even though it's not a smart option to shave a dog clean, there are times when it's necessary. For surgery, the veterinarian might have to close-shave a section of your dog's coat.
Heavy Hair Matting
Neglected dogs with thick, heavy mats are vulnerable to clipper burn. This is due to the fact that the groomer must use greater force to trim the majority of the matted fur. It is seen as normal and may be handled subsequently.
How to Recognize Dog Razor Burn
The major problem with razor burn is that it takes a while to reveal itself, frequently appearing hours or even days after the grooming session. You might not be able to connect cause and effect as a result of this delay, and you might not even be aware that they have razor burn. You need to be aware of the symptoms of razor burn in order to know what to look out for.
Visually, it denotes inflammation or pinkish skin. Small lumps, perhaps even scratches or lines, may be visible in more severe instances. Your pet's behavior is likely to include frequent licking, scratching, or rubbing of the affected region. You should be keeping an eye on your dog for the first day or two after getting groomed to make sure it doesn't appear because their actions typically make it worse.
Normally, razor burn will appear a few hours after grooming. By that time, if your pet does not exhibit any signs of discomfort, they should be alright. The only exception is if they had a tight shave and it exposed their skin to an allergen, but even then, it isn't actually razor burn but rather another type of skin irritation.
How to Groom Your Dog Without Getting Razor Burn
Learn some tips to carefully groom your dog to avoid more burns.
Get the Right Gear
You will require shaving clippers, a brush, oil, and a comb that connects to the clipper. Look for dog-specific shaving tools at a pet or grooming supply store.
If you are aware that your dog is easily frightened by loud sounds, check the volume of the various electric clippers that are available. Choose one that makes little noise. Order an E comb. It removes hair to the appropriate length of one inch.
Avoid Overheated Clippers
A dog's skin can easily burn when a shaving clipper overheats. Take regular breaks to let the razor cool. To stop the clipper from overheating, apply oil to it.
Brush Your Dog
Hair clumps and tangles make it challenging for the clippers to trim without tugging, which may be unpleasant for you and harmful for your dog. Your dog should be washed and brushed to remove knots from its hair and get it ready for shaving.
Restrain Your Dog
While you are shaving your dog, you must stop it from squirming. Have someone else nearby restrain and divert the dog if it is difficult to groom your dog.
How to Safely Shave Your Dog
You can safely shave your dog by following the tips below:
Shave along the hairline. Razor burn can happen if you shave against the hairline. Make delicate, slow strokes.
Begin with the most sensitive regions. As time passes, your dog can become agitated. Start with the challenging parts, then continue on to the simpler ones.
Start by shaving the head, the area behind the head, the armpits, the under tail, the back, the sides, and the abdomen. You should completely avoid touching your dog's face unless it is calm. Even so, when shaving, keep your razor at a minimum of one inch away from their eyes.
Lift your dog's arm while it's upright and in a relaxed stance. Shave below one arm, then do the same with the other. As though your dog were using the restroom, raise its legs. Shave the legs' undersides. Consequently, shaving here reduces the likelihood that your dog's fur will have pee soaking into it.
To keep your dog's tail clean when it uses the bathroom, lift it and trim the bottom of it. Also be cautious here.
Begin behind the dog's head, move along its neck, around its back, and onto both sides. Be cautious when shaving the dog's tummy, and always shave away from your hand.
How to Treat Razor Burn on Your Dog
You can take the following actions if your pet has clipper burns.
Be Sure to Check on and Clean Your Dog's Razor Burns
Razor burn is most likely to blame if your dog experiences skin problems after being shaved. Razor burn may be treated at home, but it's preferable to send your dog to the vet if it's bleeding or you notice other fluids.
If you've decided to treat the razor burn by yourself, you should wash the region and dress it. In order to avoid your dog aggravating the burn, you must stop him from clawing, rubbing, or licking it. Rinse the inflamed area with cool, fresh water, then pat it dry with a soft cloth.
Using Aloe Vera Gel
Canine razor burn may be treated naturally with Aloe vera gel. Gels are healthy for your dog, but you should not use Aloe vera directly from the Aloe leaf since the dog might become sick if they consume it. The saponins found in pure Aloe can be dangerous if consumed.
Using Vetericyn
Vetericyn, which includes hypochlorous acid, works wonders on dogs, cats, horses, and other animals with razor burns. It is non-stinging and safe to use on your dog's eyes, ears, and mouth.
Applying Antibiotic Ointment
Neosporin and other triple antibiotic ointments can be used without risk. Instead of using the cream because it has additional ingredients, use the antibiotic ointment. Please refrain from using painkiller-containing ointments since they may make your dog unwell.
Protect the Razor Burn
The greatest method for preventing a dog from worsening razor burn is to use an Elizabethan collar. The collar is available from almost all pet supply stores. Additionally, pet supply retailers carry inflated collars like the Kong Cloud.
Unlike cone-shaped E collars, which do so, inflatable collars won't obstruct a dog's view. They are softer, more flexible, and more pleasant than E collars.
Call the Vet
After bringing your pet back from the vet, you should call if you notice razor burn. The veterinarian will be able to recommend the treatment that will work best on the wound. You want to avoid applying something that could react with a prescription or contaminate a sensitive location.
Relieve the Razor Burn
The most important thing is to relieve the burn and stop the dog from poking, clawing, or licking the burned area. Persistent scratching can make it bleed and scab, which can set off a cycle that could result in an infection.
Neosporin, an antibiotic ointment, is occasionally used, but first check to see if your dog has any allergies.
Frequently Asked Questions
What can you put on a dog with razor burn?
Natural treatments include Aloe vera gel or antibiotic ointments are safe ways to treat razor burn.
What does clipper burn look like on a dog?
If your dog has clipper burn, you may notice inflamed or pinkish skin as well as small bumps.
Can you put hydrocortisone on a dog's razor burn?
It's safe to use hydrocortisone on a mild razor burn, but not on an open wound.
Conclusion for "How to Treat Razor Burn on a Dog"
Every dog owner has to learn how to handle a razor burn. This will spare your dog the annoyance and your wallet the expense of medical care. Additionally, you should exercise caution to prevent future cases of razor burn in your dog.
If you find this guide, "How to Treat Razor Burn on a Dog," check out:
Learn more about dog grooming by watching "The Steps of Pet Grooming With Clipper" down below:
Garrett loves animals and is a huge advocate for all Doodle dog breeds. He owns his own Goldendoodle named Kona. In addition, he volunteers at the Humane Society of Silicon Valley, where he fosters dogs and helps animals. Garrett enjoys writing about Doodles and believes that dogs can teach humans more about how to live than humans can teach a dog.
Why Trust We Love Doodles?
At We Love Doodles, we're a team of writers, veterinarians, and puppy trainers that love dogs. Our team of qualified experts researches and provides reliable information on a wide range of dog topics. Our reviews are based on customer feedback, hands-on testing, and in-depth analysis. We are fully transparent and honest to our community of dog owners and future owners.