Are you searching for large hypoallergenic dogs? Many families in America have at least one family member who is allergic to dogs. However, these allergies are not because of the dog, but its fur. Thankfully, there are dog breeds that are more suitable for allergy sufferers. These are known as hypoallergenic dogs.
In this guide, we'll talk about the nine top hypoallergenic dogs. We're focusing on large breeds in this article because we think allergy sufferers deserve a watchdog and large companion, too! Ready to get started? Here are the top hypoallergenic dog breeds you can adopt into your family.
Before scrolling down this list of large hypoallergenic dogs, check out these other guides from our team at We Love Doodles: Best Hypoallergenic Dogs For Families and Best Hypoallergenic Teacup Dogs.
1. Bouvier Des Flandres
If you love working and playing outdoors, then the Bouvier Des Flandres is the dog for you. The breed is very athletic and was originally bred for herding. Regular exercise is a must for this dog. While they may look large, they aren't lazy, and can easily carry their weight.
The Bouvier is also a brave and proud creature that may at times take charge and do as they wish. With a firm and strong leader, they can be good obedient pets. If you need to brush up on your dog training skills, find an obedience class in your area!
The loving and gentle Bouvier is a great fit for active families with other pets or children. The height of a Bouvier is 23 to 27 inches and they weigh 70 to 110 pounds. The Bouvier has a life expectancy of 10 to 12 years.
2. Giant Schnauzer
The giant Schnauzer is an intimidatingly large dog that was originally bred for herding. They are known to be good guard dogs, though training them takes patience as they tend to have a stubborn temperament.
The giant Schnauzer is highly active and requires regular exercise. If you love outdoor workouts, then this is the perfect dog for you. Got kids? Great! The giant Schnauzer adjusts well to a big family.
That said, these dogs are strong and will need supervision when playing with children and other pets. They can weigh from 55 to 90 pounds and can grow to be 23 to 27 inches tall. The life expectancy of a giant Schnauzer is from 12 to 15 years.
Related: Best Miniature Schnauzer Breeders in the United States.
3. Belgian Malinois
The Belgian Malinois was originally a dog bred for herding, but is routinely used today for law enforcement and providing therapy assistance to ill and elderly people. These sleek and gorgeous dogs are known for being athletic and active.
The Belgian Malinois can be quite demanding, will need regular moderate exercise, and deserves an experienced owner. They are smart, active, and self-assured, but can be aggressive without proper training.
These dogs are known to be quite stable when properly socialized, and they love to hang around their owners. The Malinois has a double coat that only sheds twice a year. Adults weigh 40 to 80 pounds and can be 22 to 26 inches tall. The life expectancy for a Belgian Malinois is 14 to 16 years.
Related: Best Belgian Malinois Breeders in Pennsylvania and Best Belgian Malinois Breeders in Minnesota.
4. Standard Poodle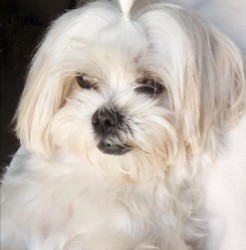 The standard Poodle is the most popular of the breeds on this list. They are well known for being hypoallergenic as their single coat doesn't shed much. The Poodle was bred as a hunting dog which is why they need more exercise than other dogs.
You can keep your Poodle engaged with activities like walking, running, or swimming. They'll love the quality time spent with you, as they are easy-going and happy to be around their human companions.
If you can provide your Poodle with regular exercise and attention, she will be a great pet for you. Poodles can weigh 40 to 70 pounds and grow 15 inches tall. Their life expectancy is 10 to 18 years.
Related: Silver Standard Poodle Guide and Phantom Poodle Guide.
5. Airedale Terriers
The Airedale Terrier is a high-energy breed that loves to be outdoors. They are known for being very playful. If you have older children and a big backyard, then the Airedale terrier is a terrific choice for you.
Although they are friendly, Airedale Terriers are also strong enough to cause accidental harm to smaller pets or young children during play. Take your pup to obedience classes, but don't forget to also teach your kids how to properly handle a dog! The Airedale doesn't shed much even during the changes in seasons. They can grow 23 inches tall and they weigh 50 to 70 pounds. The life expectancy of an Airedale is 11 to 14 years.
Related: Best Airedale Terrier Breeders in the United States.
6. Irish Water Spaniel
The Irish Water Spaniel is a large hypoallergenic dog that loves to socialize. If you and your family prefer an active lifestyle, then this dog may be the right fit for your household.
Irish Water Spaniels love going on hikes, walking, or running with their human companions. They enjoy playing with other dogs as well. Your Irish Water Spaniel can be kept happy and healthy with daily exercise that puts his high energy to good use.
This breed typically has a curly coat and the dogs are well known for being a hypoallergenic breed. Their life expectancy is 12 to 13 years, and they can grow to 21 to 24 inches tall and weigh 45 to 68 pounds.
7. Samoyed
Samoyeds were originally bred as sled dogs in some of the coldest places on earth! This gives them their iconic white double coat that protects them against the harsh cold. The Samoyed is a smart and fun-loving breed that is also very social.
The Samoyed is playful and can easily make new friends. The dogs love attention and hate to be left alone in the house. Training a Samoyed requires special attention as they can easily get out of control with their overenthusiastic attitudes.
Their energy can easily be controlled with regular exercise and outdoor activities, or you can keep them entertained with toys indoors on a rainy day. They are heavy shedders, but they lose very little dander which is why they are good hypoallergenic dogs.
If you can take your dog out regularly and provide him with a fun-loving atmosphere, then the Samoyed will be a lovely addition to your family. The life expectancy of a Samoyed is 12 to 14 years. It grows to 19 to 23 inches tall and weighs 35 to 65 pounds.
8. Portuguese Water Dog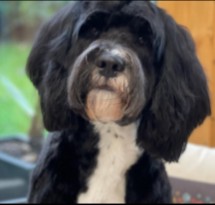 The Portuguese Water Dog was originally bred to be a fishermen's dog. Their webbed feet are a key feature of their body, and they are known to be easy-going, athletic, and intelligent.
This breed is easy to train but will need moderate to high levels of exercise. Portuguese Water Dogs are a good choice for someone who wants an active – but gentle – hypoallergenic dog.
Portuguese Water Dogs are non-shedding with a waterproof coat of tight curls.  They weigh 35 to 60 pounds and can grow 17 to 23 inches tall. Their life expectancy is 11 to 13 years.
Related: Best Portuguese Water Dog Breeders in the United States.
9. Afghan Hound
Last on the list of the best large hypoallergenic dogs is the Afghan Hound. The most striking feature of this breed is their silky long hair, which requires regular grooming. Their long hair is also a feature that helps them bag many awards at competitions.
They shed minimally which makes them a moderately hypoallergenic breed. Training the Afghan Hound takes time because, like many dogs, they have a stubborn streak!  Once they're trained, though, Afghan Hounds are mostly calm and easy-going.
These pups were bred to hunt and so they'll need a great deal of exercise to put their energy to use. Be sure to keep your dog on a leash as they tend to run off.
Afghan Hounds prefer to be around people but can also play by themselves when they're given stimulating toys and tasks. Be careful! These dogs have been known to jump over walls, so make sure your fence is high enough to prevent that from happening.
If you're looking for a low-maintenance dog or have a busy lifestyle, the Afghan Hound is not for you. The Afghan Hound has a life expectancy of 12 to 15 years. They weigh 50 to 60 pounds and can grow 27 inches tall.
Frequently Asked Questions
If you're thinking of adopting any large dog into your family, you'll probably want to consider some of the most frequently asked questions. Here are a few, posed by our readers, that might help you in making your decision!
Is there such thing as a completely hypoallergenic dog?
Nope. There's not a single dog breed that's 100 percent hypoallergenic. However, the AKC recommends a few breeds for allergy sufferers due to their low shedding and minimal dander. Some of these breeds are:
Poodles
Yorkies
Maltese
Schnauzers
Maltese
If you have allergies, consider adopting one of these five breeds to keep your sniffles and itches at bay!
How do I know if I'm allergic to a dog breed before I adopt?
This is a great question, and it's one that many breeders have considered.
Before you place a deposit on your dog, contact a breeder about a dog or litter you're interested in. Generally speaking, many breeders have a system in place to test for allergies. You'll send them a shirt or other article, they'll expose the item to the dog in question, then will send it back to you in a sealed package!
This may be offered at an additional fee, but is well worth the fee and the hassle if the alternative means giving your pup up due to allergies!
I'm allergic to my dog. Now what?
If you've adopted your dog and find out that ultimately he won't work out with your allergies, you have a tough decision to make. You've got several options, though, and none include surrendering your animal to a shelter.
Contact the breeder! In most cases, a reputable breeder will take the dog back, no questions asked. Generally speaking, you shouldn't expect a refund unless arrangements are made ahead of time. Responsible breeders want to ensure that their fur babies are in loving homes forever, and will do what they can to keep them out of shelters.
Talk to your doctor! Keeping your fur baby may mean something as simple as taking an allergy medication each morning!
Try brushing and washing your pup more frequently, and outside. When a person is allergic to dogs, it's typically the dander that causes the allergic reaction. More frequent washing may be helpful.
Conclusion For The "Best Large Hypoallergenic Dogs"
We understand that some families need a hypoallergenic dog, but don't want to be limited to Poodles! That's why we've put together this list of the best bigger hypoallergenic dog breeds – you have many options even if dogs have given you the sniffles in the past!
Choosing the right dog for your family can be difficult. You need to have the right information about the dog, an awareness of your needs, and the amount of time and resources you can provide as well.
We hope that the options we have presented you with help you find the large hypoallergenic dog that is perfect for your home.
For more guides similar to this list of large hypoallergenic dogs, you can check out:
You can learn more about which dog breed is hypoallergenic by watching "10 Cutest Hypoallergenic Dog Breeds" down below: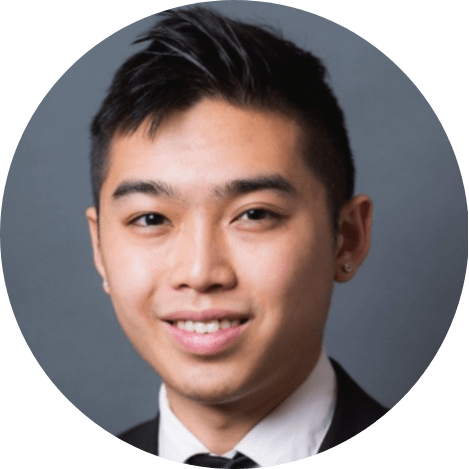 Andy is a full-time animal rescuer and owner of a toy doodle. When he's not saving dogs, Andy is one of our core writers and editors. He has been writing about dogs for over a decade. Andy joined our team because he believes that words are powerful tools that can change a dog's life for the better.
Why Trust We Love Doodles?
At We Love Doodles, we're a team of writers, veterinarians, and puppy trainers that love dogs. Our team of qualified experts researches and provides reliable information on a wide range of dog topics. Our reviews are based on customer feedback, hands-on testing, and in-depth analysis. We are fully transparent and honest to our community of dog owners and future owners.