This guide from We Love Doodles will cover the best hypoallergenic teacup dogs for you to check out. If you're suffering from allergies and want a mini dog companion, then this list of the best hypoallergenic teacup dogs will help you find a compatible breed. Believe it or not, human allergies to dogs are common. Some people are more sensitive, and some are less.
If you adore small-sized dogs but are worried about raising one because of allergies, then these low-shedding hypoallergenic dog breeds might be what you're looking for. These pint-sized pets offer the same love and companionship as regular dogs, but without the constant sneezing and stuffy nose.
Before you continue: We don't know the severity of your allergy. Before bringing home a companion, please consult with a doctor or a professional expert before making any further decisions.
What Are Hypoallergenic Dogs?
Hypoallergenic dogs are dogs that shed little to no fur. These types of dogs make excellent pets for people dealing with constant allergies. For example, many people are allergic to certain dogs because of the flakes of skin and dander sticking to their fur.
These things get released into the air when they're shed. For extremely allergy-sensitive people, this is a nightmare. While dogs are described as hypoallergenic, no dogs are non-shedding. Hypoallergenic means that these dogs shed minimally, which reduces the chance of triggering allergies.
Related: Best Hypoallergenic Guard Dogs and Best Low Energy Hypoallergenic Dogs That Don't Shed.
What Are Teacup Dog Breeds?

If you're a fan of smaller dogs with a suitable living environment, then you've probably come across many teacup breeds without knowing their names. Many dogs come in various sizes, and the teacup is its size. You've seen small, medium, and large sizes – but what exactly is a teacup dog?
Their tiny size characterizes teacup dogs. Most teacup dogs weigh less than 5 pounds and are usually less than 17 inches in height, even when they're full-grown adults. If you've come across "toy breeds" such as Toy Poodles, Toy Goldendoodles, etc., then these are considered teacup dogs as well.
Hypoallergenic Teacup Dog Breeds

Hypoallergenic small non-shedding dogs are a popular choice for many city folks who live in smaller or compact spaces and allergy-sensitive people.
If you're considering adopting a hypoallergenic dog, then you'll be delighted to know that many popular breeds offer a teacup hypoallergenic version. With this list of teacup hypoallergenic dogs, scroll down to find a breed that's most compatible with your lifestyle.
1. Teacup Yorkie
First on the list of hypoallergenic teacup dogs is the Teacup Yorkie. Yorkies are a popular choice for a tiny hypoallergenic dogs because of their intelligence and compatibility with their owners.
Due to their genuine nature and size, Yorkies can easily adjust and adapt themselves to urban areas. The barks of this cute dog breed are adorable and filled with energy. By providing the Yorkie with a home and spoiling it with affection, you'll have the best lap partner for your late movie nights.
Owning a Yorkie requires regular grooming because of its coat type. Hypoallergenic Teacup Yorkies generally weigh between 2 to 4 pounds and grow as high as seven inches by the time they're adults.
2. Shih Tzu

Shih Tzus will overflow their owners with affection and love. With the proper care, you'll have a beautiful companion that'll outshine the other dogs.
Since they don't have a straight coat, there won't be any excessive shedding. The Shih Tzu dog breed weighs less than 6 pounds and can grow as tall as six inches by reaching adulthood. Shih Tzus have a longer lifespan than the average dog, which is between 10 to 16 years.
3. Poodle
Poodles are one of the top breeds in the rankings when it comes to intelligence. If your hobby is swimming and your favorite place is the beach, then owning a Poodle might be right for you because they're great swimmers.
While Poodles love to relax and laze around, exercising them is crucial. Poodle's intelligence makes it the perfect breed choice for people who want to train them with impressive tricks.
If you're mostly at home or you live in a large household, your Poodle will fit in well because they crave attention and dislike being left alone. With enough time and patience, your potential Poodle companion will grow up to become more self-reliant and confident.
Thanks to the Poodle's thick curly fur, it doesn't shed as much. Poodles are one of the most popular hypoallergenic dogs on this list. As for its life expectancy, Teacup Poodles can live between 12 to 14 years. They'll grow up to 9 inches tall, weighing under six pounds by the time they're full-grown dogs.
4. Teacup Maltese
The Teacup Maltese is an energetic and cheerful breed because of its playfulness. If taken out regularly, you can best assure your Teacup Maltese will spread positive energy around its surroundings. As for exercise, one of the responsibilities you'll need is to make sure your companion has at least 30 minutes of activities per day.
Whether you bring your companion to the dog park or let it go on walks, then your Teacup Maltese should be fine. This teacup breed can grow up to eight inches tall, weigh between 4 to 5 pounds, and have minimal shedding.
5. Teacup Schnauzer

Teacup Schnauzers were initially bred for farming purposes, which means that they're very active dogs. Their regular-sized counterparts make good watchdogs.
Whether you live in a bad neighborhood or are worried someone might break into your house, the Teacup Schnauzer will be the perfect dog to alert you when it comes to intruders. This teacup breed has a unique temperament and requires a moderate level of exercise.
If you're active and outgoing, bringing your Teacup Schnauzer companion out would make their day. Schnauzers are very distinctive because of their busy eyebrows and fur color, which usually comes in:
Solid Black
Salt and Pepper
Black and Silver
Teacup Schnauzers generally weigh less than seven pounds with a life expectancy of 12 to 14 years.
Related: Best Miniature Schnauzer Breeders in the United States.
6. Bichon Frisé
Tiny and mischievous, the Bichon Frise is a dog with a white double coat and little black eyes. The Bichon Frise teacup breed can be another great addition to families with children and other household pets.
For people living in cramps or small spaces, this teacup breed isn't such a bad choice. If you're planning to own a Bichon Frise, then it's worth knowing how much they adore and love their owners.
Like a sidekick or partner in crime, this teacup breed will do anything to stay by your side. While this teacup breed is described as non-shedding, they do shed, but it's stuck to their curly coat.
Fortunately, their curly coat reduces the amount of fur released around their environment, which is beneficial for people with allergies.
With this in mind, owning this breed requires brushing and grooming regularly. This teacup breed can grow as heavy as 12 pounds and between 9 to 11 inches in height. Life expectancy for this breed ranges between 12 to 15 years.
7. Chinese Crested

The Chinese Crested dog breed has two different coat types that make them unique: the powderpuff variety with a full coat and the hairless variety, which only has hair on its head, feet, and tail.
Whichever you choose to go with, neither type sheds nor drools. If you or someone in your household suffers from allergic reactions, the hairless Chinese Crested would be the perfect companion to bring home.
This teacup breed is quite a friendly dog. With proper training, your potential Chinese Crested will build confidence and get along well with family members and strangers.
After all, they can quickly adapt and learn after some time and patience. This teacup breed requires a moderate amount of exercise but can also stay home all day to relax. (Exercising is necessary, so take them out even if they're lazy!)
As for its lifespan, the Chinese Crested can live between 13 to 18 years. By the time they reach adulthood, they'll be around 8 to 12 pounds and 11 to 13 inches in height.
Did you know? Contrary to what their name says, the Chinese Crested didn't come from China. This breed originated from South America.
8. Scottish Terrier
Small with pointy ears, the Scottish Terrier misses much dander thanks to their beautiful non-shedding coat. The Scottish Terrier is another viable choice for people with allergies. This teacup dog breed is bold and will require more training.
If you live with friends or alone, the Scottish Terrier might be perfect for you. If you're living with your family with children around, keep an eye out for them if kids are around. The Scottish Terrier can live between 12 to 15 years, weigh 18 to 22 pounds, and grow as high as 22 inches once it's an adult.
Related: Best Scottish Terrier Breeders in the United States.
9. Bolognese

The teacup Bolognese are small white dogs with a similar appearance to the Maltese breed. While necessary, the Bolognese don't require much exercise, and they'll adapt well to city-like environments.
This teacup breed is filled with positive energy, is happy, stable, and comfortable with moderate attention. In addition, they have a wooly coat that prevents dander from being released into the air, making them another suitable option for people searching for a gentle, hypoallergenic dog.
The teacup Bolognese requires grooming maintenance and is ideal for people living in the city. This breed can grow between 6 to 14 pounds and are 10 to 12 inches tall. The teacup Bolognese has a life expectancy of 12 to 14 years.
10. Brussels Griffon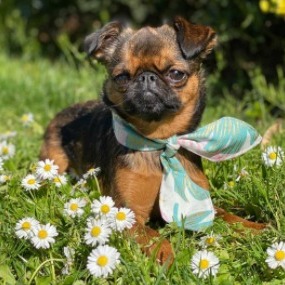 The Brussels Griffon has facial features similar to a human face with a mustache, beard, and eyelashes. This breed is easily distinguishable because of its almond-shaped eyes.
The Brussels Griffon teacup breed is a highly energetic dog that requires the same demand from its owners. This teacup breed requires about 30 minutes of daily exercise. Unlike other dog breeds, the Brussels Griffon requires more patience when training because they're easily distracted.
The good news about this breed is that shedding is very minimal due to its rough coat. Brussel Griffons weigh between 8 to 10 pounds and grow between 8 to 12 inches in height. As for the Brussel Griffon's lifespan, it ranges between 12 to 15 years.
11. Bedlington Terriers
Another solid breed choice is the Bedlington Terrier because they adapt well with families and kids. In addition, small living spaces like apartments can adapt reasonably well to the environment.
The Bedlington Terrier has a bold temperament, which requires more caution from its owner. Just like other teacup breeds, the Bedlington Terrier needs daily exercises to maintain good health and well-being.
Its coat type is curly that can grow very tight with minimal shedding. The Bedlington Terrier's lifespan ranges between 12 to 14 years and can grow between 15 to 18 inches in height with approximately 23 pounds.
12. West Highland White Terrier

Last on the list of hypoallergenic teacup dogs is the West Highland White Terrier. The West Highland White Terrier is a unique breed distinguished by its black bead-like eyes and button nose.
They require proper training before they can become family dogs due to their independent nature. West Highland White Terriers tend to bark often and require a leash if left alone outside.
If you have enough patience for training, you'll be able to handle their high energy level. The West Highland White Terrier has a double coat, which are:
Coarse Outer Layer
Softer Undercoat
You don't have to worry about their fur because it doesn't catch much dander. Aside from minimal shedding, this teacup breed's lifespan ranges between 12 to 16 years. West Highland White Terrier can grow as heavy as 22 pounds and anywhere between 9 to 12 inches in height.
Conclusion For "Best Hypoallergenic Teacup Dogs"
Hypoallergenic teacup dogs might be the cutest dogs because most of them have curly or wavy coats. In addition, most of them have a teddy bear-like appearance, which makes them irresistible.
While they can be beneficial if introduced into your life, there are unique challenges and disadvantages. For instance, the small size makes them fragile dogs. They're more prone to dangers if they encounter wild animals, stray dogs, or are hurt by children.
One of the most significant responsibilities of owning a hypoallergenic teacup dog breed is that you have to keep an eye out for them at all times. In addition, owning a teacup dog means that you'll have to find ways to reduce their risks of major accidents.
As for health issues, every dog has a unique set of problems. However, with enough exercise and the proper diet, your companion will likely live a healthy lifestyle with minimal risks to a more severe health problem.
Always keep an eye out for your companion if they're in an area that could harm them. Even though they're great with children, accidents can happen. It's the owner's job and responsibility to shape their companion in the best way possible.
For more recommendations and guides related to the "Best Hypoallergenic Teacup Dogs," check out:
For more recommendations, watch "10 Newly Discovered Small Dog Breeds That Don't Shed Or Smell" down below: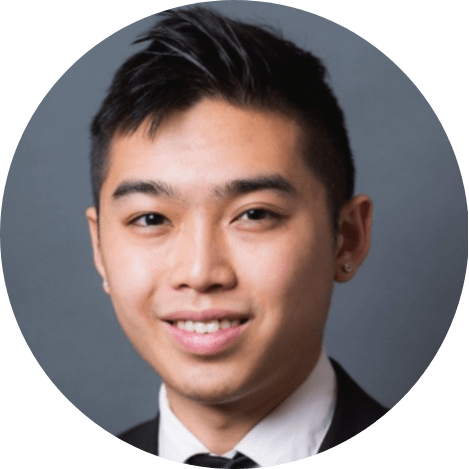 Andy is a full-time animal rescuer and owner of a toy doodle. When he's not saving dogs, Andy is one of our core writers and editors. He has been writing about dogs for over a decade. Andy joined our team because he believes that words are powerful tools that can change a dog's life for the better.
Why Trust We Love Doodles?
At We Love Doodles, we're a team of writers, veterinarians, and puppy trainers that love dogs. Our team of qualified experts researches and provides reliable information on a wide range of dog topics. Our reviews are based on customer feedback, hands-on testing, and in-depth analysis. We are fully transparent and honest to our community of dog owners and future owners.