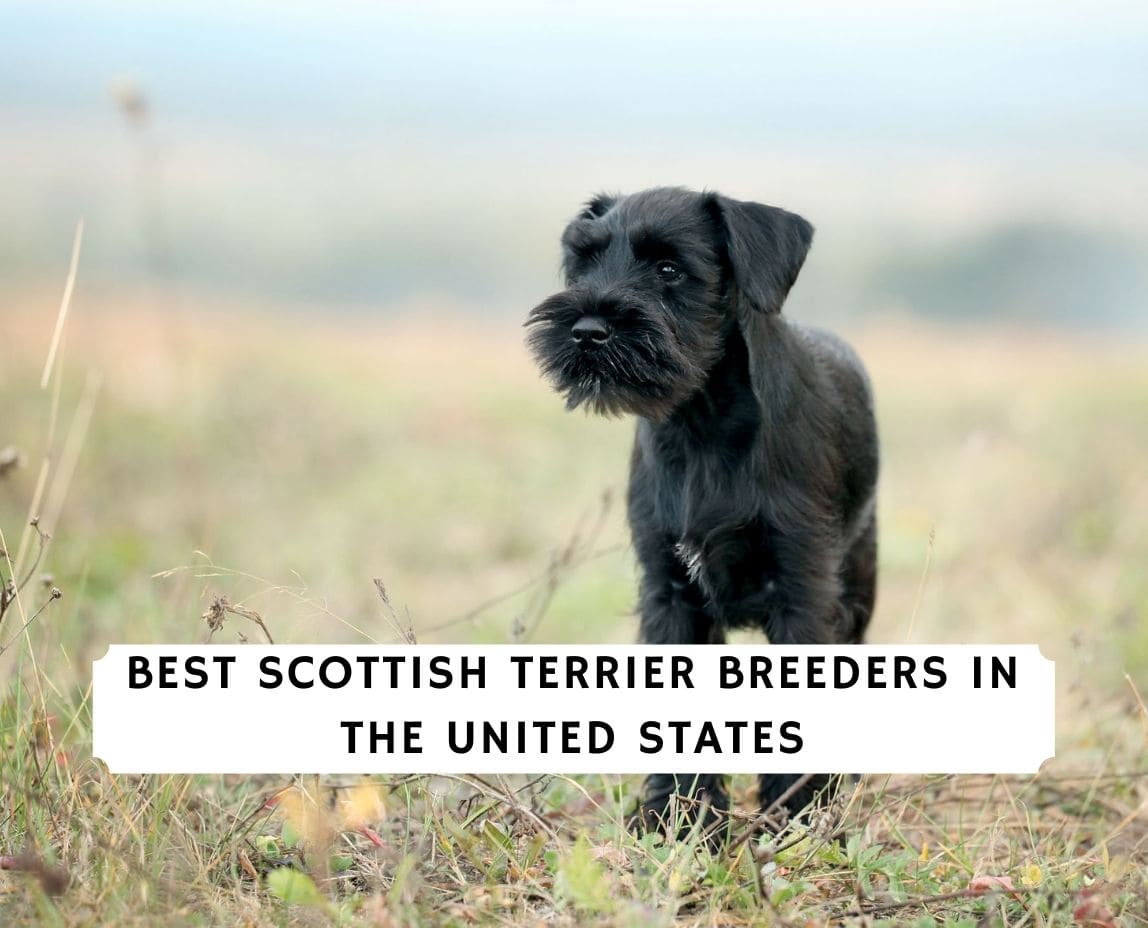 If you're searching for Scottish Terrier breeders, then this list will provide you with trustworthy and popular breeders. The importance of choosing a trusted and reliable breeder cannot be overemphasized. This is because they play a significant role in the outcome of that new pet you are looking at adopting. Aside from the fact that the adoption process is more straightforward with a reliable breeder, you can be sure you are getting a healthy addition to the family. Highlighted in this article is a list of reliable Scottish Terrier Breeders in America.
Before scrolling down this list of Scottish Terrier breeders, here are similar dog recommendations we think you might like: Best Mini Labradoodle Breeders in the United States and Best Westie Breeders in the United States.
Scottish Terrier Puppies For Sale in the United States
Are you looking at adding a purebred Scottish Terrier to the family? This independent and confident companion with a very high spirit is indeed a fantastic choice. Below is a list of trustworthy breeders in American you can get your healthy new addition.
Get started in advance with your Scottish Terrier with our dog product recommendations: Best Outdoor Dog Bed and Best Dog House For Hot Weather.
1. Southern Scotties Kennel
First on the list of the best Scottish Terrier breeders in the United States is "Southern Scotties." Southern Scotties Kennel is located on Snow Creek Road Amite in Louisiana, a world-class breeder renowned for breeding premium quality Scottish Terrier puppies. Although the kennel is not so large, Southern Scotties is dedicated to producing only exceptional high-quality and healthy Scottish Terrier puppies. Located on large and beautiful 10 acres of land, they feature a clean and comfortable environment for the dogs while maintaining an excellent healthy kennel.
With over 12 years of sales experience, one of the primary goals here at the Southern Scotties kennel is to find their puppies loving families. A perfect place where they can continue to live in a comfortable and clean environment and blend well with the family. The Scottish Terrier puppies are well trained and have the high socialization skills needed to be your next pet. Southern Scotties Kennel is registered with the Continental Kennel Club (CKC) and adheres to the club's standards in breeding high-quality and healthy puppies. You can contact them all the days of the week between the hours of 7 am – 5 pm for that adorable Scottish Terrier.
Southern Scotties Kennel Details
2. Afterglow Kennels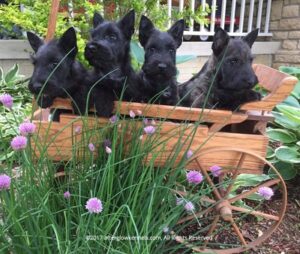 Founded in 1995, the Afterglow Kennels, LLC is located in Granville, Ohio. Afterglow Kennels, LLC is an American Kennel Club "Breeder of Merit" of Champion Scottish Terriers (Advanced Level Silver). They are a reputable and trusted breeder well known for their high-quality Scottish Terriers and their Rare Sealyham Terriers. Their kennel is located on over one acre of fenced, open land to run. This helps make them strong, healthy and helps wear them out for bedtime. The culture adopted by the Afterglow Kennels to raising their puppies within a family system is an excellent idea.
The family system prepares the puppies to be well-adjusted and used to a family home environment before joining their new owners. And to make transitioning and adoption easier, puppies are not given out until they are ten weeks old. Their capability and strict adherence to the club's standards have earned them a lot of awards. It's also worthy of note that their healthy and well-kept puppies made appearances in some movies. At Afterglow Kennels, LLC, your adoption process is easy, and you are sure of a healthy addition to your family.
Afterglow Kennels Details
3. Chyscott Scottish Terriers & Whippets
Chyscott Scottish Terriers & Whippets is an AKC breeder of merit and members of the Scottish Terrier Club of America & the Scottish Terrier Club of Greater Denver. Established in 1976, their consistent success in producing the best quality litters stands out among many others. They stick to the standard of the AKC while balancing the health and temperament of their breeds. Their experience of over 40 years has proven them reliable and trustworthy breeders in the United States. The Chyscott brand is known for raising beautiful, healthy, and good temperamental dogs.
Their dogs are very distinct, which has earned them many awards from different AKC and other clubs. Chyscott has breaded 25 AKC champions and has produced many National, Regional, and Group-winning Scotties. Many award-winning and performance Scotties have seen the light of day through them. They performed in the contest of Earth dog, Agility, and Obedience at the AKC. An experience they say is the best teacher; this saying is indeed true with the Chyscott. Their dogs are hand-raised with love and ultimate affection, which is vital for the litter to comfortably blend into a new family. They follow buyers up to ensure that all of their dogs are in good hands as the dog's well-being is in their best interest.
Chyscott Scottish Terriers & Whippets Details
4. Kingsdale Scottish Terriers
Even though Kingsdale breeds sparingly and selectively, they are famous for their high quality and healthy breeds. All they seek always is to raise the smartest, best-natured, most athletic, well-conformed, and healthiest Scotties one could have around. Kingsdale uses the Puppy Culture techniques with all of their puppies and older dogs. Aside from being mindful of Scottish Terrier breed standards for conformation. They look to producing Scotties free of genetic diseases. Their puppies are trained to bond well with humans and offer good rapport with other dogs. Kingsdale is so mindful of their dogs. Hence, they carefully select and screen the families and homes their puppies are adopted into.
They preferred their litters adopted by experienced dog owners who use rewards-based training only and reside in a fenced yard. They sign a contract with new owners specifying the kind of training and care the puppies will receive in their new location. Their dogs are CHIC(Canine Health Information Center) registered and tested clear for any inheritable defects and diseases. Likewise, their mate's breeds are DNA tested, clear of Von Willebrand's disease and CMO (craniomandibular osteopathy). In addition, they are all cleared by lab tests and exams for patellar luxation and hypothyroidism.
At Kingsdale, you can be very sure of getting a healthy addition to your family with little or no health concerns. The holistic health and diet system they practice enables your pet to live out its expected life span. Their main goal is for their litters growing up to be intelligent, beautiful, athletic, healthy, good-natured, and correctly conformed Scotties. They are located in Camillus, NY 13031; you can give them a call and begin your adoption process.
Kingsdale Scottish Terriers Details
5. Scotland Yard Kennels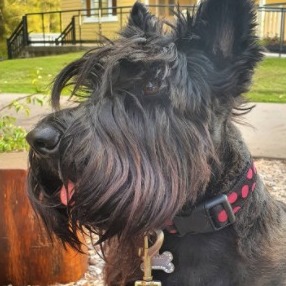 The Scotland Yard Kennels are reputable breeders producing beautiful and healthy AKC registered top-of-the-line Scotties for over 32yrs. Scotland Yard Scottish Terriers are known Worldwide for their honesty, integrity, professionalism, and quality. Their professionalism and high-quality breeds have earned them space as a top and trustworthy breeder in Ohio, United States. All of the puppies at the Scotland Yard Scottish Terriers are raised in the house to ensure that they are given the best start possible. They have found that puppies brought up outside a building lack the necessary social skills needed for families and trainability.
Therefore, they ensure a promising startup with the puppies to not allow their new phase in the new home to turn out poorly. All of their puppies meet the AKC dogs' standards; this ensures the integrity and well-being of your new family addition. They all come from genetically tested and proven lines meaning their parent breeds are healthy before crossing them. So there are relatively no health concerns you should worry about. However, they offer a two-year health guarantee and a lifetime of support with all of their puppies.
They have you covered in the case for any reason your pet develops a life-threatening sickness documented by a licensed veterinary clinic. The puppy will be replaced for you at no cost to you. When you are ready for your adoption process, they are prepared to work with you on finding your next adorable addition to the family. They are currently accepting applications for their winter litters now. Please give them a call on 419-898-0792 if you would like to be added to our waiting list.
Scotland Yard Kennels Details
6. Woburn Scottish Terriers
Woburn Scottish Terriers is an AKC Registered Kennel and AKC Breeders of Merit, also STCA Breeders of Merit located Near Chicago, Illinois, USA. The present owners are the 3rd generation of the Woburn Scottish Terriers and have come a long way in breeding Scottish Terriers. Their hallmark of Champions and Companion rubs off on their puppies as they make a perfect addition to your family. The adoption process at Woburn Scottish Terriers is easy. However, their Puppies are evaluated at eight weeks and not placed in their new homes until 12 weeks or after.
They adhere to the standards of the AKC and breed high-quality and healthy puppies with no health concerns. At Woburn Scottish Terriers, they believe that when you buy a puppy from a reputable breeder, you are purchasing more than a puppy. The love and care with which they raised their dogs make you believe you're not just buying a puppy but also a piece of a breeder's heart and soul. And all they care about is for the new families to feel the same pure joy they felt raising the puppies. 
Woburn Scottish Terriers Details
7. Glendarra Scottish Terrier
Although they started breeding not so long ago, Glendarra Scottish Terrier has proven to be a reputable and trustworthy breeder. They are located in the heartland of Kentucky bluegrass to produce puppies with an excellent temperament and are conformationally superior and genetically healthy. They belong to the Scottish Terrier Club of Greater Louisville and are AKC breeders of merit. Since then, they have produced 7 Champions, 3 Grand Champions, and 1 International Champion.
They conform to the standard of the club in raising all of their puppies, and you can be sure you are in a good hand for adoption. Their puppies are home trained for proper care; hence they don't breed many puppies at a go. All their dogs are registered with the CHIC registry, and they all test for VWD, Patellas, and either Thyroid testing or CERF for the eyes. All of this is to ensure you get a healthy pet that will make a lifelong companion with you and your family.
Glendarra Scottish Terrier Details
8. Windy Knoll Kennel
Last on the list of the best Scottish Terrier breeders in the United States is "Windy Knoll Kennel." The goal at the Windy Knoll Kennel, an AKC breeder of merit, is to breed a healthy, well-rounded puppy that makes a perfect companion for your family. They guarantee a loyal Scottish Terrier and loving companion, free from any genetically inherited problems by their breeding standards.I am sure you won't want to settle for anything less than a well-socialized, obedient, and trained and dog. Their experience of over 39 years can be seen in how they groom and breed their dogs.
They breed other dogs' orders than the Scottish Terrier, and they are a reputable kennel of high standards. They are AKA breeder of merit, and they conform to the club's entire standard in grooming their dogs. All of their puppies are well vaccinated; you can be sure of the healthy addition you are bringing to your home. They're also highly concerned about their puppies' well-being as they follow the new owner upon the upkeep of the litters. Hence, you might be asked to provide information about the Trainer and Veterinarian and other necessary information beneficial to the puppy.
Windy Knoll Kennel Details
Conclusion For The "Best Scottish Terrier Breeders in the United States"
A perfect addition to the family with no adoption issues or health concerns is what we all want to experience. This can only happen when adoption and purchase are made from reputable and trustworthy breeders. Highlighted in this article is a list of some top Scottish Terrier breeders in the United States you can get your pet from.
For more dog breeds, you can check out the lists below to find a companion most suitable for you:
To learn more about this unique dog breed, watch "Scottish Terrier Pros and Cons":
https://youtube.com/watch?v=Pd62uqVODlw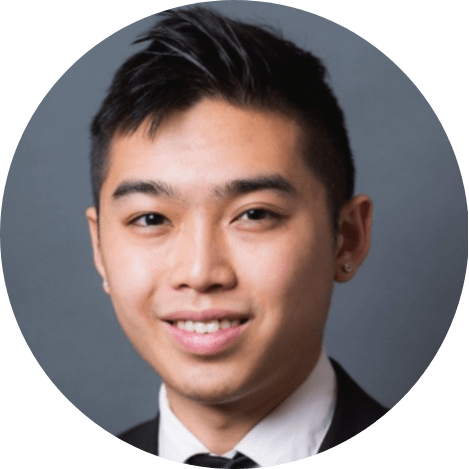 Andy is a full-time animal rescuer and owner of a toy doodle. When he's not saving dogs, Andy is one of our core writers and editors. He has been writing about dogs for over a decade. Andy joined our team because he believes that words are powerful tools that can change a dog's life for the better.
Why Trust We Love Doodles?
At We Love Doodles, we're a team of writers, veterinarians, and puppy trainers that love dogs. Our team of qualified experts researches and provides reliable information on a wide range of dog topics. Our reviews are based on customer feedback, hands-on testing, and in-depth analysis. We are fully transparent and honest to our community of dog owners and future owners.