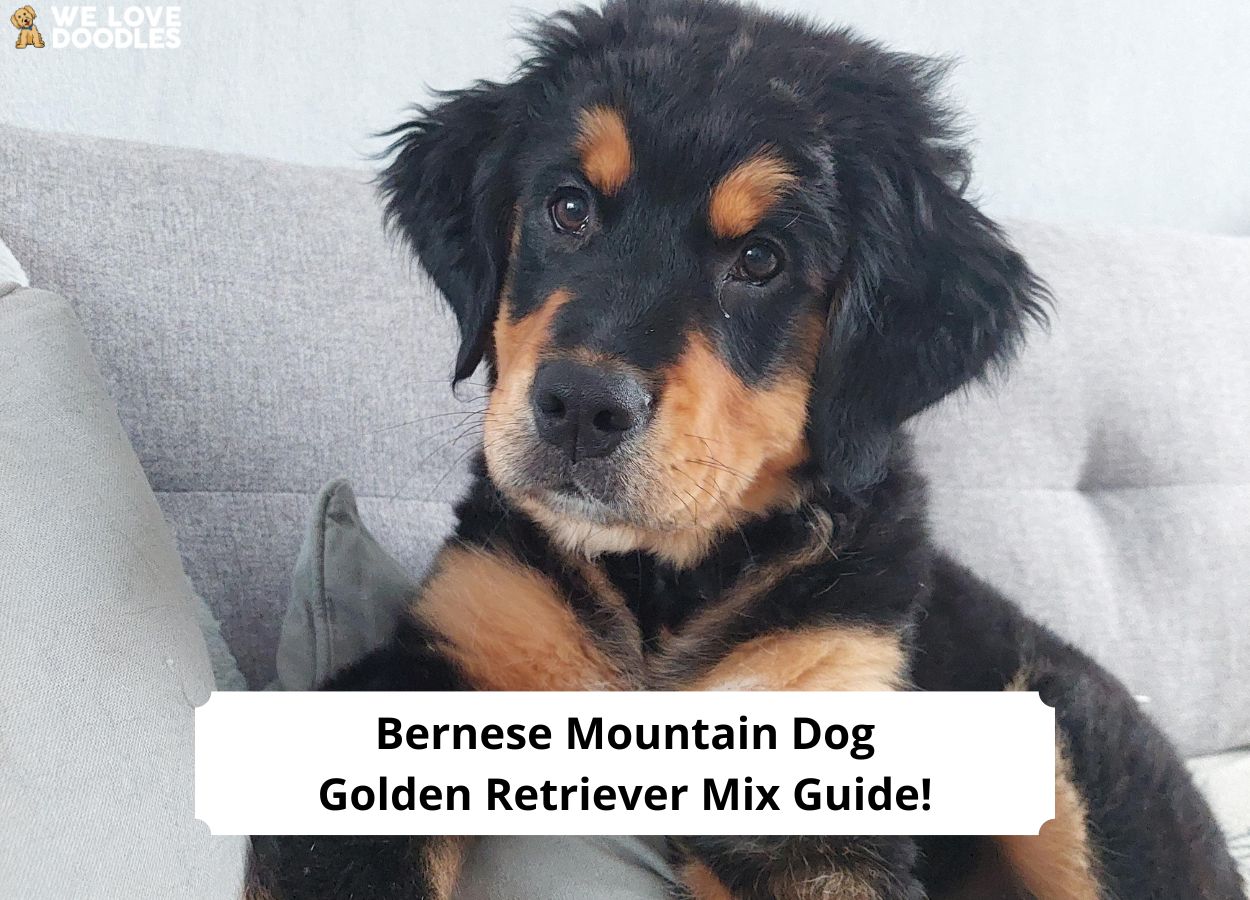 A Bernese Mountain Dog Golden Retriever Mix is called a Golden Mountain Dog, though their coats aren't always golden. In fact, the dogs are usually black, brown, or even white. Very little like their Golden Retriever lineage.
Are you thinking of bringing a Golden Mountain Dog into your family? You'll need to know a bit about the breed before you make such an important decision. As is true for any dog breed, it's important to know about the temperament and habits of the dog and the care you'll need to provide.
In this guide, we'll talk about just that. Using the information you read here, you can better decide whether a Bernese Mountain Dog Golden Retriever Mix is right for you.
Before scrolling down this Bernese Mountain Dog and Golden Retriever mix guide, check out: Best Bernese Mountain Dog Breeders and Best Golden Retriever Rescues.
What is a Bernese Mountain Dog Golden Retriever Mix?
Bernese Mountain Dog and Golden Retriever Mix is a designer dog called a Golden Mountain Dog.
The Golden Retriever was first bred in the mid-1800s in Scotland by Lord Tweedmouth, who wanted a friendly and affectionate companion. The breed was accepted by the English Kennel Club in 1911.
The Bernese Mountain Dog has been used as a working dog for over 2,000 years. It's difficult to pinpoint their precise date of introduction, but we know that they are originally a cross between Roman Mastiffs and other farm dogs in the Alps. The breed was recognized by the American Kennel Club in 1981.
We're not entirely sure when the first "official" Golden Mountain Dog made an appearance, but the breed is recognized by several organizations:
American Canine Hybrid Club
Dog Registry of America
Designer Breed Registry
International Designer Canine Registry
Designer Dogs Kennel Club
So, while your Golden Mountain Dog won't be in shows alongside the Frenchie or the Whippet, you can certainly look into registering him for events and shows across these organizations.
Now that you know a little about the breed's history, let's take a closer look at the personalities, physical characteristics, and even common health conditions of these beautiful dogs.
Golden Mountain Dog Physical Characteristics
What will a Bernese Mountain Dog Golden Retriever mix look like? Well, the puppies produced when you cross these breeds grow to be quite large.
When fully grown, these puppies can weigh between 75 and 120 pounds and can stand up to 26 inches tall. The males are typically slightly larger than their female counterparts, though both are impressively sized.
Golden Mountain Dogs are usually found in white, brown, and black shades – it's rare that you'll find a Golden Mountain Dog that's actually golden. Their coat colors are largely inherited from their Bernese Mountain Dog parent, though they do have some of the characteristics of the Golden parent. We'll talk a bit more about that later in this guide.
Aside from its size, your Golden Mountain Dog has other distinguishing physical characteristics. They have adorable rounded heads and strong legs and bodies. Their mouths may be trim like the Golden or a bit droopy like the Bernese. Large, fluffy paws and floppy ears give them a puppy-like appearance, as do their pleading brown eyes.
Overall, they're beautiful dogs and will turn heads when you're out and about.
Golden Mountain Dog Temperament
Your Bernese Mountain Dog Golden Retriever mix will likely be, in a word, sweet. The parentage of these puppies ensures that. The faithful obedience of the Golden Retriever and the protective and affectionate nature of the Bernese Mountain Dog combine to create an ultra-sweet, lovable puppy.
Your dog will be protective of you and your family because you're his herd. You may find that your puppy has latched on to one member of your family in particular but don't worry. While he'll shadow his beloved human, you're all under his close watch and protection.
Golden Mountain Dogs aren't prone to excessive barking but will alert you when an unfamiliar person is near. As is the case with most dogs, it's best to establish yourself as pack leader from an early age, as these dogs can be extremely stubborn.
Train your dog early. He is intelligent and will learn your commands easily. If your Golden Mountain Dog is taught his manners from a very young age you should have no problems fostering a gentle disposition.
Remember: these dogs can be quite large. Socialize your puppy with children, and teach him how to properly "handle" young ones. On the flip side, you'll also want to train your children in the proper way to handle a dog.
Neither your puppy nor your child knows their strength sometimes. Keep injuries to your kids and your dog to a minimum with supervised introductions and play.
Grooming Your Bernese Mountain Dog Golden Retriever Mix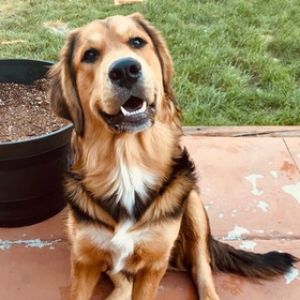 Golden Mountain Dogs have relatively high-maintenance coats. You'll need to plan for a little extra care. Let's take a moment to talk about your dog's coat and the grooming that's required to keep your dog looking healthy and beautiful.
The Golden Mountain Dog Coat
We talked a bit about the colors your Golden Mountain Dog may exhibit. White, brown, and black are the most common, though brindle dogs may appear from time to time.
As you may know, the Bernese Mountain Dog has a thick, silky, and long coat. The Golden Retriever has a double coat that's smooth at the outer coat level but fuzzy underneath.
Your dog will have some combination of characteristics from both of his parents. Typically, your Golden Mountain Dog's fur will be quite silky and quite thick. However, variations will occur because each puppy is different.
Regardless of what your dog's coat looks like, it's almost guaranteed that he will shed. This is not an ideal dog for those who suffer from allergies, so take this into consideration before you adopt.
Golden Mountain Dog Grooming
To keep your Golden Mountain Dog's coat looking its best, it's a good idea to brush it daily. This serves two purposes: removing dead and loose hair that will eventually find its way to your furniture and keeping tangles and mats at bay.
If a high-shedding dog isn't your style, the Golden Mountain Dog may not be right for you. If you don't mind using your vacuum a little more frequently, you'll find that the dogs' sweet temperament more than makes up for the effort.
Take your dog to the groomer on a regular basis for nail trimming, ear cleaning, tooth brushing, and anal gland expression. Alternatively, you can learn to do this on your own. From Golden Retriever haircuts to Bernedoodle haircuts, We Love Doodles has guides to help.
Golden Mountain Dog Exercise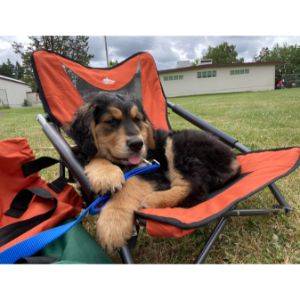 A huge part of caring for your dog is ensuring the right amount of exercise. In general, your dog will need about two walks each day. Walking your puppy in the morning and in the evening will usually suffice.
Ensure that your dog is leash-trained, as they're quite strong and stubborn. Bernese Mountain Dog Golden Retriever mix puppies aren't very predisposed to running from their herd, but should something catch their interest you'll want to maintain control.
Lifespan and Health
Generally speaking, your Golden Mountain Dog will live to be between 7 and 12 years old. Unfortunately, larger dogs tend to have shorter lifespans.
Bring your dog to the vet regularly for checkups and vaccinations. These dogs don't have many known conditions that affect their health, but are most commonly diagnosed with:
Cancer
Von Willebrand disease (a bleeding condition)
Heart conditions
Hypothyroidism
Regular vet visits can help with early detection, allowing you to keep your dog healthy for as long as possible.
Frequently Asked Questions
Thinking about adopting a Golden Mountain Dog? Here are answers to some of the most frequently asked questions.
What is a Golden Mountain Doodle?
While searching for a puppy, you've likely come across the Golden Mountain Doodle. Golden Mountain Doodles are slightly different from the Golden Mountain Dog. In fact, they're produced when you mix a Golden Retriever, a Poodle, and a Bernese Mountain Dog.

These are sweet, intelligent dogs that have many of the characteristics of the Golden Mountain Dog. However, you'll find that they don't shed nearly as much. The dogs are not hypoallergenic but they're a good alternative if you have slight allergies.
What is a Golden Bernese?
A Golden Bernese is a Golden Retriever Bernese Mountain Dog mix. They are also called Golden Mountain Dogs. The names are used interchangeably, though Golden Mountain Dog is much more commonly used.
Is a Golden Mountain Dog right for my family?
The Golden Mountain Dog requires quite a bit of care. Exercise and grooming, in particular, will take up quite a bit of your time.

However, if you can manage to get your puppy the exercise and grooming he needs, a Bernese Mountain Dog Golden Retriever mix can be a good fit for just about any family dynamic.

Seniors, families with children, and active adults will appreciate the loving, sweet loyalty of the Golden Mountain Dog. When you adopt this breed, you're truly bringing home a forever friend.
Where should I buy a Golden Mountain Dog?
If you've decided to add a Golden Mountain Dog to your home, we highly recommend that you first check shelters in your area. While your dog may be mixed with another breed, that's okay. Remember that these are designer dogs and can't be AKC-registered anyway.

Shelters and rescues will ensure that your puppy is in optimal health before going home with you. A small adoption fee will likely be required of you, but your dog will be vaccinated, spayed or neutered, and microchipped before adoption day.

If you insist on purchasing a puppy, find a reputable breeder. Avoid puppy mills by checking reviews, interviewing the breeder, visiting the facility, and obtaining pedigree paperwork. Trust your gut as you choose the breeder who will sell you your dog.
Conclusion For "Bernese Mountain Dog Golden Retriever Mix Guide"
Bernese Mountain Dog Golden Retriever mix puppies are adorable, sweet, and friendly puppies that grow into very large dogs. If you have the time and dedication necessary to care for a Golden Mountain Dog, your family will certainly benefit from the affection of one of these gentle giants.
Always seek out a reputable breeder to purchase a puppy, or support a local shelter to find your forever friend. Good luck in your search for a Golden Mountain Dog.
For more dog mixes like the Bernese Mountain Dog and Golden Retriever mix dog breed, check out:
You can see the Bernese Mountain Dog and Golden Retriever mix dog breed in action by watching "Golden Retriever Bernese Mountain Dog Mix" down below:
Garrett loves animals and is a huge advocate for all Doodle dog breeds. He owns his own Goldendoodle named Kona. In addition, he volunteers at the Humane Society of Silicon Valley, where he fosters dogs and helps animals. Garrett enjoys writing about Doodles and believes that dogs can teach humans more about how to live than humans can teach a dog.
Why Trust We Love Doodles?
At We Love Doodles, we're a team of writers, veterinarians, and puppy trainers that love dogs. Our team of qualified experts researches and provides reliable information on a wide range of dog topics. Our reviews are based on customer feedback, hands-on testing, and in-depth analysis. We are fully transparent and honest to our community of dog owners and future owners.