This guide will teach you everything you need to know about the blue Heeler Rat Terrier mix. In recent years, mixing different brings and creating hybrid dogs has become increasingly popular. More mixtures are becoming known and desirable, and creativity continues to grow.
You often see the best of both breeds brought out, and this can be a great way to tone down the negative qualities of a breed or add improvement to a breed too. One such hybrid breed is the blue heeler and rat terrier mix. These dogs are packed full of energy and enthusiasm.
They are incredible hunting and prey dogs who are very alert and attentive. These dogs are similar before being mixed, so the combination enhances many of these characteristics. That being said, they are also loving and loyal dogs that make amazing companions. We've put together a guide to help you better understand the details about the blue heeler rat terrier mix.
Before scrolling down this blue Heeler Rat Terrier mix guide, you can check out these other dog breed guides from our team at We Love Doodles: Rat Terrier Chihuahua Mix Guide and Boston Terrier Corgi Mix Guide.
Blue Heeler Rat Terrier Mix Overview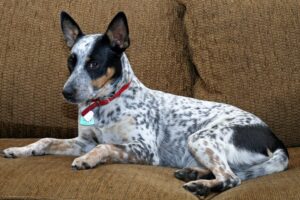 The blue heeler rat terrier mix is self-explanatory. You take a medium blue heeler and breed them with a small rat terrier. The breeding process results in an incredibly unique dog loaded with energy and loyalty. The AKC does not recognize them since they are a hybrid.
At this point, very few hybrid dogs are AKC recognized. That said, the parents can potentially each be AKC registered, which is often a sign of quality parents in the breeding process. The dog will likely be small to medium in size and have beautiful color combinations.
Here are some of the colors you might see:
Blue
Red
Tan
Black
Fawn
Apricot
Sable
Silver
Chocolate
White
It's common to see bi-color combinations, but tricolors can also be seen. You never really know, but the colors often depend on the parents. This is one of the more affordable hybrid options, usually costing an average of $300-$500. They tend to have excellent health with conditions that are easier to treat. They also have long lifespans and could live up to 18 years or even more in some cases.
About Blue Heelers
Blue heelers are medium-sized dogs typically with colors like blue, black, and silver. They can also have browns in their coats. This varies considerably. The blue heeler is a cattle dog. They historically have been known to be cattle dogs since the 1800s. They were originally found in Australia.
They are working dogs and have been known to be used as hunting dogs, rescue dogs, and even police dogs. Their coats are unique, and their personalities are active by easy going. Based on their history, the blue heeler has also been called an Australian cattle dog.
Australian cattle dogs can be AKC registered. The AKC first approved them in 1980. They fall into the working group, and you see those characteristics displayed heavily by the breed.
Related: Blue Heeler Poodle Mix Guide.
About Rat Terriers
The rat terrier has an interesting history. Some of the earlier stories of the breed date back to President Theodore Roosevelt. There was an apparent rat infestation in the White House, but he used his dog to help control the problem.
Perhaps that is when the breed was named, but there are stories of this breed from before his time. The breed is known for helping control pests. They will kill and keep away rats, foxes, and other types of rodents or vermin that can be a problem.
These dogs have been seen throughout history. In fact, in a Shirley Temple movie back in the 1930s, they had a rat terrier on set. Most people have forgotten their true origin and nature thanks to the addition of chemical pesticides and treatments. However, the breed itself is still popular and available. They just are rarely used for their original purpose.
Appearance
While blue heelers and rat terriers have similar personalities, they tend to have size differences. The rat terrier is a small dog, while the blue heeler is a medium to large dog in most cases. The result of the mixture of the breed is sometimes hard to predict. You will get dogs that take after the terrier and dogs that take after the blue heeler. The sizes might even be mixed within one litter.
In most cases, you'll get a small to a medium puppy that ranges between the blue heeler and rat terrier sizes. That being said, rat terriers typically grow to about 10-13 inches and weigh anywhere from 8-26 pounds. Blue heelers grow from 17 to 20 inches and weigh anywhere from 33 to 50 pounds. On average, the hybrid will grow to approximately 13-17 inches and weigh approximately 20-40 pounds.
The colors are the same story. Blue heelers typically have blue, black, and gray color mixtures. Rat terriers tend to be white with colors like brown or black on their coat, with some spots at times. When you breed the two together, you can also have any mixture. You can get a very diverse dog with these breeds, and you never know exactly what a little one will look like until it is born.
For some, predictability is a must, but the cool thing is your dog is bound to be unique and beautiful simultaneously. They might have some intermingled colors and patterns that you won't find with most breeds. Both of these breeds are considered short-haired dogs. They also tend to have muscular builds, which comes from the fact that they are highly athletic dogs.
Temperament and Personality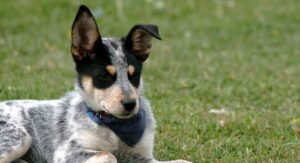 We know that both of these breeds can be a bit rowdy. They have a ton of energy, and the blue heeler is a traditional cattle dog. They are bred to be runners, workers, and outdoor dogs. They prefer to be busy and will need you to give them the capacity to stay busy.
They can be inside dogs, but they will need plenty of outdoor playtime and exercise throughout the day. If they get bored, they will be destructive. These dogs are protective of the people that they trust. It does take some time to build that bond and earn their trust. Once they know and love you, the bond will be strong and unbreakable in most cases.
They are wary of strangers but very loyal when they trust someone. The bond of trust also brings about a protective personality. They want to protect their people and their property. Since they are herding dogs, you will find they can be bossy and active.
They will fun, dig, and chase any prey that tempts them. Rat terriers are known to be diggers, so this is a trait that you may have to be mindful of if you keep your puppy in a fence. The best way to get a feel for the temperament of the puppy is to check out the temperament of the parents. Most puppies take after their parents' temperament, looks, and health factors.
Health and Hygiene
One of the great things about this breed is that you don't have to worry about maintenance and grooming needs. They have short, coarse hair, which helps prevent them from getting stickers and matts. Their active lifestyles have them running through all types of terrain outdoors.
Thankfully, this means hygiene is an easy task overall. They will need occasional bathing, but you don't have to worry about haircuts and constant grooming or brushing needs. Occasional brushing and bathing are good for their hygiene needs. The blue heeler rat terrier mix will likely have a short, dense coat. It consists of both an undercoat and an outer coat.
In most cases, the outer coat is water-resistant because these breeds are outdoor, hardworking dogs. One thing to be mindful of is that they rely on you for nutrition. They are active dogs, so they need high protein and nutrients to support their active lifestyles.
Nutrition is a big factor, and it's your responsibility as the puppy owner. One of the great things about creating the hybrid is that it helps eliminate some potential health disorders known to each breed. They are less likely to face genetic disorders or diseases that are challenging to treat. Blue heelers are most susceptible to hip or elbow dysplasia, retinal atrophy, deafness, and OCD.
Rat terriers are susceptible to hip dysplasia, dental, heart and liver problems, or kneecap luxation. But with the mixed breed, you won't have to worry as much. Your most likely health ailments are hip dysplasia, dental challenges, and deafness. But technically, you could experience any of the common health issues. They are not as likely, though, as with the traditional single breed.
Related: Best Dog Food For Joint Health.
Exercise and Training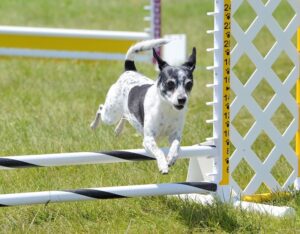 These dogs are incredibly smart, and you get high intelligence when you pair them together. This will help with training. Thanks to their intelligence, they can sometimes be stubborn, but they also catch on quickly and learn quickly. If you expect your dog to sit and chill, that's not likely to happen.
Sure, they will rest some, but they are most active and don't like to sit still very often. This will be your biggest challenge. They need plenty of physical activity and can't be happy just cooped up. They need lots of playtimes, including actions like frisbees, tug of war, fetch, and more.
They rely on you, allowing them proper stimulation to be happy and healthy. They need bonding time with people and other animals, so stimulation and quality time are vital. Ideally, the blue heeler rat terrier mix will fit best on a farm, ranch, or location where they can run outdoors and spend their time playing and being active. They might not be a great fit if you live in a small apartment.
You and the dog will likely end up frustrated in this scenario. These are important things to know about the breed so that you can plan accordingly and determine whether or not this is a great fit for your lifestyle and needs. Ask yourself if you can provide this dog with proper mental and physical stimulation. Will they be able to run and play? If the answer is yes, it's a great fit!
Related: Best Weighted Vest For Dogs.
Family and Children's Expectations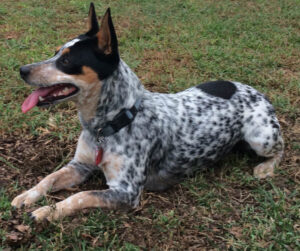 So how will a blue heeler rat terrier mix work out with your family or your children? The first thing to remember is that they are highly active dogs. They are also herding dogs. While they shouldn't show any aggressive behaviors, you might catch them trying to boss the kids around from time to time.
How well they socialize with children and other animals will depend on how they are trained and how well they are socialized from a young age. They do best when they are actively socialized from the puppy stage.
Otherwise, they may not be ideal for children or other animals because of their active hunting and herding natures. This dog does best with similar dogs and has plenty of room to run and play. They can be family dogs if their mental and physical needs are accommodated. Those details will make all the difference in the end.
Conclusion For "Blue Heeler Rat Terrier Mix Guide"
There are many things to know if you're considering a blue heeler and rat terrier mix. Understanding their health and stimulation needs more than anything else is important. You will have good results with the dog if you acknowledge that they are highly active dogs and prepare for that.
Ultimately, you can't keep them cooped up, and you can't just toss them in with kiddos and expect them to figure it out. They need room to play and proper socialization from a young age for the best success with a family. These dogs are highly intelligent and have a lot to offer.
If you find this article, "Blue Heeler Rat Terrier Mix Guide," helpful, you can check out:
You can learn more about this dog breed by watching "A Day in the Life of Rosie! (Blue Heeler, Terrier MIX)" down below: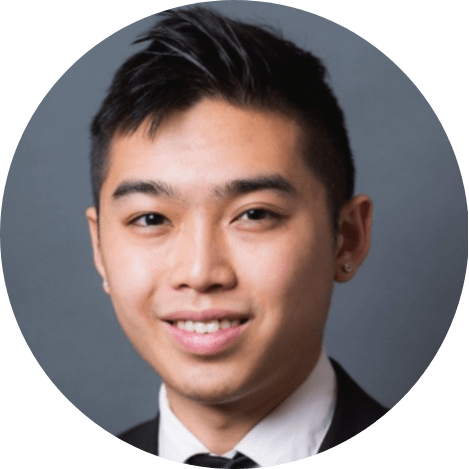 Andy is a full-time animal rescuer and owner of a toy doodle. When he's not saving dogs, Andy is one of our core writers and editors. He has been writing about dogs for over a decade. Andy joined our team because he believes that words are powerful tools that can change a dog's life for the better.
Why Trust We Love Doodles?
At We Love Doodles, we're a team of writers, veterinarians, and puppy trainers that love dogs. Our team of qualified experts researches and provides reliable information on a wide range of dog topics. Our reviews are based on customer feedback, hands-on testing, and in-depth analysis. We are fully transparent and honest to our community of dog owners and future owners.