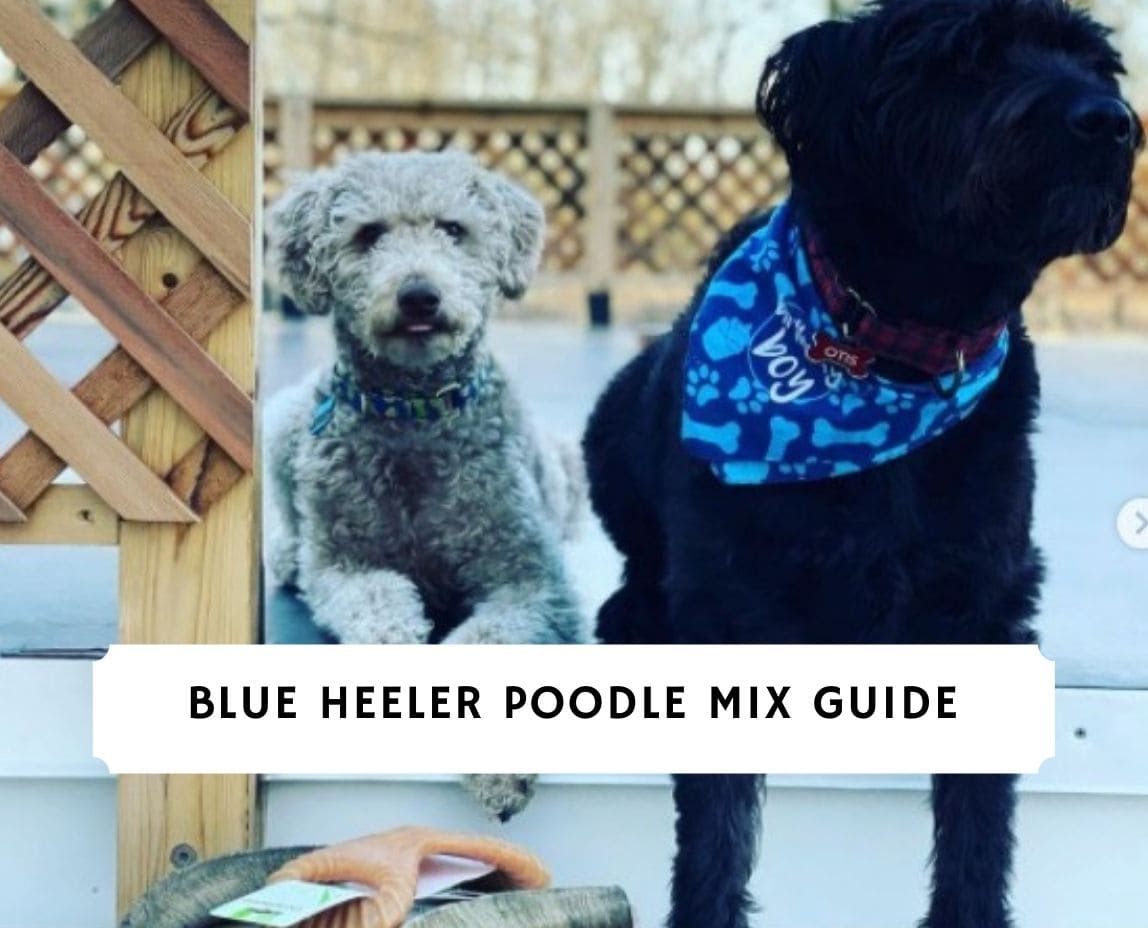 The Blue Heeler Poodle is a fascinating dog breed that is a mix between the Australian Cattle Dog (ACD) and Poodle. The Blue Heeler Poodle mix's behavior and appearance depend on several factors depending on the genes that they inherit. We do that Poodle mix dog breeds have become extremely popular because of their hypoallergenic and nonshedding coats that tend to pass down to their offspring.
You'll never know for sure what type of offspring will come from this hybrid dog breed, but we will explore some of the possibilities of what your Blue Heeler Poodle will look like and act. In this guide, we'll give you a complete overview of the Blue Heeler Poodle mix.
Blue Heeler Poodle Mix Origin
The Blue Heeler Poodle mix was bred by crossing the Australian Cattle Dog with the Poodle breed. This section will cover its parent breeds, which are the Australian Cattle Dog (Blue Heeler) and the Poodle.
Australian Cattle Dog (Blue Heeler)
Bred initially in Australia, this tough dog breed can withstand the harsh terrain of bushes. Blue Heelers are considered highly knowledgeable and great at herding livestock. If you want a hardworking dog with a strong will, the Australian Cattle dog is perfect for you. They thrive in the outdoors but if you live in the city, make sure you have enough space for them to run around.
Their bluish-gray fur has black and rust patches which form a beautiful pattern and give them the nickname Blue Heeler. They have a double coat that doesn't grow so long, but it's considered very thick when compared to the average dog breed. Even though they have a thick coat, they thrive in hot climates thanks to the insulation provided by their undercoat. Generally, the Australian Cattle dog is social and you can train them to be friendly to the people around you.
Poodles
Popularly known as a fashion accessory, Poodles are among the most intelligent dog breed you will ever encounter. These dogs are great at swimming, obedience trials, and agility. Contrary to popular opinion, they were initially bred as retriever dogs in Germany and not France. Poodles have a thick fur coat and classic webbed toes that are good for swimming. Although they only have a single-layer coat that doesn't shed, they can thrive in most environments. Poodles come in different sizes which affect how big your Blue Heeler mix will be:
Standard Poodle: Male Standard Poodles weigh about 70 pounds, but the females are a bit smaller, weighing around 50 lbs. Their coat color can be white, black, gray, apricot, blue, or several more coat colors. These dogs have slender builds with long legs and can be as tall as 15 inches. Generally, Blue Heelers bred with a Standard Poodle are going to weigh at least 40 pounds.
Miniature and Toy Poodles: Toy, Miniature, and Standard Poodles have the same coloring, fur, and general build. The only difference is in their size. Toy Poodles weigh around 4 to 6 lbs, while Miniatures can weigh up to 15 lbs. They are very energetic and good at sports activities just like Standard Poodles. These dogs have a slightly different personality than the Standard Poodle, but they make great companion dogs. Generally speaking, Toy and Miniature Poodles are intelligent and loyal to the people around them. They thrive when they are around their family. If an Australian Cattle Dog is bred with a mini or toy Poodle, they will generally weigh anywhere from 15 to 35 pounds.
Related: Best Poodles Rescues For Adoption in the USA and Best Mini Poodle Breeders in the USA.
Which Breed Goes Best With a Blue Heeler?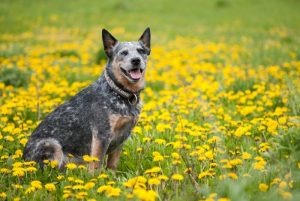 The background of a hybrid has little or no impact on how well it turns out. No answer is considered right or wrong in this situation. However, it would help if you kept in mind that it is more feasible to crossbreed dogs of similar size. For instance, Toy Poodles may be too small to bear the offspring of an Australian Cattle Dog.
In general, people love breeding Poodle mixes because they don't shed any hair. Blue Heelers tend to shed at least twice per year when the temperature changes which means you'll get dog hair all over your car, house, and clothes. Generally speaking, when a Blue Heeler is mixed with a Poodle is won't shed hair and will consider mostly hypoallergenic which is great if you have any pet allergies.
Temperament
Both Australian Cattle Dogs and Poodles are intelligent dogs, meaning that a hybrid from the two will be the perfect companion for a beginner dog owner. The Blue Heeler Poodle mix is eager to please, easy to train, and responsive while learning new things. Additionally, the Blue Heeler has a reputation for outsmarting people and other dogs. Poodles are patient and gentle, but Australian Cattle Dogs, on the other hand, are more excitable.
Both sides of the Blue Heeler Poodle mix are social and thrive when they have other dogs and people around them. You should provide them with enough playtime so they can burn excess energy. This way, they will become more confident when it comes to socializing. A bored Blue Heeler mix will become destructive around your house and your yard. It's important to both mentally and physically stimulate them every day.
Care and Grooming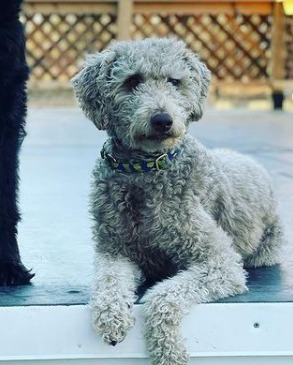 How you care for your Blue Heeler Poodle mix will depend on their activity levels and size. If your Blue Heeler Poodle mix is large, you should avoid plush toys. Larger dogs can destroy or even digest such toys. Make sure you get highly durable toys for your hybrid. Small, fragile toys are a choking hazard, and you should avoid them altogether. Instead, go for antlers and heavy-duty chew toys. Not only will this prevent choking, but you'll get save money as more fragile toys tend to break quickly.
If you own multiple dogs, you should get tug toys like rope toys. It would be best if you didn't ignore your Blue Heeler Poodle puppy while it's playing. Monitor them for any aggression. Sometimes, Blue Heeler Poodle puppies can get very attached to their toys and refuse to share them (resource guarding). This designer dog is intelligent and will always enjoy interactive dog toys and puzzles.
The downside of having a Poodle Blue Heeler mix is that this dog will require significant grooming. Since they typically won't shed hair, they will require regular brushing in order to prevent mats and tangles. Additionally, you'll have to give your Australian Cattle Dog and Poodle mix a haircut every 6 to 12 weeks because they don't shed hair.
Related: Best Dog Grooming Tub and Best Slicker Brushes For Dogs.
Health
Both Blue Heelers and Poodles are susceptible to hip dysplasia. Miniature and Toy Poodles can also suffer from elbow and knee joint disorders. Some Blue Heelers are born deaf, while others may develop hearing problems that can lead to hearing loss. Health problems can be passed on from any side of the hybrid, and you should keep this in mind before getting one. As for life expectancy, your Blue Heeler Poodle mix will live longer than the average dog. They typically will live for 12+ years.
Diet
The amount of food your Blue Heeler Poodle eats depends on its activity levels and size. A larger size dog means more food and higher activity levels. Ensure that you feed your dog enough to replenish lost energy, but not too much that they become obese. You may be tempted to buy some of the numerous cheaper carb-heavy dog foods out there, but we advise you to do your research. It's best that you purchase a dog food that doesn't have filler ingredients or common ingredients that cause food allergies like wheat, soy, or chicken. Additionally, make sure your dog gets lots of protein since they are highly active.
Related: PetPlate vs Ollie and Spot and Tango.
Conclusion For "Blue Heeler Poodle Mix Guide"
It's not possible to say for sure how the offspring of two different dog breeds will turn out. A close look at each side of the hybrid will help you understand its characteristics of your Blue Heeler Poodle mix. Australian Cattle Dogs and Poodles are intelligent, good at sports, and get along with people when properly socialized. Now that you've learned about the Blue Heeler Poodle mix, adopting one should be a more fun process.
For similar Doodle breeds, check out:
To see the Blue Heeler Poodle mix in action, watch "Blue Heeler Hybrid Puppies" from Lancaster Puppies down below: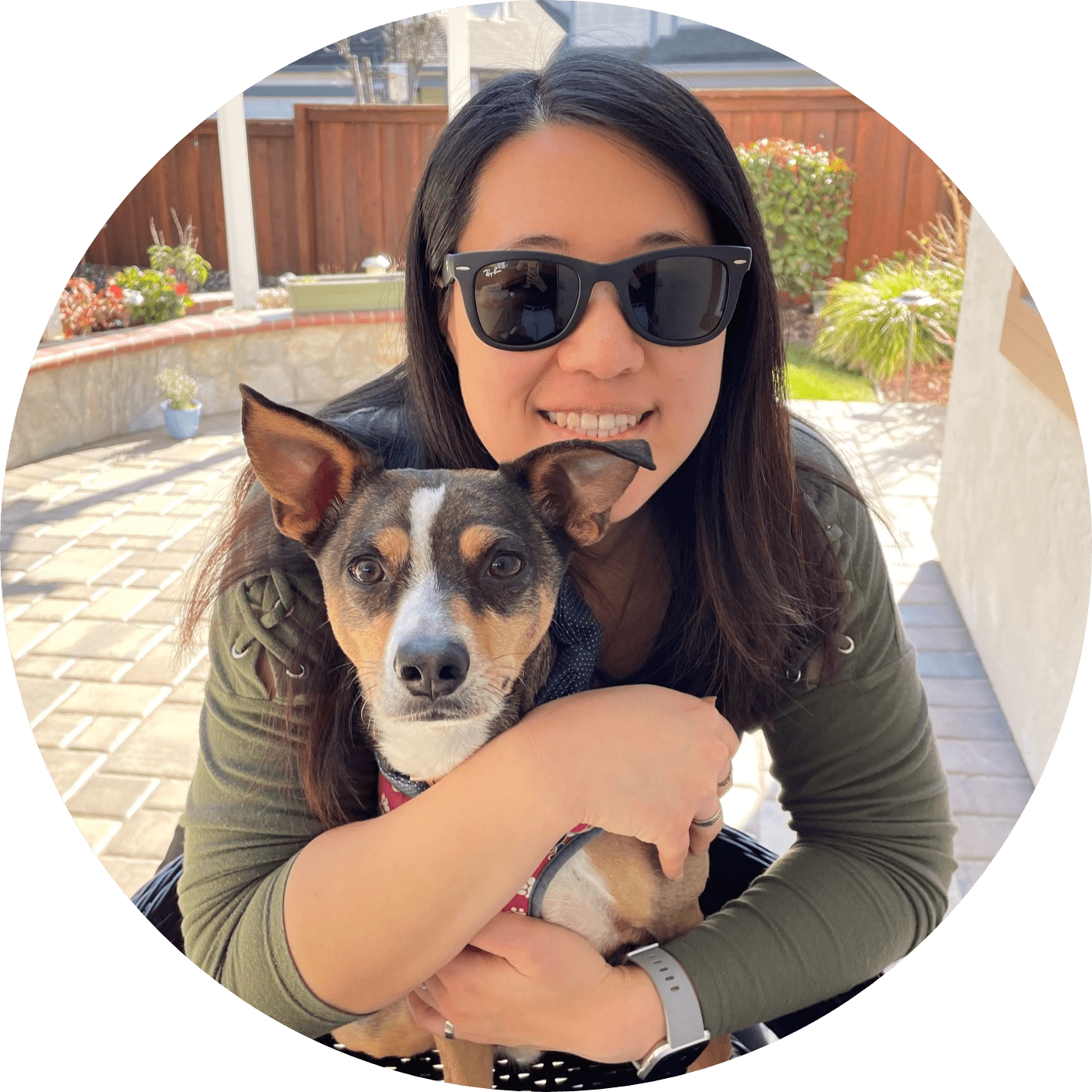 Dr. Sabrina Kong graduated from the Royal Veterinary College in England in 2016 and has been working at a small animal clinic in Northern California since then. She grew up in the Bay Area and got her bachelor's degree from Cal Poly San Luis Obispo. She also became a Certified Canine Rehabilitation Practitioner through a program at the University of Tennessee.
When she isn't in the clinic taking care of her four-legged patients, she enjoys traveling and trying new foods with her friends and her three-legged dog, Apollo. She adopted Apollo from her clinic when he was a puppy with numerous health issues. Dr. Kong truly cares about taking care of animals.