If you're a dog parent, you're very well aware of the importance of regular grooming. Brushing a dog's coat eliminates burrs, tangles, and mats. It also stimulates the blood supply to the skin and spreads your dog's coat oil amongst their fur. If your dog has severe matting, the skin may not be able to do its primary job of regulating your dog's body temperature, and it will pull at their skin. This is why it's important to have one of the best slicker brushes for dogs.
Coat care and grooming are essential for your dog, especially if you have one that is nonshedding and hypoallergenic. A dog that doesn't shed will continue to grow their hair out and you must brush it several times per week.
Choosing the right grooming tools for your dog breed may be confusing in the beginning because there are so many great grooming tools and brushes that you can use. However, a slicker brush is by far one of the best tools to prevent mats and tangles from developing. We have tried every single slicker brush on this list with our Goldendoodle. We also tried several other brushes that were not good.
In a rush? Here are the top picks!
Product
Best Overall
We Love Doodles Slicker Brush
Runner Up
Chris Christensen Slicker Brush
Budget Pick
Hertzko Brush
Image
The We Love Doodles slicker brush is one of the newest released brushes that have gained a lot of popularity in the market. If you have a long-haired dog that doesn't shed, you'll want to get a slicker brush with long pins to remove all mats, knots, and tangles.
The We Love Doodles slicker brush has 30% more pins to make brushing faster and easier. Additionally, each pin is over 1 inch long, which allows for deep brushing. Not only that but each pin is also bent at a 45-degree angle so it won't scratch your dog's coat if you accidentally brush too deep.
This dog slicker brush also comes with a 100% satisfaction guarantee, so if you or your puppy doesn't like you can return it for a full refund. We highly recommend that you check out this slicker brush as it is extremely affordable and long-lasting.
Key Features
Longer and denser pins than most slicker brushes
Pins are angled so it won't scratch your dog's coat
The long ergonomic handle makes for easy brushing
Easy to use
The Chris Christensen slicker brush is by far the best product on the market today, but it comes at a relatively steep price point. This company started in 1996 with the first actual color-correcting shampoo for dogs. Chris Christenson features coat-specific products with handcrafted slicker brushes. The brushes are not only beautiful in design but also functional as well.
The long pin slicker brush is available in 2 sizes, medium and large. The medium-sized slicker brush is great for brushing the leg body parts of your dog. The long bent bristle design allows the brush to skim through all the way to the roots for the ultimate groomed look.
This is one of the best long ping slicker brushes that is designed for dogs with thick coats. We like this slicker brush from Christ Christensen because it features long enough pins to get down into a thick and dense coat. Not only is this brush extremely lightweight, but it's also smooth and soft. The handle is contoured and made of wood, so it's super easy to hold without your hands becoming uncomfortable.
This slicker brush is perfect for all dogs with curly cottony coats and helps to fluff and shape heads, topline, and legs of numerous dog breeds. It also removes thick undesirable undercoats in most breeds. This brush is excellent for the entire body because it has the most pins out of any other slicker brush we tried. The Chris Christenson Big G slicker brush is best used with the Chris Christenson Thick-N- Thicker Texturing Bodifier Aerosol Spray for dogs that give you ultimate control with an even spray pattern.
How Do the Pins Feel?
The pins feel very soft and are incredibly malleable. They bend easily out of shape as to not pull too hard on your dog's hair. This makes brushing wet hair easier. This slicker brush is gentle and smoothly works its way through dense coats. Our only tip is that you don't repeatedly brush over the same area to prevent sensitivity issues.
Key Features
Works through dense coats and curly coats in all dog breeds
Extremely lightweight
Extra-long handle
Unique curved design for optimal comfort
40% more bristles than some of the other brushes on our list
With over 46,000 positive ratings, the Hertzko wire slicker brush for dogs gently removes tangles and loose hair from your dog's coat. The Hertzko brush is a self-cleaning slicker brush for dogs and remains one of the most popular dog grooming products. If you don't like manually removing dog hair from a slicker brush, this is the product for you. You simply press the button on the handle and the metal pins retract inwards which allows you to clean the dog fur easily. It safely and gently removes tangles, mats, and works through undercoats. 
This brush works for all types of dog coats and lengths. This dog grooming slicker brush also provides a comfortable anti-slip grip that goes through thick coats without hurting your puppy. This brush grooms and massages, allowing for healthy skin and coat. The only downside of this brush is that metal pins are very sharp and very stiff. If you press too hard while brushing your dog, it may irritate them.
Features
Fine bent wire bristles to optimize gentle grooming
Anti-slip handle
Self-cleaning brush
Priced well
Over 46,000 positive reviews
Features thumb rest for optimal control
The Complete Professional Pet Grooming Kit by Pet Bull features a self-cleaning slicker brush that gently removes loose hair and eliminates tangles, knots, dander, and trapped dirt. This kit comes complete with all the extras accessories to make grooming your puppy super easy.
The handy grooming body glove is crafted with curved bristles. The de-shedding brush is and removes shedding hair by up to 95%. 
Gently comb and remove dead hair leaving a healthy, shiny pet coat. The enhanced five-finger design allows for easy grooming for all body parts. This is effective for bath time as well. We like this product because it's perfect as a gift set any time of the year.
Key Features
Professional grooming 3-piece gift set
Lifetime satisfaction guarantee
Self-cleaning brush with comb release button
The reputable Furminator brand has always been popular among pet parents and has been around for many years. The FURminator developed a high-performance line of hair-care, nail, hygiene, and waterless products that people have been raving out.
When we bought this curved wire slicker brush, we noticed that it removes surface mats, detangles, and smooths our Goldendoodles fur without pulling. The brush design was also crafted to reduce pressure on your dog's skin. This slicker brush was designed to smooth coats and is intended for dogs with either long, curly, or thick coats.
The Furminator slicker burhs features soft steel bristles and has the new dual flex head design to follow the dog's head and body's contours while keeping the bristles in their ideal working position. 
The Furminator slicker brush is available in either the firm or soft slicker brush options. We like the Furminator because it's priced well and features a step-by-step guide on grooming your dogs using their tools so that new pet parents get to groom correctly the first time around. When using this soft slicker brush for dogs, you definitely don't want to press too hard because the bristles are sharp and can cause pain.
This dog grooming brush is best used 1-2 times a week for a few minutes each grooming session to remove excess hair and debris, break up mats, tangles and help keep your pet looking his best. This wire slicker brush gently massages and gets rid of extra debris when used correctly.
Key Features
Ideal for medium, long, and curly coats to remove surface mats and tangles without damaging the coat
Features straight bristles on one side and bent bristles on the other side
Step by step video available
A high-quality product that's popular, featuring good reviews
Priced well
The Go Pets Professional Slicker Brush is another tremendous self-cleaning brush that removes loose hair, gets rid of tangles and mats, and also gently massages your dog's fur while they are being groomed. The fine bent wire bristles allow for the bristles to gently penetrate deep into the coat and undercoat without scratching the skin or hurting your dog.
This brush is perfect for de-shedding and captures the hair while you groom your puppy. Unfortunately, this slicker brush does not have as much exposure as all the others but makes up for it with quality and performance.
Key Features
High density 672 soft bristle density allows for fluffiness and softness
GoPets satisfaction guarantee
Self-cleaning brush with self-retracting bristles
Comfort silicone gel grip that won't slip
This company donates a portion of its profits to animal charities.
The Safari Dog Self-Cleaning Slicker Brush works best for short-haired dogs (including Beagles, Boston Terriers, German Shepherds, and Retrievers). This slicker brush features stainless steel pins that retract for easy clean-up. It's suitable to gently removes mats, tangles, and loose hair and is crafted with a non-slip grip to allow for easy grooming.
With over 1,000 positive ratings, the Coastal Safari Slicker brush is available in small, medium, and large sizes for all dog breeds and sizes. This product has an ergonomic design and is safe and easy to use. With frequent use, this product will help maintain a healthy coat and skin for your puppy. The Coastal Safari brush keeps a healthy coat and skin free of tangles and mats with regular use. This company has been around for around 50 years, and their brands include Safari, Herm. Sprenger, ElastaCat, Li'l Pals, and EZ Change.
Features
Ergonomic handle and good brush design
Multiple styles available
Curved to the contours of a dog's body
Crafted with extra-long pins
Priced well
Over 1,000 positive reviews
With over 10,500 positive reviews, the Ruff' N Ruffus is a set that includes a slicker de-matting brush, stainless steel grooming comb, and heavy-duty pet nail clippers. This is a click and press slicker brush with round-tip bristles to prevent harsh grooming. It's a great dog brush for nonshedding dogs.
The wide, ergonomic rubber handle makes the brush easy to grip during grooming sessions with your furry best friend. We like this slicker brush because it comes with free accessories. With every purchase, you receive a free nail clipper and a 7.5-inch stainless steel comb.
Features
Rubberized ergonomic handle for ultra-comfortable grip
Self-cleaning push button
Features a miniature grooming kit as a free bonus
Priced well
As huge fans of this brand, we found the Mark III Slicker brush by Chris Christensen beautifully handcrafted. A favorite at dog shows, this slicker brush is crafted with Beachwood and features high-grade steel pins that don't scratch your dog's fur.
The shape and contours of the handle do all the work for you instead of your wrist being at a constant angle. This means less stress for both the groomer and dog! This is a gentle brush that can work through tangles. We don't think it's as good as the Big G Slicker brush, but it's half the price.
Features
Ultra-soft, extra flexible cushion with the base of one fourth inch foam
Shape and contours of the handle designed for optimal grooming experience
Rectangular shape
Priced well
A reputable brand has been around for many years and is a must for dog shows and sporting events.
How to Choose a Slicker Brush
Slicker brushes come in all different sizes. Each slicker brush is made up of two parts: the handle, and the bristles. It's essential to look out for comfortable anti-slip materials for the handles. This makes holding the brush and grooming much more comfortable and safer, especially since you're going to be using it often. These brushes can be used alone or together with numerous other grooming brushes. Additionally, slicker brushes for dogs need to be used carefully with short, gentle strokes to prevent from hurting or scratching your dog's skin. If your puppy has sensitive or irritated skin, opt for another type of grooming brush.
Materials like silicone and plastic, and of course, the most popular handle material, poplar wood, make for great handles. When looking at bristle materials, they are available in many materials like plastic, natural and synthetic animal hair, silicone, and stainless steel. Stainless steel penetrates thicker coats quickly without snagging.
There are many types of slicker brushes for dogs. This is a grooming tool made from thin wire, mounted on a soft, flexible backing. These brushes are great for shedding and may be square or rectangular. Most of these slicker brushes are available in a one-size-fits-all. However, there are a few brands that have a few sizes.
What Makes for a Good Slicker Brush?
The essential component of a good slicker brush is a high-quality, lasting product that is gentle on dogs when used correctly and does not cause skin irritations or cuts. Grooming has to be a peaceful experience that your dog looks forward to.
Here are the critical components of what you should look for when choosing the best slicker grooming brush for dogs.
Fine high-grade steel bristles with bristle tips that are gentle, thin, and packed closely together for optimal grooming.
Curved handle for comfort with ergonomic design
Versatile for different types of dog coats
Retractable bristles for fast cleaning
Priced affordably
Positive reviews by consumers
Can brush through thick, wooly, or curly coats easily without hurting your pup
Slicker Brush Grooming Uses
Slicker brushes for dog grooming can be used on all breeds that are large and small. Slicker brushes are mainly used to remove dirt and debris that has collected on your dog's coat. They work well in combination with detangling spray, a de-matting comb, and a brushing and styling milk work effectively.
Slicker brushes feature unique soft bristles designed to softly penetrate all types of coats belonging to numerous dog breeds. This experience, when done correctly, should be free of discomfort and pain. If you're beginning to introduce your puppy to grooming, remember to reward him with his favorite high-value puppy treats for good behavior. Most puppies don't like slicker brushes and it takes some time to get used to them.
Why You Should Use a Slicker Brush
Your dog's coat should be brushed often to remove shedding hair and also to prevent hair mats. Grooming your dog with a slicker brush is essential for dogs with thick or shaggy coats that tangle easily. Mats need to be removed right away, otherwise, they can cause skin irritation, and leave the skin vulnerable to bacterial or parasitic infections.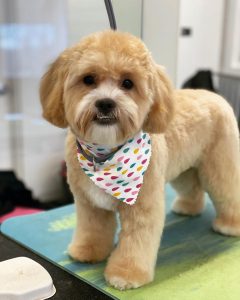 How to Remove Mats
Mats should be removed with electric clippers and not scissors to avoid cutting the skin beneath them. The American Kennel Club (AKC) explains that when brushing your dog, you should always check for burrs, stubborn plant material, and that you should always check behind the ears and the legs for burrs, as well as for cuts and scrapes.  
The AKC adds that "Groomers have the proper tools and knowledge for removing mats, trimming nails, and cleaning ears. Professional groomers can make you aware of ear infections, tooth decay, and skin infections." If you're at odds as to how to remove your dog's mats, visit a professional groomer. Some breeds have specific grooming needs, so it's best to choose a groomer that has experience with your type of breed.
Coat Upkeep in All Dog Breeds
Suppose your dog breed is wired-haired; your pup may need to have their wired coats hand plucked to maintain the correct harsh texture and deep coloration. If the coat is clipped in a wired-haired dog breed, you may end up with a coat that's soft yet faded.
Many dog breeds look best with professional dog grooming. That said, you will still need to purchase the correct grooming equipment for your puppy to use at home in-between grooming sessions.
Dogs with long coats will need to be bathed more frequently than dogs with shorter coats. It's also important to keep in mind that bathing often removes oil and debris that can create matting. Many pet parents will try to find a dog breed that doesn't shed, but all dogs will lose their hair; and in some dogs with very curly hair, the hair is trapped by other hair instead of falling to the ground.
Thick double coats tend to shed more periodically, with short single coats shedding less noticeably. No breed is 100% hypoallergenic since it's the dog's dander and not the hair that causes human allergies.
Keep in mind that if your dog is bathed and groomed regularly, regardless of the dog breed, there will be fewer problems for an allergic person. Also that dogs that have hairy feet will track dirt into the home.
Try not to leave a thick matted pelt behind by only grooming the coat's top layer. For all dogs except hairless or smooth-coated dog breeds, a slicker brush or perhaps a few slicker brushes should be the first dog grooming tool in your grooming kit. The most important thing with grooming your dog is to not cause skin irritation or sensitivity from using the grooming brushes.
Dog Coat Terms
Corded: Coat that is intertwined in long and narrow mats.
Feather: This is when there is long hair on the ears, beneath the tail, and on the backs of legs.
Brindle: This is when there are vertical bands of dark hair overlaid on lighter hair
Ruff: There is profuse growth of hair on the neck
Stand-off coat: This is when the skin sticks up from the body instead of lying flat. (Norwegian Elkhound)
Stripping: This is when the undercoat is removed and the dead outer coat without losing the harsh texture; plucking.
Merle: This is when dark patches are overlaid on a lighter background of the same pigment type and known as dapple.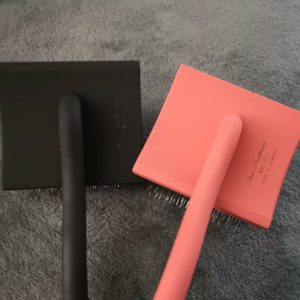 Dog Coats & Grooming
Many wire coated dog breeds need hand plucking to keep the correct harsh texture and deep coloration. Pet owners have the option of learning how to do so and may find it's best to know since professional groomers don't have the time to hand pluck.
If you learn how to groom your dog correctly, you can purchase the right dog grooming equipment. It's best to start grooming your pup during puppyhood so that puppies are cooperative to grooming as adults.
If you adopt or purchase a long-coated dog breed and then clip it, you'll have a short-haired dog that may look different from the breed that you were attracted to purchasing or adopting in the first place. All pups and adult dogs will need regular grooming and bathing with long coats needing more care than shorter coats.
Positive Reinforcement
Reward your puppy for good behavior when they allow you to brush them with a slicker brush. Ensure that the entire grooming session is relaxed and pain-free so that your puppy relaxes and enjoys being brushed.
Pressure check
Brush your arm first to check for pressure levels. In this way, you can be sure not to hurt your pup if you apply. The slicker brush is excellent after a dog bath and for wet hair and coats because the pins are flexible and will move with the damp hair.
Slicker brushes should not be used on the same part of the body repeatedly because they cause sensitivity and pain. Using short and gentle strokes is an effective grooming technique with the slicker brush.
Conclusion for the Best Slicker Brushes for Dogs
Grooming your puppy is one of the most important things you can do to keep your dog happy and healthy. Using the right grooming tools helps you to improve your dog's appearance. Every dog breed will have a variety of coats. They can also have wavy, curly, or straight hair. You should have various grooming tools to allow for each coat type to look its best. You're certainly going to want to have a slicker brush for your dog to remove tangles and mats.
Brushing your dog allows optimal circulation by massaging their fur and dogs will enjoy grooming if done correctly. A slicker brush works wonders on a dog's coats and is easy to use. They have a broad base with metal bristles bent at an angle so the meeting can slide through the hair effortlessly. Remember that regardless of whether your pup has long or short hair, you'll still need to groom regularly to keep your dog's skin and coat healthy.
Other articles you would like:
Garrett loves animals and is a huge advocate for all Doodle dog breeds. He owns his own Goldendoodle named Kona. In addition, he volunteers at the Humane Society of Silicon Valley, where he fosters dogs and helps animals. Garrett enjoys writing about Doodles and believes that dogs can teach humans more about how to live than humans can teach a dog.
Why Trust We Love Doodles?
At We Love Doodles, we're a team of writers, veterinarians, and puppy trainers that love dogs. Our team of qualified experts researches and provides reliable information on a wide range of dog topics. Our reviews are based on customer feedback, hands-on testing, and in-depth analysis. We are fully transparent and honest to our community of dog owners and future owners.