A cross between Golden Retrievers and Poodles, Goldendoodles often inherit the tendency to generate excess body heat. So, do Goldendoodles get hot easily? And if so, how can you avoid overheating?
Similar to any dog or human, Goldendoodles are susceptible to overheating. Various factors, such as the length of their fur, the type of activity they engage in, the external temperature, and their personality, all contribute to how they cope with hot conditions.
That can pose challenges as they struggle to remain still, relax, or take breaks. Their owners need to manage this trait to prevent potential health issues effectively.
Read on to learn more.
Before scrolling down this guide "Do Goldendoodles Get Hot Easily," check out these other Goldendoodle-related guides: When to Spay a Goldendoodle? and How To Train a Goldendoodle.
Factors That Determine the Hotness of Your Goldendoodle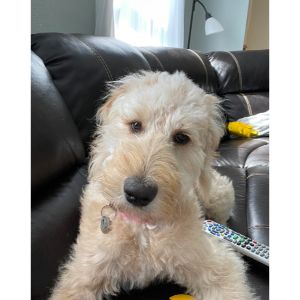 Several factors influence the susceptibility of a Goldendoodle to heat. These factors include:
Age
The age of the Goldendoodle plays a role in how easily they become hot. Older Goldendoodles or those with certain health conditions or undergoing hormonal changes may be more prone to temperature sensitivity.
Coat Length
The length and condition of a Goldendoodle's fur determine its heat tolerance. Clipping their coat and keeping it shorter can help reduce the chances of overheating and promote comfort.
However, it's essential to consider the individual dog's temperament and stress levels before deciding on the appropriate fur length.
Hydration
Adequate hydration is crucial in regulating a Goldendoodle's response to heat and temperature spikes. Dehydration can hinder the body's ability to adapt to the environment and external conditions.
Nutrition
The Goldendoodle's diet and nutritional intake also significantly affect their heat sensitivity. Proper nutrition ensures their bodies can handle temperature changes effectively.
Stress, Anxiety, and Temperament
The Goldendoodle's ability to handle stress, anxiety, and overall temperament can influence its heat tolerance. Dogs experiencing high pressure or anxiety levels may be more susceptible to overheating.
Environment and Weather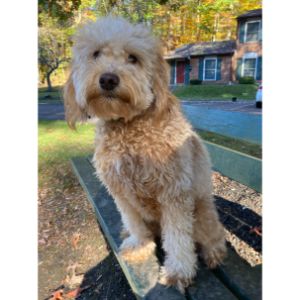 The surrounding environment and prevailing weather conditions directly impact a Goldendoodle's heat response. Hot and humid climates increase the risk of heat-related issues.
If a Goldendoodle does not exhibit signs of discomfort or overheating, there may be no immediate need to clip its fur unless it is the family's preference. However, monitoring hydration, nutrition, and environmental factors is essential to ensure their well-being in varying temperatures.
Signs Your Goldendoodle is Overheating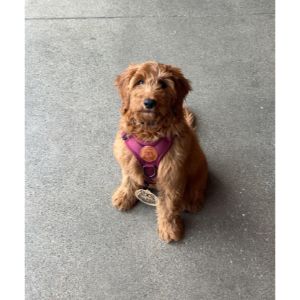 Several signs indicate a Goldendoodle may be experiencing overheating:
These symptoms indicate a Goldendoodle that has become hot and may require immediate attention from a veterinarian. It's important to note that some symptoms, such as seizures, are more severe and should be considered a medical emergency.
How Do You Keep a Goldendoodle Cool?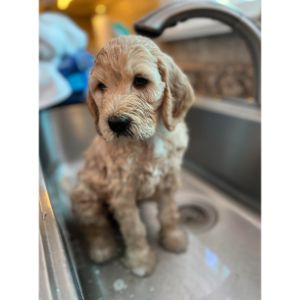 You can do plenty of things to cool off your Goldendoodle:
Modify the Environment
If a Goldendoodle becomes too hot too quickly due to outdoor heat, sunlight, or indoor warmth, it's crucial to alter the environment to a cooler setting. Consider using air conditioning or fans and provide access to shady areas to help regulate their body temperature.
Address Stress and Hyperactivity
If your environment is causing your Goldendoodle to experience anxiety or hyperactivity, relocating them to a calmer setting can aid in their relaxation.
By creating a soothing environment, their physical state should gradually normalize. It is common for this situation to coincide with other issues, such as excessive stress, anxiety, and dehydration.
Ensure Hydration
Hydration is essential for managing a Goldendoodle's body temperature. Provide access to fresh water at all times and encourage regular drinking to prevent dehydration, which can contribute to increased heat sensitivity.
Monitor Activity Levels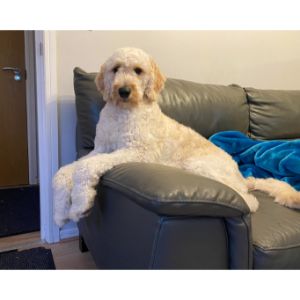 Monitor the Goldendoodle's physical activity, especially during hotter periods. Limit vigorous exercise and engage in activities during cooler times of the day to prevent overheating.
Seek Veterinary Advice
If the Goldendoodle's susceptibility to overheating persists or worsens, it's worth consulting a veterinarian. They can provide guidance and recommendations tailored to the dog's needs.
Do Goldendoodles Like to Be Outside?
Like any dog, Goldendoodles can have varying preferences regarding spending time outside. While providing outdoor opportunities for exercise, mental stimulation, and socialization is essential, individual preferences can differ. Here are some factors to consider:
Energy levels
Goldendoodles are typically an active and energetic breed. They often enjoy outdoor activities that allow them to burn off energy, such as walks, runs, fetch, or swimming. Engaging them in physical activities outside can help keep them mentally and physically stimulated.
Social interaction
Many Goldendoodles are friendly and enjoy socializing with humans and other dogs. Being outside allows them to interact with their environment, meet other dogs or people, and explore new sights and smells. Parks, dog-friendly beaches, and organized playgroups can be great options for socialization.
Weather considerations
They may prefer milder temperatures and need extra extreme heat or cold precautions. It's essential to ensure they can access shade, fresh water, and protection from harsh weather conditions.
Individual preferences
Just like humans, dogs can have unique personalities and tastes. Some Goldendoodles may thrive outdoors, enjoying hiking, camping, or playing in the yard. Others may prefer shorter outdoor outings or even enjoy spending more time indoors. It is essential to observe and understand your Goldendoodle's behavior and adjust their outdoor activities.
Balance with indoor time
While outdoor time is beneficial, it's also essential to balance indoor and outdoor environments. Goldendoodles are known for their friendly nature and typically enjoy spending time with their human family members indoors. Providing a comfortable and stimulating indoor environment is essential for their overall well-being.
Frequently Asked Questions
Should Goldendoodles be shaved for summer?
The decision to shave a Goldendoodle or any dog for the summer is a matter of personal preference and should depend on several factors. Here are some points to consider:

Coat type

Goldendoodles typically have a wavy or curly coat, which helps insulate them from heat and cold. Their coats can act as a natural barrier against the sun's rays and help regulate body temperature. Shaving their coat may interfere with this natural insulation and protection.

Coat density

If your Goldendoodle has a particularly dense or heavy coat, it may feel more comfortable with little or light grooming to reduce matting and keep them cool. However, shaving them can expose their skin to direct sunlight, potentially leading to sunburns or other skin issues.

Professional advice

It's advisable to consult a professional groomer or veterinarian familiar with your dog's specific coat type and needs. They can guide the best grooming practices and whether a trim or partial shave might be appropriate.

Maintenance and matting

Regular brushing and proper coat maintenance are essential for Goldendoodles, regardless of whether you shave them. Frequent brushing helps to prevent matting and keeps the coat healthy and free from tangles.

Individual tolerance

Each dog is unique, and their tolerance to heat can vary. Some Goldendoodles may be more sensitive to hot weather, while others may handle it well. You can help keep your Goldendoodle comfortable during the summer by providing access to shade and fresh water and avoiding excessive exercise during the hottest parts of the day.
Do Goldendoodles prefer hot or cold weather?
Goldendoodles, like many other dog breeds, can have individual preferences regarding weather.

However, it's important to note that Goldendoodles have a variety of coat types, depending on their genetic inheritance from their Golden Retriever and Poodle parents. That can influence their tolerance for different weather conditions.

Here are some general considerations:

Coat type

Goldendoodles may have coats ranging from wavy to curly. Wavy coats tend to be less insulating, while curly coats provide more protection from both heat and cold. Dogs with curlier coats may be more comfortable in colder weather, while those with wavy coats may be more adaptable to warmer temperatures.

Heat tolerance

Goldendoodles can generally tolerate moderate heat but may be more prone to overheating than breeds with shorter coats. They can benefit from access to shade and fresh water and avoid excessive exercise during hot weather. Some Goldendoodles may enjoy water activities as a means of cooling down.

Cold tolerance

Goldendoodles with thicker, denser coats or curlier fur tend to have better insulation against the cold. They may handle colder weather better than those with wavy or thinner coats. However, even dogs with thick coats can still be susceptible to the cold, particularly in extreme conditions, and may require additional protection like sweaters or jackets.

Individual differences

Just like humans, dogs can have unique preferences. Some Goldendoodles may enjoy frolicking in the snow and thrive in colder weather, while others may prefer the warmth of indoor spaces or milder climates. It is essential to observe your Goldendoodle's behavior and adjust its environment to ensure its comfort.
Can Goldendoodles take the heat?
Goldendoodles can generally tolerate moderate heat, but like any dog, they are susceptible to heat-related issues, and you should protect them in hot weather. Here are some considerations to keep in mind:

Coat type

Goldendoodles have a variety of coat types, ranging from wavy to curly. While their coats can provide some insulation and protection from the sun, they can still be prone to overheating. Dogs with thicker or curlier coats may have better heat tolerance than those with thinner or wavy coats.

Heat sensitivity

Dogs, including Goldendoodles, can be sensitive to high temperatures. They don't regulate their body temperature as efficiently as humans, and they primarily cool down through panting and limited sweat gland function. That makes them more susceptible to heatstroke and heat exhaustion.

Signs of overheating

It's crucial to be aware of signs of overheating in your Goldendoodle. These may include excessive panting, drooling, rapid breathing, lethargy, stumbling, vomiting, or collapse. Immediately cool your dog down and seek veterinary attention if you notice these signs.

Prevention and care

To help your Goldendoodle cope with heat:

Provide ample access to fresh water at all times.

Ensure they have access to shade and a cool, well-ventilated area.

Avoid exercising during the hottest parts of the day and opt for cooler times, such as early morning or late evening.

Never leave your Goldendoodle in a parked car, as temperatures can quickly rise to dangerous levels.

Consider using cooling aids like damp towels, cooling mats, or misting their coat with water (with caution) to help keep them cool.

Individual tolerance

Each Goldendoodle may have a different level of heat tolerance. Please pay attention to your dog's behavior and adjust its environment and activities accordingly. Some Goldendoodles may naturally handle heat better than others, while others may be more sensitive.
Conclusion for "Do Goldendoodles Get Hot Easily

"
Goldendoodles can be prone to generating excess body heat. Managing their heat sensitivity is crucial to prevent potential health issues.
Age, coat length, hydration, nutrition, stress, anxiety, temperament, and environmental conditions contribute to their heat tolerance. Recognizing signs of overheating and taking prompt action is essential to ensure their well-being.
By modifying the environment, addressing stress, providing hydration, monitoring activity levels, and seeking veterinary advice when necessary, owners can help keep their Goldendoodles cool and comfortable.
If you find this guide, "Do Goldendoodles Get Hot Easily" helpful, check out:
You can learn more about the Goldendoodle breed by watching "Goldendoodle: The Pros & Cons of Owning One" down below:
Garrett loves animals and is a huge advocate for all Doodle dog breeds. He owns his own Goldendoodle named Kona. In addition, he volunteers at the Humane Society of Silicon Valley, where he fosters dogs and helps animals. Garrett enjoys writing about Doodles and believes that dogs can teach humans more about how to live than humans can teach a dog.
Why Trust We Love Doodles?
At We Love Doodles, we're a team of writers, veterinarians, and puppy trainers that love dogs. Our team of qualified experts researches and provides reliable information on a wide range of dog topics. Our reviews are based on customer feedback, hands-on testing, and in-depth analysis. We are fully transparent and honest to our community of dog owners and future owners.