Are you wondering when to spay a Goldendoodle? If a baby Goldendoodle has recently become part of your family, you probably consider having them spayed. It is the best decision you can make to guard the long-term health of your bubbly Goldendoodle.
If this is your first time, you probably have many questions about the process, especially when you should have your dog spayed. The most preferred age for spaying a Goldendoodle is six months old. The size of your dogs also determines when to have them spayed. Spay dogs weighing less than forty-five pounds when they are five to six months old.
On the other hand, spay dogs weigh more than fifty pounds between five to fifteen months old. Pet owners should spay their dogs as early as possible. This article will discuss everything you need to know about spaying a Goldendoodle, from factors to consider when spaying your dog to the cost of the procedure.
Before you scroll down this guide, "When to Spay a Goldendoodle," you can check out similar content from our team at We Love Doodles: What You Need to Know About Spaying and Neutering Your Doodle and When to Neuter a Goldendoodle?
Reasons Why You Should Spay Your Goldendoodle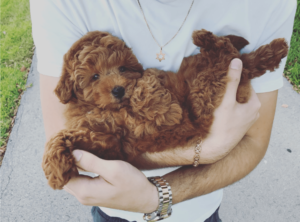 Spaying your Goldendoodle at the appropriate age has several benefits for society and the dog's health and behavior.
1. Prevention of Unplanned Pregnancies
Spaying your Goldendoodle will help you prevent unplanned pregnancies and control the breeding of dogs in your home. When pet parents spay their dogs, they control the population of dogs. Controlled reproduction reduces the number of dogs euthanized or in shelters. It also stops the passing down of undesirable traits resulting in healthy dogs.
2. Prevention of Developing Fatal Health Conditions
Certain dog health conditions are painful, fatal, and costly. Spaying reduces the risk of developing health conditions like pyometra. It's a fatal uterine infection prevalent among 25% of unspayed dogs aged below 10. Spaying prevents female Goldendoodles from developing uterine and ovarian tumors.
It also significantly reduces breast cancer risk when spayed before the first estrus cycle. Through pregnancy prevention, spaying also prevents the associated conditions such as injury and phantom pregnancy, which increase the risk of breast cancer.
3. Behavioral Improvement
Female Goldendoodles' heat cycles come with some undesirable behaviors. Spaying helps control and sometimes eliminates the behaviors. Some behaviors include roaming, which puts them at risk of getting injured, lost, and killed in worst-case scenarios. Spaying eliminates the desire to roam in search of mates.
Goldendoodles in heat tend to spray urine, which creates terrible odors when done inside your home. While urine marking is normal, it is not suitable for your home. It may not stop, as trigger re-marking happens when a dog is exposed to the scent if not controlled.
Your Goldendoodle can also become anxious and irritable due to hormonal changes in the heat cycle. When you spay your Goldendoodles, they will not experience hormonal and physical changes. Related irritability and anxiety will therefore go away.
Spaying your dog eliminates aggressive behavior when around other dogs they view as competition. Spaying your Goldendoodle will reduce the risk of developing certain cancers, unplanned pregnancy, and behavioral issues related to physical and hormonal changes.
Risks Associated With the Process of Spaying Your Goldendoodle
While spaying has many benefits for your Goldendoodle, the procedure has associated risks you should know.
1. Complications Related to General Anesthesia
Veterinarians perform the procedure when your dog is under general anesthesia. While complications rarely occur, it comes with risks. A vet can reduce the risk of complications through blood work and physical examinations to detect the prospects of complications.
2. Surgical Site Infections
Surgical site infections are a common cause of dog mortality. Several patient and environmental factors increase the risk of surgical site infections. Preexisting conditions such as recent surgery, obesity, age, and poor nutrition can increase the risk. Poor hygiene and inadequate sterilization of surgical equipment can cause infections.
Infections can increase the cost of healthcare due to additional treatment and follow-up appointments. Take your Goldendoodle to a qualified veterinarian to prevent risks associated with competence gaps. Dog parents should work with the veterinary to reduce the risk of surgical site infections.
3. The Risk of Early Spaying
It would be best to give your dog's hormones time to work. Spaying too early denies your Goldendoodles hormones necessary for their maturity. Most of the hormones are responsible for skeletal growth. Early spaying can increase the risk of bone cancer, hip dysplasia, urinary incontinence, and torn ligaments.
When Should You Spay Your Goldendoodle?
Spaying your dog at the appropriate time is vital to prevent the complications of early and late spaying. Most Goldendoodles undergo the procedure when they are six months old. The age at which you should spay your dogs depends on their size.
Pet parents with Goldendoodles weighing over 50 pounds should spay their dogs when they are five and fifteen months old. If your dogs weigh less than 45 pounds, you should wait until they are five to six months to spay. Spaying your dog early enough reduces the risk of mammary cancer.
Waiting to spay large dogs after they have had their first heat cycle and before the second one can reduce the risk of developing certain cancers, bone and joint issues, and urinary incontinence. Ensure your Goldendoodle is spayed at the appropriate age, not too young or old. It is also good to consult your veterinarian for a complete examination to determine a reasonable time to spay your pet.
Related: When to Spay a Cockapoo?
How Does a Goldendoodle Get Spayed?
Spaying may involve two surgical procedures; ovariohysterectomy and ovariectomy. During ovariohysterectomy, your Goldendoodles' uterus and ovaries are removed. In some cases, only the ovaries may be removed through ovariectomy.
Both procedures are effective for spaying your dog, although ovariectomy is faster. Before the procedure, the veterinarian conducts a health assessment on your dog to diagnose underlying conditions that could cause complications.
Pet parents are advised not to feed their dogs before 10:00 PM the night before the surgery. This helps prevent Goldendoodles from vomiting during the process. Dogs are induced with general anesthesia during the procedure, which triggers nausea and vomiting. The vet makes an incision below the belly button into the abdomen.
Depending on the procedures, ovaries or ovaries and uterus are removed through the incision. The vet then closes the incision with stitches. The two layers of stitches will be dissolved and absorbed by the body with time. Consult a veterinarian on preparations required ahead of the surgery.
Debunking Myths Surrounding Spaying Goldendoodles
Safe spaying can make your dog happier and healthier. However, misleading misconceptions can make pet parents reluctant about taking their Goldendoodles for the procedure.
1. Your Dog Must Have a Litter Before Spaying
One of the most common misconceptions is your dog must have at least one litter before spaying. There is no reason for your dogs to wait until they give birth to be spayed. Waiting until your Goldendoodle matures sexually will make you miss the appropriate window for spaying. Your dog giving birth does not make a difference in the procedure's efficiency; the earlier you do it, the better.
2. Your Goldendoodle Will Become Overweight After Spaying
Spaying does not make dogs overweight. Your Goldendoodles will only become overweight if they don't exercise, are inactive, and overeat. To prevent your dogs from getting fat, manage their diet and exercise regularly. Revise your dog's diet and create a schedule for exercise to maintain a healthy weight.
3. Spaying Will Change Your Dog's Personality
Spaying eliminates undesirable behaviors dogs display when they are in heat. Behavior includes urine marking, aggression, and roaming. It reduces your pet's focus on finding a mate but does not change their personality.
4. Spaying Affects Your Dog's Intelligence
Another common misconception is that spaying can affect your Goldendoodle's intelligence and ability to learn and play. The procedure does not affect cognitive abilities. It only changes aggressive and undesirable behaviors related to their urges to find mates. Your Goldendoodle will continue to play, interact, learn new things and engage as they did before the spaying procedure.
5. Spaying is Unsafe
As much as the procedure has associated risks such as surgical site infections and complications caused by general anesthesia, it is a safe procedure. The veterinarian will conduct a thorough physical assessment and blood test to rule out underlying conditions that would cause complications. After the procedure, your dogs will only experience a little discomfort and pain and resume normal activities within a few days.
6. It is Too Costly
Spaying procedures are pretty affordable. There are free or low-cost spaying clinics everyone can access in some places. Compared to the cost of maintaining a litter, spaying is a more affordable investment. None of the myths is true. Spaying has several health benefits and can help control the animal population.
Related: When to Neuter a Bernedoodle?
Spaying Recovery
Your dog will take at least two weeks or slightly longer to recover from the procedure. For your Goldendoodle to recover well and fast, practice the following best aftercare practices.
1. Keep Your Dog Overnight at the Vet After the Surgery
While some veterinarians allow you to take your dog home the same day after spaying, it is best to let them stay overnight to allow the vet to evaluate the dog and keep your Goldendoodle confined for the critical hours after the procedure. You could also leave your dogs at the vet for a few hours until you get the go-ahead to take them home.
2. Keep Your Dog Inside Most of the Time
While they don't require total confinement, keeping your dog inside for the first two weeks of recovery will prevent injuries and allow them to focus their resources on healing. You can take them outside for short walks or potty.
3. Inspect the Incision Daily
Inspect your Goldendoodle's incision daily to check if it is healing normally. Restrict your Goldendoodle's activity for two weeks to accelerate healing. Don't apply any ointment or cream on the incision unless prescribed by the veterinarian. The edges of the incision should be touching each other and clean.
You should be concerned about swelling, discharge, and unpleasant odor if blood seeps from the incision for more than 24 hours. Call your veterinarian if you notice unusual signs such as color changes in urine, changes in behavior, refusal to feed, and vomiting.
4. Don't Bathe Your Goldendoodle or Allow the Incision to Get Wet
Avoid bathing your dog for the first 10 to 14 days after spaying. Bathing after surgery weakens the incision line as it gets wet and soft. Ensure you give your dog pain and other prescribed medication after the surgery without fail.
Related: When to Neuter a Cockapoo?
Price Cost of Spaying Your Goldendoodle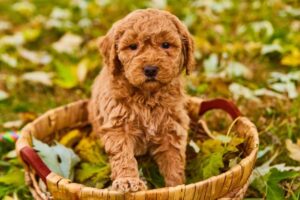 The cost of a spaying procedure for your Goldendoodle may vary due to several factors, and it can reach an average of $300 to spay your dog. Some public agencies charge as low as $50 to spay a dog. If you go to a high-end veterinarian, you could part with up to $1,000.
The cost may also depend on the veterinarian's location; pet parents should expect to pay a little more for a vet in the city than one in the country. Hiring a private practice veterinarian will pay more than taking your dog to a clinic. Vaccinations before the procedure affect the overall cost of the procedure.
In some local laws, rabies shots are mandatory before surgery. Veterinarians recommend dogs complete vaccinations before the spaying procedure. Some vaccinations reduce the risk of infections related to the surgery.
Spaying an overweight dog can be costly due to surgical difficulty. When a dog has so much fat in the abdomen, it is difficult to properly isolate the blood vessels and tie them off. This increases the risk of bleeding and makes the overall procedure challenging and labor-intensive.
Conclusion For "When to Spay a Goldendoodle"
Spaying Goldendoodles when they are about six months old is important. Spaying has many health benefits, such as preventing tumors and cancer. Spaying also prevents unplanned pregnancy and causes behavioral improvement. Pre-surgery examinations are necessary to mitigate potential complications.
While it is a personal choice, vaccination can prevent surgical site-related infections. You can accelerate your dog's recovery with the best spaying recovery practices. The cost of spaying will vary depending on where you are taking your Goldendoodle for surgery, pre-surgery blood work, and vaccinations.
If you find this guide, "When to Spay a Goldendoodle," helpful, you can check out:
Before spaying a Goldendoodle, you can learn more by watching "Should You Spay Or Neuter Your Dog" down below: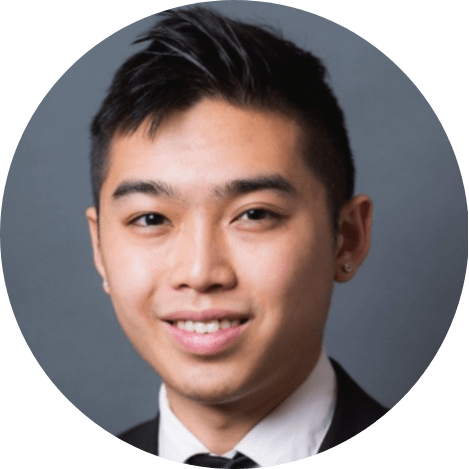 Andy is a full-time animal rescuer and owner of a toy doodle. When he's not saving dogs, Andy is one of our core writers and editors. He has been writing about dogs for over a decade. Andy joined our team because he believes that words are powerful tools that can change a dog's life for the better.
Why Trust We Love Doodles?
At We Love Doodles, we're a team of writers, veterinarians, and puppy trainers that love dogs. Our team of qualified experts researches and provides reliable information on a wide range of dog topics. Our reviews are based on customer feedback, hands-on testing, and in-depth analysis. We are fully transparent and honest to our community of dog owners and future owners.