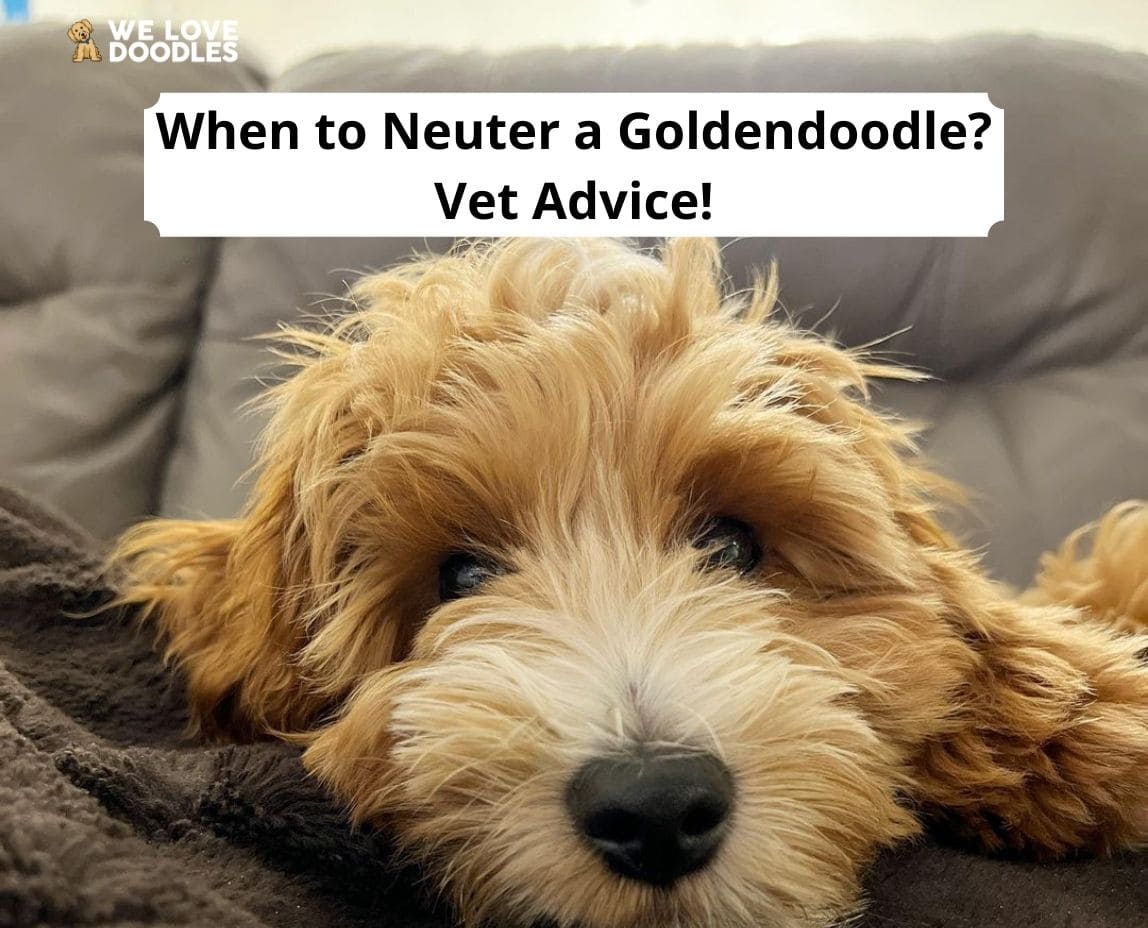 Owning a dog or any pet is a large responsibility and exciting step in your life! Whether you have just brought home your very first Goldendoodle puppy, or are a seasoned dog owner with a lot of experience under your belt when it comes to raising dogs, there are still some situations that you may be unfamiliar with or nervous about. One of those situations might be when to neuter your Goldendoodle puppy! Understandably, you probably have a lot of questions surrounding this topic.
Our Goldendoodles are an important part of our lives and doing what's right for their health is always going to be a top priority! Today, we will discuss what exactly neutering is, the best age to neuter your Goldendoodle, and the pros and cons of this procedure in order for you to be fully cognizant of your "baby's" health. If you are uneducated, weary, or worried about neutering your Goldendoodle, we'll have you up to speed on everything you need to know by the end of this article. Ready to learn? Let's get started!
Other articles you would like: Best Pet Insurance For Goldendoodles and Best Goldendoodle Dog Brush!
What is Neutering and How Did It Become So Popular?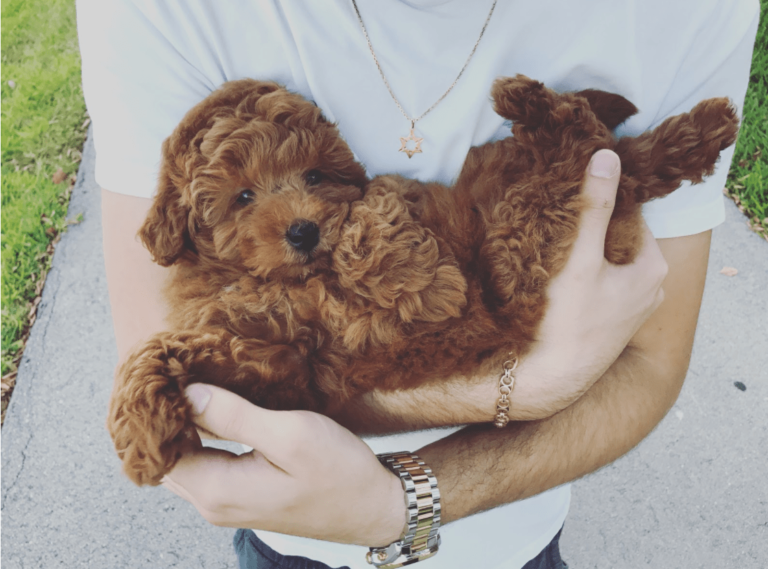 In order to decide whether to neuter your Goldendoodle, you might want some more information on what exactly happens during this procedure and how it came to be such a household occurrence for many other pet owners that you may know. First, let's start off by saying that neutering is a process of sterilization of your pet. Neutering is the common term for male pets, while "spaying" is the term used for female pets. It may put your mind at ease to know that the surgery for neutering is much simpler than spaying. To break it down completely, during the surgery your veterinarian will put your Goldendoodle under anesthesia, make an incision at the front of their scrotum, and then ultimately remove the testicles through that incision. This results in your dog's inability to reproduce for the rest of their lives, so you'll never have to worry about puppies running around.
When you first learn about this surgery, you may think that this sounds cruel or unnecessary, right? Is this surgery actually needed? Well, to better answer that we can discuss the history of why this procedure is so common in today's world of pet care and responsibility. To put it briefly, in the 1930s the number of unwanted pets roaming the streets and ending up in kill shelters was at an all-time high. Veterinary medicine could perform this surgery, but it was much too expensive for the average family to know about or afford during these times. Over the years, activists and protest groups joined together to raise awareness for the need for this procedure in order to reduce the number of unwanted pets across the nation. During the 1970s is when neutering and spaying your pets truly became a normal, common and recommended thing to do for your pet. Through the efforts of those rescue groups raising awareness, the number of euthanized animals has decreased drastically – 90% since 1950!
What Age Should You Neuter Your Goldendoodle?
| | | |
| --- | --- | --- |
| | Small Goldendoodles (Less than 40 Pounds) | Large Goldendoodles (40+ Pounds) |
| Neutering | 6+ Months of Age | 1+ Year of Age |
Now that we have covered the definition of neutering and how it came to be popular today, let's cover our next important topic in regards to neutering your Goldendoodle – the age which you should go through with this procedure (if it is something that you have decided is right for your family). It is very important to get your dog neutered at the correct age, as complications could arise if done too early or too late. As always, when it comes to an important decision regarding your pet, you should always consult your trusted veterinarian as they will have the most informed and helpful opinions to share!
If you have done some research or talked to friends, you may have heard some varying opinions when it comes to the best age to neuter your Goldendoodle, we'll address each of those. These opinions will differ for a few reasons, first, the size of your Goldendoodle will determine when is best to neuter. Because Goldendoodles are a cross-mix breed between Golden Retrievers and Poodles, they can vary greatly in size due to the fact that Poodles can come in Standard, Miniature, and Toy sized.
The first opinion on the best time to neuter your Goldendoodle is eight weeks of age. This opinion is most popular among shelters and rescues as it eliminates the possibility of reproducing as their reproductive organs are not fully developed thus not being able to impregnate another dog at any time. While this seems like a great idea to get done early, conflicting opinions state that neutering your dog too early can cause complications, as not letting the reproductive organs grow to their full potential will result in issues with their hormones, which ultimately leads to a variety of different health conditions such as hypothyroidism, improper bone, and ligament development, etc.
Second, the most widely accepted opinion on when to neuter your Goldendoodle is at about six months to a year old, or post-puberty. Neutering your dog at this age allows your dog to fully grow out of the puppy stage, and gain all the necessary hormones they need to function into adulthood. This is the best recommended time for a small or medium-sized dog. If your Goldendoodle has a Miniature Poodle parent, this will most likely be the best option for you. Of course, six months and a year is quite a large gap, so consulting your veterinarian on exactly the right time will be necessary.
The third recommendation is for larger Goldendoodles, waiting until after a year of age or around fourteen months. Studies have shown many benefits of waiting to get large dogs neutered at this age. This is because there are a number of conditions that could develop in your dog that directly correlate with an early neutering. These include but are not limited to Hip Dysplasia, Heart Tumors, proper development of bone growth, and adverse reactions to vaccines.
As we stated previously, consulting with your vet on what is right for your specific Goldendoodle's size, health concerns, and quality of life. Discussing this procedure with them will help you come to a conclusion on what exactly the right age to neuter your Goldendoodle is.
Pros and Cons of Neutering Your Goldendoodle
Before you decide to proceed with this surgery, it is important to know everything that comes along with it, including the positives and negatives following the surgery. After all, this is a life changing event for not only your dog, but you as well. In this section we will discuss the pros and cons of neutering your Goldendoodle so that you can effectively decide whether this is right for you and your pet.
Pros of Neutering a Goldendoodle:
Population Control: As we touched on briefly earlier, the reason this surgery became so popular is due to population control among unwanted animals. Ultimately, neutering your pet leads to less dogs that end up euthanized. Following the proper neutering of your pet, you'll never have to worry about a surprise litter of puppies being fathered by your Goldendoodle!
Reduces the Risk of Prostate Cancer: Since the reproductive organs are removed during neutering, there is no way they are able to get cancer within that organ. This can be a fatal condition, so eliminating the risk of this can put your mind at ease in regards to this health problem.
Mood Alteration: It has been shown that male dogs tend to change their behavior for the better. Most owners have said that their dog "calmed down" after being neutered, this could be because their hormones are being altered. Neutering can help curb your dog from being overly aggressive or participating in embarrassing behaviors such as leg humping.
Cons of Neutering a Goldendoodle: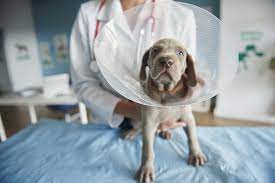 Just like with any surgery in humans, especially one that is elective, there are sometimes negatives to undergoing that procedure. The same concept can be applied to neutering a pet. Educating ourselves on not only the positive outcomes but the negative ones as well is a responsible way to make a decision. Below you will find some of the most common negative outcomes that can occur when neutering your Goldendoodle.
Increased Risk of Hypothyroidism: As we very quickly mentioned before, dogs that are neutered are at risk for hypothyroidism, especially ones that are neutered before puberty. This is a condition tied to hormones, in which the hormones are not properly working to maintain your dog's metabolism. This can lead to extreme weight gain in your pup – which can then lead to other ailments based on obesity such as arthritis, heart disease, etc. Ultimately this sets your dog up for a life of unhealthiness.
Increased Chance of Having Bone Cancer: Neutering your pet can also lead to disruptions in signals within the body, specifically that of bone growth. Simply put, the signal that tells your dog's bones to continue to grow can become altered, resulting in the increased risk of bone cancer developing.
Never Able to Have Puppies: Just as this reason can be listed under the positive outcomes, to some people it is a negative. If you have a dream of tiny Goldendoodles running around your home (frankly, who doesn't have that dream?), this will unfortunately never be a reality for a neutered dog.
Lengthy Recovery Process: The recovery process following the surgery can last 10-14 days. During this time, your dog may not act themselves and show behaviors such as lethargy, depression, etc. They will also have to wear an e-collar or cone and limit physical activity in order to keep their stitches intact and safe during the healing process.
Conclusion to "When to Neuter a Goldendoodle?"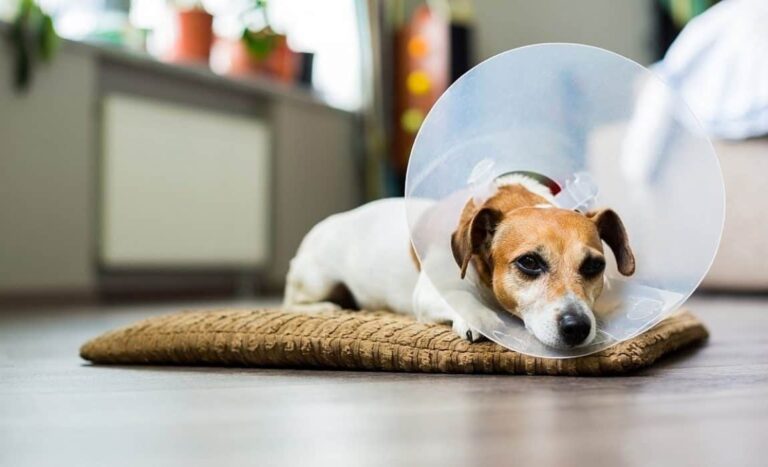 Neutering your dog is a very big decision. Congrats on taking the time to research and learn as much as possible when it comes to this procedure. We understand that as a new pet parent or one with years of experience, having your dog undergo a major surgery can be a stressful situation. To summarize what we have discussed in this article, there are many pros and cons to neutering your Goldendoodle. Ultimately, the best age to neuter your Goldendoodle will be decided by you and your vet. This can vary on the size of your dog and plays a large part in the overall health of your dog throughout their life. Most commonly, the best recommendation will be between six months to one year of age. We hope that you have found this article helpful and come back for more!
Other articles you would like:
Still curious on when to neuter your Goldendoodle? Check out the video below:

Dr. Chyrle Bonk received her veterinary degree from Oregon State University in 2010. She has been practicing in a mixed animal clinic in rural Idaho ever since at Clearwater Valley Veterinarian Clinic. When she's not busy writing, treating animals, or working on her cattle ranch, she may be found somewhere in the Idaho wilderness with her husband and kids. Dr. Chyrle Bonk is a writer for We Love Doodles and verifies that the information we post is accurate the up to date! She is also an advisor and editor.
Why Trust We Love Doodles?
At We Love Doodles, we're a team of writers, veterinarians, and puppy trainers that love dogs. Our team of qualified experts researches and provides reliable information on a wide range of dog topics. Our reviews are based on customer feedback, hands-on testing, and in-depth analysis. We are fully transparent and honest to our community of dog owners and future owners.