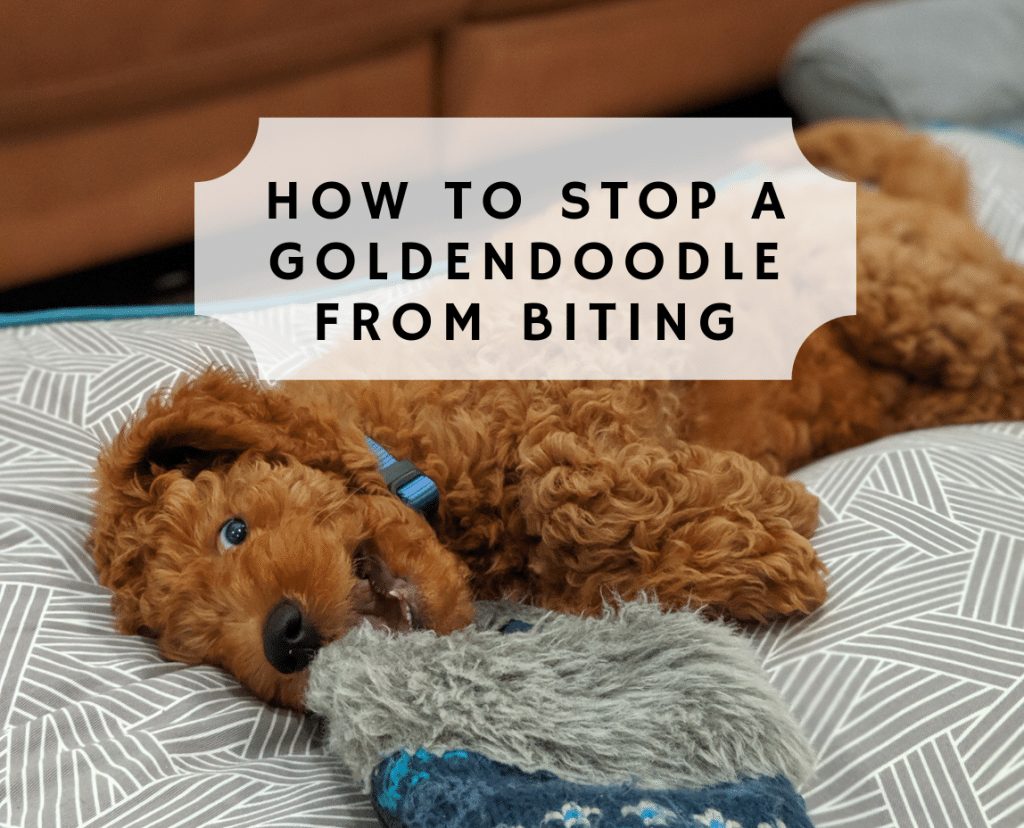 Let me guess… your Goldendoodle puppy is less than 6 months old and is biting and chewing everything from fingers to toes to shoes.  So, how do we stop Goldendoodle biting bad behavior?  
First, please note that Goldendoodle puppies are playful, and biting is a way that they naturally play with their other siblings.  The golden retriever inside your puppy is VERY intelligent and likes to nip by nature (chewy, nippy, etc.).   It is not an act of aggression and does not mean they are mad at you.  Simply put, Goldendoodle puppies are exploring the vast world around them and looking for a way to find out what is edible.
Typically, in the morning times and the even times, a Goldendoodle will get the "zoomies" and start running around the room uncontrollably.  This is when a Goldendoodles will bite everything in reach from towels, leaves, plants, shoes, humans, etc.  We recommend that you try to control this behavior early on using the below techniques.  A Goldendoodle biting a human should not be tolerable. We highly recommend the Baxter and Bella dog training course (they gave us an exclusive 25% discount with code WeLoveDoodles). You'll get access to tips and unlimited 1 on 1 meetings with professional dog trainers, and they will help your figure out ways to stop your Goldendoodle from biting.
Here are the top solutions:
Product
Best Budget Pick
Benebone Nylon Chew
Image
Training
By far, the best investment of your time is going to be training your Goldendoodle puppy not to bite.  If you don't train your puppy early on, then they will start to bite you a little harder each time – this is called an extinction burst. If you let your Goldendoodle bite you and act like you are not bothered or think that it does not hurt, they will continue to bite you harder.  It will continue to get worse if you do not train your Goldendoodle from the beginning.
Alternatively, my go-to training method of preventing a puppy from biting is to put them in time out. If your Goldendoodle starts biting you, your clothes, or chewing on objects they are not supposed to, then you need to get up and put them in an isolated room by themself.  This is the consequence of doing the wrong thing (i.e., biting, mouthing, chewing), and it is understood by your Goldendoodle immediately — they are extremely intelligent dogs.  Don't let your Goldendoodle continue to bite you without punishment.

Once you get your dog in an isolated room, walk out of the room, shut the door, and count to ten.  Then you can get your Goldendoodle back out of the room.

Be ready to do this a million times on the first day of training.  Their behavior has worked thus far, so they continue to think it is normal for them to bite you.  Your Goldendoodle will continue to bite you and would be a FOOL to stop trying if the second time doesn't work.

Time out is a form of punishment – it is a negative reinforcement, and you are removing the reward.  Use it wisely and only in conjunction with bad behavior. It's also best to give them something else to chew on, like a toy or rawhide as a distraction, so he knows not to bite on humans.

If you continue to use the time out method, within a couple of weeks, your Goldendoodle biting habits should be significantly better as he develops and learns better behavior.  This method does not work overnight, and if you do not continuously do it, you won't get great results. Do be prepared in the first few days for them to try harder and be a bit confused about the new time out training.
Rawhide Chews
Bestseller No. 1
I like to give me Goldendoodle rawhide chews (AKA Bully Sticks) in order to distract them from biting other objects.  This gives our Goldendoodle something to gnaw for a long period of time without easily breaking.  This allows the Goldendoodle puppy to relieve their gums and get rid of their need to bite humans or other objects.  
Toys like Kongs, Bones, or Ropes
Distract your puppy with strong toys like kongs, bones, or ropes.  I like to play tuggy rope games with my Goldendoodle as these are EXCELLENT for teaching boundaries of when to bite. The rules to the biting game are simple – they stop when you ask, no matter how energetic they are, and they do NOT bite human clothing or skin. If he does start biting at your fingers or clothes, you immediately stop the game so we can learn.
Kongs and bones are great distraction toys when you have to leave the house or need to get some work done.  These types of toys provide stimulation for your Goldendoodle puppy as well as burn some of their energy.
Exercise
It's recommended that you exercise your puppy at least 5 minutes per month they are old at least three to four times a day.  This means that if your puppy is 8 weeks old, it should be exercising at least 10 minutes a few times per day.  This helps tire your Goldendoodle puppy out, which makes them happy and more likely to listen to you.  It also makes your dog less hyper.
Conclusion for a Goldendoodle Biting
In general, a Goldendoodle biting is not so much as bad behavior as it is normal behavior for a puppy.  You don't need to yell at your Goldendoodle or severely punish them, but instead, you need to distract them so they don't bite. Show them what you would like them to do, and praise them when your Goldendoodle does it correctly.  Using the time-out training method is a proven technique to have your Goldendoodle stop biting and chewing on you.  Positive reinforcement with consistent training is the key to success.
Lastly, don't forget to check out our Goldendoodle Guide.
Garrett loves animals and is a huge advocate for all Doodle dog breeds. He owns his own Goldendoodle named Kona. In addition, he volunteers at the Humane Society of Silicon Valley, where he fosters dogs and helps animals. Garrett enjoys writing about Doodles and believes that dogs can teach humans more about how to live than humans can teach a dog.
Why Trust We Love Doodles?
At We Love Doodles, we're a team of writers, veterinarians, and puppy trainers that love dogs. Our team of qualified experts researches and provides reliable information on a wide range of dog topics. Our reviews are based on customer feedback, hands-on testing, and in-depth analysis. We are fully transparent and honest to our community of dog owners and future owners.