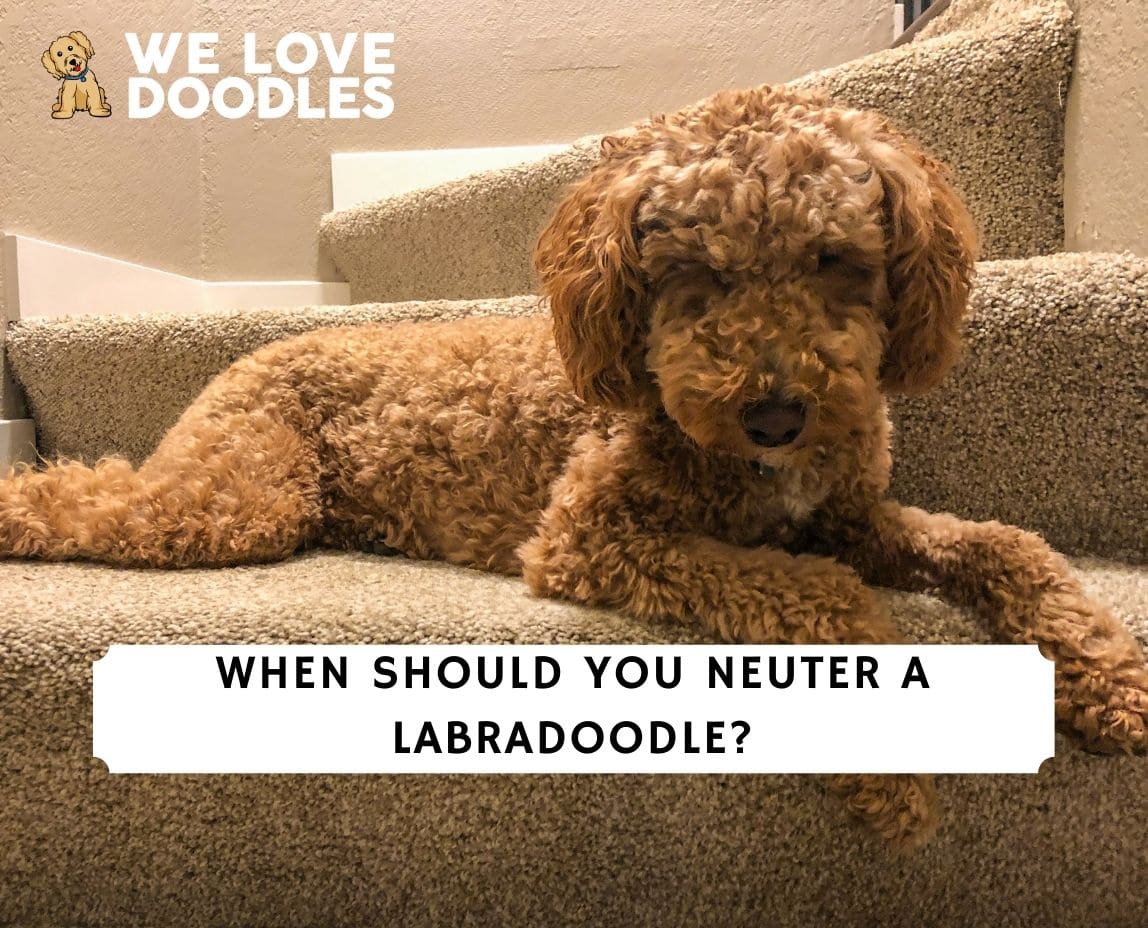 When should you neuter a Labradoodle? Here's what you need to know. Neutering your Labradoodle is a significant decision. Many factors can affect the best possible time for this procedure on your beloved pet.
Knowing when to neuter Labradoodle dogs, the benefits of neutering, and if this is the right choice for your animal can help guide you on this decision. Let's take a look at what may alter the time you neuter a dog, the benefits, and the risks associated with the procedure.
Before scrolling down this Labradoodle guide, "When Should You Neuter a Labradoodle," check out these other similar content from our team at We Love Doodles: Can a Neutered Dog Still Mate and Common Signs Your Dog Needs to be Neutered.
Factors Contributing to What Time to Neuter a Labradoodle
The time you will have to neuter your Labradoodle can vary. Some circumstances that can alter the schedule include:
A breeder's contract
A rescue animal
Medical conditions
The purpose of the animal
1. A Breeder's Contract
Many will have neutering contracts if you choose to adopt a Labradoodle from a reputable breeder. These stipulations help protect the integrity of the breeder's animals and prevent accidental pregnancies or backyard breeding that will create unwanted animals.
If you purchase a Labradoodle from a breeder, you could be under an obligation to neuter your pet before a specific point. For example, some breeders may specify that this sterilization procedure needs to be complete before the dog reaches 12 months of age.
Others provide a time frame between 6 and 18 months old. If you are unsure about any contractual neutering requirements, it is best to check with the breeder where you obtain your four-legged friend.
2. A Rescue Dog
Although there are many unwanted dogs in shelters around the country, they are not always mixed breeds. Sometimes purebred dogs and favorite hybrid breeds, like the Labradoodle, end up in shelters. If you adopt a Labradoodle from a rescue shelter, they will often already have undergone the neutering process.
However, in some rare cases, a rescue dog will go to its forever home on the obligation for an owner to complete it later. Generally, rescue dogs will be available for adoption once they undergo neutering. Consequently, this procedure can happen anytime after three months old.
3. Medical Conditions
Some veterinarians insist that neutering a dog before it reaches sexual maturity will help decrease the chances of contracting certain forms of cancer and other medical conditions. Alternatively, other qualified vets profess that waiting until the animal is fully grown and mature before performing the procedure is best for the dog. So, what is the best time? Unfortunately, there is no hard and fast rule on neutering a Labradoodle to prevent health problems.
Often, a predisposition for medical conditions will happen because of hereditary genes and is not dependent on the timing of this procedure. Alternatively, if you adopt your Labradoodle from a trusted breeder who screens for medical conditions, the possibilities of something showing up later in life are minimal.
4. The Purpose of the Animal
Generally, most dog owners adopt Labradoodles as faithful companions, family dogs, and service or therapy dogs. However, a small percentage of dogs participate in dog shows and competitions or are for future breeding purposes. Labradoodles participating in dog shows or carrying on a breed trait will remain intact for some years.
Some dogs will never undergo neutering, while some dogs who are part of a breeding program will not go through the neutering procedure until after retiring. The animal's purpose will also have some bearing on the timing of this medical procedure for your dog.
Should I Neuter My Labradoodle?
If you are wondering when to neuter Labradoodle puppies, the decision can vary, depending on where you obtain your pet, their current health, disposition, and purpose. Naturally, if you purchase your dog from a breeder, you may be under an enforceable strict neutering contract.
However, if the decision is left up to you, considering all factors is vital in making the right choice for your Labradoodle. Some dog owners may never want to neuter their animals, but leaving their pets intact does come with some risks.
Therefore, it is imperative that you are aware of the risks and benefits of neutering your pet to make the best possible decision. Typically, the benefits of neutering outweigh the reasons they should remain intact.
Related: Labradoodle vs. Goldendoodle.
The Benefits of Neutering a Labradoodle
There are many benefits to neutering your beloved pet, while there are minimal risks, making it a practical choice.
Some of the advantages to desexing your Labradoodle include:
They will be more welcome in public venues
It can decrease aggression or behavior problems
The urge to seek a mate decreases
They will live a longer, healthier life
No risk of unwanted puppies
1. They Will Be More Welcome in Public Venues
Many doggie daycares and kennels will not accept animals if they remain intact. This decision helps to avoid any potential unwanted pregnancies, dominance issues, and other problems. Often, an intact dog at the dog park that wants to be the dominant animal does not become the favorite, especially one that is mounting every other dog they meet.
If you want to take your Labradoodle to puppy class, doggie daycare, or leave them at a kennel, they will most likely need neutering. Therefore, you may need to complete the procedure as early as four months old or older.
2. It Can Decrease Aggression or Behavior Problems
For many male Labradoodles, undergoing the neutering procedure can help minimize aggression or behavior problems. This procedure reduces the amount of testosterone in their body, making them less likely to be aggressive, territorial, and dominant. Once a dog has lower hormone levels resulting from neutering, it can be calmer, less likely to try and assert dominance, and can follow commands easier than before.
Typically, puppies around nine months of age may start displaying aggression or behavior problems, motivating the need for neutering. Although neutering is not a sure-fix for aggression or harmful behaviors, your pet has less chance of fighting with other dogs or showing negative actions.
3. The Urge to Seek a Mate Decreases
When a Labradoodle is left intact, the desire to seek a mate can be high and fuel their need to roam. This breed is naturally energetic and friendly, making higher hormone levels increase this need to meet females. Once you neuter your Labradoodle, the testosterone decreases, and they are less likely to wander.
As a result, you can keep your precious friend safe from harm by minimizing the chance of them wanting to leave your yard. This procedure can also eliminate the need for mounting other animals when meeting new friends. Some dog owners will prefer to neuter their Labradoodle before they exhibit signs of mating to avoid this problem entirely.
However, some individuals may not concern themselves with it until their beloved pet starts mounting other animals or trying to escape the yard. If this scenario is a problem for your Labradoodle, neutering between four and nine months of age is ideal.
4. They Will Live a Longer, Healthier Life
Although there are some inconclusive studies regarding neutering and medical conditions later in life, larger dogs typically see more health benefits from neutering. On average, neutered Labradoodles will have lower risks of testicular and other cancers and prostate diseases, and joint issues.
Alternatively, dogs that undergo neutering will typically live longer than those that remain intact. Their longer life expectancy can be due to several elements, including less likely to roam and get hit by a car, lower chances of medical issues, and generally better health overall.
A healthier Labradoodle will also cost less in vet bills and medical treatments. In addition, it can save you money in the long run by having a neutered pet. Dog owners who want their Labradoodle to live a long, healthy life can have their pet fixed anytime between six and 18 months.
5. Ensures No Risk of Unwanted Puppies
For obvious reasons, neutering your Labradoodle will help eliminate the risk of unwanted puppies. This way, your dog will not have a chance to meet another dog, resulting in a pregnancy that yields anywhere from four to ten puppies.
These surprise pregnancies can contribute to the overpopulation problem in local shelters across the United States. Dogs who go through neutering help reduce the number of unwanted animals.
The best time to neuter your Labradoodle, so they do not find another dog to mate with would be before they reach sexual maturity. This way, you can be sure that they will not have the chance to produce a pregnancy. You can neuter your Labradoodle at six months or older before they reach the point where they start seeking a mate.
Related: What is a Micro Labradoodle?
Risks Associated with Neutering a Labradoodle
No medical procedure is not without its risks, unfortunately, even for Labradoodles. Anytime your pet undergoes surgery, there can be an element of uncertainty and fear. Neutering a dog, especially larger dogs like Labradoodles, carries a specific risk, depending on when you complete the procedure.
Growth Problems
There is a slight chance that larger breed dogs, like some Labradoodles, can develop joint problems if they undergo the neutering procedure too early in their life. Some veterinarians feel that removing the testes and altering the natural hormones before sexual maturity directly affects an animal's growth.
Therefore, joint and hip issues can be more prominent if your animal gets fixed too early. Although this is not necessarily the norm, many Labradoodles can go through neutering early in life and have no problems later. However, each animal is unique, just like its owners, and there is no way to tell how your pet will grow and develop when they are young.
Anesthesia Risks
Neutering is a major surgical procedure, so naturally, your animal will require anesthesia during the process. Although the majority of dog breeds can have a successful surgery, anytime a pet receives anesthesia, there is a risk of complications and even death.
If you have any concerns about your Labradoodle under anesthesia for this procedure, talk to your veterinarian. These professionals have the training necessary to provide you with the best information regarding your pet and what this surgery entails.
Related: What is an English Labradoodle?
Conclusion For "When Should You Neuter a Labradoodle"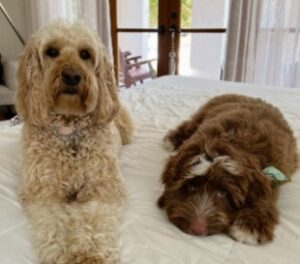 Neutering a Labradoodle can happen anytime between 4 months and 18 months old. However, deciding to fix your animal will vary on several factors. For example, some dog owners may want to wait until their pet reaches sexual maturity so they are fully grown, while others may opt to have the procedure done as soon as they can.
Consequently, the question of neutering your Labradoodle is not if but when. The best way to help you decide when to have your dog neutered is to talk to your veterinarian. This way, you can make the best choice for your Labradoodle's health.
If you find this guide, "When Should You Neuter a Labradoodle," helpful, you can check out:
Before neutering your Labradoodle, you can learn more by watching "Should You Spay Or Neuter Your Dog" down below: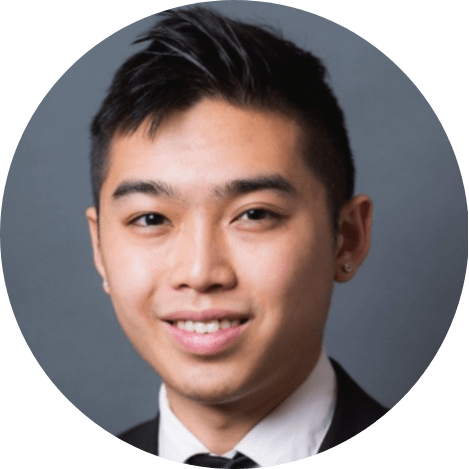 Andy is a full-time animal rescuer and owner of a toy doodle. When he's not saving dogs, Andy is one of our core writers and editors. He has been writing about dogs for over a decade. Andy joined our team because he believes that words are powerful tools that can change a dog's life for the better.
Why Trust We Love Doodles?
At We Love Doodles, we're a team of writers, veterinarians, and puppy trainers that love dogs. Our team of qualified experts researches and provides reliable information on a wide range of dog topics. Our reviews are based on customer feedback, hands-on testing, and in-depth analysis. We are fully transparent and honest to our community of dog owners and future owners.