You've come across the Labradoodle and the Australian Labradoodle. How about the English Labradoodle? What is an English Labradoodle? Year after year, designer dogs have grown in popularity, with over 300 types of hybrids available. English Labradoodles is one of the most successful designer breeds desired by many dog owners. Though dog-lovers everywhere are attracted to these gorgeous dogs, questions about what an English Labradoodle is are common.
An English Labradoodle is a hybrid of an English Labrador Retriever and a standard or miniature Poodle. Both dog parents must be purebred for them to have true English Labradoodle puppies. Combining two purebred dogs means the English Labradoodle has almost an equal amount of traits from both parents. Loyal, beautiful, therapeutic, and friendly, the English Labradoodle is an instant hit and has become an integrated family member.
Before scrolling down this article "What is an Eglish Labradoodle," check out these similar guides: Australian Labradoodle Dog Breed Guide and Labradoodle Dog Breed Guide.
Traits of an English Labradoodle
Designing a hybrid dog such as an English Labradoodle is not an exact science. With each dog, even purebreds, having traits of their own, the offspring can differ significantly from one another. Each litter will have something unique no other puppy will have from size to coat appearance and color.
Size
English Labradoodles come in sizes anywhere from 16 to 24 inches, depending on the litter's parents. The range in sizes means there is no standard English Labradoodle, though they are typically medium to large dogs.
Miniature Size: The smallest of the English Labradoodles, the miniatures are typically up to 16 inches, weighing between 15 to 20 pounds.
Medium Size: The medium-range English Labradoodles will weigh around 30 to 45 when fully grown and stand up to 20 inches tall.
Large Size: The biggest of the English Labradoodles can grow anywhere between 50 and 65 pounds, standing 24 inches tall.
Females will be slightly smaller than their male counterparts, though there's never a guarantee of how big the dog will get.
Related Labradoodle Size Guides: When is a Labradoodle Full-Grown and What Labradoodle Size is the Best?
Coat Appearance
Genes play a significant role in the appearance of each puppy in the litter. Since the parents are purebred, puppies will inherit the parents' looks, though the Poodle gene might dominate. Overall, they look like large Poodles with some Labrador Retriever traits. There's a wide variety of colors to an English Labradoodle's coat, such as silver, chocolate, apricot, caramel, cream, chalk, black, red, gold, and parchment.
Coats can also have parti-colors such as phantom, sable, brindles, and patched. The coat will be different for each puppy though it will reach 4 to 6 inches. The typical textures of an English Labradoodle will vary greatly depending on which genes dominate.
Straight Coat: The least common of all the coat types is the most shedding. Also called the "straight coat" type, it carries the typical dog smell and is usually found in first-generation English Labradoodles. Breeders try to stay clear of these types of coats during breeding since they are the least desirable.
Wool Coat: This type of coat has been compared to lamb's wool in texture. The coat looks dense with long hanging curls though it doesn't have the same dog smell as the hair coat. Sometimes it's also referred to as curly.
Fleece Coat: The texture of this coat feels like soft waves, with some breeders comparing it to the feel of the Angora goat coat. Sometimes known as wavy, this coat type is the least shedding of them all and the most desirable.
No one English Labradoodle is the same as the other. Even with the same parents, every litter can possess a unique look, from the color to the texture.
Related Labradoodle Guides: Red Labradoodle Coat Guide and Blonde Labradoodle Coat Color Guide.
English Labradoodle Temperament
Intelligent dogs, English Labradoodles are lovely family pets, so long as they receive the proper training. Though they're considered gentle and loving, English Labradoodle likes to show off their excitement—they love jumping and playing. Training is a must for these dogs even if they aren't considered aggressive—early socialization helps immensely.
The more socialization provided, the higher the likelihood the puppy will grow to become a well-rounded dog. Choosing the right puppy will go a long way in finding the right companion for English Labradoodle temperament. Getting a feel for the entire litter will help find the puppy whose character is neither too aggressive nor too passive.
Related Labradoodle Guide: Are Labradoodles Good with Kids?
Health
Considered generally healthy, English Labradoodles are prone to certain health conditions, much like any other dog.
Ear infections as a result of floppy ears.
Hip dysplasia is one of the hereditary conditions these dogs receive from their parents.
Elbow dysplasia is similar to hip dysplasia and is caused by abnormal growth and development.
Epilepsy is more often inherited.
Diabetes mellitus is a condition in dogs where the body doesn't regulate blood sugar—a dog with this condition will start to eat more food.
Progressive Retinal Atrophy causes deterioration of the retina and sight.
Allergies, which are common in dogs and can likely get treated by a veterinarian.
Hypothyroidism is a problem with the thyroid gland which causes epilepsy, hair loss, obesity, and other conditions.
Though English Labradoodles come with their own set of health issues, that doesn't mean it's time to discount the dogs. On the contrary, with the right amount of care and diligence, these dogs can live long, happy lives.
Related: How Long Do Labradoodles Live?
Care
Caring for an English Labradoodle includes regular veterinarian visits and careful grooming. Yearly shots and check-ups are essential for the dog's well-being—they give the vet time to catch anything that might start happening. Part of their care requires regular grooming and exercise. English Labradoodles, especially the larger ones, are not recommended for individuals living in apartments for the sheer amount of activity they need.
They require at least half an hour to an hour of exercise every day, which is best accomplished through a fenced yard. They're great jogging companions—they're best when off the leash. Crate training is also an integral part of owning an English Labradoodle. Curious by nature and in need of lots of exercise, they're likely to get into something they shouldn't when left unsupervised.
Crate training from the get-go will give the dog a place to feel safe, secure, and keep them out of mischief. Grooming and providing the right nutrition will go hand-in-hand in maintaining the overall health of an English Labradoodle. With as many food options as there are on the market, a veterinarian can help guide an owner through the best choice for the puppy so they grow healthy and strong.
Proper nutrition also helps keep the coat shiny and strong, preventing hair loss, dandruff, and other skin conditions. So whether the dog sheds or not, an English Labradoodle should get a good brushing at least once a week, with a proper groom at least once every month to a month and a half.
Labradoodle Guides: Labradoodle Grooming Guide and Best Dog Food with Vitamins and Minerals.
Conclusion For "What is an English Labradoodle"
English Labradoodles—a cross of a purebred Labrador Retriever and Poodle—make the most wonderful family pets. With their loving and loyal temperament, all they require is a loving hand and some training to become a family member. Popular among many families for their hypoallergenic properties, their coats make them unique. These one-of-a-kind dogs become family companions in no time. All they require is attention, training, and lots of room to use all that excess energy.
For more guides with mentions of the Labradoodle dog breed, you can check out:
To learn more about the Labradoodle breed, watch "Labradoodle – Top 10 Facts" from Dogs Wiz down below: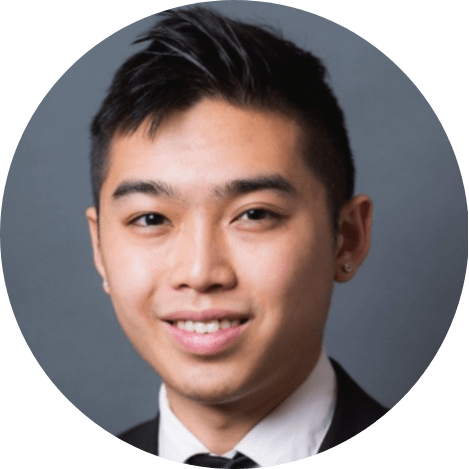 Andy is a full-time animal rescuer and owner of a toy doodle. When he's not saving dogs, Andy is one of our core writers and editors. He has been writing about dogs for over a decade. Andy joined our team because he believes that words are powerful tools that can change a dog's life for the better.
Why Trust We Love Doodles?
At We Love Doodles, we're a team of writers, veterinarians, and puppy trainers that love dogs. Our team of qualified experts researches and provides reliable information on a wide range of dog topics. Our reviews are based on customer feedback, hands-on testing, and in-depth analysis. We are fully transparent and honest to our community of dog owners and future owners.