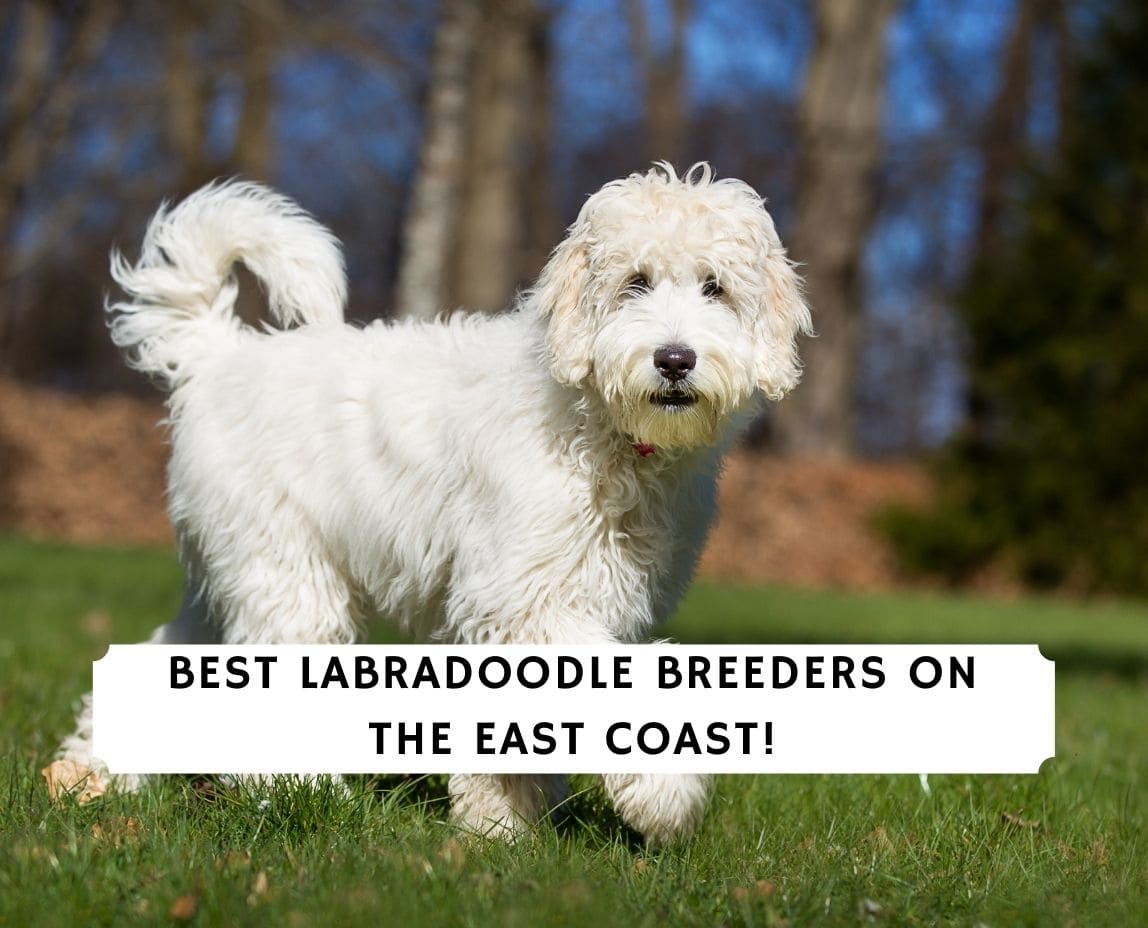 This guide should help you find the best Labradoodle breeders on the East Coast. Before we get started, let's learn a little bit about the Labradoodle breed. With their happy and playful attitudes, the Labradoodle has emerged as one of the most popular hybrid dog breeds.
Crossbreeding the joyful and active Poodle and the loyal and friendly Labrador, what else can you expect other than this lovely designer breed? The Labradoodle is a breed that was first recognized when an Australian breeder named Wally Conron introduced it to the Royal Guide Dog Association of Australia in Victoria in 1989.
Labradoodles serve as family dogs, guide dogs, therapy dogs, and guide dogs with a wide variety of behavioral traits they possess. They are subject to the breed standards recognized by the Worldwide Australian Labradoodle Association (WALA), the Australian Labradoodle Club of America (ALCA), and the Australian Labradoodle Association of America.
Before we get started, you might also want to check out these Labradoodle guides to save you time from searching:
Best Labradoodle Puppies for Sale on the East Coast
Labradoodle puppies can be a great choice for families and individuals looking for a companion pet. If you are from the East Coast region, there are many reputable Labradoodle breeders from whom you can get the perfect one. Let us look at some of these breeders.
1. Cove Lake Labradoodles
Located in the beautiful mountains of Western North Carolina, Cove Lake Labradoodles are a family-owned and operated breeder on the greater East Coast. They breed miniature to medium-sized multigenerational Labradoodles with chocolate, cream, black, and apricot black color choices.
The puppies live with the family and are free to roam and play in the eight acres of puppy-friendly land. They are a member of the Australian Labradoodle Club of America (ALCA). This Labradoodle breeder socializes their puppies and has tons of experience with the dog breed. If you're also interested in Bernedoodle puppies, you can check them.
Cove Lake Labradoodles Details
2. Providence Hill Australian Labradoodles
Providence Hill Australian Labradoodles is a home breeder in the Shenandoah Valley of Virginia who breeds multigenerational American and Australian Labradoodles of all sizes. The Labradoodle parents undergo extensive health testing to ensure the health and breed standards of the puppies. This includes OFA, Penn HIP, CRF, thyroid, PRA, and CBCs.
All their Labradoodle puppies for sale on the East coast are also vaccinated, and regularly health tested. These microchipped puppies also come with a two-year health warranty. This is because they truly believe in the health of their puppies since they do such extensive testing. This is a reputable breeder if you want a healthy and happy Labradoodle puppy.
Providence Hill Australian Labradoodles Details
Location: 2207 Wissler Rd, Mt Jackson 22842, Virginia, United States
Contact: (703) 819-7391
3. Green Gables Australian Labradoodles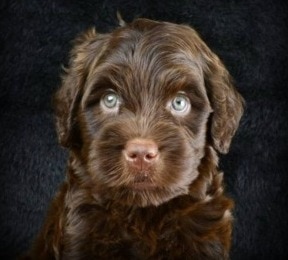 Located in a 5-plus acre mini ranch, they are authentic breeders of Australian Labradoodles in South Carolina. They breed mini, medium, and standard size multigenerational Australian Labradoodles that are friendly and adjustable to small or large spaces. Their puppies possess excellent personalities, are friendly, and have nonshedding fleece coats.
The parents are chosen based on personality traits, quality testing, and breed standards. All of their Labradoodle puppies on the east coast undergo temperament testing to ensure they fit in well with your family. If you're looking for a hypoallergenic and nonshedding Labradoodle, you might consider this breeder.
Green Gables Australian Labradoodles Details
4. Zinnia Fields Australian Labradoodles
Zinnia Fields Australian Labradoodles are in-home breeders of multigenerational Australian Labradoodles in the Leesburg area of Virginia. All their Labradoodle puppies are microchipped. They also provide a two-year health warranty to their puppies. These puppies are home-bred and raised around children and adults, so you can ensure that you get a well-socialized puppy.
In addition, their Labradoodles on the east coast are well trained to socialize with people, noises, and other puppies around them. The breeding parents are screened for OFA, CRF, Penn HIP, thyroid, PRA, and CBCs to ensure that the bred puppies keep up to the breeding standards. Before purchasing a Labradoodle puppy on the east coast, ensure that the breeder conducts health checks!
Zinnia Fields Australian Labradoodles Details
5. Doo South Labradoodles
Located in South Carolina, these breeders are committed to breeding and raising quality Australian Labradoodles. They specialize in chocolate and Parti Labradoodles. The puppies are bred and raised in the home in a special area.
They are well socialized and are made to interact with children, adults, and other puppies around them. The Labradoodle puppies are also exposed to different sounds and other daily household experiences and are fully ready for new homes. This is a rather small Labradoodle breeder that truly cares about their puppies and wants them to go to loving families.
Doo South Labradoodles Details
6. Rainbow Row Labradoodles
Located in Georgia, these breeders specialize in mini and medium multigenerational Australian Labradoodles. They are a member of the Australian Labradoodle Association of America (ALAA). They have a Silver and Golden Paw status and follow the code of ethics of the ALAA. Most of the breeders recommended by the ALAA will be reputable Labradoodle breeders.
Rainbow Row Labradoodle puppies are raised in homes and are socialized with children, adults, and cats. The breeder dogs are extensively tested to meet the breed standards put forward by the ALAA. Thus, the puppies will be in excellent health and meet breed standards. All the parents undergo OFA testing before breeding. They also provide a two-year health guarantee for all their Labradoodle puppies on the East Coast.
Rainbow Row Labradoodles Details
7. Touchstone Australian Labradoodles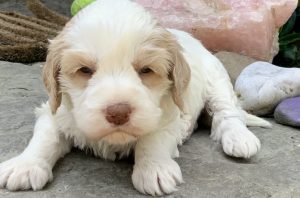 They are committed to the breeding and raising of miniature and medium-sized Labradoodles. They are members of Avidog and the Australian Labradoodle Club of America (ALCA). After years of breeding, they have successfully bred a stock specific to some functions. Some of their Labradoodles work in educational departments with children, while others undergo training as service dogs.
All their Labradoodle puppies on the east coast are known to be nonshedding and hypoallergenic. They carefully select all of their breeding dogs to ensure these genetic traits. If you're looking for a family companion, support animal, or service dog, you can contact this Labradoodle breeder on the east coast!
Touchstone Australian Labradoodles Details
What Makes Labradoodle Puppies Special?
Being a designer breed, several attractive features make Labradoodles one of the dearest breeds for families. Many people on the east coast are actively looking for this breed because of their easygoing temperaments and superior genetic traits.
Behavior: Labradoodles are very loving and playful. They easily get along with both children and adults. They love to perform tricks and get excited when they are lauded for the same.
Intelligence: They possess a high level of intelligence and respond quickly to early training sessions. Thus, they also serve as guide dogs and service dogs.
Smartness: Labradoodles are extra smart in always entertaining those around them. They also follow their owners during walks, runs, hiking, and even trekking on rocky terrains.
Hypoallergenic: Their hypoallergenic nature ensures you are free from dog hair allergies.
Coat types and colors: Labradoodles come in various coat types like wavy, hairy, curly, and straight. They also feature color varieties like silver, golden, cream, white, black, red, and chocolate.
What Makes Labradoodle Breeders Different?
You must have thought of going to a pet store and purchasing a puppy that you find attractive. Yes, you may find it attractive in the beginning. But, what do you know about its behavior, history, and the way it was raised? Breeders are your answer to this question. Compared to regular pet stores, reputable breeders always possess many advantages.
Your potential companion is happy and healthy.
Responsible Labradoodle breeders on the east coast always emphasize breeding the most healthy puppies and raising them to be joyful. For this, they extensively research the parent breeds, their behavioral traits, and possible inheritance features of designer breeds.
They also test them to ensure they are free of genetic or health problems. The puppies are also provided adequate health care through vaccinations, regular health tests, veterinarian checkups, etc. These puppies are trained to socialize so they can be friendly from the early days of their transition to your homes.
They tell you everything about the puppy.
Good Labradoodle breeders can provide complete details about the puppy you are interested in buying. Every detail of health, pedigree, and temperament is recorded, and you are provided with all-out information on the puppies' health, parental, and behavior history.
Breeders help you find a companion most compatible with you.
Ethical Labradoodle breeders never work solely for money. They aim to find the best forever homes for the puppies they breed and raise. A breeder can help you to choose the puppy that best suits you once you have discussed your expectations, family structure, and lifestyle with them. They are well aware of the temperament, skills, and abilities of the puppies they raise.
Learn about the breeders from customer experience
Responsible breeders always provide you with testimonials of their other customers. You may also contact them and witness how satisfied they are with the puppies they purchased from the breeder.
You'll always have someone to contact when you need advice.
A majority of reputable Labradoodle breeders on the east coast concentrate on breeding one or two kinds of breeds. As their service area is restricted, they are more particular about the peculiarities of the breeds they raise. Breeders work with the thought process that when you purchase a puppy from them, it moves from its first home to its forever home. Thus, breeders always care for their puppies. You can always contact them to solve your queries and get advice to raise your puppy in the best way possible.
Conclusion For The "Best Labradoodle Breeders on the East Coast"
Breeders are your best choice when it comes to having a happy and healthy Labradoodle in your family. You will realize the pleasure of having this cute little puppy loving you like nothing else!
If you're planning to find Labradoodle puppies for sale on the East Coast, we recommend that you do your research first before making any decisions. There are many Labradoodle puppy mills out there raising dogs in unethical ways. We highly recommend learning about the breeder first and doing your independent research.
For other dog breeds on the East Coast like these Labradoodle breeders, check out:
Before bringing home a Labradoodle puppy from a breeder on the East Coast, you can learn more about this dog breed by watching the "Labradoodle – Top 10 Facts" down below:
Garrett loves animals and is a huge advocate for all Doodle dog breeds. He owns his own Goldendoodle named Kona. In addition, he volunteers at the Humane Society of Silicon Valley, where he fosters dogs and helps animals. Garrett enjoys writing about Doodles and believes that dogs can teach humans more about how to live than humans can teach a dog.
Why Trust We Love Doodles?
At We Love Doodles, we're a team of writers, veterinarians, and puppy trainers that love dogs. Our team of qualified experts researches and provides reliable information on a wide range of dog topics. Our reviews are based on customer feedback, hands-on testing, and in-depth analysis. We are fully transparent and honest to our community of dog owners and future owners.