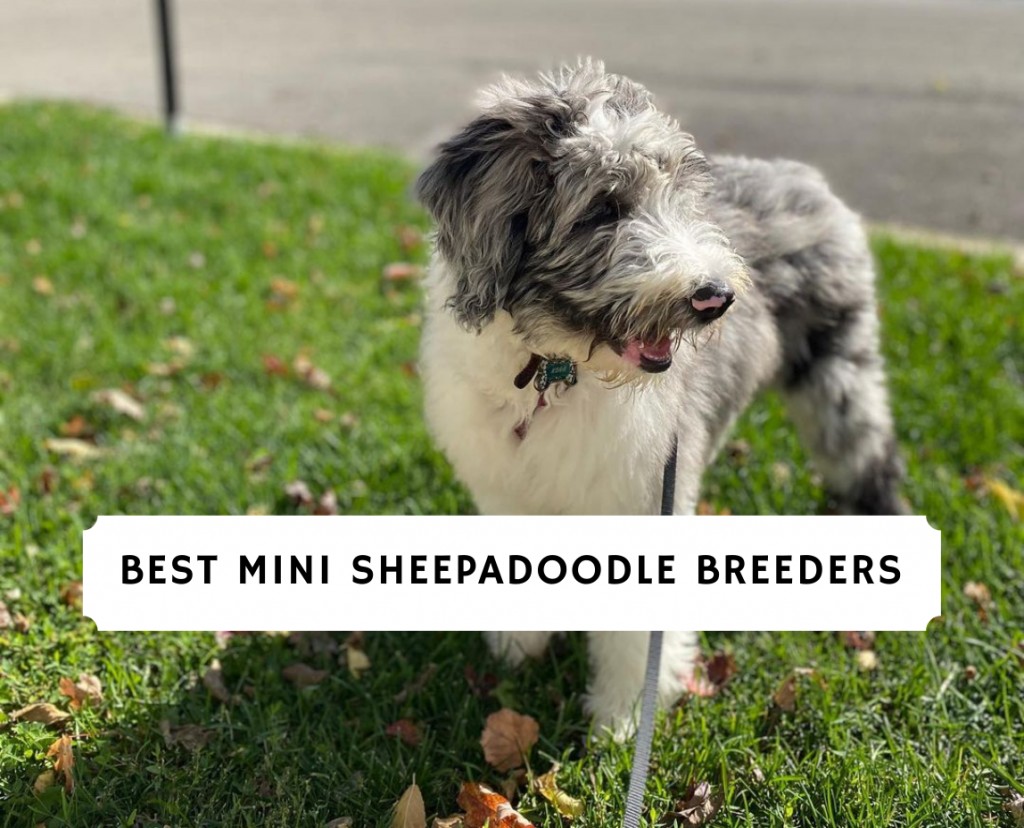 With their long, soft fur and very friendly personalities, mini Sheepadoodles make great additions to any family. A Sheepadoodle is a hybrid type of dog that is a mix of an Old English Sheepdog and a Poodle. The mini Sheepadoodle has a parent that is a miniature or toy Poodle which makes them smaller in size.
Whether you've had your heart set on this hybrid breed for years or have recently discovered the mini Sheepadoodles adorable appearance and personality, it's hard not to fall in love with them. In addition, Sheepadoodles often have a hypoallergenic and nonshedding coat their inherit from the Poodle which makes them easy to maintain.
As you search for your new mini Sheepadoodle puppy on the east coast region, just know that all breeders are not the same. You can find reputable mini Sheepadoodle breeders on the east coast who focus on the quality and care of their puppies. On the other, we also saw several puppy mills and backyard breeders that are just trying to make some quick money. They won't do any health or genetic testing on their dogs, and they won't let you tour their breeding facilities.
Especially due to the rising popularity of mini Sheepadoodles, it's important to do extensive research into finding a breeder that you can trust and has what you're looking for. To help you on your search, we will share some breeders of Mini Sheepadoodles you may want to consider. If you're interested in reserving your puppy from them, you can reach out to them with the provided contact information.
Other articles you might like: Mini Bernedoodle Breeders on the East Coast and Mini Labradoodle Breeders.
1. Grace Wood Farm Sheepadoodles – South Carolina
Grace Wood Farm is our top recommendation for the best mini Sheepadoodle breeder on the East Coast. If you are on the East Coast and looking for mini Sheepadoodle puppies for sale, check out the nationally recognized Grace Wood Farm.
Grace Wood Farm is a family-run business started and run by Luke Stasi and Brittney Stasi. They breed mini Sheepadoodles in the Charlotte, NC metro area, on their farm in Fort Mill, SC. They have their own puppy transportation service and will drive your new furry family member straight to your front door! In nearly every litter, they transport mini Sheepadoodle puppies to families in New York, New Jersey, Pennsylvania, Massachusetts, Florida, and everything in between. Their professionally trained transport team will ensure your pup is happy, safe, and secure during the journey. 
Grace Wood Farm has the vision to breed the best family pets possible. They keep a limited amount of parent dogs at their farm in South Carolina. Luke and Brittney's best friends, Jason and Sheena, oversee the Grace Wood Farm mini Sheepadoodle location. In a family environment, they give full time and attention to each of the puppies. They have five kids who spend time with each puppy every day, giving them kisses, hugs, snuggles, and playtime. It is essential for a puppy's socialization that they get to interact with new people, sensations, sounds, rooms, and experiences. Since the puppies get so much experience with kids, they easily connect with their new families, even with young kids. Grace Wood Farm gives their puppies the highest level of care. Luke and Brittney only consider the best parent dogs for their breeding program. They rigorously vet each parent dog. They watch their health, temperament, trainability, behavior, and interactions. If they had any concerns, they would not enter the dog into their program, which gives peace of mind that they are responsibly breeding. On top of that, their parent dogs live as pets and have lives filled with love. As highly ethical breeders, they only breed their females a limited amount of times. They also only have a few litters at a time so that they can spend all of the time needed to raise their puppies. 
Grace Wood Farm follows industry-leading practice in the developmental stimulation and care of their dogs. All of their parent dogs are provided with supplements, a choice diet, and vitamins. These are regulated before them being pregnant, carrying a litter, and nursing their puppies. These standards of nutrition mean those puppies are going to have the best development while still in the womb. When the pups are born, they are given all the attention and time with mama that they could need. They really are giving their puppies the best of the best. Grace Wood Farm follows a program created by the US military called Early Neurological Stimulation (ENS). It's a series of individual puppy exercises. They have been found to produce adult dogs who are less skittish, more even-keeled, train easier, and have better health. Once ENS is complete, Grace Wood Farm follows their own industry-leading system of stimulation and socialization with the puppies. They have found that this helps their dogs transition well into their new homes and bond quickly with their new family. They end up being more relaxed and have better temperaments. The pups are vaccinated, wormed, and vet examined prior to going home. Grace Wood Farm also offers a health guarantee on all their puppies.  
Luke, Brittney, and the team at Grace Wood Farm make themselves available for prompt response to emails, calls, and texts and are excited and happy to help you out. They share loads of pictures on their Instagram and Facebook so you can watch the puppies grow. They have an excellent reputation online with only 5-star reviews.
East Coast folks searching for a mini Sheepadoodle breeder – give Grace Wood Farm a call!
Mini Sheepadoodle Breeder Details
2. Dogwood Doodlebugs – North Carolina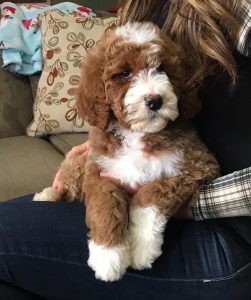 At Dogwood Doodlebugs, you can find puppies of Goldendoodles, Bernedoodles, and of course, mini Sheepadoodles. For each hybrid breed, they focus on the puppy's health, temperament, and appearance. They breed from only the best dogs that meet health standards. This way you can ensure that your Sheepadoodle puppy won't have any genetic or hereditary diseases.
Their long experience in breeding Sheepadoodles equips them to provide the best care and attention to each and every puppy they raise. Their Sheepadoodle puppies are brought up in a family environment to maximize socialization and training. This intentional focus helps them fit into your new home and transition to a new life with less stress and anxiety.
Interested families can be placed on a waiting list when they submit a deposit. Their Sheepadoodle litters are available throughout the year, but due to their demand, they usually go quite quickly.
Prices for their mini Sheepadoodle puppies for sale are also dependent on the litter and type of dog. If you're interested, they require an extensive application to ensure proper placement of their mini Sheepadoodle puppies. This breeder has great communication and they'll help walk you through the application and reservation process with ease.
As their Sheepadoodle puppies transition from breeder to a new home, they also come with a thorough health guarantee and other helpful resources as you become a puppy owner. This Sheepadoodle breeder is here to support you as you raise your dog!
Mini Sheepadoodle Breeder Details
3. Daley's Doodles – New York
At Daley's Doodles, the focus is on raising family Sheepadoodles that are happy and healthy. They're passionate about the health and well-being of their dogs and puppies. Each mini Sheepadoodle litter is intentional and given the care and raising it deserves.
Their website shares photos of their parent dogs as well as a brief description of them. Prices of their mini Sheepadoodles puppies on the east coast are dependent on the color of their coat. Each puppy also comes with full registration and a microchip so you can be confident of their health history and their future with you.
If you're interested in a mini Sheepadoodle puppy from Daley's Doodles, you can complete your application and submit a non-refundable deposit to secure your spot. As their breeding operation is small, there may be a lengthy waiting period for your puppy. When their mini Sheepadoodle puppies are available, you can make your selection and begin preparing for your new furry friend to join your home.
Mini Sheepadoodle Breeder Details
4. JennaLee Designer Doodles – South Carolina
Bring home a dog that's of high quality in both appearance and in personality. In addition to mini Sheepadoodles, they also breed Goldendoodles and Bernedoodles so you can find the doodle puppy that's right for you.
Mini Sheepadoodle puppies from JennaLee Designer Doodles come already trained, with a full health record, and a two-year health guarantee so you can be confident in your new furry friend. Their mini Sheepadoodle puppies come in a variety of colors and patterns, adding to the beautiful diversity of designer breeds.
As the Sheepadoodle puppies grow and are raised, they are trained and cared for in their facility in South Carolina. The socialization they receive also ensures they're ready to go when it's time to enter your new home. This early training makes it easier on you with one less thing to do when you welcome home your new furry friend. Socialization is extremely important because it makes your mini Sheepadoodle puppy less anxious and stressed.
If you're interested in a Sheepadoodle puppy from JennaLee, you can start with your application to start the matchmaking. Following an application, you'll set up a phone interview to share more about what interests you in their Sheepadoodle puppies. This process helps them select the right mini Sheepadoodle puppy for you based on your lifestyle or family situation.
If you're looking for more information about puppies, best practices for raising them, or just curious about all things Doodles, JennaLee Designer Doodles also has a regular blog that provides helpful insight for new puppy parents.
JennaLee Designer Doodles also carries other products like shirts and other wearables that you can show your support for your Doodles. Their products are available online for purchase. You can also subscribe to their free email newsletter where they share helpful tips, tricks, and resources all about their beautiful Doodles.
Mini Sheepadoodle Breeder Details
5. Finger Lakes Doodles – New York
With over 15 years of breeding experience, owners Jill Warner and Stacey Acquired have developed a passion for raising healthy and happy mini Sheepadoodle puppies to share with families. Each Sheepadoodle puppy is raised in their own home which gives them the opportunity to grow in socialization and care.
They also use a process called Puppy Culture which enables their Sheepadoodle to grow healthy and strong. By equipping puppies right from the start, they set them up for success in their puppy years and for their entire lives.
In addition to Puppy Culture, they also are introduced to Early Neurological Stimulation which helps their Sheepadoodle puppies on the east coast grow their immune system, cardiovascular system, and stress tolerance. This process helps in both physical health and future temperament.
With Finger Lake Doodles, you'll welcome your mini Sheepadoodle puppy home with confidence. The health testing of the parents and full health checks to ensure your mini Sheepadoodle puppy will be free from genetic diseases. In addition, you'll also have access to lifetime support as you raise your Sheepadoodle puppy and other tools for success including a crate, grooming tools, and a blanket.
Mini Sheepadoodle Breeder Details
6. Rising Star Poodles and Doodles – Florida
Rising Star Poodles and Doodles breeds several designer dogs including AKC Poodles, AKC Old English Sheepdogs, Goldendoodles, and mini Sheepadoodles. They are a smaller breeding operation located on the east coast in Florida. All of their breeding dogs conform to health tests, personality tests, and temperament tests which helps to guarantee that you'll get a great puppy.
They are a family of dog lovers where they care about their mini Sheepadoodle puppies like they are family. Their mini Sheepadoodles are well socialized with other puppies and humans. In addition, they come in a variety of coat colors and coat types. 
This mini Sheepadoodle breeder on the east coast offers F1 and F1B generation puppies. F1 Sheepadoodles will be 50% Poodle and 50% Old English Sheepdog. F1B Sheepadoodles will be  75% Poodle and 25% Old English Sheepdog. If you want a hypoallergenic and nonshedding mini Sheepdoodle then you will want to buy an F1B generation dog because they have more Poodle genetics.
Mini Sheepadoodle Breeder Details
How to Choose a Sheepdoodle Breeder on the East Coast
With their adorable appearances and friendly personalities, you can't help but love the Mini Sheepadoodle. They bring out the best of Poodles and Old English Sheepdogs for a hybrid that's great for families. As you explore your options for adding a Mini Sheepadoodle to your lifestyle, you can use this list of breeders as well as others to help you in your search.
Be sure to take a thorough look at their policies and reputation to ensure they're a breeder who has your and your puppy's best interest in mind. Get started today by exploring available breeders in your area and moving closer to welcoming your Mini Sheepadoodle home. Here are some quick questions to ask any potential mini Sheepadoodle breeder on the east coast.
Do they health check their parent dogs for genetic diseases?
Do they offer a health warranty on their puppies?
Do they have other reviews or testimonials?
How long have they been breeding mini Sheepadoodles on the east coast?
What coat, size, and temperament do their Sheepadoodle puppies have?
More Information About Mini Sheepadoodle Puppies
Like with any crossbreed and mixed breed dogs, the resulting litter from crossing two different dogs is not always guaranteed. Some mini Sheepadoodles may have more "Poodle" in them while others may have more "Old English Sheepdog" in them.
In either case, they are beautiful dogs that have soared in popularity as a designer doodle breed. Their coats can be black, white, or a combination of both. They may even have red or gray in their coats, depending on the color and genetics of the parents.
As the mini Sheepadoodle carries great traits from both the Old English Sheepdog and the toy Poodle, they tend to have temperaments that are active, intelligent, and very friendly. Their calm and obedient demeanor makes them especially popular among families with young children.
The Mini Sheepadoodle has a size that's smaller than the standard. Typically, these miniature versions grow to be only about 20 inches tall and weigh between 20 to 44 pounds. Mini Sheepadoodles are even more popular with their adorable appearances and cuddly personalities.
If you're looking to add a family-friendly small dog to your family, the mini Sheepadoodle may be a great fit for you. Not only do they score high on the cuteness scale, but they also have personalities that make them easy to care for and welcome into your family. With their hypoallergenic and nonshedding coats, they're also puppies that are easy to care for and love.
Conclusion for Best Mini Sheepadoodle Breeders on the East Coast
Sheepadoodles are growing in popularity and there are several reputable breeders throughout the east coast. However, you'll want to make sure that you do thorough research and not buy from a puppy mill or backyard breeder. Remember that your mini Sheepadoodle will live for over 10 years and you'll want to make sure that they are happy and free of genetic diseases. Just because you may save some money upfront doesn't mean that you won't spend more money on medical bills if you buy a mini Sheepadoodle from a puppy mill. 
Other articles you might like:
Garrett loves animals and is a huge advocate for all Doodle dog breeds. He owns his own Goldendoodle named Kona. In addition, he volunteers at the Humane Society of Silicon Valley, where he fosters dogs and helps animals. Garrett enjoys writing about Doodles and believes that dogs can teach humans more about how to live than humans can teach a dog.
Why Trust We Love Doodles?
At We Love Doodles, we're a team of writers, veterinarians, and puppy trainers that love dogs. Our team of qualified experts researches and provides reliable information on a wide range of dog topics. Our reviews are based on customer feedback, hands-on testing, and in-depth analysis. We are fully transparent and honest to our community of dog owners and future owners.