These adorable puppies, known as micro Labradoodles (which fall under the classification of miniature Labradoodles), are usually a cross between a small Labrador Retriever and a purebred toy Poodle. The Labradoodles are then continually backcrossed to a toy Poodle to create smaller and smaller variations.
Considered fantastic companions, the micro Labradoodle came into the spotlight sometime in the 1980s when an Australian breeder successfully combined a Labrador and Mini Poodle, and has only grown in popularity, reaching the rest of the world.
Other times referred to as a micro doodle, these puppies make great companions with their delightful personalities and small stature. Even though each puppy in a litter is unique, essentially the micro Labradoodle has the same outward features as a standard Labradoodle, they're only much smaller. There is some controversy over micro Labradoodles because breeders tend to breed the runt of a litter with a toy Poodle which can sometimes cause genetic defects.
Other articles you will like: Labradoodles Sizes and Do Labradoodles Shed?
What are Micro Labradoodles exactly?
As the name suggests, the micro Labradoodle is almost the same as a regular Labradoodle, except for its smaller size. These puppies are first started by crossing a Labrador Retriever and a Miniature Poodle as opposed to a standard-sized Poodle. These small puppies weigh anywhere between 5 and 20 pounds and stand about 8 to 16 inches tall. They are usually bred over many generations to get smaller and smaller puppies.
The vast differences between the parents mean there is no signature look for the micro Labradoodle. Each comes with its own type of coat and coloring on top of their differing personalities. However, the color of their coat comes in many various shades such as tan, white, black, apricot, caramel, then on to chocolate, red, silver, or cream and grey.
Coat color options in micro Labradoodles are endless. Sometimes, a parent combination of two different colors makes offspring with more than one color and are called parti, which means patched, or phantom, which means two-toned. One thing that micro Labradoodles have is their signature ringlet coat, which is unbelievably soft to the touch.
Related: Labradoodle Dog Breed Guide
What is the size of a Micro Labradoodle?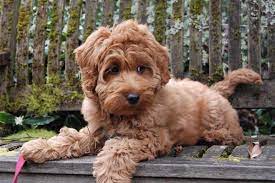 Micro-Labradoodles are not a one size fits all type of breed when it comes to their size. The general rule of thumb, as mentioned above, is that they weigh anywhere between 5 and 20 pounds and stand 8 to 16 inches tall. What truly determines the weight and height, however, is the type of genes the puppy inherited from its parents.
A micro Labradoodle can only get treated as such if the pup inherits more genes from the Poodle side of the family and doesn't weigh more than 15 pounds. They will also stand no more than 14 inches tall, making them truly micro when compared to the Labrador side of the family.
Should a puppy inherit more of the Labrador genes, it will stop being considered micro and start moving more toward mini or standard Labradoodle size. When making the decision to get one, it's important to take a look at the parents to determine the potential the pup has for remaining micro-sized into adulthood.
Is Micro Labradoodles Considered Hypoallergenic?
A very important question many find themselves asking during the process of picking the next best companion for the home is whether the puppy will be hypoallergenic. Unfortunately, there is no such thing as a non-shedding dog, since most will lose their fur to one extent or another.
However, the micro Labradoodle, especially since they should have more Poodle than Labrador genes, are considered mostly hypoallergenic. Their coat, no matter its color, will usually be made of ringlets that are soft and require trimming rather than shedding. Since it's the dander or the saliva of a dog which triggers a human's allergic reaction, one way to find out whether they are hypoallergenic enough is to meet a sibling from a previous litter if at all possible.
Of course, getting a puppy with a hypoallergenic coat means a well-thought-out grooming routine. To ensure there is no matting of the coat, it's best to brush the fur at least once or twice a week. On top of the brushing, it's best to take the micro Labradoodle to a groomer who will give them a bath, a brush, and a trim in order to keep their coat under control.
Related Articles: Best Toy Labradoodle Breeders
What's the Micro Labradoodle Lifespan?
Typically, the lifespan of a micro Labradoodle is about 12 to 14 years. With as new as the breed is on the market, there still needs to be thorough research conducted into any distinct illnesses or diseases that affect the micro Labradoodle. For now, the medical concerns of the parents are taken into consideration when looking for a micro Labradoodle to bring home.
Labradors as a breed are prone to hip and elbow dysplasia as well as obesity, some eye disorders, and cruciate ligament injuries. With their floppy ears, which a micro Labradoodle can inherit, they also develop ear infections quite often.
Poodles have other issues than a Labrador such as patellar luxation, which is a knee injury, cataracts in the eyes, sebaceous adenitis, and different skin problems. A micro Labradoodle, therefore, can inherit any and all of these problems for both parents.
Related: Labradoodle Health Issues
What is the Cost of a Micro Labradoodle?
An important piece of information to keep in mind in the pursuit of a new companion is the costs associated with getting a micro Labradoodle. Since these adorable puppies are not a one-size-fits-all, and neither are the breeders that provide them, their price will vary greatly between each litter.
Some of the cheapest options found out there were as low as $500 for a new puppy if you adopt a Labradoodle, but in different areas, they've ranged up to $2,500+. When it comes to purchasing a dog, however, the lower the price the higher the chances that there is something wrong. Whether the breeder doesn't have all the right qualifications, or the litter proved unsuccessful, it's not always the best option to go for the cheapest rate out there.
Instead, when deciding on a micro Labradoodle, the crucial thing is to spend time conducting research on prices in the area before leaping into the purchase. Ensure there is enough cash on hand for the transaction and that the final number feels comfortable since there will be other expenses such as spaying or neutering and other veterinarian visits.
They Might Be Small, But Do Micro-Labradoodles Need Exercise?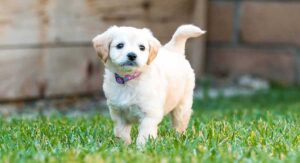 The adorable face of the micro Labradoodle draws in many dog lovers. Being the perfect size for a small home or apartment living, they make splendid companions. Like any active dog, however, even the micro Labradoodle will require attention and exercise to lead a healthy and productive life.
Throughout the decision-making process, it's imperative to decide whether there is enough time for a pup who will require daily exercise and playtime. Time will also need to get devoted toward training a young micro Labradoodle, though with enough perseverance they become rather well-behaved dogs.
Is a Micro Labradoodle Right for You?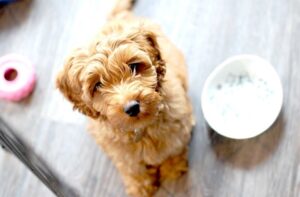 A micro Labradoodle has the potential for becoming a wonderful companion for one person or an entire family. With the right training starting early, they become well-behaved dogs. Considered hypoallergenic, they don't shed drastically and offer a variety of coat options.
When making the final decision to purchase a micro Labradoodle, it's important to understand they need at least an hour of exercise a day, no matter their size. Their energy expands best when they're allowed to run, which may require some workout on the part of their owner. They also require proper maintenance when it comes to their coat, and training.
Despite some of the work that an owner has to put into a micro Labradoodle, they are loyal dogs that become a friend for their whole life.
Other articles you will like:
Garrett loves animals and is a huge advocate for all Doodle dog breeds. He owns his own Goldendoodle named Kona. In addition, he volunteers at the Humane Society of Silicon Valley, where he fosters dogs and helps animals. Garrett enjoys writing about Doodles and believes that dogs can teach humans more about how to live than humans can teach a dog.
Why Trust We Love Doodles?
At We Love Doodles, we're a team of writers, veterinarians, and puppy trainers that love dogs. Our team of qualified experts researches and provides reliable information on a wide range of dog topics. Our reviews are based on customer feedback, hands-on testing, and in-depth analysis. We are fully transparent and honest to our community of dog owners and future owners.