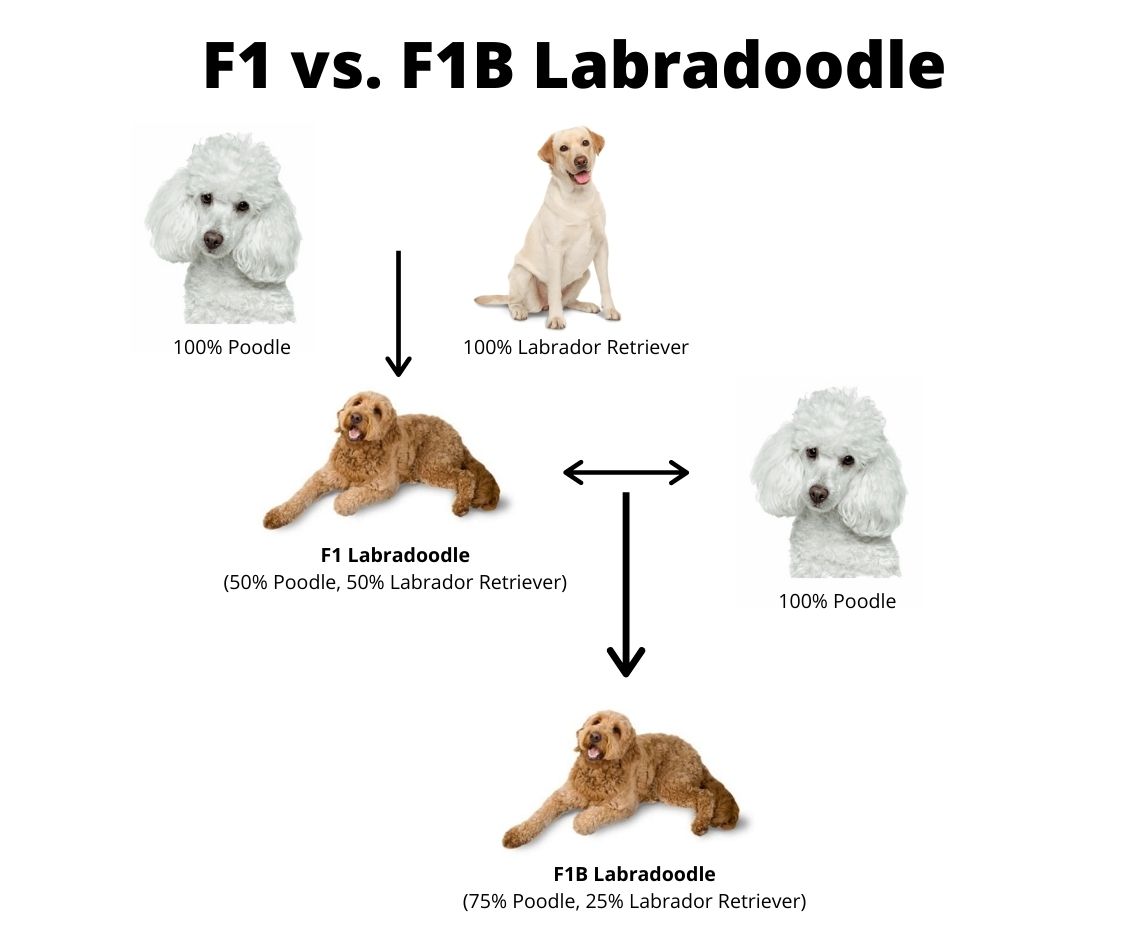 Fun to say and even more fun to have around, Labradoodle puppies have soared in popularity as a loveable and friendly family pet that's great for all ages. They are energetic, playful, and so easy to snuggle up with. But did you know that not all Labradoodles are the same? You've likely seen the terms F1, F1B, F2, or F2B in front of the word Labradoodle. These letters and numbers stand for the generation of Labradoodle that is born. Today, we will explain the difference between F1 vs F1b Labradoodles.
When it comes to hybrid dog breeds like the Labradoodle, the parent dogs used in the breeding process largely influence the genetic makeup of how much of each breed they embody. Since the Labradoodle is a mixture of Labrador Retriever and Poodle, this genetic makeup is different depending on what generation the Labradoodle is. This distinction is represented in F1 and F1B labels, which can have important implications as to what kind of dog you can expect to get.
As a short summary, F1 Labradoodles are 50% Poodle and 50% Labrador Retriever. On the other hand, F1B Labradoodles are 75% Poodle and 50% Labrador Retriever. Generally speaking, the F1B Labradoodle will be more hypoallergenic and nonshedding than the F1 Labradoodle because it has more Poodle genetics. F1B Labradoodles will also have a more wavy and curly coat when compared to F1 Labradoodles.
Prefer to watch a video? We also made a video on the F1 vs F1B Labradoodle!
Related: Check out our in-depth guide on all Labradoodle Generations (F1, F1B, F1BB, F2, F2B, etc.)
What is an F1 Labradoodle?
In order to explain an F1 Labradoodle, we have to explain what the letter "F" and number "1" means. The letter "F" stands for the word Filial, which means that this is a mixed dog breed. All Labradoodles are a mixed dog breed, so they will always have the letter "F" in front of the generations. The number "1" stands for the generation the dog is. In our case, the F1 Labradoodle will be the first generation offspring between a Poodle and Labrador Retriever. An F1 Labradoodle is bred with one parent being a 100% Poodle and one parent being a 100% Labrador. The F1 Labradoodles puppies will be 50% Poodle and 50% Labrador Retriever.
The F1 Labradoodle can be standard, miniature, or even toy-sized. The generation of Labradoodle does not affect how big they will get. Typically, F1 Labradoodles will reach a height of anywhere between 14 to 24 inches tall when measured at the shoulders. An F1 Labradoodle that has a standard Poodle parent will weigh anywhere between 45 to about 75 pounds. A medium F1 Labradoodle will weigh between 30 to 45 pounds and have a height between 17 to 20 inches tall. A miniature F1 Labradoodle will reach a size that's about 14 to 16 inches tall and just 15 to 25 pounds.
F1 Labradoodles are known to be very friendly and social. They love being around people and being showered with affection. They live peaceably with other animals and often serve as therapy dogs. F1 Labradoodles are also known to be very intelligent, as their Poodle parent is widely considered the second smartest dog breed in the world. This makes training your F1 Labradoodle fun and entertaining since they are quick learners.
Related: How Long Do Labradoodle Live?
What is an F1b Labradoodle?
The F1B Labradoodle is a backcross to the Poodle and an F1 Labradoodle. Hence the letter "B" standards for the word Backcross. When mixing an F1 Labradoodle and a 100% Poodle, you will get F1B Labradoodle puppies that are 75% Poodle and 25% Labrador Retriever. An F1B Labradoodle has 25% more Poodle genetics than an F1 Labradoodle. This makes a significant difference in terms of the coat type, appearance, and temperament.
In general, pet owners looking for a hypoallergenic and nonshedding Labradoodle will often choose an F1B over an F1. Since the F1B Labradoodle contains more Poodle genetics, they are more likely to have a wavy or curly coat which causes them to shed less. If a Labradoodle sheds less dander, they are also more hypoallergenic. This is the main difference between an F1 vs F1B Labradoodle.
F1 vs F1B Labradoodle Appearance
One major difference that may appear between F1 and F1b Labradoodles is in their coat types. F1 Labradoodles may have coats that are either straight or wavy. Since Labrador Retrievers have a straight coat and they are 50% Labrador Retriever, there is a high chance they will have a flat or straight coat. This means that F1 Labradoodles may shed a considerable amount, depending on the dog and time of year. However, some F1 Labradoodles may not shed much at all if they inherit Poodle genes. You never really know what coat type or if an F1 Labradoodle will shed.
However, F1b Labradoodles have stronger Poodle genetics and influence. As a result, their coats may be more curly and wavy. As Poodles are not big on shedding, these F1B Labradoodles may not shed much or at all. As a result of their low levels of shedding, F1b Labradoodles may be better choices for those suffering from pet allergies. Their coats are also considered to be fleece-like, which makes them extra adorable and cuddly. The downside is that curly or wavy require a bit more time grooming since the hair doesn't shed.
Related: Poodle vs Labradoodle
F1 vs F1B Labradoodle Grooming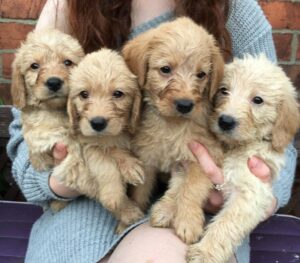 With the differences in their coat consistencies, F1 and F1b Labradoodles may differ in the level of grooming that is required. F1 Labradoodles won't have as much Poodle hair as F1b Labradoodles. That means they won't require as much time grooming since they will likely shed a little bit of hair. Keep in mind that F1 Labradoodles do shed much more than F1B Labradoodles, on average.
Because of this, it's important to regularly brush F1B Labradoodles so that their hair doesn't become matted. You will also need to give your F1B Labradoodle haircuts every 6 to 12 weeks to keep their hair tangle-free and prevent skin irritations. You will also need to groom your F1 Labradoodle, but not as frequently.
Differences in Energy Levels
In general, Labradors tend to be more energetic and lively than Poodles. As a result, F1 Labradoodles with more Labrador genes may be more energetic and lively than F1B Labradoodles that have more Poodle in them. While they'll both require regular exercise and daily activity, you can expect an F1 Labradoodle to have more energy and endurance than an F1b Labradoodle. F1 Labradoodles also people to be more people-friendly and less territorial than an F1B Labradoodle.
F1 or F1b Labradoodle: Choose What's Best For You
When it comes to what generation Labradoodle to choose to add to your family, both F1 or F1B options can make the perfect fit. While they have slight differences in appearance and grooming needs, both generations are easily loveable and very friendly. Keep in mind that if allergies are a concern for you in your family, an F1b Labradoodle may alleviate some of those concerns as they shed very little or not at all. By knowing the differences between these two generations of hybrid dogs, you can move forward in making the right decision for yourself and your family.
Other articles you would like: 
Garrett loves animals and is a huge advocate for all Doodle dog breeds. He owns his own Goldendoodle named Kona. In addition, he volunteers at the Humane Society of Silicon Valley, where he fosters dogs and helps animals. Garrett enjoys writing about Doodles and believes that dogs can teach humans more about how to live than humans can teach a dog.
Why Trust We Love Doodles?
At We Love Doodles, we're a team of writers, veterinarians, and puppy trainers that love dogs. Our team of qualified experts researches and provides reliable information on a wide range of dog topics. Our reviews are based on customer feedback, hands-on testing, and in-depth analysis. We are fully transparent and honest to our community of dog owners and future owners.