"Do Labradoodles smell" is often asked by potential dog owners before the adoption process even begins. This article is going to discuss whether Labradoodles smell. Aspiring and current pet owners may wonder if their dog has a particular smell about them. Nobody wants to buy a dog that is going to be stinky constantly. Is the Labradoodle the right dog for you? Many factors play into a smelly puppy and many ways to help with odor control. Things such as diet, ear infections, and allergies can cause a smelly Labradoodle puppy. Breeding and coat selection can also play a crucial factor in whether or not the Labradoodle smells.
Before scrolling down this article "Do Labradoodles Smell Bad And Stinky," we think you might find these helpful: Mini Labradoodle vs Mini Goldendoodle and Best Labradoodle Rescue For Adoption.
What is a Labradoodle?
Labradoodles are a result of cross-breeding a Labrador and Poodle. The standard Labradoodle is a medium to large dog, weighing 50 to 65 pounds. They typically live 12 to 16 years. They come in beautiful colors such as gold, apricot, caramel, white, black, red, chocolate, blue, and particolored. These puppies are fun, affectionate, water-loving, loyal, hypoallergenic, and great with families. Although not known to be guard dogs due to their friendly nature, they work well with children and other pets.
Labradoodles are known for having separation anxiety and should not be left alone for long periods. The positives outweigh the negatives when it comes to these family-friendly puppies! Their hypoallergenic coats are perfect for people with allergies. Beware, not all of them are hypoallergenic dense straight furred Labradoodles tend to have more lab in them, which results in shedding. Intelligent poodle and hard-working lab genes, this dog is a great cross and gains most of the positive genes from its parents. A Labradoodle from a reputable breeder can cost anywhere from $1,500 to $3,000.
Other Labradoodle Guides: Silver Labradoodle Coat Coat Guide and Chocolate Labradoodle Coat Color Guide.
Do Labradoodles Smell Bad And Stinky?
This question depends on the location and type of dog you buy. The Australian Labradoodles are not known to have an odor and have a hypoallergenic coat. Dogs resulting from inbreeding or, if not carefully bred, could result in dogs with unpleasant odors. This is due to improper hormone release and simply just genetics, as well as their coat texture. Most well-bred Labradoodles do not have a natural smelly odor.
Coat density and texture play a role in the Labradoodle smell. A curly Poodle-like coat has no odor and is nonshedding. Whereas a straight coat sheds the most is often harder to maintain, resulting in a scent. Selective breeding is used to obtain the much-preferred curly-coated Labradoodle.  Now, this does not mean that other outlying factors can be causing your dog to smell. In the following sections, we will discuss outside reasons your dog could be smelly and solutions.
Other Labradoodle Guides: Bernedoodle vs Labradoodle and Best Labradoodle Names.
Reasons Why Your Labradoodle Might Smell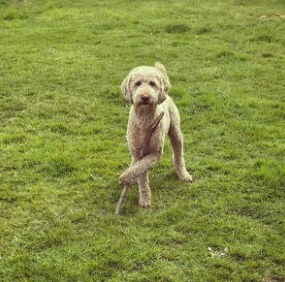 1. Anal Glands
Yep. Your dog has anal glands, and it is relatively common for them to be blocked. If you notice they are swollen or complete, then that means they need to be expressed. Suppose you see them licking and biting at their rear excessively. If this is the case, the anal glands need to be expressed. It is best to leave this job to a vet because they can do it without harming the puppy.
2. Diet
Your dog's diet matters to them just as your diet matters to you! A dog with a poor diet is likely to have an odor to them. Because they are not getting proper nutrients, then they are not producing the hormones they should. This can result in a smelly dog. If your dog cannot digest its food properly, it will likely have more gas, leaving them stinky.
Related: Best Dog Food For a Labradoodle
3. Ear Infection
If your dog has a yeasty and heavy smell, it might be related to an ear infection. If you notice that they are scratching their ears, shaking their head, showing discomfort, have ears, or are painful to touch, then they probably have an ear infection. Contact your vet, and they will provide you with the correct treatment.
4. Shampoo and Conditioner
Your shampoo and conditioner could be causing your dog to smell. If it is causing dry, rash skin, consider switching. Over oily fur can lead to an odor. Irritated skin can smell, so make sure you are using hypoallergenic shampoos and conditioners.
5. Allergies
Skin allergies can cause a rash, puss, and lesions that result in a foul smell. The allergy could be diet, outdoor, or even shampoo-related. Therefore, it is best to contact a professional for a proper diagnosis.
Tips For Having a Fresh Smelling Labradoodle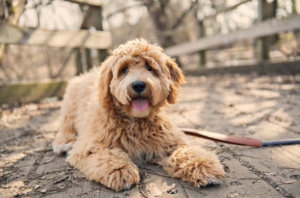 1. Regular Bathes
Some owners skip on the baths and rarely clean their dogs. This can result in an unwanted smelly odor that emits from your furry friend. Thankfully, most Labradoodles love water and will be more than willing to have a bath at least once a month. Try not to bathe your companion too often because it can result in dry skin. Stick to a monthly bathe and adjust accordingly.
2. Brushing
Brush your dog. Labradoodles typically have a thick curly coat that needs to be maintained daily. If your dog likes to roll in the mud or play outdoors, it is likely to get things stuck in its coat. My dog has even rolled in feces before. Brushing your dog can get many unwanted things out of its coat and result in a better-smelling puppy.
3. Brush Their Teeth
A bad tooth or bad breath can cause an odor that lingers on your dog. Brush their teeth to keep their breath smelling fresh. It is also suitable for their overall health and allows the owner to check for any bad teeth.
4. Diet
As stated above, your dogs' diet can affect the way they smell. Above, we discussed the things you should not include in their diet. This section is going to discuss what they should eat! Dogs are natural carnivores; they need meat. Make sure the dog food you are feeding has meat in the three main ingredients.
Surprisingly, most fruits and vegetables are good for dogs and can be an excellent substitute for treats (think carrots, bell peppers, etc.) A fresh food diet is ideal for any dog. Fresh meant greens, sweet potatoes, etc., are so healthy for your furry friend. If your dog receives the proper nutrients, it aids in digestion and hormone productions that lead to odor (meaning they will not smell bad).
Related: Tips For Grooming Your Doodle At Home and Best Brush For a Labradoodle.
Conclusion For "Do Labradoodles Smell Bad And Stinky"
All in all, a correctly bred Labradoodle has no odor due to its good health and hypoallergenic coat. Coat plays a part in a Labradoodle's 'odor.' Curly and wavy-haired Labradoodles are more likely to have an odorless coat because it is hypoallergenic; straight-haired Labradoodles tend to shed with an odor. There are outlying factors that can cause your dog to have an odor, such as diet or allergies.
There are many solutions to keeping a fresh-smelling Labradoodle puppy, giving them monthly bathes to their diet (an important part). If you catch yourself doing all these things and your dog is still smelly, then consult your local vet. It could simply be the breeding of your dog plays a part in their smell.
For more Labradoodle questions and information, check out:
To learn more about the Labradoodle designer breed, watch "Labradoodle Dog Breed Guide" from Smart Dog Lover down below: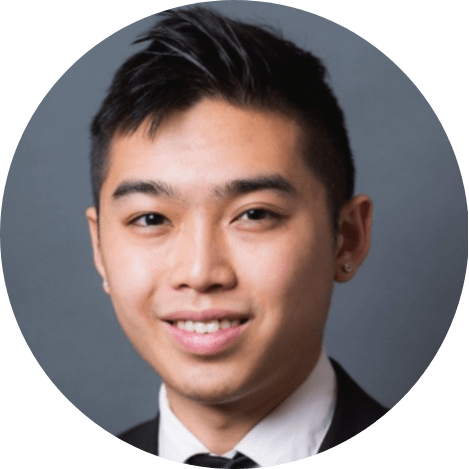 Andy is a full-time animal rescuer and owner of a toy doodle. When he's not saving dogs, Andy is one of our core writers and editors. He has been writing about dogs for over a decade. Andy joined our team because he believes that words are powerful tools that can change a dog's life for the better.
Why Trust We Love Doodles?
At We Love Doodles, we're a team of writers, veterinarians, and puppy trainers that love dogs. Our team of qualified experts researches and provides reliable information on a wide range of dog topics. Our reviews are based on customer feedback, hands-on testing, and in-depth analysis. We are fully transparent and honest to our community of dog owners and future owners.