In this silver Labradoodle coat guide, you'll be learning about maintaining its colors, health issues, and how they become silvered colored. Silver Labradoodles are special and quite a unique dog breed. As the name implies, they are Labradoodles with silver patches throughout their coat. Typically, their coat colors range from light pale to dark charcoal. Silver Labradoodles are sometimes called Grey Labradoodles due to their similarities in coat color.
Labradoodles are crossbreed pets from a purebred Poodle and a purebred Labrador Retriever. The Poodle has 10 different standard coat colors, and the Labrador Retriever has 3 standard coat colors. As you can imagine, there are several variations of coat colors. Bright and attractive colors don't go unnoticed, making the silver coat Labradoodle an incredible sight to behold.
If you're interested in all the other Labradoodles coat colors, we wrote another blog post called Labradoodle Colors – A Complete Guide!
Is The Silver Labradoodle Coat Color Rare?
The Silver Labradoodle's unique coat color makes it rare. You're much more likely to see a cream, tan, or white Labradoodle than a silver-colored Labradoodle. The genes that create the silver color shade are recessive in the parent breed. This means that both parents breed will have to carry the recessive genes to make the silver coat color. Often dominant genes mask off the effect of the recessive genes. This is why Silver Doodle is considered one of the rarer doodle crosses for coat color.
Typically, even if you have a litter with both parent dogs carrying the silver recessive gene, you're only likely to get 1-2 puppies with the silver coat color. Silver Labradoodles are considered pretty rare, and the gene comes from the Poodle.
What Do Silver Labradoodle Coat Puppies Look Like?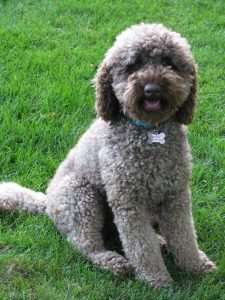 Silver Labradoodle coat puppies are an incredible sight to behold. They are charming and beautiful because of their shiny silver coat. Like all other Labradoodles, the Silver Labradoodle puppy inherits its look, coat color, and type from its parents. Silver Labradoodle coats can be mistaken for black as they don't exhibit the silver shade until after the first few years of their life. To get a Silver Labradoodle puppy, it is advised to go through trusted breeders who are specialists in the color combination. 
What Are The Different Silver Labradoodle Coat Types?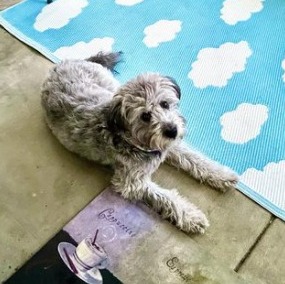 Generally, Labradoodles are associated with three coat types: wool, fleece, and hair. The wool coat is very compact and curly, resembling a Poodle, while the fleece has a comfy and soft texture. Hair coat types have a very tough texture and are common with older generation dogs.
These coat types come in different textures, lengths, and shades. The parent breeds largely determine the silver Labradoodle coat type. The Poodle has a thick and curly coat, while the Labrador has a dense, double-layered coat. The combination of these parent breeds determines the outcome of the coat type. People with a dog or general allergies are advised to get silver color Labradoodle with wool or fleece coat type. The wool and fleece coat types are the commonest and are allergy-friendly. Thus, you'll want a Labradoodle generation with more Poodle genetics.
Do Silver Labradoodle Coat Change?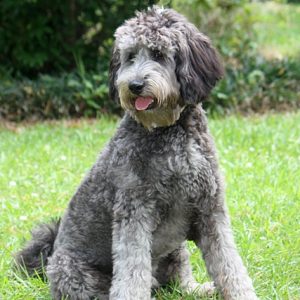 The possibility that your Silver Labradoodle coat color will fade is high because it is light coat color. Cases of Labradoodles changing coat colors as they become adults are high due to their genetic makeup. Most Labradoodles' coat colors become lighter as they grow older. The cream and white Labradoodles can be an exception as the cream has little to no change in color as adults. White Labradoodles typically have no change in color as they grow older.
How Do Labradoodles Have Silver Coat?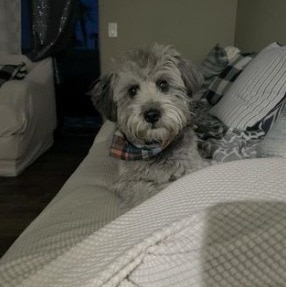 The silver-colored Labradoodle inherits the genes from their Poodle parents. Silver is a standard Poodle color with registration code 176, according to the American Kennel Club. The silver coat color can also be inherited when deeper colors fade and become lighter. The Grey Labradoodles puppies come with dark chocolate or brown patches that start fading after few years of their lives. These colors lighten up completely, making them look like the color silver. Black Labradoodle puppies develop white hairs over time which can also look like silver.
How Do I Maintain Silver Labradoodle Coat?
The bright and light color of the silver Labradoodles coat can cause dirt and stains are easily noticed. Grooming your Labradoodle coat will include
Giving your pet a good bath to wash away stain and dirt
Regular trimming and brushing to keep the coat tangle-free and fluffy
Making sure their crate or mat is clean to reduce dirt 
Making sure your Pet's coat is not too long to avoid shedding
Stain remover that will not irritate your pet's coat can be purchased
Conclusion For Silver Labradoodle Coat Guide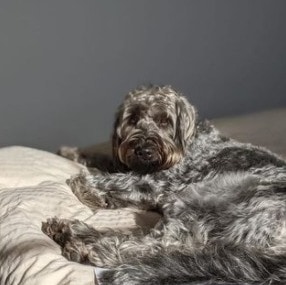 Silver Labradoodles coat comes in a different shade, pattern, or even coat types. While some are lighter, others are darker with patches of different colors on their paws and chest. Before getting a light-colored coat Labradoodle like silver, be sure to include grooming time in your schedule. This is because stains and specks of dirt are easily noticed in lighter-colored dogs.
For more information related to "Best Silver Labradoodle Coat Type," check out:
If you want to see a silver Labradoodle in action, watch "Funny Silver Labradoodle Dog Sparty Plays Ball":
Garrett loves animals and is a huge advocate for all Doodle dog breeds. He owns his own Goldendoodle named Kona. In addition, he volunteers at the Humane Society of Silicon Valley, where he fosters dogs and helps animals. Garrett enjoys writing about Doodles and believes that dogs can teach humans more about how to live than humans can teach a dog.
Why Trust We Love Doodles?
At We Love Doodles, we're a team of writers, veterinarians, and puppy trainers that love dogs. Our team of qualified experts researches and provides reliable information on a wide range of dog topics. Our reviews are based on customer feedback, hands-on testing, and in-depth analysis. We are fully transparent and honest to our community of dog owners and future owners.