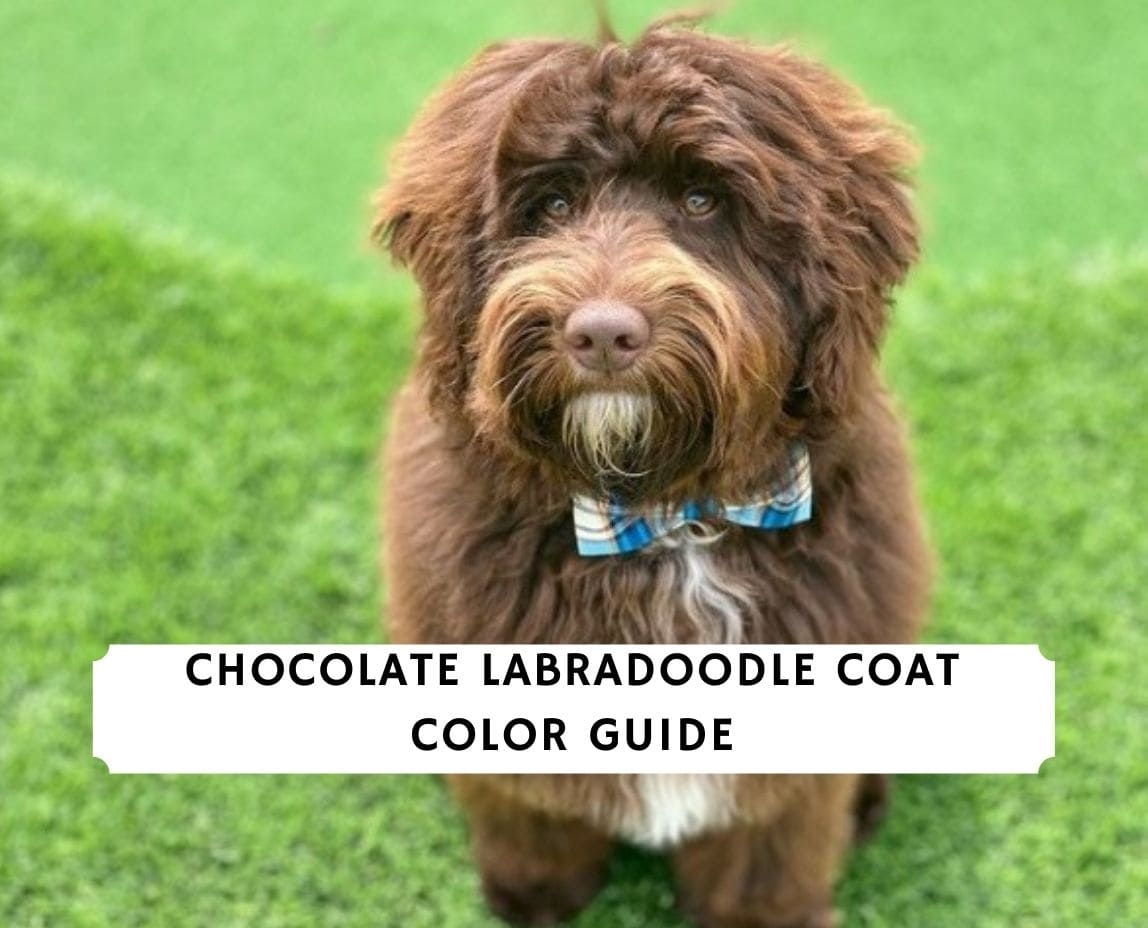 If you're a fan of Poodle mixes, then you've likely stumbled across Labradoodles. While Labradoodles come in various colors, the one that constantly gets asked about is the Chocolate Labradoodle. In this guide, you'll find important information about this Doodle breed and how to maintain its colors.
When you acquire a companion, how it behaves will be a reflection of how you raise it. It can portray you as someone willing to take on responsibility and show commitment to something other than yourself. Since the Chocolate Labradoodle is special, understanding the ins-and-outs of its coat color and texture demonstrates that you're not just a random dog owner but a responsible and passionate one.
Other Labradoodle articles we think you might like: Complete Labradoodle Color Guide and Red Labradoodle Coat Guide.
Is The Chocolate Labradoodle a Different Type of Dog Breed?
The Chocolate Labradoodle isn't a different type of dog breed because of its colors. Just because a Labradoodle possesses a chocolate color appearance doesn't make them different. It's still the product of the gene combination of a Standard Poodle and a Labrador Retriever.
How Rare Is the Chocolate Labradoodle?
Heredity is the fundamental determinant of a Labradoodle's coat appearance. This means that if one or both parents have a particular tone, they could pass that characteristic to the offspring. It can be tricky, though. The union of a Brown Labrador and a Poodle may not always guarantee chocolate color puppies.
There's a reason for this. According to the Laws of Genetics, the brown color-carrying gene is recessive and will give way to a dominant color such as black most of the time; therefore, if either brown-colored parent breed possesses a black gene, that characteristics will likely surface in their newborn litters.
Given the many intricacies of genetics, it's unpredictable to tell an offspring's features. Hopefully, this helps you understand why the Chocolate Labradoodle is uncommon.
Do Chocolate Labradoodle's Colors Fade?
For Chocolate Labradoodle owners, it can be unfortunate and a let-down to discover that the chestnut colors begin to fade into something else. The truth is – whether a puppy will retain its dark brown color throughout life is a mystery to both breeders and dog owners. When the fading begins, it may be light or heavy, lasting for two to three years until the final shade is finally attained.
A light fading will eventually leave the Chocolate Labradoodle with a subtle shade of brown coffee color. A Chocolate Labradoodle with a silver or cream tone at maturity is proof of a noticeable fading. Apart from biologically induced fading, health issues can cause your Chocolate Labradoodle's coat to go pale.
An example of this is the uncommon condition of hypothyroidism, a thyroid gland's failure. The absence of a sure-fire pattern in ascertaining a Labradoodle puppy's final tone contributes to its increasing rarity.
Chocolate Labradoodle's Temperament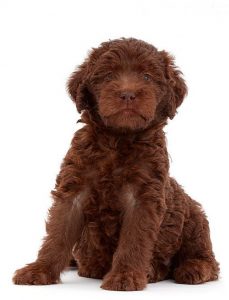 Whether it's a chestnut, coffee-colored, black, or silver Labradoodle – one thing remains pivotal above everything else: The Chocolate Labradoodle's temperament. It's the Chocolate Labradoodle's temperament that interests and impresses people to raise them as companions.
Despite your Labradoodle's unpredictable color's fading, it's possible to study your dog's behavioral trend. Chocolate Labradoodles have a healthy disposition. They're adorable, intelligent, curious, and are constantly seeking fun. As a result of an inbuilt shyness, Chocolate Labradoodle puppies may tend to withdraw in large gatherings or strangers' presence.
Several of their strong traits that were passed down are hunting and guarding. While hunting is in the past in today's modern world, your companion protecting your living environment can make everything feel safer.
Related: Are Labradoodles Smart and Are Labradoodles Good with Kids?
Training a Chocolate Labradoodle
Chocolate Labradoodles are the type of dogs that'll please their owners. Training them is a piece of cake compare to other dogs. After all, the Labradoodle's parent is the Poodle and Labrador Retriever. Poodles are one of the most intelligent dogs. During training, don't focus on cruel punishments because that's not as effective as positive reinforcements. For instance, if your Chocolate Labradoodle puppy did something good, reward it. If it does something terrible, don't reward it.
Grooming a Chocolate Labradoodle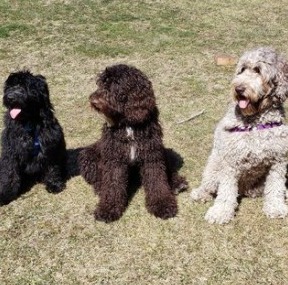 The grooming process is similar to most dogs with curly coats. You should clean and care for your Chocolate Labradoodle coat because it can reduce the risks of skin diseases and infections from unnecessary parasites. Depending on your companion's coat's thickness, you might need to brush down once or twice weekly.
An exceptionally thick coat demands daily grooming, a responsibility that's expected from all Labradoodle owners. If grooming your Chocolate Labradoodle is challenging for you, you can get the help of a professional Labradoodle groomer. Like mastering a subject, becoming better at grooming will take time and patience.
It would be best if you groomed your Labradoodle when it's still young because it hasn't developed any habits. By shaping your Labradoodle and training it to obey you at a young age, you'll have a much easier time by the time they're older.
Related: Do Labradoodles Shed and Are Labradoodles Hypoallergenic?
Do Chocolate Labradoodles Have Health Issues?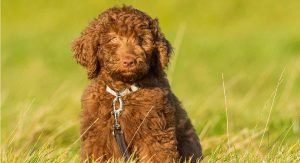 Studies conducted on many dog breeds show that this dog breed may be prone to obesity, auditory, and joint problems. While there isn't much information about whether the Chocolate Labradoodle can easily suffer from these problems, providing it a healthy lifestyle can significantly reduce any potential issues.
The best way to determine your companion's health status is to adopt a companion from a reliable breeder. There are numerous puppy mills out there for unethical reasons. By finding a trustworthy and reputable Labradoodle breeder, you'll be in good hands.
Breeders who test dogs for cellular disorders before crossing often gets offspring with no genetic diseases. Reputable breeders have numerous years of experience, which means they know what they're breeding. If you find any Chocolate Labradoodle deals that appear too good to be true, keep an eye out for any potential red flags. An example of a red flag is when a Labradoodle breeder cannot provide test reports of their puppies.
Related: How Long Do Labradoodles Live?
Conclusion For The "Best Chocolate Labradoodle Coat Color Guide"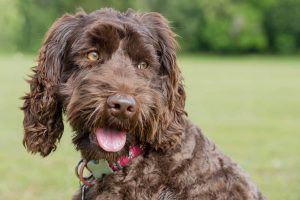 The Labradoodle's colors vary. Depending on its coat's thickness, your companion's hue can appear lush and shiny. While color is a crucial factor in choosing a Labradoodle companion, temperament remains the top priority when selecting a dog. When it comes to a sweet and friendly temperament, the Chocolate Labradoodle registers as an outstanding choice for families with children and other household pets.
For more information about Labradoodles, check out other guides from WeLoveDoodles:
To learn more about the Chocolate Labradoodle, watch "First Week With Our New Puppy" from Tony and Lyndsay down below: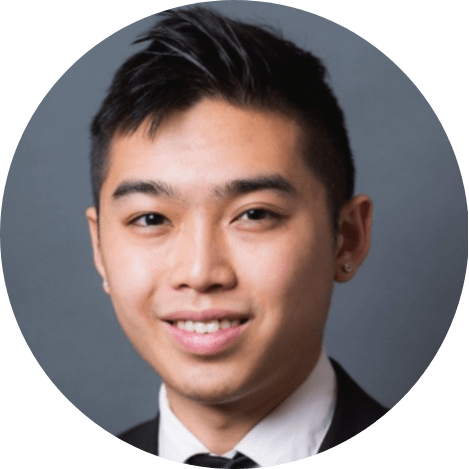 Andy is a full-time animal rescuer and owner of a toy doodle. When he's not saving dogs, Andy is one of our core writers and editors. He has been writing about dogs for over a decade. Andy joined our team because he believes that words are powerful tools that can change a dog's life for the better.
Why Trust We Love Doodles?
At We Love Doodles, we're a team of writers, veterinarians, and puppy trainers that love dogs. Our team of qualified experts researches and provides reliable information on a wide range of dog topics. Our reviews are based on customer feedback, hands-on testing, and in-depth analysis. We are fully transparent and honest to our community of dog owners and future owners.