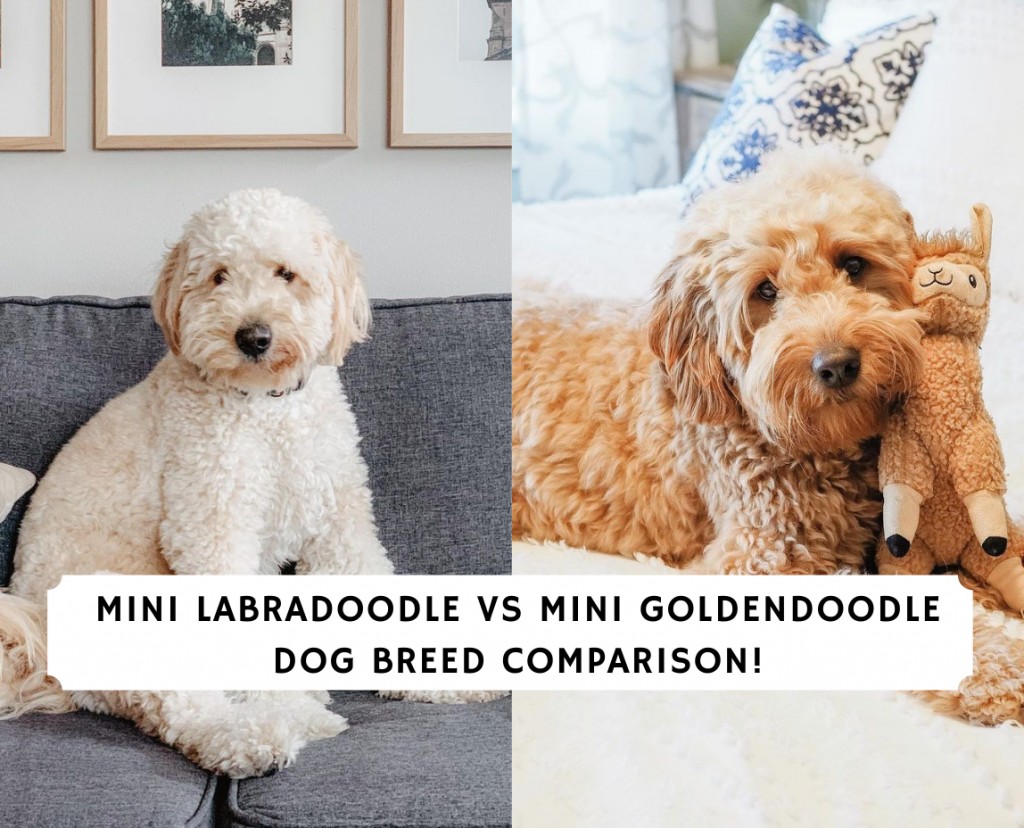 The mini Labradoodle and mini Goldendoodle both derive from crossing a larger dog breed with the miniature or toy Poodle. The Golden Retriever and Labrador Retriever are crossed with this much smaller dog breed to combine the best characteristics of each breed. The mini Labradoodle and mini Goldendoodle are the smallest versions of these designer dogs. There are several differences between these two dog breeds in terms of looks, personality, temperament, and size.
Both the mini Goldendoodle and mini Labradoodle remain small in stature in adulthood, with nonshedding and hypoallergenic hair that's now distinctive of Poodle hybrids. Small in stature but large in personality, they're cuddly and smart dogs with low shedding. However, there are major differences between the mini Labradoodle vs mini Goldendoodle. We will provide you will a quick summary of the differences between the two dog breeds and go more in-depth.
Differences between the mini Goldendoodle vs mini Labradoodle:
Mini Goldendoodles typically have a slightly softer and fluffier coat than mini Labradoodles. This is because Labrador Retrievers have more coarse hair than Golden Retrievers.
Mini Labradoodles will be slightly bigger than mini Goldendoodles because the Labrador Retriever is typically bigger than the Golden Retriever. However, this highly depends on the genetics of the parent dogs.
Mini Labradoodles tend to be lighter in color than mini Goldendoodles. However, both breeds come in a variety of coat colors including cream, red, tan, chocolate, merle, sable, and parti.
The mini Goldendoodle definitely needs more human interaction than a mini Labradoodle. However, both breeds will enjoy being close to their humans and cuddling.
If you get a mini Goldendoodle or mini Labradoodle, both will require a significant amount of brushing and regular haircuts to prevent tangles and mats in their fur. Since their fur doesn't shed, you need to regularly maintain their coat.
Both the mini Labradoodle and mini Goldendoodle are full of energy and loyal to their owners. We suggest that you try to live an active lifestyle before purchasing or adopting one of these dogs.
Other articles you would like: Best Dog Food for a Goldendoodle Puppy and Best Dog Crate for a Goldendoodle 
What is the Mini Goldendoodle?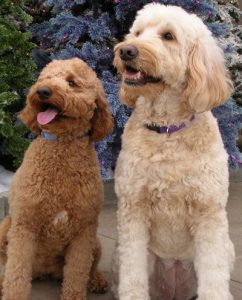 Mini Goldendoodles are a blend of the toy or miniature Poodle, bred with a Golden Retriever. Their popularity over the last several years means that reputable breeders typically have achieved genetic consistency between each multi-generational litter. Usually, mini Goldendoodles will be less than 35 pounds. However, there are subcategories of the mini Goldendoodle that can be smaller including the micro Goldendoodle and teacup Goldendoodle.
The mini Goldendoodle is perfect for families because they're small, loyal like a Golden Retriever, and don't shed nearly as much. Intelligence and playfulness are other qualities that, thanks to the Poodle genes, characterize this small to medium-sized dog breed.
This designer breed is definitely cute and loyal, far more intelligent than the average breed, and totally lovable for almost any family. Other pets are rarely an issue when interacting with mini Goldendoodles, including both cats and dogs already living in the home. This is due to their easygoing temperament.
What is the Mini Labradoodle?
The mini Labradoodle, with its Poodle and Labrador parentage, is the smallest size of the Labradoodle. Dog lovers have been impressed thus far with reputable breeder results because their litters produce many healthy puppies of smaller stature and good health. They can still suffer from health ailments on either side of the breed, however, they seem to have generally healthy outlooks as puppies and adults.
The mini Labradoodle is small and adorable with long fur that is coarse and doesn't shed all that much. This is a superb choice for anyone worried about being knocked over by a larger Labradoodle or who doesn't have a large living space.
The mini Labradoodle can be taught almost any command, a testament to the intelligence on either parent's side. They are the perfect dog breed choice when adopters need a low-shedding and small size in the pet family member.
Mini Labradoodle vs Mini Goldendoodle: Which is Bigger?
Mini Goldendoodles have an average height of 13 to 20 inches, a result of the shorter stature of the Miniature Poodle. Their weight average is between 15 and 35 pounds, which also varies depending on whether the dog is male or female.
In general, Mini Labradoodles are shorter than their Goldendoodle counterparts, with an average height of about 14 to 21 inches. Also, they weigh slightly more than Mini Goldendoodles, as the Labradoodle Miniatures can weigh about 15 to 40 pounds, although this can vary from dog to dog.
In general, there are two subcategories of the mini Labradoodle and mini Goldendoodle:
Teacup Goldendoodle or Teacup Labradoodle: This is the smallest mini version of these two dogs that you can purchase. They typically weigh less than 13 pounds and stand 11 inches tall.
Toy Goldendoodle or Toy Labradoodle: Sometimes called petite instead of toy, this dog weighs less than 20 pounds and stands around 14 or 15 inches tall.
Overall, the mini Labradoodle is expected to be slightly bigger than the mini Goldendoodle.
Mini Labradoodle vs Mini Goldendoodle to Temperament
First, mini Labradoodles are known to be intelligent and willing to follow the commands of a consistent owner. They can be lively and willing to play with people and other dogs very frequently. In addition, Labradoodles have a friendly attitude toward other types of animals in the home and will even get along with strangers when properly socialized.
Likewise, the mini Goldendoodle has is a loyal attitude to their beloved humans and always wants to please their owners with every action. Even more than Labradoodles, the Mini Goldendoodle needs near-constant attention from humans and thrives on close contact with their owners.
Mini Labradoodle vs Mini Goldendoodle: Life Span
Golden Retrievers and Labrador Retrievers have similar lifespans of about 10 to 12 years. The mini Goldendoodles and mini Labradoodles will usually live longer than 12 years before they are smaller dogs. In general, smaller dogs tend to outlive larger dogs.
The Mini Goldendoodle lives slightly longer and has a lifespan of 12 to 15 years. On the other hand, the Mini Labradoodle lives a little shorter life on average living 12 to 14 years. Both are medium length in terms of their lifespans. They can exceed these lifespans with optimal pet care and regular exercise.
Mini Labradoodle vs Mini Goldendoodle: Health
Hybrid dogs, like the mini Goldendoodle and mini Labradoodle, have health risks from both the parent dogs but inherit a genetic trait called Hybrid Vigor. Hybrid Vigor essentially means that the hybrid offspring will always be more healthy than the purebred parent dog. This is because purebred dogs are constantly bred back to the same bloodlines and pass down the same genetic diseases.
The Mini Labradoodle health risks for Hip Dysplasia, as this is a disorder that impacts both the Poodle and the Labrador Retriever. Also, both breeds suffer from Progressive Retinal Atrophy, which eventually limits the dog's eyesight and progresses over time, especially as they age.
Progressive Retinal Atrophy also affects the Mini Goldendoodle, a breed that also suffers from bloat and ear infections more than other dogs. Due to a large preponderance of allergies and digestive issues, eating the right food is even more important in this breed than other designer dogs and purebreds.
Mini Goldendoodle vs Mini Labradoodle Appearance
The mini Labradoodle looks a lot like the mini Goldendoodle with a few key differences. They both enjoy similar coats and semi-curly fur. Although they're considered miniature, they're actually closer to a medium-sized breed in appearance.
The Mini Labradoodle is slightly heavier than the Mini Goldendoodle, weighing about five to ten more pounds on average. However, the Mini Goldendoodle is usually a little taller than the Mini Labradoodle.
Mini Labradoodles are available in different shades ranging from chocolate brown to almost blond in color. Mini Goldendoodles are usually slightly darker in color, and can even have patches of white on their chest. As crossbred dogs, the appearance of both these breeds varies greatly depending on the genotype and phenotype of the parent dogs.
Mini Goldendoodle vs Mini Labradoodle: Grooming
Mini Labradoodles and mini Goldendoodles both need to be groomed regularly in a professional manner. These two hybrids get their coats of wavy or curly fur from the Poodle side. Neither the mini Goldendoodle nor mini Labradoodle doesn't shed, so they need their hair cut regularly with brushings in between. This prevents tangles and mats in their fur.
Smaller dogs like miniature Goldendoodles or Labradoodles are generally easier to groom, and many dog groomers are familiar with exactly how to care for these special and popular crossbreeds. In addition to professional grooming, you will also need to regularly trim their nails, brush their teeth, and clean their ears.
Mini Goldendoodle vs Mini Labradoodle: Training
The Mini Labradoodle and mini Goldendoodle are relatively newer hybrid dogs that are quickly gaining traction in the dog community. Also, both are super trainable breeds that can rival any breed in terms of general intelligence. You might even need to hire a trainer, especially if you're not an experienced dog owner. This is because Doodles are extremely intelligent dogs and will often times try to outsmart their owners.
Training a Mini Labradoodle is a similar experience to training a mini Goldendoodle. They're both quick in learning to sit, stand, stay, and can even perform guide dog-level tasks if trained properly. Both these dogs are half miniature Poodle, a breed that absolutely needs training to be properly stimulated and engaged due to their high intelligence.
Mini Goldendoodle vs Mini Labradoodle: Cost
Mini Labradoodles require regular haircuts and grooming, which can lead to added expenses on a regular basis compared to other breeds. As a miniature breed, owners save some money on grooming expenses because it takes less time to clean them up due to their smaller size.
Mini Goldendoodles are smaller, too, which could allow for some savings at the groomer. This breed is a hybrid, which means that they could have expenses related to health risks on either side of the cross. Overall, they're moderately expensive to look after, just like the Mini Labradoodle. You should budget at least $1,000 per year to buy food, toys, accessories, and pay medical bills.
The initial cost for a mini Goldendoodle or mini Labradoodle will usually be between $2,000 and $4,000. Price is usually determined by the reputation of the owner, the Doodles coat color, and geographic location.
Conclusion for Mini Labradoodle or Mini Goldendoodle
The mini Labradoodle and mini Goldendoodle are similar yet unique dogs. At first glance, it's unlikely that you will be able to tell the difference between these two dogs. However, the major differences are that mini Goldendoodles have softer fur than the mini Labradoodle. The mini Goldendoodle will usually be slightly smaller than the mini Labradoodle but will have more energy. Lastly, Labradoodles usually be lighter in coat color than the Goldendoodle. However, everything depends on genetics, and with hybrid breeds it's difficult to predict!
Other articles you might like:
Garrett loves animals and is a huge advocate for all Doodle dog breeds. He owns his own Goldendoodle named Kona. In addition, he volunteers at the Humane Society of Silicon Valley, where he fosters dogs and helps animals. Garrett enjoys writing about Doodles and believes that dogs can teach humans more about how to live than humans can teach a dog.
Why Trust We Love Doodles?
At We Love Doodles, we're a team of writers, veterinarians, and puppy trainers that love dogs. Our team of qualified experts researches and provides reliable information on a wide range of dog topics. Our reviews are based on customer feedback, hands-on testing, and in-depth analysis. We are fully transparent and honest to our community of dog owners and future owners.