The Mastipoo, also known as the Mastidoodle, is a large dog breed that is made up of the Mastiff and Poodle.  There are several different types of Mastiff that the dog can have including the Tibetan Mastiff, Spanish Mastiff, Pyrenean Mastiff, and several others. This Mastiff Poodle mix has large fluffy hair and is a watchful dog that may look quite intimidating.  However, the Mastipoo is generally a very nice and well behaved dog that is not agressive at all. This Mastiff Poodle mix has been trending with breeders due to the hypoallergenic qualities and easygoing personality. You'll quite often observe this dog with their tongue out and a smile all over their face because of their caring character. The issue with Mastiff's is that they shed a ton of hair whether it is around your house or on your garments. Breeding a Poodle Mastiff mix eliminates a significant portion of the shedding issues because Poodles are a non shedding dog breed.
In case you're keen on getting one of these Mastiff Poodle mixes, you'll have to ensure that you can care for a large dog which includes regular walking and mental stimulation. Since the Mastipoo isn't considered a purebred dog, their hereditary traits vary widely from both the Mastiff and Poodle breeds which means size, appearance, and temperament isn't guaranteed. Continue reading to learn all about the unique Mastiff Poodle mix. 
What is a Mastiff Poodle Mix? 
The Mastiff Poodle mix is exactly how it sounds, a mix between the Mastiff and Poodle dog breeds.  The Mastipoo has several nicknames including the Mastipoo, Mastidoodle, and hypoallergenic Mastiff.  Mastipoo's are typically large dogs that can range in a variety of colors and sizes.
Combining a Mastiff and Poodle dog breed doesn't make the most logical sense since they have very different personalities and originate from different areas of the world.  However, the Mastiff Poodle mix brings together some of the best hereditary characteristics that a dog can have including being hypoallergenic, very low shedding, and multi-colored dogs. Personality wise, the Poodle Mastiff mix has a brilliant character of being extremely loving, gentle, watchful, and derpy.
Mastipoo Dog Breed History 
Mastipoo's haven't really been around for that long and only recently originated within the last 20 years when breeders were trying to create a breed of Mastiff that doesn't shed. The Mastiff Poodle mix presents superior genetic and personality qualities which is why breeders continue to make the Mastidoodle.
Mastiff History 
The Mastiff is one of the largest dog breeds in the world that originates over 3,000 years ago from the countries of Europe and Asia. Initially utilized as a huge herding dog, the Mastiff was also used as a guard dog to intimidate intruders and ward off predators from eating livestock.  The Tibetan Mastiff is the most common Mastiff breed that has a thick black and brown coat that comprises of two fur layers for extra warmth. These dogs are very soft, have a loud bark, and are extremely intelligent creatures that can be stubborn at times. Tibetan Mastiff's are extremely large and can grow anywhere from 120 to over 200 pounds. Males Mastiff's can reach around 33 inches tall which is tall enough to topple a grown human being.
Poodle History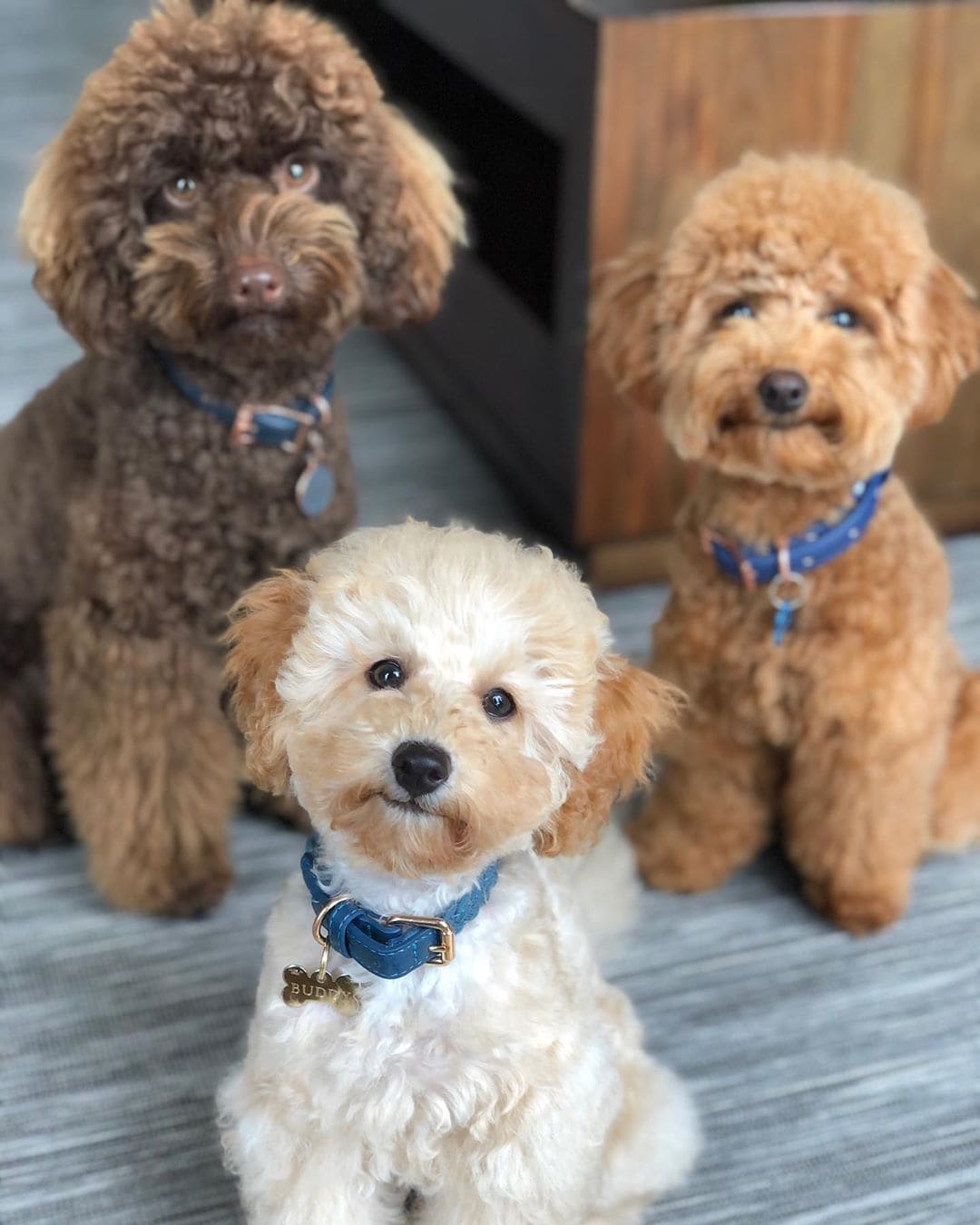 The Poodle is one of the most famous pooches (seventh most mainstream breed as per the AKC) on the planet since they don't shed and are profoundly smart. The origin of the Poodle is frequently argued on whether they started from Germany or France. In any case, The Poodle was utilized widely for activities in the water, animal herding, and various other agility needs. As the Poodle grew in popularity, they began being reproduced in a different sizes and colors. Since the Poodle is one of the most intelligent and agile dogs on the planet, they can be highly trained for any agility activity. The best quality about the Poodle is that they don't shed and are hypoallergenic. Dog owners that have hypersensitivities to allergens and prefer a non shedding dog will want some Poodle hereditary qualities. 
The Mastipoo Breed 
Both the Mastiff and Poodle have become incredibly popular dogs which causes them to be bred in many different sizes and colors. Today, you can discover the Poodle in a few standard sizes including the Toy Poodle, Mini Poodle, and Standard Poodle. Poodles likewise come eleven different colors ranging from white to red. Thus, as one can imagine, the Mastiff Poodle mix will have several different sizes and color shades primarily based on the Poodle parent. 
Mastiff Poodle Mix Appearance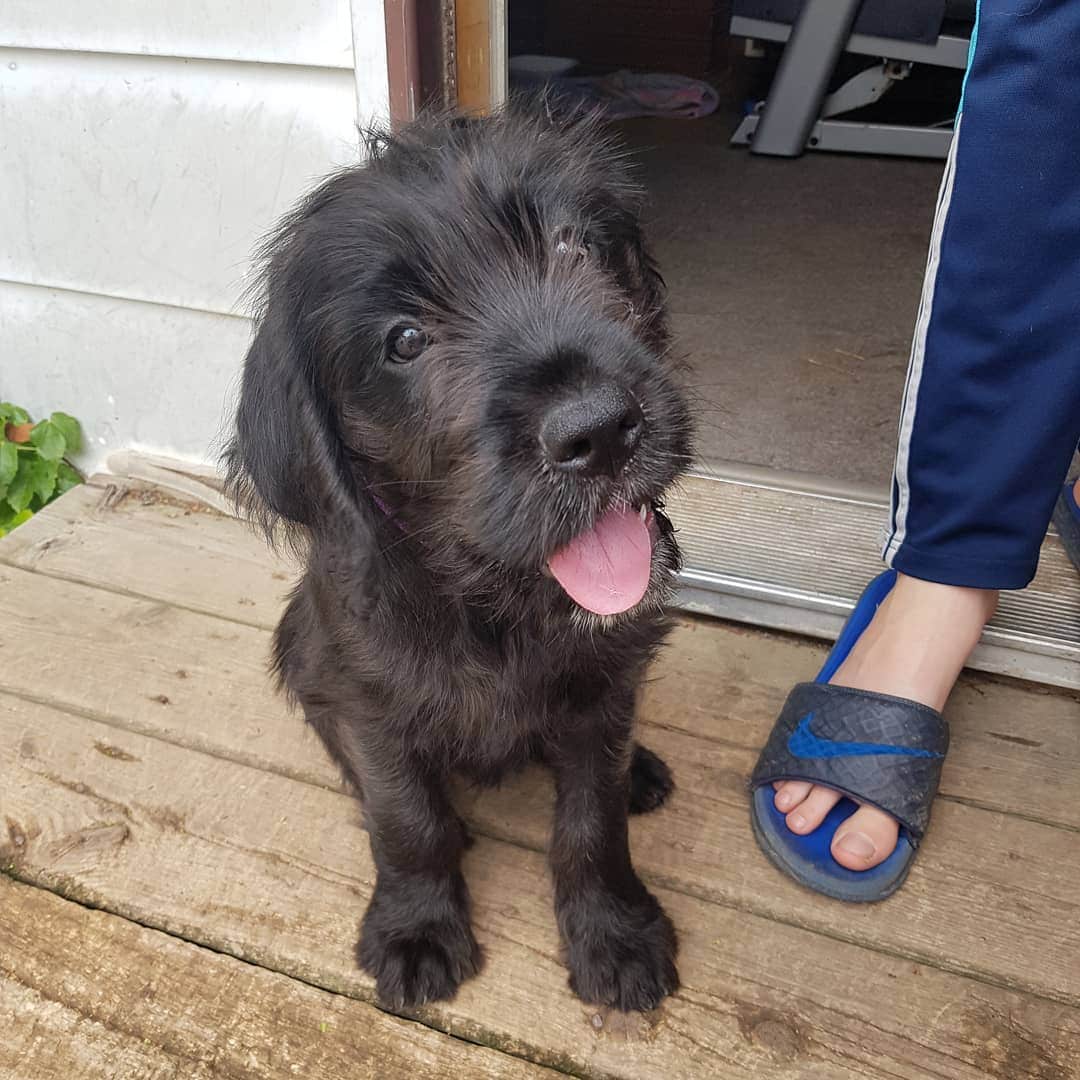 The Mastipoo, or Mastiff Poodle mix, is most commonly seen with a black and brown coat color. However, these dogs can be multi-color (typically black and brown), white, or even cream depending on what type of Mastiff and what color Poodle.  The most common combination is the Tibetan Mastiff and Poodle mix. However, other common Mastiff Poodle mixes include the American Mastiff, Bull Mastiff, and Pyrenean Mastiff.
In addition, Poodles come in 11 different standardized colors so it's difficult to figure out what shading the Poodle Mastiff mix will be. You can normally get a decent comprehension of what shading your Mastipoo will be based on the colors of the parent Mastiff and parent Poodle. Just keep in mind that the Poodle Mastiff mix can end up being multi-color or a coat shading that neither one of the parents had due to recessive genes.
In general, the Mastipoo is typically a dark color since the Mastiff shading is a relatively consistent black or brown color. Most breeders will use a dark colored Mastiff that is bred with a darker colored Poodle to keep the original color of the Mastiff. The Poodle Mastiff mix ordinarily comes in two distinct sizes which is the miniature Mastidoodle and Standard Mastidoodle.
Miniature Mastidoodle / Mini Mastidoodle 
The miniature Mastidoodle normally weighs under 35 pounds. The mini Mastidoodle is normally made by utilizing a male toy Poodle and a smaller female Mastiff. These sorts of dogs are ideal for small living quarters such as an apartment or condo. In general, the miniature Mastidoodle will require less exercise than the standard Mastidoodle.  The miniature Mastipoo is pretty rare due to the fact that most Mastiffs are over 100 pounds and most Poodles are over 50 pounds. Most Mastipoo's will fall under the Standard Mastidoodle category.
Standard Mastidoodle
The standard Mastipoo is a dog that weighs more than 35 pounds. The most common size for a Standard Poodle Mastiff mix would be 60 to 80  pounds and around 22 to 26 inches in stature. The weight and size of a Mastidoodle can frequently differ since this is not a purebred dog. Keep in mind that the bigger the Mastipoo gets, the more exercise that they will require to keep from getting bored.
Mastidoodle Temperament 
The Mastipoo is generally a very nice dog that is more passive than aggressive.  This makes for the ideal family pet if you have kids or other animals in the household. This Poodle Mastiff mix is constantly watchful, will gently play with others, and enjoys being loved. On the downside, Mastipoos require a relatively high amount of exercise and mental stimulation (like giving your dog a horn to chew on). In general, the Mastiff Poodle mix doesn't work well if both pet owners are gone for long periods of time as this type of dog can develop separation anxiety. Without appropriate exercise and care, the Mastidoodle can be disobedient and destructive.
Is a Mastipoo the Right Dog for Me? 
If you aren't stressed about having a purebred dog, the Mastipoo could be perfect for you. The Mastiff Poodle mix has incredible genetic and temperament attributes that make it a great pet. These dogs are extra fluffy, tender, insightful, and great with families. 
The Poodle hereditary qualities give the Mastipoo hypoallergenic and non shedding genes. One of the worst issues with a Mastiff is that they shed huge amounts of hair all around your house, vehicle, or on your garments. Crossbreeding the Mastiff and Poodle together will help with the amount of hair that your Mastidoodle sheds. Also, if you have pet hypersensitivities or severe allergies, the Mastiff Poodle mix is an incredible kind of dog to consider since the two breeds are considered hypoallergenic. However, just keep in mind that you will have to regularly groom your Mastipoo which means regular dog haircuts, brushing, and combing to prevent their hair from matting. 
Both the Poodle and Mastiff are viewed as healthy dog breeds that will have a life expectancy of 10 to 12+ years. The advantage of getting a dog that is not a purebred is that they typically don't suffer from the same medical problems that you find in purebred dogs due to a genetic feature called Hybrid Vigor.
Conclusion for Mastiff Poodle Mix (Mastipoo, Mastidoodle)
No one can pick the perfect dog for you and your current situation. However, we hoped that we helped you decide whether this unique Poodle Mastiff mix will be the correct dog for you. The Mastidoodle mix is trending amongst breeders because they are for the most part non-shedding, hypoallergenic, easy going, and fun. The mix of good physical and character qualities make this dog extraordinary. Ultimately, in the event that you have a family, this Poodle Mastiff blend is a decent choice for you. Just know that this dog is typically very large and very furry!
Other articles to read:
Frequently Asked Questions 
What do you call a Mastiff Poodle mix? 
The most widely recognized nickname for Mastiff Poodle mix is the Mastipoo or Mastidoodle. In addition, they are sometimes called the Poodle Mastiff mix or Hypoallergenic Mastiff. This is a trending dog breed that is getting increasingly popular.
What does a Mastiff Poodle mix look like? 
The most widely recognized Mastiff Poodle mix is black or brown. However, there are several different colors of the Mastiff Poodle mix that can be muli-color, white, or cream.  It highly depends on the genetics of the parent Mastiff and parent Poodle.
Garrett loves animals and is a huge advocate for all Doodle dog breeds. He owns his own Goldendoodle named Kona. In addition, he volunteers at the Humane Society of Silicon Valley, where he fosters dogs and helps animals. Garrett enjoys writing about Doodles and believes that dogs can teach humans more about how to live than humans can teach a dog.
Why Trust We Love Doodles?
At We Love Doodles, we're a team of writers, veterinarians, and puppy trainers that love dogs. Our team of qualified experts researches and provides reliable information on a wide range of dog topics. Our reviews are based on customer feedback, hands-on testing, and in-depth analysis. We are fully transparent and honest to our community of dog owners and future owners.