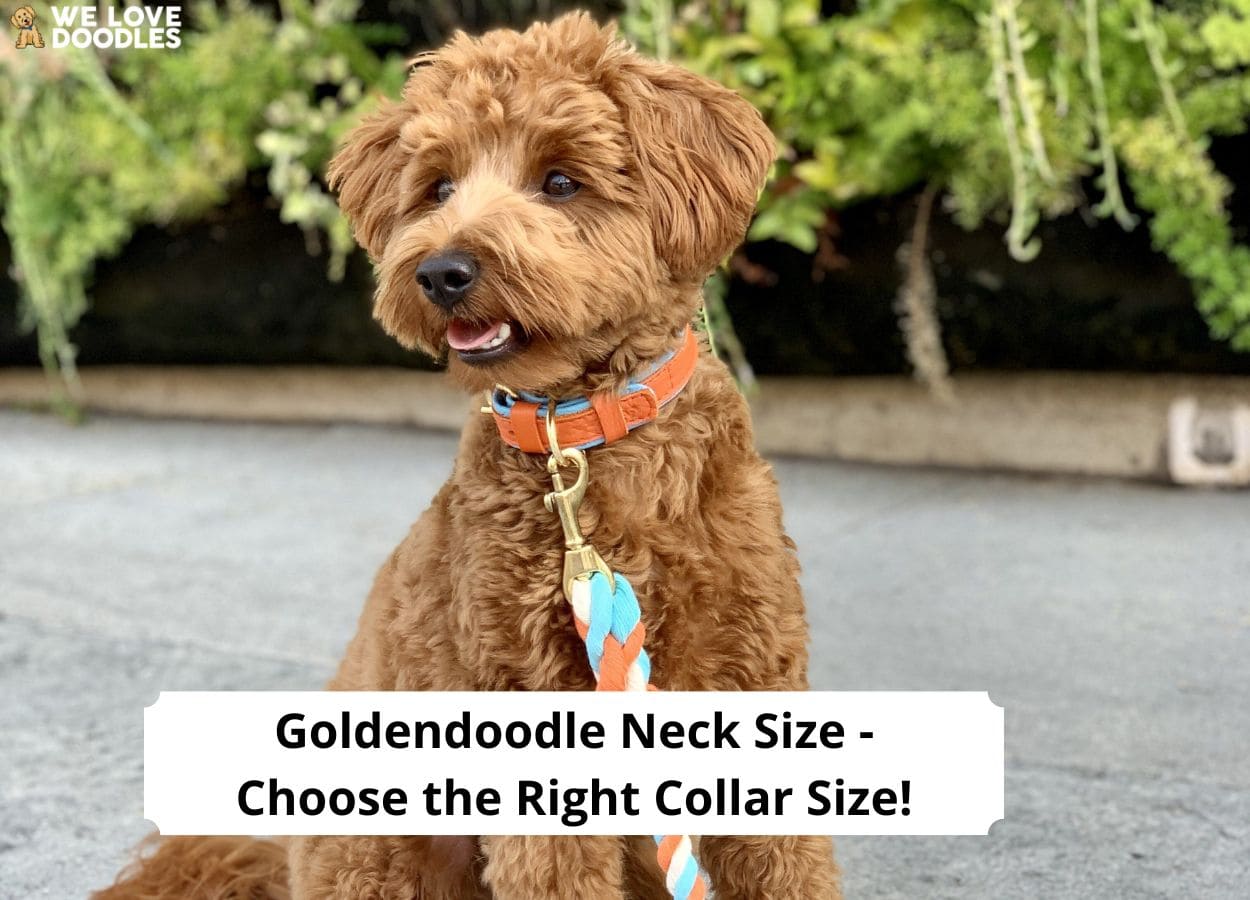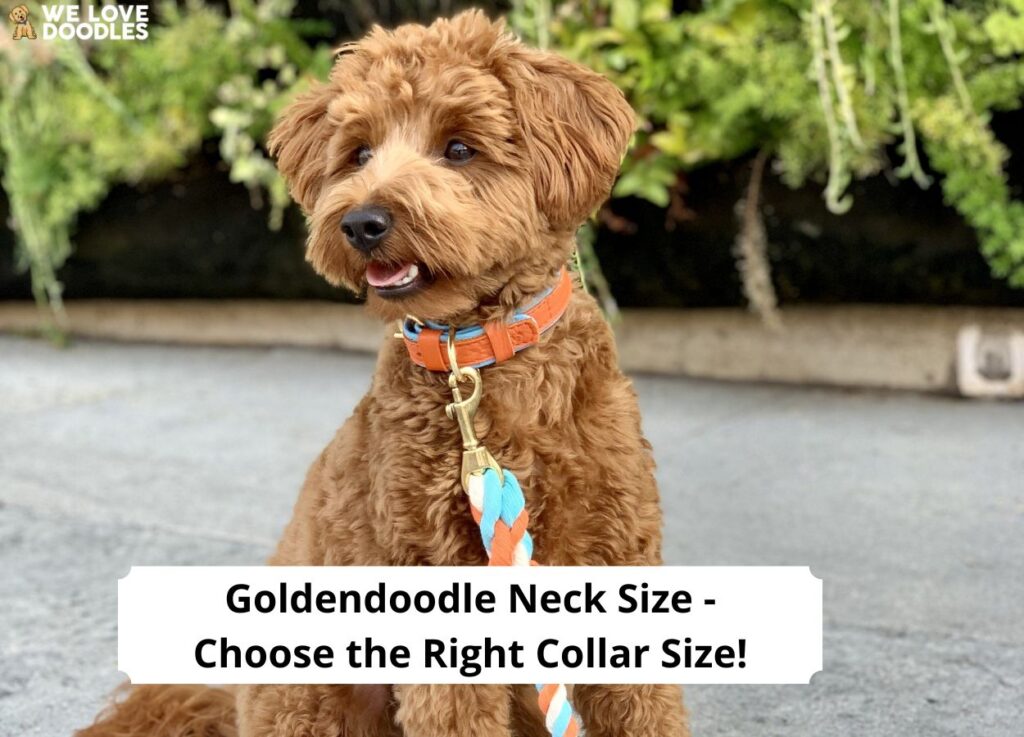 So, you just got a Goldendoodle and need to stock up on the essentials? Along with dog food, dishes, and toys, you'll need to pick out a collar. Besides any legal requirements, it might seem pointless to buy one, but they can help keep your dog safe.
A collar with an ID tag will provide helpful information to whoever finds your dog, in the unfortunate case they've run away. That information will only be available if your dog has a collar that fits properly. A loose collar may fall off.
A loose collar may also lead to your dog running away in the first place. If you want to take your Goldendoodle for a walk with a loose-fitting collar, it could slip out of it and take off running in a heartbeat. It's so important to choose the right collar size!
Before you scroll further down this guide, "Goldendoodle Neck Size – Choose the Right Collar Size," you can check out these other similar Goldendoodle guides: Best Dog Collars For Goldendoodles and Mini Goldendoodle Size Guide.
What is a Goldendoodle?
You may not be interested in what a Goldendoodle is, but learning about them will help you understand the variations in their sizes. Thus, the variations in collar sizes.
A Goldendoodle is a cross-breed of a Golden Retriever and a Poodle. Poodles are highly intelligent and have hypoallergenic coats. Golden Retrievers are gentle, affectionate, and intuitive. The Goldendoodle is a blend of two incredible breeds that results in friendly, smart, and healthy dogs.
Golden Retrievers are consistently medium-sized dogs, but Poodles have variety. Poodles come in three or four sizes, depending on who you ask. There are standard, medium, miniature, and toy. Sometimes the medium size isn't recognized as a separate class.
Naturally, the size of the Goldendoodle depends on the size of the Poodle that parented it. That's why there's not one nice answer to the question of collar size.
What Size Collar for a Goldendoodle?
It's important to remember that every dog is different, even within the same breed. You'll know how varied even sibling dogs are if you've seen a litter of newborn pups. These guidelines will be a great place to start, but keep your specific dog in mind.
There are several ways to figure out what size collar you need. You can choose a dog collar based on breed, weight, or neck size. You already know the breed, Goldendoodle, but that doesn't help much due to their size variation.
Here's a breakdown of the size based on weight:
| Weight of the Dog | Length of the Collar/Size |
| --- | --- |
| Up to 10 lbs | 12" or less/ Extra Small or Small |
| 11-25 lbs | 11"-15"/ Small |
| 26-55 lbs | 13"-18"/ Medium or Medium Long |
| 56-80 lbs | 16"-24"/Large or Extra Large |
Using your pup's weight isn't a poor way to go, but weight isn't indicative of everything. Different dogs can carry their weight in specific parts of their body. If you have the time, measuring the neck is the best way.
Measuring the neck is quick and straightforward. Take a cloth measuring tape and wrap it around your Doodle's neck. Taking measurements from multiple spots will give you a better idea, but you can measure at the base of their neck.
Necks are usually wider at the base, and the collar will usually sit there. It's a good idea to add two inches, no matter what measurements you come up with. It's better to purchase a collar a little too large than a little too small, especially since they're adjustable.
Goldendoodle Neck Size at 8 Weeks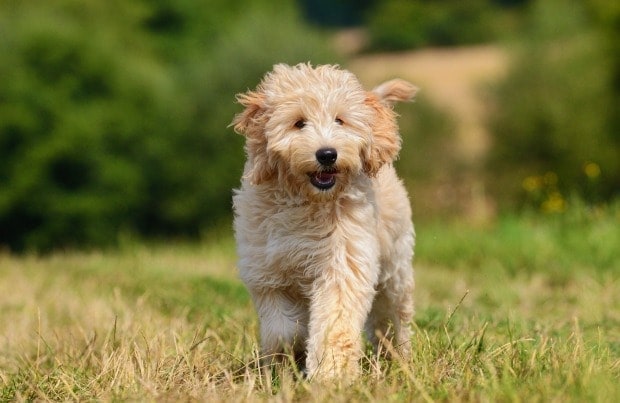 Puppies can technically leave their mother after six weeks, but it's better if they remain with her until eight weeks old. That's why we're starting with the neck size of eight-week-old puppies.
It's not necessary to have a collar on a puppy this size. The American Kennel Club recommends waiting until a puppy is ten weeks old before wearing a collar. A harness is safer if you really need something for them to wear.
You can use a collar if you really want to at this age. Buying an adjustable collar will come in handy. A collar that fits a neck size of around 6 inches should do the trick.
Goldendoodle Puppy Neck Size
Puppies grow up quickly, so it may be helpful to buy an adjustable collar. You'll probably need a collar between 7-9 inches long. This is again on a case-by-case basis, especially with puppies, since the category "puppy" includes dogs up to one year old.
Make sure to take the collar off frequently for periodic rest and during sleep. Puppies have developing necks that are sensitive. Be mindful of the width of the collar, too. Something too large or too small can become uncomfortable for your puppy's fur and skin.
Mini Goldendoodle Neck Size
An average Mini Goldendoodle adult has a neck size between 14-16 inches around and weighs between 15-30 pounds. A small collar will work if your Mini Goldendoodle fits within that average range. However, depending on the brand, you may need a medium collar.
It's always better to buy a collar a size bigger than a collar a size smaller. You can adjust the length to fit comfortably around your dog's neck if bigger. You can't make a collar longer if it's a small size.
Medium Goldendoodle Neck Size
An average Medium Goldendoodle adult has a neck size between 13-18 inches around and weighs between 30-45 pounds. This category is the one that isn't always separated from the Standard Goldendoodle category.
There's enough difference between them to justify separating them, though. You'll need a medium collar if your Medium Goldendoodle fits within this average range.
Standard Goldendoodle Neck Size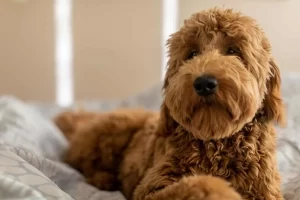 An average Standard Goldendoodle adult has a neck size between 16-22 inches around and weighs between 45-90 pounds. You'll need to buy a large collar if your dog fits within this average range.
However, depending on the brand, you may need a medium-long or an extra large. It's always better to err on the side of caution and buy a collar with a few inches of wiggle room.
The Two-Finger Test
The Two-finger test is a quick way to ensure you have a collar that's not too tight on your dog. After you put the collar on and adjust the tightness, ensure you can fit two fingers between the collar and the dog's neck.
The collar should have room to move around but should not be pressing into their skin. A snug fit is what you want to make sure the collar doesn't slip off, but it can't be too snug.
Another thing to look out for is that the collar can't slip over your dog's ears. Sometimes it'll feel tight enough but can still slide off from over their head.
Choosing a Goldendoodle Collar
Once you've figured out what size collar you need, you still have to decide what material and design to buy. If you've been to the pet store recently, you'll know there are hundreds to choose from. Where do you begin?
The first things you want to consider after the size and weight of your dog are the temperament and training it'll need. Here are the different types of dog collars.
Styles of Dog Collars
Flat-buckle collar:
This is the most popular choice for collars. It has a simple design and is easy to attach a tag to. It buckles or snaps closed.
Martingale collar:
This is a better choice for dogs with smaller heads or necks. The Martingale has a small chain at the end that links to rings that tighten when pulled.
Choke collar/chain: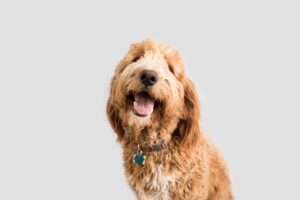 This collar does what it sounds like. It tightens around the neck when it's pulled. It may be necessary to use this in certain situations, but it's not a safe collar to use for long because there's nothing to safeguard against the chain pulling too tightly.
Prong/pinch collar:
These are similar to choke collars except that they have blunt metal prongs on the inside. They're supposed to dig into the skin and dissuade pulling. These aren't very safe either because they're easy to misuse.
Head halter:
A head halter is similar to what you'd put on a horse. The harness loops around the head and sits on the neck. Another strap loops around their muzzle and attaches to the leash. It's an excellent tool for training large dogs.
Body harness: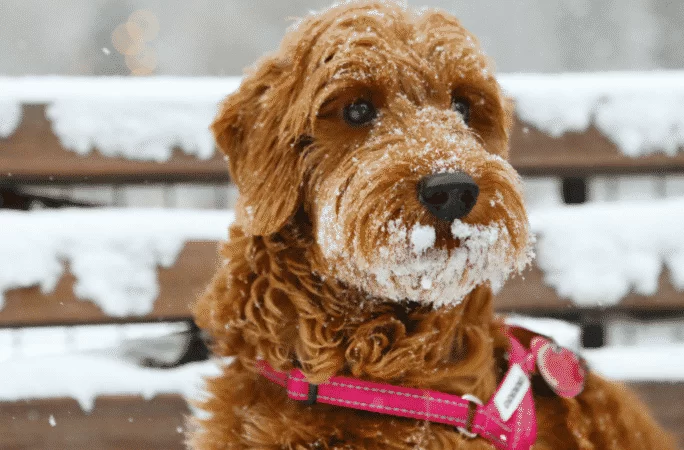 This is an excellent choice for smaller dogs or dogs with sensitive throats. It loops around the mid-section and underneath the chest, o there's no pressure on the neck.
Once you've picked out a style of collar, you'll need to decide on a material and a color. The color may depend on the color of your dog and your personal preference. There are some differences between collar materials that may impact your decision, though.
Dog Collar Material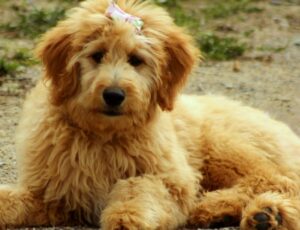 Nylon:
Nylon is probably the most popular choice. It's lightweight, affordable, easy to replace, and durable. The nylon webbing has tight-knit stitching that won't unravel easily. Some dogs may be allergic to it, though.
Hemp:
Hemp is a popular eco-friendly choice. It uses all natural materials and usually has a fleece lining for comfort. It's not as durable as other materials and may stretch out with use.
Leather: Genuine leather lasts a long time and looks stylish. They're more expensive and need to be cleaned regularly.
BioThane:
This material is smooth, durable, flexible, water-resistant, and cheap. It's an excellent choice for dogs that love going in the water. They can also be more expensive.
Now that you know the differences between styles of collars and the various materials, you can focus on what matters: the color! You can't have your incredibly fashionable Goldendoodle walking around with a boring collar color, after all.
Your decision depends on your personal preferences and what color fur your dog has. Goldendoodles come in about 20 different colors, so a variety of collars can work with their fur. If you're stuck at this stage, you could always let your dog pick it out themselves.
Conclusion For "Goldendoodle Neck Size – Choose the Right Collar Size"
Choosing the right collar for your Goldendoodle is so essential! A collar helps with training and with proper identification in the event your dog gets lost. But, there are so many different collars it can be overwhelming to decide which one to go with.
Taking your time and researching in advance will make the process quicker and more efficient. Your pooch will thank you when you pick out a comfortable, stylish collar that fits them well.
If you find this guide about Goldendoodle Neck Size helpful and informative, you can check out these other Goldendoodle guides from our team at We Love Doodles:
You can learn more about Goldendoodle Breed by watching "Things They Won't Tell You About Goldendoodles" down below:
Garrett loves animals and is a huge advocate for all Doodle dog breeds. He owns his own Goldendoodle named Kona. In addition, he volunteers at the Humane Society of Silicon Valley, where he fosters dogs and helps animals. Garrett enjoys writing about Doodles and believes that dogs can teach humans more about how to live than humans can teach a dog.
Why Trust We Love Doodles?
At We Love Doodles, we're a team of writers, veterinarians, and puppy trainers that love dogs. Our team of qualified experts researches and provides reliable information on a wide range of dog topics. Our reviews are based on customer feedback, hands-on testing, and in-depth analysis. We are fully transparent and honest to our community of dog owners and future owners.