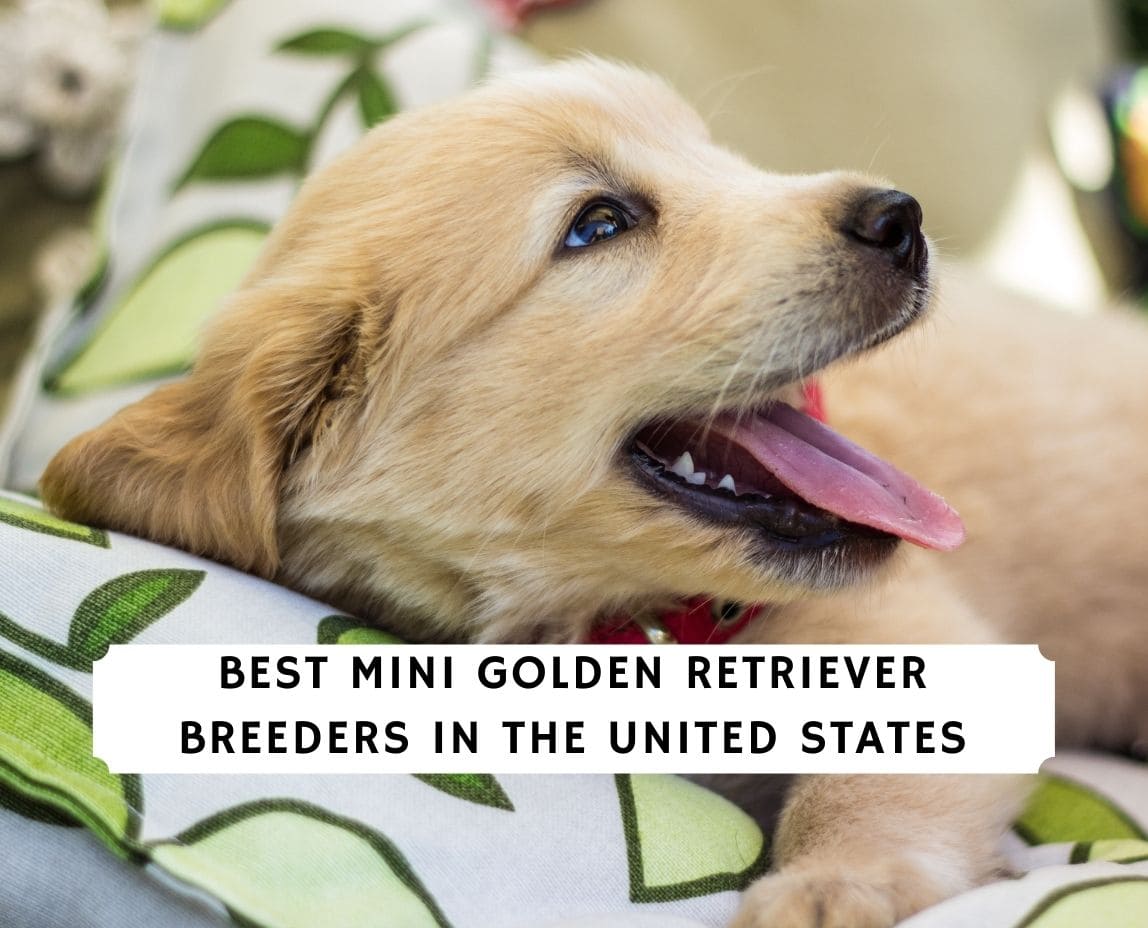 If you're searching for the best Mini Golden Retriever breeders in the United States, this list will help you find reputable kennels. Miniature Golden Retrievers have grown in popularity as lovable and friendly companions for families of all ages. If you're considering getting this smaller version of the lovable Golden Retriever, it's helpful to know exactly what makes this dog what they are – they are not simply a small golden retriever! 
What is a Mini Golden Retriever?
While their name may imply a smaller version of a Golden Retriever, this Miniature is actually a hybrid breed that brings together a Golden Retriever and a Miniature Poodle. Unlike full Goldendoodles, a crossbreed between Poodles and Golden Retrievers, these Minis are bred to be as close to the Golden Retriever as possible. This means they have a more similar coat, appearance, and temperament to the Golden Retriever than a Poodle. Their size is significantly smaller than Standard Golden Retrievers.
Find Golden Retriever breeders near you: Best Golden Retriever Breeders on the East Coast and Best Golden Retrievers in the Midwest.
Miniature Golden Retrievers often reach a weight between 20 to 45 pounds and a height of 14 to 20 inches when measured at the shoulders. Their exact size depends on their genetic makeup and their parents' size. As they are a mixed breed, they may also come with fewer health concerns, especially when the breeders are committed to preserving the breed's health. The temperament of the Miniature Golden Retriever is often very similar to that of the Standard. They are very friendly, loyal, and caring toward their families, other dogs, and strangers.
Golden Retrievers are considered medium to large-sized dogs that require space to roam, run, and stay active. What do you do if you have a space that can't accommodate such a dog that size? You choose a Miniature Golden Retriever. These smaller versions of the classic retriever are just as cute, active, and friendly as their larger counterparts. However, they're more than just Golden Retriever. To get their smaller size, they're crossbred with a Miniature Poodle. Often, these Mini Golden Retrievers are also called Minature Goldendoodles.
Before scrolling down the list of Mini Golden Retriever breeders, we think you might be interested in similar dog breeds: Best Red Golden Retriever Breeders in the United States and Best English Golden Retriever breeders in the United States.
Mini Golden Retriever's loyal and consistent temperament makes them ideal choices for serving as therapy dogs for those who need comfort and care. While the term "comfort retriever" is trademarked by GoldenQuest Comfort Retrievers (#2 on our breeder list!), it certainly describes the demeanor of most Mini Golden Retrievers. Minis can be calming, peaceful, and just what some people may need. While the Standard Golden Retriever is great to have around, a Miniature Golden Retriever may be a better fit for some families and lifestyles. 
When you're ready to move forward in purchasing a puppy on your own, finding a reputable breeder is an important next step. Once you're set on choosing a Mini, it's essential to find your perfect puppy from a breeder you can trust.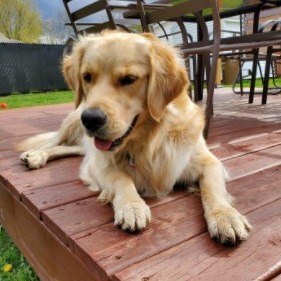 Mini Golden Retriever Puppies For Sale in the United States
You've decided to get a Miniature Golden Retriever! Your next step is to find a reputable and quality breeder you can trust to have both you and their puppies in their best interest. Ethical and healthy breeding practices are essential, especially for mixed breeds such as the Miniature Golden Retrievers. A reputable breeder not only can be trusted to meet health and temperament standards, but they'll also be there to support you throughout the dog's life.
Quality breeders will equip you with resources and essential knowledge to raise your puppy well so that both you and your puppy can thrive. They'll also be there for you if any issues or concerns arise with your puppy. Here we share a list of some of the top breeders for this breed to help you get started in your search for the perfect Miniature Golden Retriever. You'll find a brief overview of the breeder as well as initial contact information if you're interested in learning more about their purchasing process.
Prepare in advance for your Mini Golden Retriever companion with our recommendations: Best App-Controlled Dog Door and Best Stainless Steel Dog Bowl.
1. PuppySpot Mini Golden Retrievers
PuppySpot is by far one of the easiest places to get a Mini Golden Retriever. First, you'll avoid having to screen breeders since they have a 100-point inspection process that is American Kennel Club and USDA approved. You won't be supporting a puppy mill or an unethical breeder because they all must be state-registered and licensed. Second, PuppySpot has Golden Retrievers for sale today, so you won't have to wait on a long waitlist. Since they are a community of reputable dog breeders around the United States, they have puppies available.
Another benefit of PuppySpot is that it doesn't matter where you live in the United States. They are one of the few breeders that actually own their own airlines and can safely transport your mini Golden puppy no matter where you are located. To date, they have successfully placed over 220,000+ puppies. All their mini Golden Retrievers for sale come with a health warranty and a head-to-nose health check.
What's great is that for all the puppies, you not only see pictures, but you can see how much the parent dogs weigh. These weights will give you a good idea of how "miniature" your Golden Retriever puppy will be. We also got one of our puppies from PuppySpot and had a great experience. It saved us a ton of time to find a puppy, and we didn't have to worry about being scammed.
It's worth noting that PuppySpot has given our blog readers an exclusive discount of $100 with code "WLD100". We hope you enjoy your new puppy!

2. Taylormade Mini Goldens
Second on the list of Mini Golden Retriever breeders in the United States is Taylormade Mini Goldens. With the puppies at Taylormade, you'll find excellent health, amiable personalities, and a lifelong companion. They're bred with a focus on health and creating the ideal puppy size and demeanor. The food they feed the puppies is of high quality from PawTree. This focus on nutrition empowers the puppies to get off on the right foot both now and in the future.
Taylormade also offers a two-year health guarantee to assure these puppies' quality. If you're interested in a puppy from Taylormade, you can check their website to see if they have availability and are accepting puppy applications. If they're not available right when you check, reach out to them to get a sense of when their next litter might be. Puppies can be picked up at eight weeks old and come with a complete veterinarian check to ensure they are in good health. Taylormade also offers a Flight Nanny Service for an additional fee. One of their trained puppy nannies will personally fly your Mini Golden to the airport of your choice.

3. GoldQuest Comfort Retrievers
Kathy Burgess is the founder of Goldquest and is often celebrated as the one who bred the first Miniature Golden Retriever. Here, they focus on breeding puppies with personalities and temperaments ideal for therapy and service dogs. As their name implies, these puppies can provide significant comfort for their owners and families. Their breeding process is intentional, being very specific about the parent dogs used for best results in the litters.
Families interested in a Miniature Golden Retriever from GoldQuest Comfort Retrievers can start with their puppy application, which is in part a match-making process to help them choose the right puppy for their family and lifestyle. In addition to puppies, they also offer Guardian dogs. These dogs come with the same love and care as the puppies, just at a different age. For guardian dogs, an interview is required to move forward in the process. On their website, you can explore and learn more about their breeding process, attention to health standards, and overall commitment to providing families with the best possible puppy.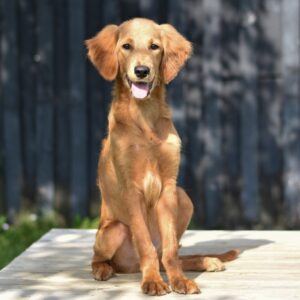 4. Pacific Northwest Miniature Goldens
Fourth on the list of Mini Golden Retriever breeders in the United States is "Pacific Northwest Miniature Goldens." Located in a small, family home, Miniature Golden Retrievers raised here are given intentional care, attention, and love. Puppies are bred with special attention to size, temperament, and excellent health. Before breeding, each dog is thoroughly health tested and screened for genetic concerns or health conditions. When puppies are ready to be welcomed into their forever homes, they are provided a two-year health guarantee. You can relax knowing that you have an assurance of their quality and excess of standards.
Puppies are also given their first round of vaccinations appropriate for their age. They have been dewormed for maximum support of their health. If you're interested in a puppy, you can check their website to see if they have any litter availability. Keep in mind that they may not always be accepting applications at all times of the year if their currently planned litter is already full. If they accept applications, you'll be required to complete an application and submit an initial deposit to secure your interest in an upcoming litter.
This application will also help the team at Pacific Northwest to match you with a puppy that's just right for your family and lifestyle. Online, you can browse extensive collections of photos of past and current litters. With so many adorable dogs, you'll love these miniature dogs even more. You can also follow along with their social media accounts. They'll share more updates and other adorable photos as you prepare to welcome home your Miniature Golden Retriever.
5. Mini Golden Paws
Mini Golden Paws makes our list because of their commitment to puppy health and socialization. Mini Golden Paws is run by Jaime Hafen, who has over 15 years of experience breeding dogs. She also grew up on a farm and has life-long experience raising animals! This breeder will socialize your puppy not only with other dogs but with the great outdoors. Jamie, her husband, and their three daughters spend all day socializing the puppies. Your Miniature Golden Retriever will truly have a "country-style" upbringing, from hiking to fishing and camping. Mini Golden Paws maintains an Instagram so you can see the mini golden puppies participating in all kinds of outdoor activities!
Another perk of Mini Golden Paws is that you can preview the dog parents on their website before purchasing your puppy. The genetic makeup and size of the parents is the best determiner of your Miniature Golden Retriever's appearance and size. Mini Golden Paws lists the breed percentages, height, and weight of each of their dog parents. They also have multiple photos and descriptions of each dog's temperament and health. The color of puppies sired by these parents ranges from reds and golds to light golds and cream colors (what some breeders may refer to as "English cream," but that is a misnomer – English cream just means a light cream color).
The only downside to Mini Golden Paws is their remote location. Shipping may be arranged at an additional cost. However, traveling to a breeder to pick up your Mini Golden puppy is often necessary (and worth it!). This way, you can trust that you are purchasing your dog from a reputable breeder. Meeting the breeder will also allow you to ask questions about your puppy's upbringing and health. Miniature Golden Retriever puppies from Mini Golden Paws come with a 2-Year Health Guarantee if you keep your puppy on PawTree Nutritional Dog food. They also do Orthopedic Foundation for Animals (OFA) certification and PennHIP screening, so you know your new puppy will be healthy for many years!
6. Tiny Golden Retrievers
Last on our list is Tiny Golden Retrievers, located in Southern California. Don't let the 1990s-era design of their website throw you off! Tiny Golden Retrievers, also known as Tiny Goldens, is a reputable breeder who truly cares about the long-term well-being of their Mini Golden Retriever puppies. Tiny Goldens screens their buyers and will only sell puppies to approved homes. They offer rebates if you complete formal training with your Tiny Golden puppy. Tiny Goldens also provide a wealth of information on their website to ensure that you are ready for the responsibility of Minature Golden Retriever ownership.
Tiny Golden Retrievers is a small-scale operation with only one to two litters of puppies each year. You know you are getting a puppy that has had dedicated attention. All of Tiny Golden Retrievers' Mini Golden Retriever Puppies are heavily socialized so they are very comfortable with kids and adults. Tiny Goldens has an Instagram and Facebook account so you can see photos of the Miniature Golden Retriever Puppies as they grow up. They also have photos of their Tiny Goldens with their furever families! With all of this and a 3-year health guarantee, you can't go wrong with choosing Tiny Golden Retrievers.
Conclusions for the Best Miniature Golden Retriever Breeders in the United States
The Golden Retriever's temperament and beautiful appearance make them a top choice for many families. When you're looking for a smaller version of this classic favorite, the Miniature Golden Retriever is an ideal choice. When you're ready to choose a breeder to get your puppy, it's crucial to find a reputable and quality breeder that you can trust. Use this helpful list of some of the top breeders with Miniature Golden Retrievers.
Even if you're not in the breeder area, it may be worth shipping or traveling to meet your puppy. Be sure you choose a breeder you know and trust to provide you with the best quality and customer experience. By asking questions, reading reviews, and being intentional about the Miniature Golden Retriever you choose, you can be one step closer to welcoming home your perfect puppy for your lifestyle and home environment.
Frequently Asked Questions about Mini Goldens:
How much do Miniature Golden Retriever Puppies cost?
Mini golden retriever puppy pricing typically ranges from $3,500 to $6,000, not including any travel that may be needed.
Do Mini Goldens shed less?
The amount a dog sheds is individual to each dog, but yes, in general, Miniature Golden Retrievers shed less than Standard Golden Retrievers. Consider purchasing a slicker brush to help control the amount your Mini Golden sheds around the house.
Is the Miniature Golden Retriever the smallest type of Golden Retriever?
While some may think the Mini Golden is the smallest type of Golden Retriever, Mini Goldens are technically not Golden Retrievers. Golden Retrievers are a singular breed with a specific set of standards, so there are no true "versions" or "types" of Golden Retrievers. According to the American Kennel Club, the official standard for sizing for a Golden Retriever is 23-24 inches in height for males and 21.5-22.5 inches for females (measured at the withers, i.e., the area above the shoulders). The Golden Retriever's official weight range is 65-75 pounds for males and 55-65 pounds for females. Miniature Golden Retrievers are a hybrid breed between a Golden Retriever and a Miniature Poodle. As their name implies, Minature Golden Retrievers do not get as big as standard Golden Retrievers. However, because they are a hybrid breed with no official sizing standards, Miniature Golden Retrievers' height and weight have a wider range. Their height is often 14 to 20 inches at the withers, and their weight may range between 20 to 45 pounds. 
Is a Miniature Golden Retriever an official dog breed? 
The American Kennel Club (AKC) does not recognize Miniature Golden Retrievers as an official dog breed. However, in 2010, the AKC started the AKC Canine Partners program for mixed breeds (like Mini Goldens) and other dogs not eligible for AKC Purebred Registration.
Can a Mini Golden Retriever be a therapy dog?
Yes! Because of their calm and gentle temperament, Mini Golden Retrievers make excellent therapy dogs. Additionally, a Miniature Golden Retriever can also be a service animal. The Americans with Disabilities Act (ADA) does not restrict which dog breeds can be service animals.
Where can I buy a Mini English Cream Golden Retriever?
From most Miniature Golden Retriever breeders! "English Cream" is not a type of Golden Retriever, it simply refers to a coat color that is light cream or close to white. If color is important to you, you can contact the breeders on our top breeders with Miniature Golden Retrievers list to see what coat colors they have in their current litters. However, beware of breeders that prioritize coat color in their breeding process. Some breeders may advertise "rare" or "platinum" Miniature English Cream Golden Retrievers as a ploy to sell more Minature Golden Retriever puppies.
Are Miniature Golden Retrievers and Teacup Golden Retrievers the same thing?
The term "teacup" is largely absent from academic literature, but some breeders informally refer to dogs that are selectively bred to be smaller as "teacup" versions of the breed. This slang term could mean that the Golden Retriever is bred with other dog breeds to make it smaller, which is the case for Miniature Golden Retrievers. This type of breeding can be done ethically with the dog's health in mind. However, breeding a "teacup" dog can also mean that dwarfism was introduced or that the runts of the litter were bred repeatedly in order to make small Golden Retrievers. These breeding methods can severely affect the health of the dog. Be wary of breeders advertising "teacup golden retrievers." If you want a Miniature Golden Retriever, use our list of best breeders to ensure your new furry family member is healthy and bred ethically!
For more articles with mentions of the Golden Retriever dog breed, check out:
To learn more about the Golden Retriever dog breed, watch "

Things Every Golden Retriever Owner Knows

" from The Dodo down below: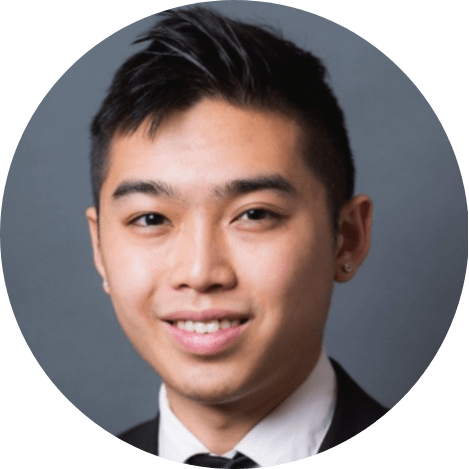 Andy is a full-time animal rescuer and owner of a toy doodle. When he's not saving dogs, Andy is one of our core writers and editors. He has been writing about dogs for over a decade. Andy joined our team because he believes that words are powerful tools that can change a dog's life for the better.
Why Trust We Love Doodles?
At We Love Doodles, we're a team of writers, veterinarians, and puppy trainers that love dogs. Our team of qualified experts researches and provides reliable information on a wide range of dog topics. Our reviews are based on customer feedback, hands-on testing, and in-depth analysis. We are fully transparent and honest to our community of dog owners and future owners.