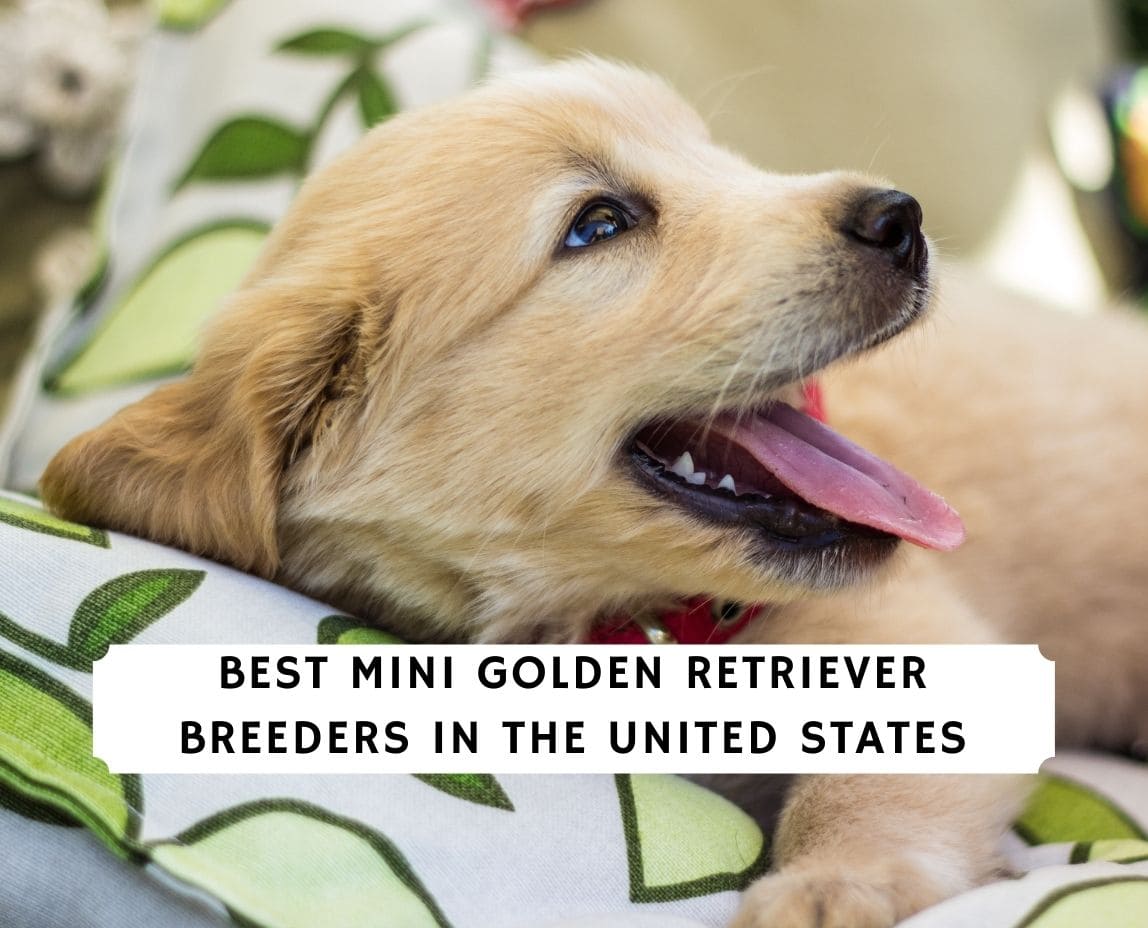 If you're searching for the best Mini Golden Retriever breeders in the United States, then this list will help you find reputable kennels. The Golden Retriever has grown in popularity as a lovable and friendly companion for families of all ages. They're both active and lively as well as loyal and faithful. As their name implies, the Golden Retriever has a coat of either deep gold or soft cream. Golden Retrievers are considered medium to large-sized dogs that require at least a bit of space to roam, run and stay active.
What do you do if you have a space that can't accommodate such a dog that size? You choose a Miniature Golden Retriever. These smaller versions of the classic retriever are just as cute, active, and friendly as their larger counterparts. However, they're more than just Golden Retriever. To get their smaller size, they're crossbred with a Miniature Poodle. Often, these Mini Golden Retrievers are also called Minature Goldendoodles.
If you're considering getting this smaller version of the lovable Golden Retriever, it's helpful to know exactly what makes this dog what they are. Our team at WeLoveDoodles will share the many things to love about these Mini Golden Retrievers and what you can expect as they grow and become part of your family. When you're ready to move forward in purchasing a puppy on your own, finding, a reputable breeder is an important next step.
Before scrolling down the list of Mini Golden Retriever breeders, we think you might be interested in similar dog breeds: Best Red Golden Retriever Breeders in the United States and Best English Golden Retriever breeders in the United States.
Mini Golden Retriever Dog Info
While their name may imply just a smaller version of a Golden Retriever, this Miniature is a hybrid breed that brings together a Golden Retriever and a Miniature Poodle. Unlike full Goldendoodles, a crossbreed between Poodles and Golden Retrievers, these Minis are bred to be as close to the Golden Retriever as possible. This means they have a more similar coat, appearance, and temperament to the Golden Retriever than a Poodle. Their size is significantly smaller than Standard Golden Retrievers.
Often, these dogs reach a weight between 20 to 45 pounds and a height of 14 to 20 inches when measured at the shoulders. Its exact size is very dependent on their genetic make-up and the size of the parents. As they are a mixed breed, they may also come with fewer health concerns, especially when the breeders are committed to preserving the breed's health. The temperament of the Miniature Golden Retriever is often very similar to that of the Standard. They are very friendly, loyal, and caring toward their families, other dogs, and strangers.
This loyal and consistent temperament makes them ideal choices for serving as therapy dogs for those who need comfort and care. These Minis carry a demeanor and presence that can be calming and peaceful, and just what some people may need. While the Standard Golden Retriever certainly is great to have around, a Miniature Golden Retriever has a smaller size that may be a better fit for some families and lifestyles. Once you're set on choosing a Mini, it's essential to find your perfect puppy from a breeder you can trust.
Find Golden Retriever breeders in more specific areas: Best Golden Retriever Breeders on the East Coast and Best Golden Retrievers in the Midwest.
Mini Golden Retriever Puppies For Sale in the United States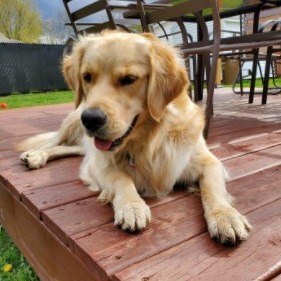 You've decided to get a Miniature Golden Retriever! Your next step is to find a reputable and quality breeder that you can trust to have both you and their puppies in their best interest. Especially when it comes to mixed breeds such as the Miniature Golden Retrievers, ethical and healthy breeding practices are essential. A reputable breeder not only can be trusted to meet health and temperament standards, but they'll also be there to support you throughout the dog's life.
They'll equip you with resources and essential knowledge to raise your puppy well so that both your puppy and you can thrive. They'll also be there for you if any issues or concerns arise with your puppy too. Here we share a list of some of the top breeders for this breed to help you get started in your search for the perfect Miniature Golden Retriever. You'll find a brief overview of the breeder as well as initial contact information if you're interested in learning more about their purchasing process.
Prepare in advance for your Mini Golden Retriever companion with our recommendations: Best App-Controlled Dog Door and Best Stainless Steel Dog Bowl.
PuppySpot is by far one of the easiest places to get a mini Golden Retriever. First, you'll avoid having to screen breeders since they have a 100 point inspection process that is American Kennel Club and USDA approved. This means that you won't be supporting a puppy mill or an unethical breeder because they all have to be state-registered and licensed. Second, PuppySpot has Golden Retrievers for sale today so won't have to wait on a long waitlist. Since they are a community of reputable dog breeders around the United States, they have puppies available.
Another benefit of PuppySpot is that it doesn't matter where you are located in the United States. They are one of the few breeders that actually own their own airlines and can safely transport your mini Golden puppy no matter where you are located. To date, they have successfully placed over 220,000+ puppies. All their mini Golden Retrievers for sale come with a health warranty and a head-to-nose health check.
What's great is that for all the puppies, you not only see pictures, but you can see how much the parent dogs weigh. This will give you a good idea of how "miniature" your Golden Retriever puppy will be. We also got one of our puppies from PuppySpot and had a really great experience. It saved us a ton of time to find a puppy and we didn't have to worry about being scammed.
It's worth noting that PuppySpot has given our blog readers an exclusive discount of $100 with code "WLD100". We hope your enjoy your new puppy!
PuppySpot Mini Golden Retriever Details
2. Taylor Made Mini Goldens
First on the list of Mini Golden Retriever breeders in the United States is "Taylor Made Mini Goldens." With the puppies at Taylor Made, you'll find excellent health, amiable personalities, and a lifelong companion. They're bred with a focus on health and creating the ideal puppy in size and demeanor. The food they feed the puppies of high quality, from PawTree. This focus on nutrition empowers the puppies to get off on the right foot both now and in the future.
With this food recommendation, they also offer a two-year health guarantee to provide you further assurance of the quality of these puppies. If you're interested in a puppy from Taylor Made, you can check their website to see if they have availability and are accepting puppy applications. If they're not available right when you check, reach out to them to get a sense of when their next litter might be. Puppies are available to be picked up at eight weeks old and come with a complete veterinarian check to ensure they are in good health standing.
Taylor Made Mini Goldens Details
3. GoldQuest Comfort Retrievers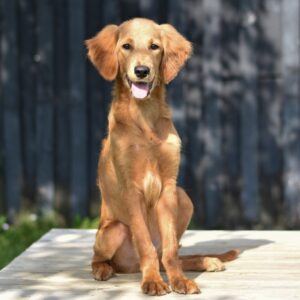 Kathy Burgess is the founder of Goldquest and is often celebrated as the one who bred the first Miniature Golden Retriever. Here, their focus is on breeding puppies with personalities and temperaments ideal for therapy and service dogs. As their name implies, these puppies can provide a significant comfort level for their owners and families. Their breeding process is very intentional, being very specific about the parent dogs used for best results in the litters.
Families interested in a Miniature Golden Retriever from GoldQuest Comfort Retrievers can start with their puppy application, which is in part a match-making process to help them choose the right puppy for their family and lifestyle. In addition to puppies, they also offer Guardian dogs. These dogs come with the same love and care as the puppies but just at a different age. For guardian dogs, an interview is required to move forward in the process. On their website, you can explore and learn more about their breeding process, attention to health standards, and overall commitment to providing families with the best possible puppy.
GoldQuest Comfort Retrievers Details
4. Pacific Northwest Miniature Goldens
Last on the list of Mini Golden Retriever breeders in the United States is "Pacific Northwest Miniature Goldens." Located in a small, family home, Miniature Golden Retrievers raised here are given intentional care, attention, and love. Puppies are bred with special attention paid to size, temperament, and excellent health. Before breeding, each dog is thoroughly health tested and screened for any genetic concerns or health conditions. When puppies are ready to be welcomed into their forever homes, puppies are provided a two-year health guarantee, giving you complete assurance of their quality and excess of standards.
Puppies are also given their first round of vaccinations appropriate for their age and have been dewormed for maximum support of their health. If you're interested in a puppy, you can check their website to see if they have any availability of litters. Keep in mind that they may not always be accepting applications at all times of the year if their currently planned litter is already full. If they accept applications, you'll be required to complete an application and submit an initial deposit to secure your interest in an upcoming litter.
This application will also help the team at Pacific Northwest to match you with a puppy that's just right for your family and lifestyle. Online, you can browse extensive collections of photos of past and current litters. With so many adorable dogs, you'll be in love with these miniature dogs even more. You can also follow along with their social media accounts, where they'll share more updates and other adorable photos as you prepare to welcome home your Miniature Golden Retriever.
Pacific Northwest Miniature Goldens Details
Conclusion For The "Best Golden Retriever Breeders in the United States"
The Golden Retriever's temperament and beautiful appearance make them a top choice for many families. When you're looking for a smaller version of this classic favorite, the Miniature Golden Retriever can be an ideal choice. When you're ready to choose a breeder to get your puppy, it's crucial to find a reputable and quality breeder that you can trust to care for you and your puppy both now and in the future. Use this helpful list of some of the top breeders that have Miniature Golden Retrievers.
Even if you're not in the breeder area, it may be worth shipping or traveling to meet your puppy with the high level of quality and confidence you can feel. Be sure you choose a breeder you know and trust to provide you the best quality and customer experience. By asking questions, reading reviews, and being intentional about the Miniature Golden Retriever you choose, you can be one step closer to welcoming home your perfect puppy for your lifestyle and home environment.
For more articles with mentions of the Golden Retriever dog breed, check out:
To learn more about the Golden Retriever dog breed, watch "Things Every Golden Retriever Owner Knows" from The Dodo down below: