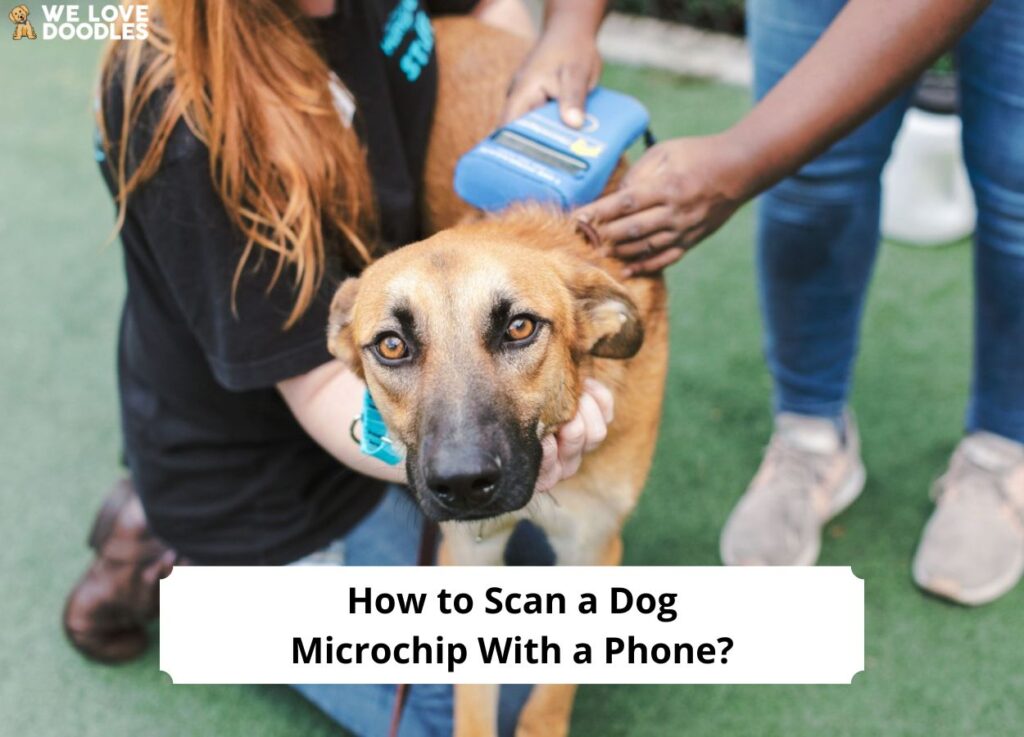 Approximately ten million pets are lost annually in the United States. For any pet parent, this number can be pretty scary. Luckily, you take certain steps to ensure your pet isn't a part of this statistic. A microchip is an easy way to reduce the risk of losing a pet. Knowing how to scan a dog microchip with a phone also ensures quick identification if you find another lost pet or lose yours.
Pets are important members of the average American family, making microchips more popular. It is essential to understand how these microchips work to protect your pets!
Before you scroll further down this guide, check out: Do Dogs Forget People? and Best Dog Fitness Trackers.
How Do Microchips Work?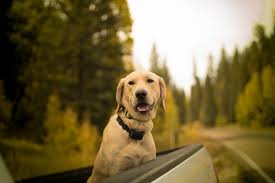 Pet microchips are different from GPS trackers. They are tiny radio-frequency identification transponders implanted between a pet's shoulder blades. You can buy kits to insert the microchip yourself. If you want a professional to implant the microchip, it will generally cost around $50.
After microchipping your pet, you must register your microchip in a microchip registry with your name and relevant contact information. Most microchip registries cost money, but the registry at found.org is the first free pet microchip registry.
When someone finds a lost dog, they scan the chip, and the scanner will show either:
The dog's ID number, if the number is not registered
The owner's name and contact information, if the chip is registered
Thus, microchipping your dog is important, but it is perhaps more important to register that microchip online! Registering the number allows others to contact you if they find your dog. If you don't register the microchip, a scan will only show the dog's ID number, which won't connect your dog to your contact information.
How Can I Read a Microchip?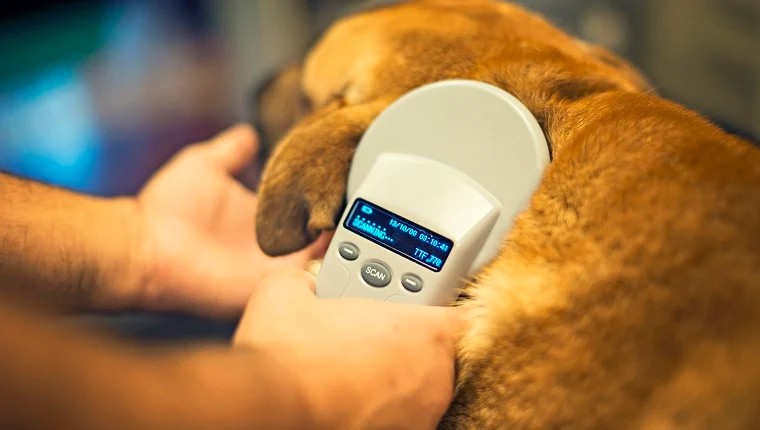 So you found a lost dog. Now what? Knowing how to scan a dog microchip with a phone would be a great tool to have. Unfortunately, this is not yet possible.
Since a microchip works using radio frequencies, a mobile phone will not be able to communicate with it. But there are many other good options that allow you to scan a lost pet's microchip.
Your first option when finding a lost dog is to take it to a veterinarian, shelter, or humane society. These organizations will have a scanner on hand and most will likely perform this service for free. A scan at the vet, however, may cost money.
If you want to be able to scan a dog's microchip from home, you have some options. For example, you can buy a microchip scanner for as little as $30. Some scanners even connect to your phone for easy viewing. For this option, make sure the microchip scanner can connect to Bluetooth.
PetScanner Microchip Reader
The cheapest option for an at-home scanner is the PetScanner. It is a handheld device that connects to your phone via Bluetooth or a cord. The corded version is around $10, and the Bluetooth version is about $20.
Once you buy the physical scanner, you can download the free app to see the information from the microchip. This is an excellent option if you encounter lost pets frequently.
The PetScanner option allows your phone to become a microchip scanner. The PetScanner dog chip reader app not only displays the dog's information but also provides resources to help lost dogs. It also stores your search history. The scanner is small enough to fit in a purse and carry with you.
GPS Tracking for Pets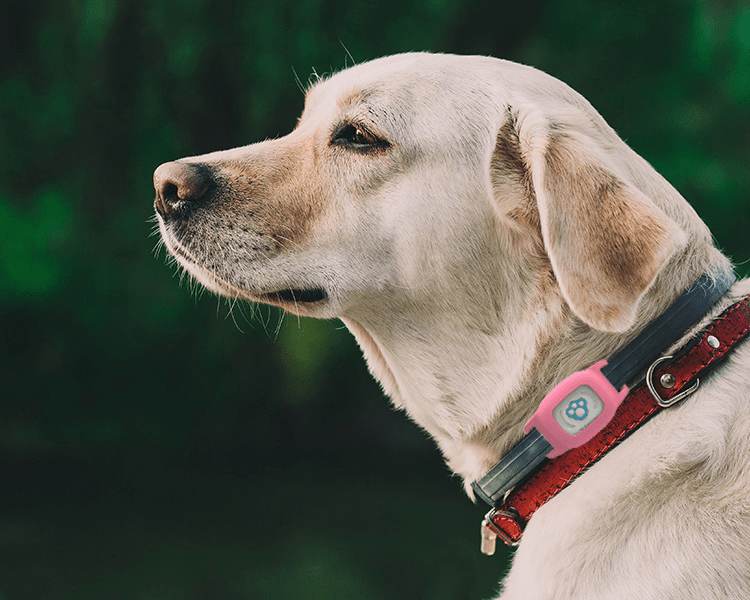 There are other ways to ensure your dog doesn't go missing! The most common tools are GPS trackers.
GPS Collars
Your first option is a collar that has GPS tracking capabilities. There are a few different types of GPS collars, and each has its advantages and drawbacks.
These collars allow you to see where your pet is from your mobile device whenever it wears the collar. They're a good investment if you want extra protection for a microchipped pet. Make sure your dog's collar has a tag stating the owner's name and phone number.
Keep in mind that all GPS collars need to be charged to show the location of your pet. Charging the collar means there will be times when your pet is not wearing the collar. Make sure to closely monitor your dog if it's not wearing a GPS collar.
Another drawback of a GPS collar is that they primarily use cellular networks. The collar won't show an accurate location if the pet makes its way to a place without cellular service.
If you want to purchase a GPS collar, make sure it is waterproof. You will also want to consider the length of the battery life and the cellular network it connects to. If you live in a place without a very good Verizon connection and the GPS tracker uses Verizon cellular coverage, the GPS will not work consistently in your area.
You should also consider whether the tracker requires a subscription fee beyond the price of the collar.
The Apple AirTag
Another option that is becoming increasingly popular is the Apple AirTag. This tracker is a small, circular device that connects to your iPhone in the "Find My" application. The AirTag's battery lasts more than a year, and your iPhone will notify you when it needs a replacement.
The AirTag also does not need cellular service to locate your pet. Instead, it uses Bluetooth to communicate with your iPhone. If within one hundred yards of your phone, you will be connected to the AirTag.
If any other iPhones are within one hundred yards of your AirTag and pet, they will send the location to your phone. This is good news if you live in a populated area. It is not good if your dog gets lost in a remote area.
You can have the AirTag play a sound to locate your pet from a short distance, and you can also get specific directions to the pet from your iPhone.
One AirTag costs $29, and a collar to hold the tracker can be purchased for as little as $9 online. This is a very cost-effective method of GPS tracking for your pet!
The Best Combination
You may choose to go a few different directions to prevent your pup from getting lost. We recommend combining several different techniques to ensure your dog stays safe.
At the very minimum, you should get your dog a basic collar with a tag that displays your name and phone number. This will help people who find your lost pet contact you quickly.
Microchipping your dog and registering your contact information is also a great way to ensure it makes its way back to you after getting lost. This is an important step in case your dog gets loose and isn't wearing its collar. Anyone with a scanner will be able to see your information and contact you about your missing dog.
If your pet tends to wander or you are particularly nervous about losing your furry friend, you might want to invest in a GPS collar or AirTag tracker. This will allow you to see where your pet is at any given time.
With this combination of physical and technological solutions, you can ensure your pet has minimal chances of being away from you for too long. Anyone who finds your lost pet will also have three ways to identify its owner and find its way back home.
Frequently Asked Questions
Is there an app to scan my pet microchips?
There are phone apps associated with microchip scanners that allow you to read information on your phone. However, it is still impossible to scan a dog microchip with only your phone.
How do you check and see if a dog has a microchip?
The only way to see if a dog has a microchip is by getting it scanned. You can do this by taking it to an animal shelter, humane society, or veterinarian. These places usually have a scanner available and know how to scan a dog for a microchip. You can also purchase your own microchip scanner if you commonly find lost pets.
Does Petco have a microchip scanner?
Many Petco Pet Care Centers have microchip scanners. However, you should call ahead to make sure.
You Can't Scan a Dog Microchip With a Phone…Yet!
While you cannot currently scan a dog microchip with a phone, there are still several ways to track your pet. You can get a GPS tracking collar or an AirTag collar, ensure your contact information is registered to your pet's microchip, or buy a tag with your contact information for your dog's collar.
A microchip is the best strategy to ensure your lost dog is quickly found. GPS collars can stop working if they run out of battery or go out of cellular range, and a dog collar tag can fall off or be left behind. Meanwhile, microchips can be read by anyone with a scanner, cannot fall off, and do not rely on battery life.
If you find this guide, "How to Scan a Dog Microchip With a Phone," helpful, check out:
You can learn more about this topic by watching "How to Scan a Pet's Microchip | Badger Veterinary Hospital" down below:
Garrett loves animals and is a huge advocate for all Doodle dog breeds. He owns his own Goldendoodle named Kona. In addition, he volunteers at the Humane Society of Silicon Valley, where he fosters dogs and helps animals. Garrett enjoys writing about Doodles and believes that dogs can teach humans more about how to live than humans can teach a dog.
Why Trust We Love Doodles?
At We Love Doodles, we're a team of writers, veterinarians, and puppy trainers that love dogs. Our team of qualified experts researches and provides reliable information on a wide range of dog topics. Our reviews are based on customer feedback, hands-on testing, and in-depth analysis. We are fully transparent and honest to our community of dog owners and future owners.