If you're curious about a Goldendoodle litter size, here's a question we have for you. Do you think your Goldendoodle might be pregnant? On the other hand, maybe your dog is not actively pregnant, but you have considered breeding it before? This is entirely understandable, considering the beauty of this breed.
You may be wondering, though, what is the average Goldendoodle litter size? Knowing the size of the litter can help you plan for the arrival of the puppies and make arrangements for forever homes. Below you will find everything you need to know about Goldendoodle pregnancies and litter sizes.
Before scrolling down this guide "Goldendoodle Litter Size Information and Facts," check out these related articles: What Makes an Ugly Goldendoodle and Facts About The Curly Goldendoodle.
Learning About The Goldendoodle
Before we look at litter sizes for Goldendoodles, it is essential to understand what precisely a Goldendoodle is. Goldendoodles are hybrid dogs made up of Golden Retrievers and Poodles.
Not all Goldendoodles are the same. These dogs vary significantly in different areas, such as generation and size. Knowing the generation and size of your Goldendoodle can help you more accurately predict the number of puppies in their litter.
Goldendoodle Generations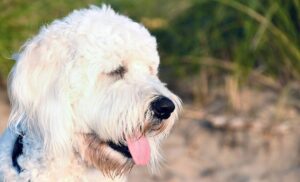 Depending on the parent dogs used in breeding, your dog may have more Poodle genetics than Golden Retriever genetics or vice versa. Regardless of the ratio of each parent breed, your Goldendoodle is sure to be a good-tempered and beautiful dog who will produce wonderful puppies.
F1

Goldendoodle

: 50% Golden Retriever and 50% Poodle
F1B

Goldendoodle

: 25% Golden Retriever and 75% Poodle
F1BB

Goldendoodle

: 12.5% Golden Retriever and 87.5% Poodle
F2

Goldendoodle

: 50% Poodle and 50% Golden Retriever (result from crossing F1

Goldendoodles

together)
F2B

Goldendoodle

: 37.5% Golden Retriever and 62.5% Poodle
F2BB

Goldendoodle

: 18.75% Golden Retriever and 81.25% Poodle
Multigenerational

Goldendoodle

: A combination of F2, F2B, or F2BB

Goldendoodles
Related: Goldendoodle Generations Guide.
Goldendoodle Sizes
Goldendoodles come in different sizes. These sizes are primarily dependent on the size of the Poodle used for breeding. Poodles can range in size from 6 lbs to 70 lbs.
This extreme size difference means that Goldendoodles can also vary in size. These dogs have three size categories: miniature, medium, and standard.
Miniature Goldendoodles
Height: 11 to 16 inches
Weight: Any

Goldendoodle

under 30 lbs
Medium Goldendoodles
Height: 16 to 20 inches
Weight: 30-40 lbs
Standard Goldendoodles
Height: 22 inches
Weight: 40 to 60 lbs
What is a Typical Goldendoodle Litter Size?
The average litter size for Goldendoodles can range from 3 to 8 puppies. This number varies so greatly because of the mix of the two breeds. The average litter size for Golden Retrievers is 8.
While the average litter size for a Toy Poodle is 3, a Miniature Poodle is 5, and a standard Poodle is 7. Therefore, 3 to 8 encompasses the range of standard litter sizes for this mixed breed. Just remember, these numbers are averages.
Therefore, litters can be smaller than three and larger than eight at times. Additionally, it is not possible to predict the size of a litter with 100% accuracy. The only time you will honestly know how many puppies there will be is when they are born.
Related: Can Goldendoodles Be Black?
Factors That Affect a Goldendoodle's Litter Size
Many factors affect the size of a Goldendoodle's litter. Some of these factors are dependent on the care you give your dog, while others are biological and cannot be changed. Recognizing these factors can help you predict the litter size of your expecting Goldendoodle.
1. Size
As we mentioned, there are three different sizes that your Goldendoodle can be. These sizes are miniature, medium, and standard. But how does the size of your dog affect its litter size?
Well, the larger your Goldendoodle, the more puppies it is likely to have. Therefore, miniature Goldendoodles are more likely to have 3-4 puppies. Medium Goldendoodles are likely to have 5 to 6 puppies.
And standard Goldendoodles are likely to have 7 to 8 puppies. Of course, these numbers can vary depending on the other factors below. However, on average, the larger the dog, the more puppies it can bear at a time.
2. Generation
Your Goldendoodle's generation can also affect its litter size. The number of puppies your dog will bear depends on the percentage of each parent breed present in your Goldendoodle.
This is because these different breeds have different average litter sizes. So, if your dog has more Golden Retriever genetics than Poodle, it is more likely to have more puppies, compared to dogs with more Poodle genetics than Golden Retriever.
However, this is only one factor that contributes to litter size; you must consider the other factors (such as the size of the Poodle) to get the most accurate prediction.
3. Diet
Your Goldendoodle's diet plays a significant role in the number of puppies it will bear. Like pregnant humans, pregnant dogs need to follow a healthy diet full of vitamins and minerals to help develop puppies.
This healthy diet is not exclusive to the pregnancy period. It is just as important before and after your dog becomes pregnant. If you plan on breeding your dog, you should ensure that it is getting a well-rounded diet before conception.
This allows your dog's body to grow strong and prepare for the upcoming pregnancy. After your dog has given birth, you should continue to feed it healthy foods with proper nutrition.
Your dog will need these nutrients to nurse her newborn puppies and gain her strength back. Without proper nutrition, your dog will not support her puppies. Unfortunately, this can result in smaller litters and lower survival rates.
4. Health
Your dog's health does not just depend on its diet. You need to provide your dog with professional veterinary care as well. These vet visits are essential before, during, and after pregnancy.
A preliminary check-up with your vet before conception can ensure your dog is fit for pregnancy. Once you have mated your dog and think it might be pregnant, visit your vet for a prenatal check-up.
The vet will determine whether your dog is pregnant and what steps you should take next if it is pregnant. It would be best to take your dog to the vet 2-3 weeks before birth. This allows the vet to check on the health of both the mother and the puppies.
If the vet determines your dog and her puppies are healthy, you should be able to deliver the puppies without a medical professional. However, if any complications occur, be sure to contact an emergency vet right away.
Once your dog has delivered her puppies, it is time to revisit the vet. It would be best to have your vet inspect both mother and puppies within the first 48 hours of birth. This check-up will ensure all puppies are healthy and that the mother is recovering from delivery.
Ensuring your dog is healthy at every stage of the pregnancy can affect the size of the litter. Without proper care, your dog may not successfully deliver her puppies, resulting in smaller litters.
Related: How Long Do Goldendoodles Live?
5. Age
The older your dog gets, the harder it is to conceive. However, once an older dog does conceive, it is more likely to have a larger litter. Not all dogs reach sexual maturity at the same time.
Smaller dogs typically reach this stage earlier than larger dogs. Therefore, the size of your dog can affect its ability to become pregnant and influences the age at which the chances of a larger litter increase.
Related: Factors That Affects a Giant Dog Breed's Lifespan and Mini Goldendoodle Lifespan.
6. Environment
Breeding a dog in a stressful environment can result in smaller litters. In addition, this type of environment can cause stress on your dog's body, resulting in the inability to carry healthy puppies to full term.
This can even affect your dog's ability to get pregnant in the first place. If you want your dog to have a successful pregnancy, be sure to provide a safe, caring, and warm environment. This stress-relieving environment combined with other factors on this list can increase the chances of a successful pregnancy with many happy and healthy puppies.
Conclusion For "Goldendoodle Litter Size Information and Facts"
The average Goldedendoodle litter size is between 3 to 8 puppies. However, this can vary greatly depending on many different factors. Just remember, not every element is in your hands.
But, providing your dog with a loving environment, healthy food, and regular vet visits can ensure the best chances possible of having healthy puppies.
For more content about Goldendoodle sizes, you can check out our guides below:
Learn more about this Poodle and Golden Retriever mix by watching "Goldendoodle Dog Breed Guide" down below: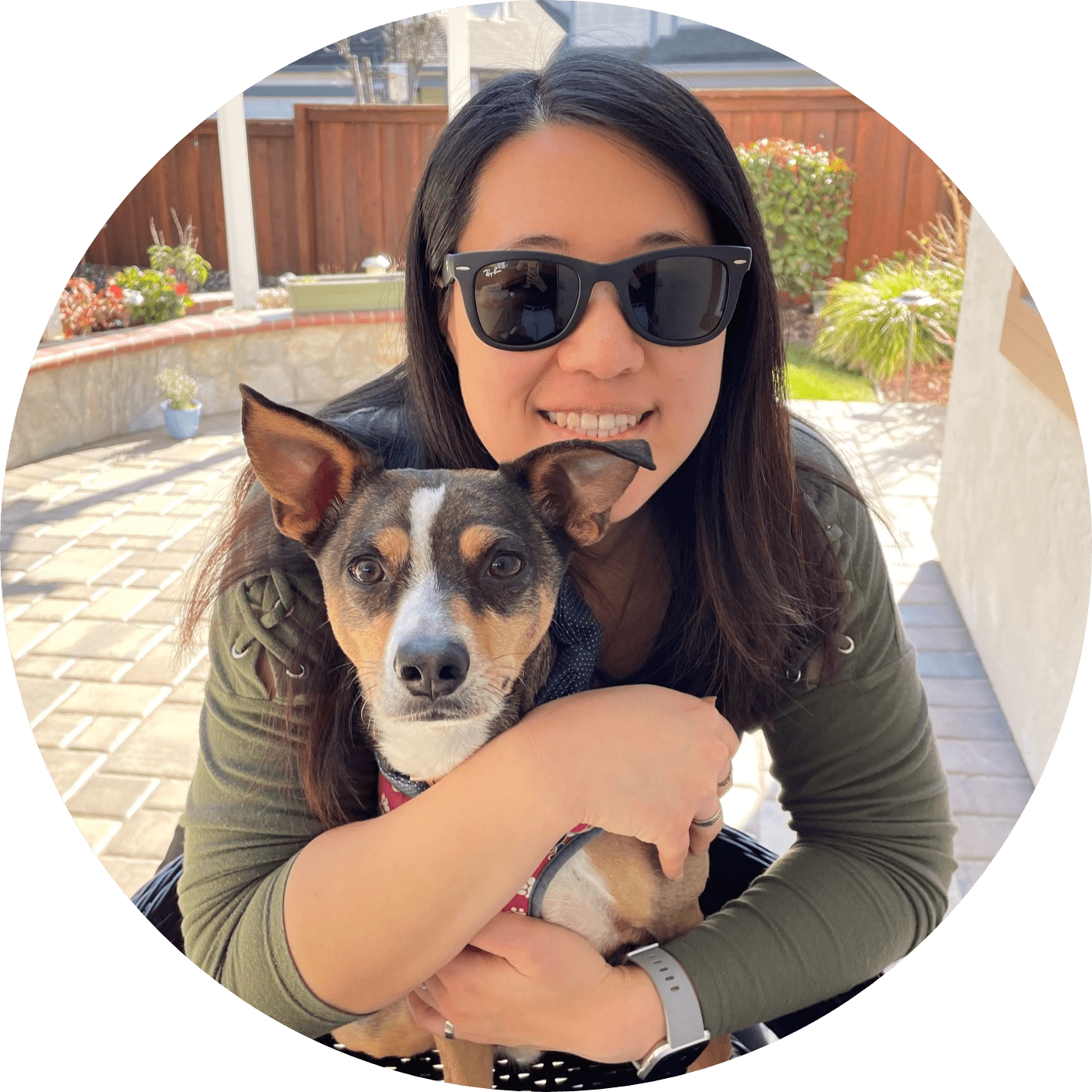 Dr. Sabrina Kong graduated from the Royal Veterinary College in England in 2016 and has been working at a small animal clinic in Northern California since then. She grew up in the Bay Area and got her bachelor's degree from Cal Poly San Luis Obispo. She also became a Certified Canine Rehabilitation Practitioner through a program at the University of Tennessee.
When she isn't in the clinic taking care of her four-legged patients, she enjoys traveling and trying new foods with her friends and her three-legged dog, Apollo. She adopted Apollo from her clinic when he was a puppy with numerous health issues. Dr. Kong truly cares about taking care of animals.