There are traditionally three size categories of Poodles. They include the Miniature size, the toy, and the Standard. However, there's a less known fourth size, and that's where you find the Moyen Poodle. Moyen Poodles are regarded as a sort of outsider in the Poodle world. It's not rare. If anything, the Poodle is ubiquitous, but the size categorization is the bone of contention. You cannot dismiss the Moyen Poodle as a canine of beauty and aesthetics, though, as they pack a punch.  They manifest the famous saying 'beauty with brains.' Let's see some facts about this amazing dog.
Before scrolling down to learn about the Moyen Poodle, check out these other similar guides: Silver Standard Poodle Guide and Sable Poodle Guide.
Moyen Poodle's Characteristics and Traits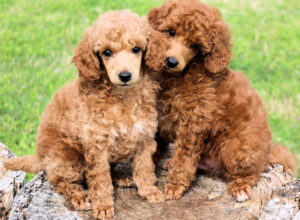 The Poodle is produced by the mating of two Moyen Poodles together. They can also be bred by mating a mini Poodle with a standard one. In the United States, the Moyen Poodle is not recognized by The American Kennel Club as size of its own. Instead, they are grouped and registered as mini or standard Poodles depending on physical attributes like size, height, and weight.
1. Incredibly Intelligent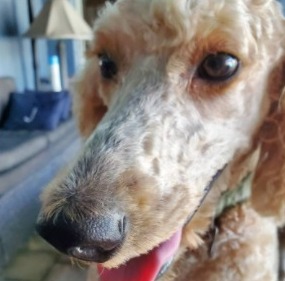 There may be one or two problems with certain dog breeds once you adopt them; with the Moyen, it is their intelligence. You must be wondering how intelligence can constitute a problem. Well, this means you have to keep them busy or entertained constantly. Failure to do this and they will wander into trouble out of boredom. This is not a dog you only interact with when you want to feed them.
Once the Moyen isn't getting the attention it deserves or wants, there is a likelihood that it could become high-strung or neurotic. Moyen Poodles make an excellent companion for families that live in apartments. Their small size means they do not require a lot of space, but they will still need exercise. However, they are usually well-behaved and content when indoors, so all you have to do is create time for the things and activities they love.
Related Guides: How Smart Are Chihuahuas and Are Goldendoodles Smart Dogs?
2. Mildly Hypoallergenic
One common concern among dog lovers if whether or not their dog breed is hypoallergenic. It is pertinent to point out that the concept of a fully hypoallergenic dog is still regarded as a myth. Usually, the definition of hypoallergenic dogs is restricted to dog breeds that do not shed and have fur.  This is because shedding coat often carries dander, and this is the primary reason for pet allergies. Therefore, you need not worry about the allergic reaction with the Moyen Poodle or any Poodle. This is because they grow the classic curly coat.
Of all coat types, this is the one that sheds the least and also serves as a web to trap naturally flaking dander. This is easily removed when the dog is regularly groomed in a ventilated area. Other sources could trigger an allergic reaction, like the enzymes that abound in Moyen's saliva and urine. The excellent news is Moyens rarely drool and, once properly trained, will only pee in designated spots. This eliminates the risk of allergic reactions from contacts with any of these secretions. In a nutshell, the Moyen Poodle is mildly hypoallergenic.
Related: Best Hypoallergenic Dog Mixes.
3. Small Size Comes With Great Temperament
Like with all Poodle breed members, the Moyen inherits the intelligence and intuitiveness of their parents. They also have some agility and flexibility to training tucked in there. This makes them quickly trained and disciplined. The size of this dog to a large directs its behavior and temperament. They are robust and sturdier than the Toy or Miniature variety. The implication of this is that they are more likely to withstand the unintentional rough handling they may occasionally face from children in a family setting.
These are essential factors to consider before adopting a dog, and it's why the Moyen Poodle comes out on top. Their smaller size compared to the much larger Standard Poodles mean they are less likely to knock over or injure children. They also feed less frequently and take up less space. In addition, Moyen's temperament is A1. They show an impressive level of physical stamina and endurance and are not easily riled up. When taking hikes and walks, they comport themselves and are playful when given a chance.
Related: Small Dogs That Don't Shed.
4. Moyens Are Moderate Barkers
If you are easily annoyed with dogs that bark a lot, you will find no such habit with the Moyen. Poodles naturally aren't much of barker themselves. They are considered moderate barkers as they only do so when there is something amiss. The breed is an alert and intelligent dog that will raise the alarm when triggered but will not overdo it.
The good thing is Poodle owners have reported over the years that the breed is amenable to training and adapt over time. This makes it easy to desensitize the dog, especially to triggers that will make them bark too much and unnecessarily. You should not expect your Poodle to become mute due to training, though. They still have a protective instinct that will make them bark and be aggressive when they feel their owner is in danger.
Related: Best Dogs That Don't Bark or Shed and Best Device to Stop Dog Barking.
5. Easy to Train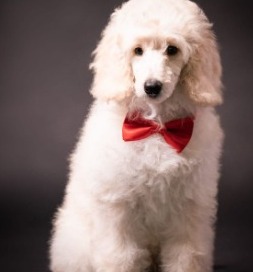 Like we have mentioned in previous points, the Moyen Poodle is flexible in training and character. This makes it easy for you to mold their behavior to a pattern you like. Poodles generally are always eager to please their owners. This makes them adapt to whatever reason for which you train them. With time they learn all the tricks and know all the things expected of them. They will know where to eat, sleep, pee and play. In teaching them, it is crucial to make the routine fun and upbeat. Consistency is also key in training the ideal Poodle.
Related: How to Use an E-Collar to Train Your Dog.
Health
Poodles have one of the most extended lifespans of the canine family. A Moyen Poodle can live for several years before they die. On average, you expect them to stick around for about 12 to 15 years. As they grow older, their health becomes frail, and you should expect to see them develop certain diseases. Because they are mixed breeds, Poodles are more susceptible to diseases than most dog breeds.
These include cataracts and other eye disorders. They also stand a higher risk of contracting ear infections. Another problem they will likely encounter is skin infections. Many of these skin infections are a result of inadequate or improper use of clippers. The nature of shampoos used and allergic reactions to those shampoos are another reason. Other diseases they may likely suffer as they grow older include Progressive Renal Atrophy, Epilepsy, Addison's disease, and Hypothyroidism.
Moyen Poodle's Pricing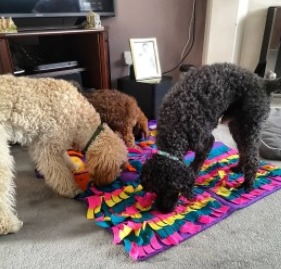 If you have settled for this beautiful and intelligent dog, you may want to know how much it would cost you. The Moyen Poodle is considered a premium dog and, as such, demands a premium price. Reputable breeders sell them at around $2,000 to $3,000. However, depending on the bloodline and breeder, the price may cost as much as $4,000.
Other Important Facts About the Moyen Poo
1. The AKC does not recognize the Moyen Poodle.
Despite the massive success of the Moyen Poodle spanning decades, the American Kennel Club (AKC) does not recognize Moyen Poodle as a distinct size. They are merely seen as a size variation. Only three Poodle sizes are identified in the AKC records: Standard, Minature, and Toy. You are still free to register your Moyen Poodle with the organization, though. You can register your Poodle as either a Mini Poodle or as a Standard Poodle. Just not as a different size. To understand why the AKC does not recognize the Moyen, you need to understand the criteria they use to categorize Poodles.
The American Kennel Club categorizes any Poodle with a height greater than 15 inches as a Standard Poodle. Moyen Poodles usually grow beyond 15 Inches, and for this reason, The AKC deems them to be Standard Poodles. The downside of this categorization is that Moyen Poodles cannot participate in AKC branded canine competitions, except they are to compete with and as Standard Poodles. However, the AKC does recognize them as members of the Poodle breed.
2. Their breeding process is extensive and complex.
The breeding process of the Moyen Poodle is much complex than those of other dog breeds. Usually, first-generation Moyen Poodles are produced from the crossbreeding of a mini puppy and standard one. The process does not, however, promise a complete uniformity in size. The result is a disparity in the size and physical attributes of the litter produced. Scientific data compiled over the years show that, on average, it would take about four generations for a pure Moyen Poodle can be produced. For this reason, it is essential to check with your breeder during adoption for the size you may want and qualities to expect.
3. Moyens stop Growing at 18 months.
The Moyen Poodles grow pretty fast, and they complete this growth curve in 18 months. This contrasts with their larger Standard cousins that take on average up to 2 years to grow to maturity fully. While they may stop growing tall at 18 months, the Moyen Poodle may continue to add weight after that period.
The growth curve of the Moyen Poodle isn't a straightforward, steady increase though, in the first 6 to 9 months, they exhibit exponential growth. This is the phase where they develop 90% of their body mass and attribute. The remaining 10% is spread out over the remaining nine months. They usually grow to about 15 inches in height, and they can weigh up to 50 pounds when fully developed.
4. Moyen and Klein Poodle are the same.
Another name for the Moyen Poodle is Klein Poodle. We mentioned earlier that a Moyen Poodle is the product of a Standard and Miniature Poodle. The Moyen term was coined in France, and this was where the Moyen breed was rampant and well-known at the time. Another region is Germany, where the Klein Poodle was more prevalent.
Klein Poodle loosely means 'small Poodle.' This refers to the smaller size of the Medium Poodle in comparison to the Standard. This is why in Europe, where the Moyen is believed to have originated, Klein Poodle is the prevalent name there. The Moyen Poodle is sometimes referred to as a Barbone, a Chien Canne, Canniche, or French Poodle.
Find a Poodle Breeder: Best Mini Poodle Breeders in the United States and Best Toy Poodle Breeders in the United States.
Conclusion For "Important Facts About The Moyen Poodle"
While the Moyen Poodle may not be in the class of bulldogs and the likes, the small canine certainly packs a punch of its own. There are many perks to the dog, and hopefully, you consider those when scouting for a breed to adopt. If you have chosen the Moyen Poo, the information we provided will guide you through owning the breed.
For more Poodle guides from WeLoveDoodles, you can check out:
To learn more about the Moyen Poodle, watch "Moyen vs. Standard Poodle" from ThatShortGuy down below: