Miniature Poodles are stunning dogs who are active, proud, and intelligent. They're also known for their small size and make perfect additions to family homes. But their small size may concern some families, which is why you may be wondering when a miniature poodle is full-grown.
Miniature Poodles enjoy playing, plenty of outside time, and going on adventures with their families. Although these dogs remain small for their entire lives, they can still run fast and enjoy getting dirty.
Read on to learn how big a Miniature Poodle is when it's fully grown and what this dog breed can add to your family!
Before scrolling down this guide, "When Is a Miniature Poodle Full-Grown," check out these other dog-related articles from our team at We Love Doodles: When Is a Huskydoodle Full-Grown? and When Is a Corgipoo Full-Grown?.
Is a Miniature Poodle a Small or Medium Dog?
Miniature Poodles are small dogs and will only grow about 15 inches tall and weigh no more than 15 pounds. They are so small that pet owners must be careful not to kick or harm these pups by accident.
Consider putting a collar with a bell on your Miniature Poodle to ensure it is visible and remains safe from rambunctious children or rowdy dogs in the home.
When Is a Mini Poodle Full-Grown?
Some Miniature Poodles won't stop growing until they've hit a certain age, but others may continue growing until they reach their full height, which is typically around 15 inches tall.
Each Miniature Poodle is different. On average, this dog breed will be 15 inches tall and 15 pounds, but some Miniature Poodles can exceed these numbers.
At What Age Is a Mini Poodle Full-Grown?
A Miniature Poodle usually hits its full-grown size between seven and 12 months. However, Mini Poodle size can be hard to determine if you haven't watched them grow since they were a puppy.
Consider keeping a record of your Mini Poodle's height and weight every month to see if they are still growing after they hit the seven-month mark. If they are still growing, you'll notice on your chart and be able to determine the month your Miniature Poodle has hit full-grown size and will no longer grow.
How Big Will a Mini Poodle Get?
Most Mini Poodles won't exceed 15 inches tall, but this can change depending on many factors. For example, a nutritious diet with plenty of vitamins and minerals may help your Miniature Poodle grow bigger and stronger than average.
Giving your Miniature Poodle supplements and protein toppers for their food can also help them grow taller and retain muscle mass.
Some Miniature Poodles may grow an extra inch or two but likely won't grow taller than 17 inches and weigh no more than 18 pounds, even with extra nutrients.
Are Miniature Poodles Lap Dogs?
Miniature Poodles make perfect lap dogs! They are the perfect shape and size to enjoy sitting on your lap without making messes or causing any trouble. Miniature Poodles have a short spine, so they aren't so long to disrupt your favorite lounging positions either, something that Dachshund owners may struggle with.
Miniature Poodles are so small that they can easily curl into your lap. Thankfully, cuddling with their owners is one of a Miniature Poodle's favorite things to do and they will thrive on affection, attention, and comfort.
Are Mini Poodles Good For First-Time Owners?
Miniature Poodles require very little care, making them perfect pets for first-time dog owners. They are overtly loving and so small that you can easily pick them up if they have a tantrum or misbehave.
You won't need to fuss with a leash too often since this dog can't tug or pull you along. Additionally, their size makes them perfect for teaching children and other animals how to behave around small dogs.
Miniature Poodles can also come along on adventures easily and won't need much space in a hotel or car. They also don't use the bathroom much, meaning you don't have to worry about excessive cleanup.
What Are Miniature Poodles Like?
Miniature Poodles are small dogs that are perfect for first-time pet owners, but what are they like? Read on to learn more about this dog breed's temperament, lifespan, grooming needs, and more.
Temperament
Miniature Poodles are loving dogs that will gladly follow their owners to the ends of the earth. They thrive on affection and attention, making them ideal for cuddles and pets.
Your Miniature Poodle may also be a little silly. They may run a little crazy in your house, causing small amounts of chaos, especially if you have small children or other dogs. Miniature Poodles are also extremely friendly and will help you make tons of friends during your morning walks.
Although not very protective, your Miniature Poodle will be yappy and make plenty of noise as they pass by others and observe the world around them.
Colors
Miniature Poodles can come in a host of colors, with the most popular being white. Other Miniature Poodle colors include black, beige, and brown. Most won't have any special patterns or markings, making them look stunning and dignified.
However, if your Miniature Poodle comes from a hybrid parent, they might inherit some special colors or merle patterns that give them truly exotic and beautiful appearances.
Lifespan
Miniature poodles can live anywhere from 10 to 18 years, making them the perfect companion for families who want to create long-lasting memories.
Grooming Needs
Miniature Poodles will need plenty of grooming. They don't shed, meaning you won't need to clean up much after them. However, you will need to brush their coats daily to prevent any dander buildup or knots and tangles.
Additionally, your Miniature Poodle will need to have its nails trimmed and filed every few weeks to prevent damage to furniture. Your Mini Poodle will also need a haircut every few weeks to ensure its hair doesn't get into its eyes.
Health Concerns
All dogs are prone to developing hip dysplasia or joint dysplasia, cataracts, and other symptoms that come with old age. However, Miniature Poodles are specifically prone to epilepsy and patellar luxation.
Miniature Poodles are also prone to progressive retinal atrophy, a condition that disrupts photoreceptors in the eyes and can cause blindness.
You may notice your Miniature Poodle developing gray eyes as they get older and bumping into things. Although these symptoms are consistent with old age, you should consult your doctor to rule out progressive retinal atrophy.
Are Miniature Poodles Good With Children?
Miniature Poodles adore children and will follow them around constantly, choosing to play at nearly any opportunity. Although these small dogs enjoy their alone time and may get worn out quickly (due to their small stature), they are always ready to play with children!
Miniature Poodles may not be very protective, but they adore playtime and will follow around a child who has a toy or other item if they want to play. Teach your children how to understand your Miniature Poodle's boundaries to best help the two mesh and play safely.
Are Miniature Poodles Good With Other Dogs?
Miniature Poodles prefer to be in a home without other dogs, but they will get along with playmates for a time. They do well in dog parks and visiting friends and family because they won't be aggressive. However, Miniature Poodles do enjoy winding down on their own or with their owners after a long day.
If you choose to integrate another pet in the home with a Miniature Poodle, you'll likely need to watch both dogs carefully to ensure there is little fighting or aggression. Provide both animals with a solitary space for them to play and relax. You should also supervise the two until they learn how to behave with each other.
Frequently Asked Questions
How big will a mini poodle get?
On average, a Mini Poodle is about 15 inches tall and weighs around 15 pounds.
At what age is a mini poodle full-grown?
Most Mini Poodles are full-grown by the time they are one year old.
Are mini Poodles cuddly?
Miniature Poodles are super affectionate, meaning they'll love to cuddle with you!
Miniature Poodle: Still Small When Full-Grown!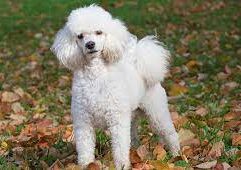 Mini Poodles, especially when full-grown, are stunning dogs who love adventure, cuddles, and spending time with their humans. This dog breed may yap a lot to grab the attention of their family members and loved ones, but they likely only want to be loved and keep the attention of playful children or other dogs.
Mini Poodles that are full-grown stand about 15 inches tall and weigh no more than 15 pounds. They can live for up to 18 years, making them the perfect pet for families who want to enjoy many years of memories with their furry friend.
If you find this guide, "When Is a Miniature Poodle Full-Grown" helpful, check out our other dog guides:
If you want to learn more about the Miniature Poodle, you can by watching "7 Advantages of a Miniature Poodle – Our Top Reasons Why We Got a Miniature Poodle" down below:
Garrett loves animals and is a huge advocate for all Doodle dog breeds. He owns his own Goldendoodle named Kona. In addition, he volunteers at the Humane Society of Silicon Valley, where he fosters dogs and helps animals. Garrett enjoys writing about Doodles and believes that dogs can teach humans more about how to live than humans can teach a dog.
Why Trust We Love Doodles?
At We Love Doodles, we're a team of writers, veterinarians, and puppy trainers that love dogs. Our team of qualified experts researches and provides reliable information on a wide range of dog topics. Our reviews are based on customer feedback, hands-on testing, and in-depth analysis. We are fully transparent and honest to our community of dog owners and future owners.