A Huskydoodle is fully grown when it weighs 60 pounds and is about 26 inches tall. This article sheds light on how long your Huskydoodle will take to grow into a proper adult. Learn about the amount of food they'll need to eat, their full-grown temperament, and grooming requirements for each growth stage.
Before scrolling down this guide, "When Is a Huskydoodle Full-Grown," check out: Huskydoodle Guide (Siberpoo, Huskypoo, Poosky) and Huskydoodle Puppies in the USA: Top Breeders! (2023).
Huskydoodle Full-Grown Age and Size
The Huskydoodle's full-grown size is about the same as a medium-sized dog. This dog breed attains full growth around 15 to 18 months.
The full-grown Huskydoodle size will be between 26 to 28 inches tall and weigh anywhere from 30 to 60 pounds.
The Huskydoodle will have a longer body than most other dogs and may have longer legs. The coat can be any color or pattern, with or without markings.
Huskydoodle Lineage Size
The Huskydoodle is a cross between the Siberian Husky and the Standard Poodle. The Siberian Husky is a medium-sized dog, as tall as 22 inches and weighing as much as 55 pounds. Standard Poodles weigh about 15 pounds with a standing height of 24 inches.
Siberian Huskies were originally popular in Alaska, according to reports. Nomadic tribes used them as sled dogs that could withstand harsh conditions.
The Poodle came from Germany, originally bred as a water retrieval dog in the 1800s but later became popular as a show dog in France.
Huskydoodle Growth Chart
The growth stages of this hybrid dog are as follows:
Puppies: 1-12 Weeks Old
Puppies have an average height of 20 to 24 inches. Their weight increases gradually between the first week and the 12th week. At week five, the pups weigh 3.7 pounds; by the 12th week, they weigh around 15 pounds.
Adolescents: 6 Months-2 Years
An adolescent Huskydoodle will have an average height of 24 to 26 inches (61 to 66 cm). The dog weighs around 24 pounds at this age. By the time they are two years old, they often weigh about 40 pounds.
Adults: 2 Years and Beyond
An adult Huskydoodle's height range is 26 to 28 inches, and they weigh 40 to 60 pounds. After about three years, most Huskydoodles stop growing and remain at their full adult height for life.
Huskypoo Nutritional Needs for Different Growth Stages
Here is how to feed your Huskypoo at different stages until they are fully grown:
Puppies
Puppies need lots of protein for muscle development and energy. You should feed your puppy three to four times per day with no more than 1/4 cup at each mealtime until they are 16 weeks old or until they reach about 50 pounds. After that point, you can reduce the frequency to two daily meals.
Adolescents
After six months, Huskydoodles need the same food as adults: one cup per 20 pounds of body weight. But during this stage, you don't need to worry about overfeeding. They're still growing, so they need calories.
You'll also want to make sure that your puppy gets enough exercise. That way, it won't have any extra energy it might use up by overeating. Your vet can help you figure out the best plan for keeping your puppy at a healthy weight throughout its entire life.
Adults
Once your Huskydoodle reaches adulthood, it should eat about one cup of food per 20 pounds of body weight daily. For example, if your Huskydoodle weighs 40 pounds, it should eat two cups daily.
Huskydoodle Temperament at Different Ages
As a hybrid dog breed, Huskydoodles combine a Husky's energy and intelligence with a Poodle's affection and loyalty. They are often sweet and playful but also have moments when they get bored or frustrated.
With that in mind, they can be mischievous and may engage in activities like chewing shoes and furniture, digging holes in your yard, and barking excessively. They might take time to adjust to living with other pets, especially if they are not neutered or spayed early on.
1-5 Months
Your puppy is still learning about the world and is probably starting to become more independent from its mother. Puppies need consistency in providing food, shelter, and protection from predators.
At this stage, your puppy must get plenty of human interaction to learn how to act around people properly later in life.
5-12 Months
Your puppy will begin to grow into an adolescent Huskydoodle with much more energy. At this point, you must continue giving him proper exercise. Training is important so that he doesn't become destructive or disobedient when left alone with nothing to do.
It's also important that you continue socializing him with other dogs and people. If there are any training issues — like chewing, digging, or excessive barking — it may be best to consult your vet or a professional dog trainer for advice on handling these issues.
12-18 Months
Your puppy is growing into a full-grown Huskydoodle adult who needs mental and physical stimulation every day if you want him to be happy and healthy. You should start teaching him things like sit, down, and stay so that he can learn self-control and socialize with other dogs properly.
18-24 Months
Your Huskydoodle puppy has grown mostly into his adult body by now, but he's still learning to behave around people and other dogs.
This age is a crucial time in his development, so make sure you spend lots of time playing with him, reinforcing training, and giving him plenty of daily exercise.
2-4 Years
Your Huskydoodle is eager to learn; this is the perfect age for dog sports like agility or flyball. Your Huskydoodle will enjoy spending time with you and demonstrating the ability to master new tricks. Try taking him to a class at a local dog training facility or enrolling in a weekend workshop yourself!
4+ Years
It's never too late in training your dog. If you've been putting it off because he was just a puppy when you got him, don't worry! You can still try plenty of fun activities together as an adult dog, including obedience training, trick, agility, and more.
Huskydoodle Grooming Requirements for Different Stages
Huskydoodles have a medium-length, double coat with longer outer fur and a dense undercoat. This coat must be brushed or combed at least once weekly to remove dead hair and keep the coat healthy.
The Huskydoodle's coat is generally low-maintenance, but you'll want to pay attention to your dog's skin and coat condition throughout his life.
Newborns
For newborn puppies, you'll need to bathe them every few weeks with mild soap and water. Use a soft-bristled brush or comb to remove any tangles and excess shedding hair from their coats.
Young Adults
During this stage, brush your puppy's coat once or twice weekly to remove loose hair and keep their coat looking healthy.
You'll also want to trim your nails regularly during this stage so they don't get too long and scratch themselves or others accidentally.
Adults
At this age, your dog's coat will still need regular brushing but not as often as in their younger years — once every other week should suffice at this point. You'll also need to pay attention to their ears and teeth, which may require more frequent cleaning.
Factors That Affect Huskydoodle Size and Length
Several factors affect the size and length of your Huskydoodle.
Genes
The genes that determine the size and length of your Huskydoodle come from their parents. When breeding two dogs, you may get puppies of a wide range of sizes and shapes. However, most puppies will be about the same size as their mother or father.
Neutering
Neutering removes the source of testosterone from the body and reduces levels of this hormone significantly.
The reduction in testosterone causes changes in secondary sex characteristics such as muscle mass and coat thickness. Dogs who are neutered before six months of age tend to grow larger than those who are neutered after six months because they have more time to develop before being neutered.
Nutrition
How tall your dog gets depends on genetics and diet during its puppy years. If you feed him proper nutrition from an early age, he will grow taller than those not fed properly during their puppy years.
Health
Both parents need to be healthy so that they can produce healthy puppies. A healthy puppy will grow into a large dog with good health conditions because it inherits its mother's genes for good health conditions and longevity and its father's genes for strength, stamina, and power.
Benefits of Owning a Huskydoodle
Here is why Huskydoodles can make excellent family pets:
Loyalty
These dogs tend to be very loyal to their owners and are always ready for some fun time together. They enjoy bonding with their owner(s) and will try to join any activity they can.
Intelligent
These dogs are known for being quite intelligent and can learn tricks fairly quickly. They also tend to be eager to learn new things so that they will enjoy the training immensely.
The more training you can provide them, the better off they will be when left alone or around other animals or people outside of your home.
Low Shedding
The Huskydoodle sheds less than other dog breeds due to its high percentage of Poodle DNA. It may shed once or twice per year, depending on how much you brush it.
Easy Grooming
You do not need to groom your puppy daily if you take care of its coat early on. You should brush your Huskydoodle at least once per week and trim its nails once or twice per month to keep them from digging into rugs or furniture and causing damage.
Frequently Asked Questions
What is the temperament of a Huskydoodle?
Huskydoodles are intelligent, affectionate, and loyal dogs, though they can be mischievous. If possible, see the puppy's parents — or consult with the breeder — to get a better idea of their future temperament.
How long do Huskydoodles live?
The lifespan of a healthy Huskydoodle is 10 to 14 years.
How long can Huskydoodles be left alone?
Puppies shouldn't stay in their crate for more than three to four hours, while older Huskydoodles should not exceed five to six hours in their crate.
Conclusion for "When Is a Huskydoodle Full-Grown"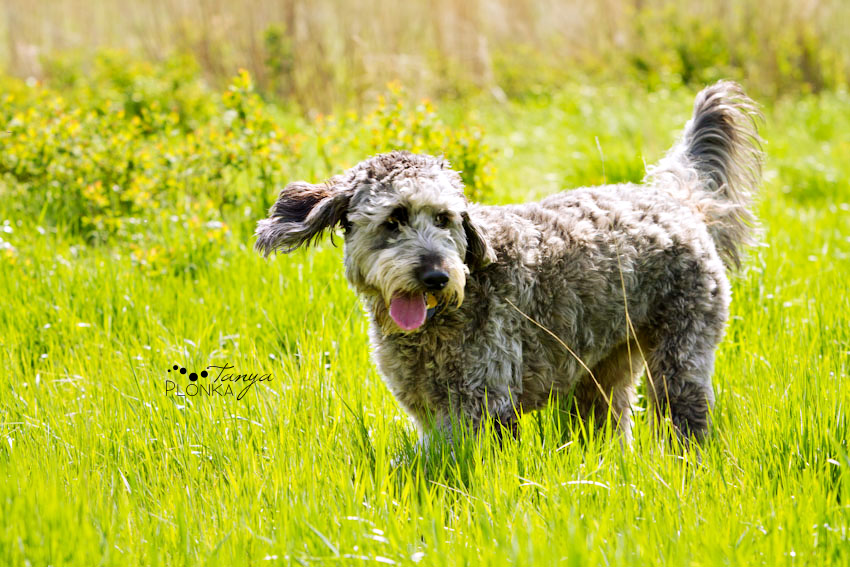 A full-grown Huskydoodle weighs 30 to 60 pounds and is about 26 to 28 inches tall. Be sure to track your dog's health and size and call your vet if you see severe deviations from the data in our growth chart.
For more guides related to this topic, check out:
If you want to learn more about Huskydoodles, watch "Huskydoodle: Cross Breed of Siberian Husky and Poodle | What Should You Know?" down below:
Garrett loves animals and is a huge advocate for all Doodle dog breeds. He owns his own Goldendoodle named Kona. In addition, he volunteers at the Humane Society of Silicon Valley, where he fosters dogs and helps animals. Garrett enjoys writing about Doodles and believes that dogs can teach humans more about how to live than humans can teach a dog.
Why Trust We Love Doodles?
At We Love Doodles, we're a team of writers, veterinarians, and puppy trainers that love dogs. Our team of qualified experts researches and provides reliable information on a wide range of dog topics. Our reviews are based on customer feedback, hands-on testing, and in-depth analysis. We are fully transparent and honest to our community of dog owners and future owners.