How much should a Goldendoodle puppy eat? When you bring home a Goldendoodle puppy, there are many exciting things to consider. You can teach your new little bundle of joy many new things, like how to play fetch or walk politely on their leash.
Great fun comes with great responsibility, so you can't forget to work on potty and crate training with your puppy. You'll also need to get your new canine companion on a feeding schedule.
So, how much should a Goldendoodle puppy eat? We'll give you the rundown by age and weight, plus answer all the other questions you might have about feeding your new pet to keep them happy and healthy.
Before scrolling down to the answer to this guide, "How Much Should a Goldendoodle Puppy Eat," check out these other Goldendoodle guides from our team at We Love Doodles: What Makes an Ugly Goldendoodle and What is a Mini Australian Goldendoodle?
Goldendoodle Puppy Feeding Chart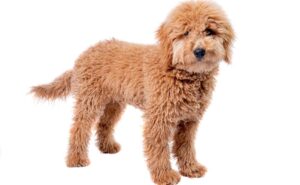 Determining how much you should feed your Goldendoodle puppy depends on their age and how big they will be when they're fully grown. You can use a calorie calculator if you don't know which brand of puppy food you're going to use, but the bag of food should have a chart much like the one below to help you keep your puppy at a healthy weight.
Weight

at Maturity

2-3

Months

4-5

Months

6-8

Months

9-11

Months

1-2

Years

3-12 lbs.
1/2 to 1

cup

2/3 to 1-1/3

cups

1/2 to 1-1/2

cups

Adult Serving
Adult Serving
13-20 lbs.
1/2 to 1-1/4 cups
1-1/8 to 2

cups

3/4 to 1-1/3

cups

1 to 1-1/2

cups

Adult Serving
21-50 lbs.
1/2 to 1-1/2 cups
1-1/2 to 2-3/4

cups

1-1/8 to 2-1/3

cups

2-3

cups

2 to 4-1/4

cups

51-75 lbs.
5/8 to 2-1/3

cups

1-1/2 to 4

cups

1-1/2 to 3-3/4

cups

2-1/2 to 4-3/4

cups

2-5/8 to 6-1/4

cups

76-100 lbs.
1 to 2-2/3

cups

2-7/8 to 3-3/4

cups

2-7/8 to 6-1/3

cups

3-7/8 to 7 cups
5-5/8 to 11 cups
More Goldendoodle Guides: Goldendoodle vs. Mini Goldendoodle and Goldendoodle Energy Level Guide.
Goldendoodle Puppy Feeding Schedule
Now that you know how much food a Goldendoodle puppy should eat according to their age and weight at maturity, the next thing you'll need to do is get your new pet on a feeding schedule. According to the pet experts at PetMD, your puppy should eat 3 meals a day on a consistent schedule.
To ensure your Goldendoodle doesn't have any accidents in their crate overnight, you should give them their last meal about 5 hours before bedtime, so they have time to go potty one last time. Follow this puppy feeding schedule until they are 14 to 18 weeks old.
When your puppy is between 3 and 4 months old, you can begin feeding them 2 times a day. Feeding your puppy soon after waking up and again a few hours before bedtime would be best. To ensure you're feeding your adorable furball the right amount each day, you'll need to find the total amount of food your puppy should eat for their age and weight at maturity.
Once you have that number in mind, you'll need to divide it by how many times you plan to feed your Goldendoodle daily. Knowing how much you should feed your puppy daily and at each meal is essential to ensure your Goldendoodle grows happy and healthy.
More Goldendoodle Guides: Sheepadoodle vs. Goldendoodle and Common Goldendoodle Health Issues.
How to Choose the Best Food for a Goldendoodle Puppy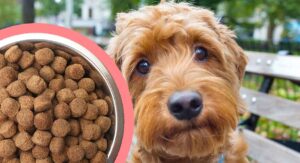 With all the puppy food brands on the market, how can you decide the best food for a Goldendoodle puppy? The answer to that question varies depending on your puppy's estimated weight as an adult. You'll want food for small dogs if you have a teacup or toy-sized dog, while medium-sized Goldendoodles need food for medium-sized dogs.
Standard Goldendoodles usually weigh between 50 and 60 pounds, so they'll need food formulated for large dogs. With your dog's adult weight in mind, you can start looking for a good brand of puppy food for their size.
Here are a few veterinarian-approved tips to help you choose the healthiest food for your puppy:
Look for an AAFCO (Association of American Feed Control Officials): approved pet food company. These companies go through feeding trials on their dogs in the lab to ensure no nutritional deficiencies in their food before releasing it to the public.
Make sure it is high in calories: Puppies have much higher caloric needs than adult dogs to keep up with all their growth spurts and leave them with energy to play all day.
Pick a puppy food with high levels of DHA: This essential fatty acid helps improve ear, eye, and brain development.
Choose food that lists meat as the first ingredient: Meat is an excellent source of protein that is easy for dogs to digest.
Avoid food with a high percentage of grain: Grains are full of carbohydrates and can make your puppy gain too much weight.
Related: Best Food For a Goldendoodle Puppy and Best Dog Food For Goldendoodles.
FAQ For "How Much Should a Goldendoodle Puppy Eat"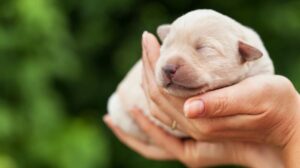 How much should I feed my 8-week-old Goldendoodle?
To decide how much food you should give an 8-week-old Goldendoodle, you'll need to figure out how big your puppy will be when full-grown. Teacup puppies need much less food than standard puppies. Check the back of your puppy's food bag for a feeding chart specific to that brand.
How much food should a 6-month-old Goldendoodle eat?
When you're trying to decide how much food you should give your 6-month-old Goldendoodle puppy, the answer depends on how much they will weigh at maturity. If you have a standard Goldendoodle, they will need about 1-1/2 to 2 cups of food every day.
How much food should a 1-year-old Goldendoodle eat?
The right amount of food for a 1-year-old Goldendoodle depends on how much they will weigh when they reach adulthood. Teacup and toy Goldendoodles should eat about 1-1/2 cups daily, and minis should get between 2 and 4 cups daily. Standard Goldendoodles need to eat anywhere from 2-1/2 to 5 cups of food every day.
How much food should a Mini Goldendoodle eat?
Mini Goldendoodles need to eat different amounts of food in each stage of life. At 2-3 months, they should eat 1/2 to 1-1/2 cups spread across 3 meals a day. By 4-5 months old, they should eat about 1-1/2 to 2-3/4 cups of puppy food in 2 meals daily.
6-8-month-old mini Goldendoodle puppies should eat 1-1/8 to 2-1/3 cups and 2-3 cups by the time they are 9-11 months old. You should feed your puppy 2 to 4-1/4 cups between 1 and 2 years old.
How long to feed a Goldendoodle puppy food?
How long to feed a Goldendoodle puppy food depends on how big your dog will be as an adult. You'll want to switch to adult food when your puppy reaches maturity, but that happens at different ages for small and large dogs. On average, dogs under 30 pounds are full-grown by 10 months to 1 year old, with some toy animals maturing as early as 7 to 9 months old.
Larger dogs, on the other hand, mature a bit slower. Between 30 to 60 pounds, medium dogs reach adulthood between 12 and 16 months. Most Goldendoodles won't get any bigger than that, but if you get a puppy that will be larger than the standard size, they may not be full-grown until they're around 1 ½ years old.
Since obesity is a common issue among canines, you should talk to your puppy's vet as they grow to ensure you're feeding them the best food for their needs. When you switch from puppy food to adult food, do it slowly over one week, gradually adding adult food to the puppy food until you're serving an entire portion of the new food. Gradually switching food will help your dog avoid getting an upset stomach from the change.
What treats can Goldendoodles eat?
Goldendoodles can eat any treats formulated for their size unless they have specific food allergies. Since obesity can be a major problem for dogs, you should ensure that treats only makeup about 10% of your puppy's calorie intake daily.
What human foods can Goldendoodles eat?
Most veterinarians agree that some human food can be beneficial for Goldendoodles.
A few of these foods include:
Apple: Apples are an excellent source of nutrients like fiber, vitamin A, and Vitamin C. They're also low in fat and protein, making them a healthy snack for your puppy.
Bananas: Since bananas contain many nutrients like potassium, biotin, fiber, and vitamins, they're a healthy treat for dogs. They have a bit of sugar, so you should feed them in moderation rather than making them the main staple of your dog's diet.
Blueberries: High in antioxidants, blueberries make a great snack for your furry friend. Since they're small, you can even use them for training exercises in place of dog treats.
Pumpkin: Feed them straight pumpkin puree to help prevent digestive issues and improve your puppy's skin and coat. Want to give your canine companion something extra special? Try out one of these pumpkin treat recipes to get their tails wagging.
Watermelon: Feeding your dog watermelon is a tasty way to keep them hydrated in hot weather. It's also packed with nutrients like vitamins A, B-6, and C and potassium.
This list is by no means an extensive list of human foods you can feed a Goldendoodle. For more ideas, ask your dog's vet at their next check-up.
What can Goldendoodles not eat?
There are quite a few off-limits food items, not just for Goldendoodles but for all dogs. At best, these foods will make their stomachs upset. Certain items, however, can do severe damage to their organs.
Some of the foods your Goldendoodle can't eat include:
Alcohol: Like people, alcohol can damage your dog's liver. Your puppy can get sick from much less alcohol than it takes to make a person sick, and smaller dogs are more susceptible to adverse effects than large ones.
Avocado: Avocados contain persin, which can cause vomiting or diarrhea in dogs.
Chocolate: The old urban legend is true; chocolate is toxic to dogs. In small amounts, it will just give your puppy an upset stomach. Large portions, especially dark chocolate, could lead to seizures, heart problems, or even death.
Grapes/Raisins: Too many grapes or raisins can cause kidney failure in canines. The first sign of kidney damage is repeatedly vomiting, so get your dog to the vet immediately if you notice this symptom after possible ingestion.
Garlic/Onions: Goldendoodles can't have garlic or onions because they can cause anemia like any other dog breed. The symptoms of garlic or onion poisoning may be delayed, so keep an eye on your puppy for a few days if you think they may have eaten garlic.
Macadamia Nuts: If they eat as few as six Macadamia nuts, your Goldendoodle can get sick. If you think they ate a nut or something containing it, keep an eye out for poisoning symptoms. These symptoms include muscle shakes, vomiting, and elevated temperature.
Xylitol: This popular sugar substitute is in many items that you wouldn't think could harm your dog, like certain candies, gum, and even toothpaste. Xylitol is extremely toxic even in tiny doses and can cause vomiting, lethargy, seizures, and liver failure.
If your dog ingests any of the items on this list, you should call your vet immediately and tell them how much your dog has eaten so they can tell you if it will be okay.
Can a Goldendoodle Puppy Eat Raw Food?
Although raw food diets have become quite popular among the dog owner community, the AVMA (American Veterinary Medical Association) advises against feeding a pet food that hasn't undergone any treatment to remove pathogens.
These pathogens can make our pets sick, but cooking or pasteurizing food sources removes them and eliminates the danger. Feeding a Goldendoodle puppy raw food could not only make them sick, but you could also get sick from preparing the food. Feeding a raw diet is not worth the risk to your health or your furry friend's health.
Related: How Much Does a Goldendoodle Cost?
Conclusion For "How Much Should a Goldendoodle Puppy Eat"
The amount you should feed a Goldendoodle puppy depends on how big your puppy will be when fully grown and what brand of food you're giving them. Ensure they get the right amount at each feeding by dividing their total daily amount by the number of times you plan to feed them daily. Young puppies need to eat more frequently than adults and have higher caloric needs to support healthy growth.
Go ahead and give your Goldendoodle puppy treats, but take care to give them in moderation so that your canine companion doesn't become overweight. When in doubt, check with your veterinarian before feeding your puppy any human food, and be sure to call them immediately if your dog ingests anything toxic.
If you find this guide, "How Much Should a Goldendoodle Puppy Eat," helpful, you can check out:
You can learn more about the best dog food for your Goldendoodle puppy by watching "Best Dog Food For Goldendoodles and Puppies" down below: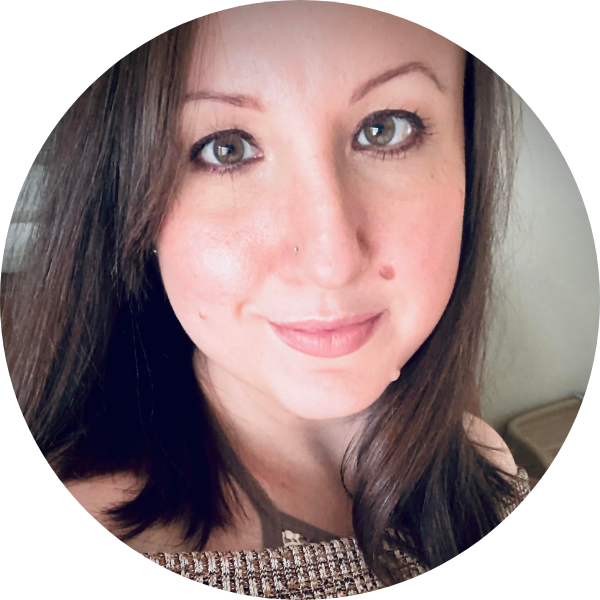 Christy is a freelance writer and pet enthusiast. She brought home her first puppy when she was only five years old and has shared her home with canine companions ever since.
She has been passionate about writing since childhood and feels blessed to have built a career around something she loves. When she's not writing or researching her latest article, Christy enjoys spending time with her daughters and their dogs.
Why Trust We Love Doodles?
At We Love Doodles, we're a team of writers, veterinarians, and puppy trainers that love dogs. Our team of qualified experts researches and provides reliable information on a wide range of dog topics. Our reviews are based on customer feedback, hands-on testing, and in-depth analysis. We are fully transparent and honest to our community of dog owners and future owners.