Before you go further down this Mini Australian Goldendoodle guide, here's what you need to know. Dogs come in all shapes and sizes. Some are fluffy, and some have short coats. Some have long legs and bodies, and some are short and stubby.
From extremely friendly to shyer, there's undoubtedly a dog breed out there for you to become instant friends with. Some dogs are even of a mixed variety, meaning that they are a cross between two distinct dogs.
Both dogs in the breeding process are purebreds for a first-generation hybrid dog. However, in a second-tier hybrid breed, one or both of the dogs in the breeding may be a hybrid themselves, to begin with.
Either way, what results is a breed that takes the best of both breeds. It takes the best physical characteristics, personality components, and health status and combines them into one great dog. One such hybrid breed is the Miniature Australian Goldendoodle.
While this mixed breed can be a mouthful to say, they are a popular breed that is incredibly adorable and great for all sorts of families and lifestyles. So if you're considering adding a Mini Australian Goldendoodle to your family, there are some essential things to know about this beautiful breed.
To help you make the most informed decisions about your dog, here we share some helpful insight about what the Miniature Australian Goldendoodle is and the many things to love about this breed.
Before scrolling down this Mini Australian Goldendoodle guide, check out these articles: Male vs. Female Goldendoodle and Goldendoodle Energy Level Information.
What is a Miniature Australian Goldendoodle?
When it comes to types of hybrid breeds, there is quite a diversity. This diversity makes selecting a dog for you and your family an enjoyable process in choosing a dog that's just right for you and your family.
A Miniature Australian Goldendoodle can be a great choice as you consider what dog to welcome into your family. The breeding of these dogs can be pretty diverse as well.
These second-tier hybrid breeds can mix a Goldendoodle and an Australian Labradoodle. Keep in mind that a Goldendoodle is a mix between a Golden Retriever and a Poodle, while an Australian Labradoodle is a mix between an Australian Labrador and a Poodle.
In addition to these two hybrid parent breeds, a Miniature Australian Goldendoodle can also mix between an English Cream Golden Retriever and an Australian Labradoodle.
The Australian Labradoodle mixes either a Poodle, Labrador Retriever, and Cocker Spaniel or just a Labrador Retriever and Poodle. This breed, despite its name, does not incorporate an Australian Shepherd into the mix.
Like their parent breeds, an Australian Goldendoodle can live between 10 to 15 years old. However, as Miniature dogs tend to have a longer lifespan, they may skew more toward the 15-year-old range. By providing essential and generous care for your dog, you can ensure that they live a long and happy life.
The miniature size comes in with either one or both parents being of the Miniature variety of a Labradoodle or Goldendoodle. As Poodles come in three distinct sizes, including toy, miniature, and standard, their hybrid breeds exhibit these different sizes.
Size
The size of a Miniature Australian Goldendoodle can vary based on the parent breeds. Typically, these dogs reach a height between 14 and 16 inches tall. Their weight can also vary quite a bit, ranging between 15 and 25 pounds when they are fully grown.
These size ranges are pretty consistent with regular Goldendoodles. Their small size makes them great for smaller living environments such as apartments or small homes.
Appearance
Just as the size of the Miniature Australian Goldendoodle can vary, their appearance can come in many different colors and coat styles. They can have coats that are red, brown, white, gray, and of course, that classic Goldendoodle tan.
They will often have brown eyes but can also have blue or green depending on the parents involved in the breeding. This diversity in coat color can make them irresistible to many families as they choose the right dog for them.
Their coats also are wavy and silky smooth, making them perfect for cuddling. Another key benefit of the Miniature Australian Goldendoodle is its low-shedding characteristics.
While their coats look a little shaggy and messy, they are known for their hypoallergenic qualities and ease with pet allergies. This can be a massive bonus for your family if that's something important to you.
Related: What Makes an Ugly Goldendoodle?
Grooming
The coat of the Australian Goldendoodle requires some attention. Because their coats can be pretty shaggy and messy-looking, it's important that they experience regular brushing and bathing.
Combing through their hair can prevent mats from developing and other sections of their hair from being tangled. Occasional baths can also help support their coat and skin health using dog shampoo and thorough rinsing.
Related: Facts About The Curly Goldendoodle.
Temperament
Like other Goldendoodles and Poodle hybrids, the Miniature Australian Goldendoodle is known for its lively and playful personality. However, much of their definitive personality is based on each parent they have in them.
For example, these dogs can either emphasize the temperament of a Goldendoodle or more of the Australian Labradoodle. In either case, there are many similarities between these two parent breeds that can help provide insight into what the puppy will be like.
Most often, the Miniature Australian Goldendoodle is very loyal and friendly. They are easy-going and want to please their owners, making them relatively easy to train.
As they are pretty social dogs, they do not particularly enjoy being alone for extended periods. They are gentle and loveable companions that can be great for all sorts of families.
Related: Are Goldendoodles Good with Kids?
Training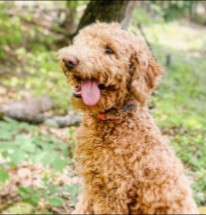 With the Poodle's influence of high intelligence, these dogs are often easy to train. As they seek to please their owners and have a great deal of loyalty, they will do what they can to make things right.
As with most other dogs, proper socialization and early behavioral training will set a Miniature Australian Goldendoodle up for success both now and in the future. Establishing that positive relationship early on can help to build trust and support your dog's happy and valuable lifestyle.
When it comes to exercise, keep in mind that while the Miniature Australian Goldendoodle may be small, they still require an ample amount of physical activity. They enjoy being outside and playing around in the yard or the living room.
You can make their need for activity work in smaller environments as long as they have some access to staying active, whether through regular walks or energetic playtime. So an Australian Goldendoodle can stay happy and healthy.
Related: How to Train a Goldendoodle.
Health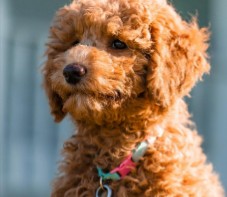 Like many other hybrid breeds, breeding is done intentionally to support the quality and health of the hybrid breed. Therefore, typically hybrid breeds tend to have fewer genetic issues and medical conditions that develop over time.
However, remember that it may not always be a perfect science, and a Miniature Australian Goldendoodle can develop things like cataracts or hip dysplasia.
Care for your dog's health by regularly taking them to the veterinarian and keeping them up to date on all their vaccinations and other medications they may need.
Conclusion For "What is a Mini Australian Goldendoodle"
Especially when it comes to mixed breeds, there sure is a lot to love about dogs. For the Miniature Australian Goldendoodle, their already hybrid parents bring a wealth of attractive characteristics and prime temperament tendencies that make them great family pets for all ages.
Their small size makes them ideal for small living spaces like apartments. And their friendly and playful personality can make them great companions for families with kids.
Keep in mind that these high-end hybrid breeds come at a cost. While purebred dogs may be less expensive, hybrid breeds tend to increase the price. This is often due to high popularity and more intricate breeding processes.
Litter sizes may also affect the price. If you're curious about purchasing a Miniature Australian Goldendoodle for yourself, be sure to do your research and find a local breeder that has ethical breeding practices and cares about both you and your puppies.
With the right approach, you can find the Miniature Australian Goldendoodle that's just right for you and your family's lifestyle. Explore the friendliness and joy that this breed can bring for yourself.
If this Mini Australian Goldendoodle guide is helpful, check out our other articles:
For more information on Goldendoodles, you can watch "Mini Goldendoodle – Top 10 Facts" down below: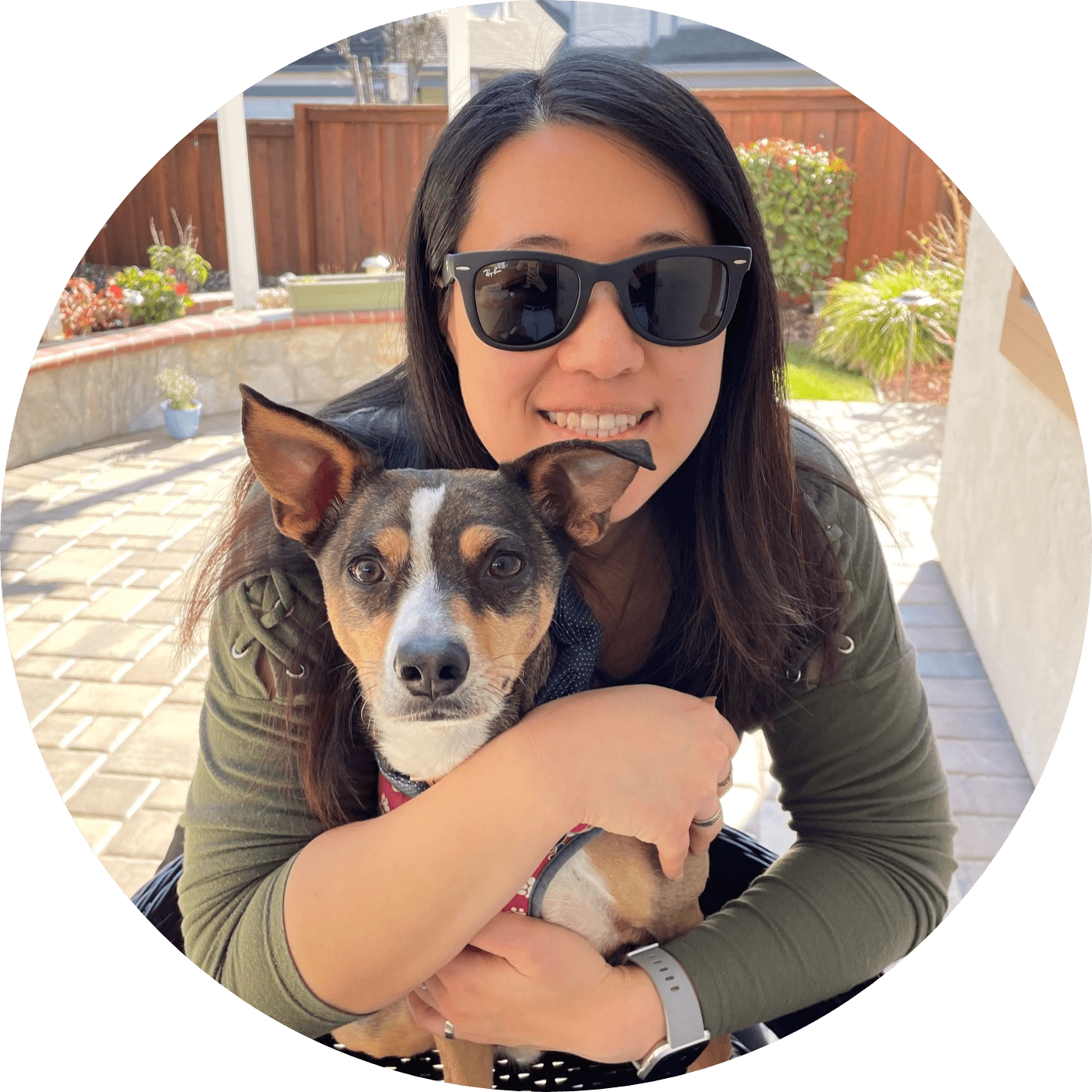 Dr. Sabrina Kong graduated from the Royal Veterinary College in England in 2016 and has been working at a small animal clinic in Northern California since then. She grew up in the Bay Area and got her bachelor's degree from Cal Poly San Luis Obispo. She also became a Certified Canine Rehabilitation Practitioner through a program at the University of Tennessee.
When she isn't in the clinic taking care of her four-legged patients, she enjoys traveling and trying new foods with her friends and her three-legged dog, Apollo. She adopted Apollo from her clinic when he was a puppy with numerous health issues. Dr. Kong truly cares about taking care of animals.