As summertime approaches, so does the risk of heatstroke. Humans can manage well by staying indoors and hydrating. But how do you care for Labradoodles in the summer — and do they get hot easily?
Labradoodles do get hot easily. They find it increasingly difficult to handle internal temperatures that exceed 105 degrees Fahrenheit and may soon experience the symptoms of a heat stroke. The most comfortable internal temperature for a Labradoodle is 101 to 102 degrees Fahrenheit.
Keep reading as we describe more ways to take care of your Labradoodle in the heat.
Before reading down this guide, "Do Labradoodles Get Hot Easily," check out: Are Labradoodles Good Hunting Dogs? (2023) and Do Labradoodles Shed? (2023).
Do Labradoodles Get Hot Easily?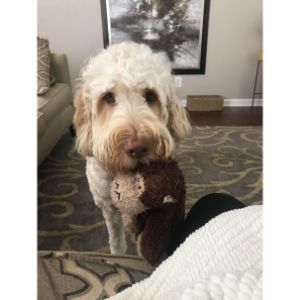 Labradoodles can't stand to be in the sun for too long, and they overheat easily.
When the temperature climbs above 105 degrees Fahrenheit, Labradoodles may become very uncomfortable. Your Labradoodle is at risk for health complications like heat stroke if left outside for extended periods.
If your dog's internal temperature rises above 105 degrees Fahrenheit, it poses a serious risk to his organs. Therefore, temperatures between 101 and 102 degrees Fahrenheit are ideal for Labradoodles.
The lack of sweat glands in a Labradoodle's skin is a major contributor to the breed's inability to control its internal temperature.
Another possible reason for the Labradoodle's inability to tolerate heat is that they're covered in a thick coat, which makes them more susceptible to overheating in warm weather.
The dog's coat color may also play a role in its heat tolerance since dogs with dark-colored coats retain greater amounts of heat on hot days than dogs with light-colored coats.
Types of Labradoodle Coats
There are three primary coats found in Labradoodles: wool, fleece, and hair. Natural tolerance to cold varies across these types. Any one of them may be available with or without an underlayer.
Wool Coat
The wool coat is the epitome of the Labradoodle and should be considered the gold standard. The thick fleece of sheep is the inspiration for this coat because it yields such soft, cozy wool.
Wool Labradoodle coats are typically single-layer. However, the hairs will be coarse, curled, and tightly entangled with one another. This makes the wool coat more effective in keeping the dog warm by preventing air and moisture from penetrating the skin.
Fleece Coat
When compared to the wool coat, the Labradoodle's fleece coat is more relaxed and wavy. As a result, it won't be able to withstand weather conditions like wind, rain, or snow as well.
If the coat has an underlayer, it will retain its body heat well even when the temperature outside is low. However, if it's only one layer, your Labradoodle can become chilly faster than expected.
Hair Coat
Labradoodles with hair coats look the most like their Labrador Retriever parent. The hairs on your Labradoodle will either be completely straight or have a tiny wave to them if they have this type of coat. Like the other two varieties, this coat style may or may not have an underlayer.
In wet or cold climates, dogs with a single-layer coat are at greater risk of experiencing discomfort and even health problems.
Labradoodle Symptoms of Overheating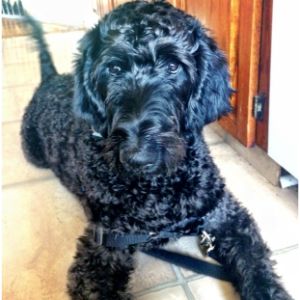 Labradoodle owners should be aware of the warning signs of overheating. If you know how to recognize them, you can immediately reduce their body temperature and perhaps save their life.
Some warning indications that your Labradoodle may be overheating are as follows:
Whining
During a hot day, you should pay close attention to how your dog behaves, especially if it's whining excessively. Your dog could be overheating if they've suddenly started whining for no other reason.
Drooling and Panting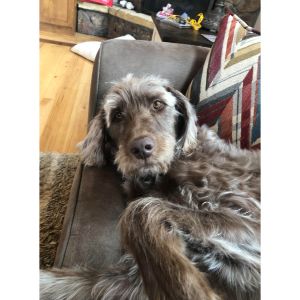 Excessive drooling and panting are two more symptoms your Labradoodle may exhibit when overheated.
Thirst
When it's hot outside, Labradoodles, like other dogs, will start to feel parched and will want to drink water frequently.
Low Energy
Monitor your dog's demeanor during hot weather to see whether he or she has low energy levels. If they seem lethargic or unwilling to move, heat exhaustion is likely to blame.
Dizzy
Does your dog look confused or dizzy as the temperature rises? This is one of the most typical indicators that a Labradoodle is overheating.
Temperature
One of the easiest ways to tell if your dog is experiencing heat exhaustion is to take its temperature. If they are overheated, their body temperature will rise.
You can protect your dog from heat stroke this summer if you keep an eye out for the warning symptoms you've learned about so far.
Tips for Keeping Your Labradoodle Cool
Below are some tips to follow when taking care of your dog during the summer.
Give Them Plenty of Clean Water
One of the most important things you can do for your Labradoodle during the summertime is to ensure that it never runs out of clean water to drink. Hot weather can cause rapid dehydration in dogs.
Dehydration is a leading cause of death. Make sure you're offering your dog lots of water whenever you go out and about this summer. A portable water bowl is a great option for warm days.
Keep Out of the Heat and Sun
In the warmer months, overheating is a serious problem. Provide shade if your Labradoodle will be outside. Indirect sunlight is preferable for dog walks, so consider going on a walk first thing in the morning or late at night. Avoid strenuous outdoor activity during the hottest parts of the day.
Allow Your Dog to Cool Off
Dogs don't perspire like humans. They maintain a steady internal temperature using their paws and breathing. When the weather turns warm, you can use a frozen bandana to help your Labradoodle stay cool.
Soak a bandana, squeeze out the excess water, and place it in the freezer. Consider purchasing a pair of boots for your Labradoodle if you intend to go on walks, as the pavement may be painfully hot.
Get a Summer Trim for Your Labradoodle
Your dog will be cleaner and cooler if its coat is shorter in the summer.
However, you should avoid completely removing all of your Labradoodle's hair. Your dog's skin may become more sensitive to sunburn after you give it a close shave.
Make it a point to bring your Labradoodle to a reliable groomer so they can give them a summer cut that is both fashionable and safe.
Keep an Eye Out for Stinging Insects
Labradoodles have a high level of curiosity. They have a habit of prying into things. However, if your pet is stung by a bee or a wasp, it could be fatal. The presence of compost heaps and fruit trees both increase the likelihood of bees and wasps congregating nearby.
Keep a close check on your dogs at all times to ensure that they don't get into any sticky situations when they're out and about.
Avoid Leaving Your Dog in the Car
Your Labradoodle should never be left in a hot car, especially during the summer.
It's a bad idea, even if the windows are down. Your dog can die from heatstroke and suffocation in a matter of minutes — and the temperature doesn't need to be particularly high.
Even when it's only 78 degrees, the temperature in the vehicle can easily reach 100 degrees in a matter of minutes. It doesn't matter how much your Labradoodle enjoys accompanying you on errands; you shouldn't take any chances. Don't bring your pets with you — they'll be much safer at home.
Avoiding Heat Stroke with Your Labradoodle
When the temperature rises, you might find it necessary to alter your daily schedule.
To make the most of your time with your Labradoodle, the best time of day to engage in activities like long walks and games is first thing in the morning, as well as late at night. Avoid intense outdoor activities in the middle of the day during the summer when temperatures often peak at lunchtime.
Your Labradoodle is at risk for heat stroke and pavement burns when you take him for a walk in the middle of the day. On very hot days, you should stay off of asphalt, pavement, and gravel.
You should never leave your Labradoodle unsupervised in a vehicle, but this is especially important when it's hot. Reports of dogs becoming ill or passing after being left in hot cars are all too common.
Labradoodles, much like kids, are susceptible to suffering from heat stroke and dehydration. Make sure your Labradoodle always has access to shady areas. Under no circumstances should you ever keep your dog tied up in the scorching sun for an extended period.
Throughout the warmer months of the year, a wide variety of insects will choose to make the backyard their new place of residence. It is crucial to make sure that your Labradoodle does not have easy access to any wasp nests or bee hives.
Make sure your garden's pesticides are safe for pets and other wildlife.
How to Treat Heat Stroke in Your Labradoodle
As soon as you see your Labradoodle showing signs of heat stroke, get them out of the sun's intense heat. This can involve taking them inside and positioning them close to an air conditioner or fan. If your Labradoodle is overheated, cool water from the faucet or a damp washcloth will do the trick.
If your Labradoodle's condition does not improve following a bath, try placing an ice pack on his or her head. Comfort your dog by sitting with them and offering them clean, refreshing water to drink.
You should take your dog's temperature regularly and consult a vet if it continues to rise. They might offer you instructions over the phone, or they might ask to see your Labradoodle right away. If your dog has suffered from heat stroke, you should wait until it has fully recovered before letting it back outside.
Frequently Asked Questions
Why is my Labradoodle so hot?
Labradoodles aren't able to cool down as easily as humans and aren't as aware that they're overheated. As such, it's up to their owners to keep them safe and cool.
Do Labradoodles get hot in summer?
Walking outside in the sun is dangerous for Labradoodles, and they can get hot easily even if they're in the shade.
Should you cut your Labradoodle's hair in the summer?
The summer cut is a good option for Labradoodles that need to keep cool, so consider setting up an appointment. Most groomers will cut the dog's coat to half an inch.
Conclusion for "Do Labradoodles Get Hot Easily"
So, now that you know how to take care of your Labradoodle in the scorching heat, you can take it on walks carefree without worrying about their health. After all, we all only want what's best for our dogs.
If you find this guide, "Do Labradoodles Get Hot Easily," helpful, check out:
Learn more by watching "Labradoodle: The Pros & Cons of Owning One" down below:
Garrett loves animals and is a huge advocate for all Doodle dog breeds. He owns his own Goldendoodle named Kona. In addition, he volunteers at the Humane Society of Silicon Valley, where he fosters dogs and helps animals. Garrett enjoys writing about Doodles and believes that dogs can teach humans more about how to live than humans can teach a dog.
Why Trust We Love Doodles?
At We Love Doodles, we're a team of writers, veterinarians, and puppy trainers that love dogs. Our team of qualified experts researches and provides reliable information on a wide range of dog topics. Our reviews are based on customer feedback, hands-on testing, and in-depth analysis. We are fully transparent and honest to our community of dog owners and future owners.