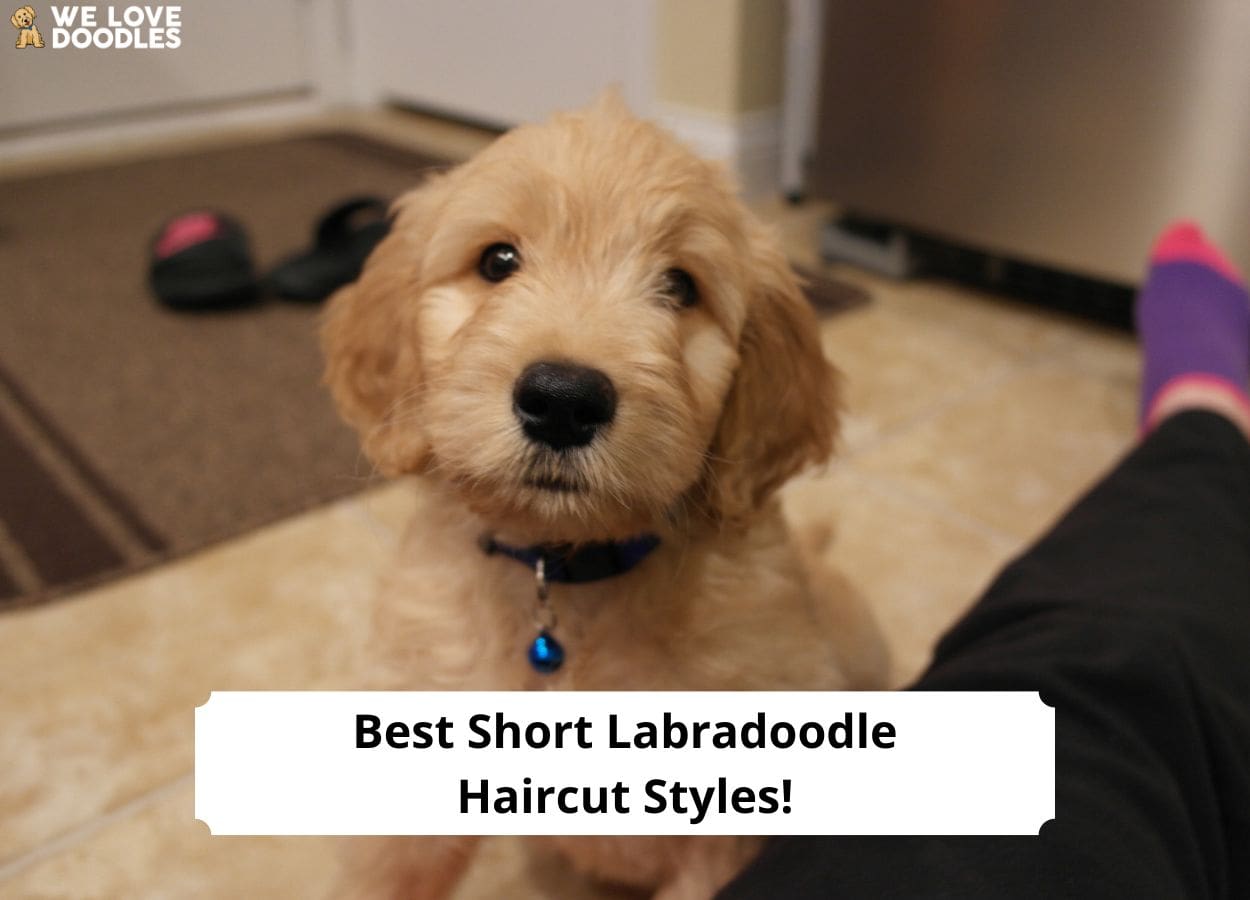 Do you have a Labradoodle? Fantastic! You already know these dogs are smart, super-trainable, and even largely hypoallergenic. Speaking of hair, you may be curious about short Labradoodle haircut styles.
You don't have to be stuck with the same boring 'do month after month, so why should your dog? Treat your dog to a day at the groomer, or trim your dog yourself. We're here to provide ideas — all you'll need to do is execute them.
Bring a picture of one of these cuts to your groomer, or use one as reference for yourself. Get the equipment you need to give your dog one of the best short Labradoodle haircut styles from our list.
Before reading this guide, "Best Short Labradoodle Haircut Styles," check out: How to Train a Labradoodle! (2023) and What Is a Multigen Labradoodle? (2023).
Before You Begin Grooming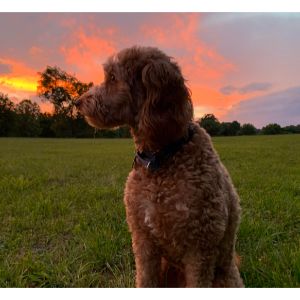 If you're planning to cut your Labradoodle's hair on your own, there are a few things you'll need to keep in mind — and on hand.
Your dog may be a wiggler! Fortunately, they make saddles and hammocks for dogs that will make it easier to groom an active pup. Check out the products available on Amazon like this Breeze Touch Grooming Table Arm but keep in mind that different sizes are available.
You're going to need well-maintained equipment. Make sure your clippers are oiled, your scissors are sharp, and your nail trimmers are in good working condition.
Invest in a good quality shampoo like We Love Doodles's own brand, which will wash, condition, and rinse easily from your dog's hair. Your short Labradoodle haircut will go a lot easier if you've removed all mats, tangles, and debris from your pup's coat before you begin to clip or cut.
Make sure your dog is thoroughly clean and dry before you begin to style him. Follow the instructions on your clippers — some are designed for use on wet hair but others may only be used for dry fur. Brush your dog very well after washing him to prevent pulling his hair.
Finally, have fun! There's no need to rush, and if you begin to feel uncomfortable at any point, just book an appointment with a pro. A grooming session can offer a fantastic opportunity to bond with your dog. Relax, have fun, and enjoy the process.
When Should I Take My Labradoodle to the Groomer?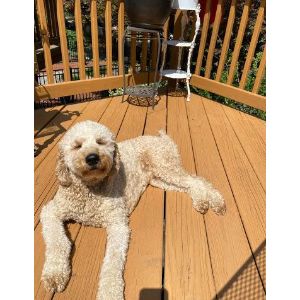 Dogs, like humans, need upkeep. There are a few facets of this maintenance you may be wary of doing yourself. Anal gland expression, nail trimming, ear cleaning, and teeth brushing are a few examples, and you may not feel comfortable doing them on your own at home.
Don't worry! You can just book an appointment with your groomer. Feel free to give your dog a trim on your own, then take him to the groomer for the "dirty work." Call ahead to ensure that this is appropriate at your local groomer, as some may prefer to do all the work on their own.
Remember, too, that it's hard to mess up a haircut. That said, should you slip with the clippers, hair grows back. Even out the haircut or have the groomer do it for you, and all will be well again.
With those points in mind, it's time to look at the best short Labradoodle haircut styles. Let's get started!
Short Labradoodle Haircut Styles
1. Puppy Cut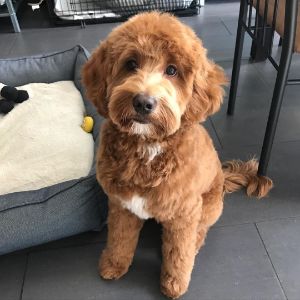 The puppy cut is a classic, cute look perfect for Labradoodles with curly hair. The style is commonly called a teddy bear cut, and for good reason! Your dog will look so cute with his rounded face and fluffy body.
To achieve the puppy cut, you'll select a blade guard between one and two inches in length. Then, just go to town! You'll cut your pup's body, legs, and even tail to this length, but don't clip his little face! When his body is done, use your scissors to shape your Labradoodle's muzzle into a round shape.
Your puppy cut will last several months and will need minimal care. Brush your dog on occasion (daily if you're able) to remove the mats, tangles, and dirt from his coat. Wash your dog weekly or so to keep him looking fluffy and cute!
The puppy cut isn't just for puppies. Even adult dogs will look absolutely adorable with this short haircut.
2. Kennel Cut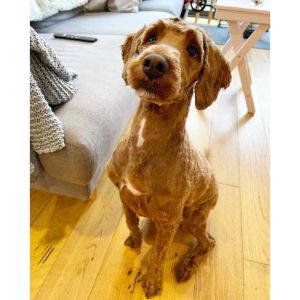 The kennel cut is the longest-lasting of the short Labradoodle haircut styles on our list. It's also the easiest to achieve and maintain. All you'll do is trim your dog from head to toe with a short blade guard.
The kennel cut is impervious to matting and tangling, and your dog will stay looking fresh and clean. However, your Labradoodle may be more prone to sunburn if she likes to play outside. Choose a sunscreen formulated for dogs and apply it as directed.
As with any haircut, you'll need to use scissors around your dog's ears and to trim the hair between his paw pads. You may need to give her tail a little extra TLC, too. Choose a calm environment for your pup while you do this to avoid nicks and cuts.
3. Lamb Cut
The lamb cut is another option for a short Doodle cut. It works best if your dog inherited the curly genes of his Poodle parent, as it's meant to be fluffy and full. The lamb cut consists of a shorter shave around your pup's chest and torso, but a fuller length on your dog's legs and chin.
Keeping your dog still, use your clippers to trim her hair to a longer length all around his body, including her belly. Leave your pup's ears and tail long. Then, choose a very short blade guard and trim your pup's feet, topknot, muzzle, and the base of his tail.
When you're finished clipping your dog, you'll need to round out your pup's ears and tail with scissors. If your dog's hair is curly enough, you can create a round, Poodle-like shape on your dog's topknot and tail.
If you've got a friend who can assist you and provide a second set of eyes as you DIY, great! He or she can help you ensure that your Labradoodle's lamb cut is even and looks great!
4. Summer Cut
Labradoodles don't shed much, but they can certainly get hot! A summer cut will help keep the summer heat at bay, and your dog will stay comfy all season long.
A summer cut is a bit like a kennel cut and a bit like a puppy cut. In fact, you can leave a little length on your dog's ears and tail, if you like.
To achieve this puppy look, you'll choose a moderately short clipper guard and shave your pup all over. Use scissors to round out or even out his ears, to trim the hair between his paw pads, and to style his tail.
Like the kennel cut, a summer cut can make your dog more susceptible to sunburn, so use dog-friendly sunscreen in the yard and at the beach. You'll be able to go a few months without trimming your dog's hair, making it easier to maintain than a puppy cut.
On the flip side, the length is a little longer than you'll get with a kennel cut, giving you a little more room to play with the style.
5. Shave
Shaving your dog is often seen as a last resort, but the style can be cute on the right dog! Usually, when a pet owner shaves their pup it's to remove mats and tangles, or it's the aftermath of having fleas. That said, you can shave your dog for no reason at all, giving him a sleek and low-maintenance 'do.
Well-oiled, sharp clippers are essential to a shave, but once you're certain your equipment is ready, the haircut is easy to master. All you have to do is shave in the direction of hair growth. Like the puppy and kennel cuts, you can optionally choose to leave a little length around the ears and tail if you prefer.
Keep an eye out for sunburn with this cut. We recommend a sunblock like Bodhi Moisturizing Sun Spray to keep your pup's skin protected outdoors.
6. Fun Cuts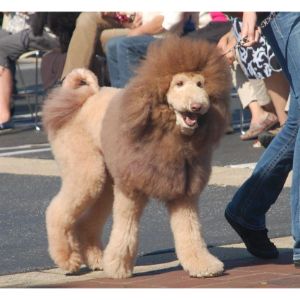 Your dog's hair grows back. For that reason, you might consider trying out a "cool" or "fun" hairstyle for your Labradoodle! You can trim his hair into a mohawk, or style a lion's mane around his neck.
Don't be afraid to experiment. Color your dog's fur with hair chalk around the holidays or give a long-haired dog a holiday tree-shaped style on his back. Just leave the length of the shape longer and trim shorter around it.
The sky's the limit, so use your imagination! You can always shave the hair down if you don't like the style you choose, then wait for it to grow back out again to try again.
Frequently Asked Questions
How short should you cut a Labradoodle's hair?
You can cut your Labradoodle's hair down to about an inch in length if you prefer a shorter look.
How short can you cut a Labradoodle's hair in summer?
During the hot summer months, you can trim your Labradoodle's hair down to about half an inch. For a more stylish look, keep the hair on the face and tail longer.
Should I trim the hair around my Labradoodle's eyes?
To keep your Labradoodle's vision unobstructed, it's a good idea to trim the hair around the eyes.
Conclusion for "Best Short Labradoodle Haircut Styles"
The best short Labradoodle haircut styles are designed to keep your dog cool in the summer months, but have the advantage of also being super low maintenance.
Remember that your dog will need essential "services" like nail trims, ear cleanings, and anal gland expression. Should you feel uncomfortable with these tasks, the groomer is just a phone call away.
For guides similar to this list showing short Labradoodle haircuts, check out:
Learn more by watching "Grooming Guide – Labradoodle – Pro Groomer" down below:
Garrett loves animals and is a huge advocate for all Doodle dog breeds. He owns his own Goldendoodle named Kona. In addition, he volunteers at the Humane Society of Silicon Valley, where he fosters dogs and helps animals. Garrett enjoys writing about Doodles and believes that dogs can teach humans more about how to live than humans can teach a dog.
Why Trust We Love Doodles?
At We Love Doodles, we're a team of writers, veterinarians, and puppy trainers that love dogs. Our team of qualified experts researches and provides reliable information on a wide range of dog topics. Our reviews are based on customer feedback, hands-on testing, and in-depth analysis. We are fully transparent and honest to our community of dog owners and future owners.