Are you wondering when to spay a Labradoodle? Bringing home a new dog of any breed can be life-changing. It's important to take this responsibility seriously to ensure your dog lives a happy and healthy life. Doing your research is one of the first steps, so you're in the right place.
In today's article, we'll specifically discuss when you should get your Labradoodle spayed. This is important, as spaying your dog has many benefits for your puppy and you.
You may have many questions regarding this topic, as it can be a little scary taking your pet in for major surgery, but we'll cover all you need to know to get you and your furry companion through this journey. Let's dive in.
Before scrolling down this guide, "When to Spay a Labradoodle," you can check out these other similar content from our team at We Love Doodles: When Should You Neuter a Labradoodle and Spaying or Neutering Your Doodle.
What Happens When You Spay Your Labradoodle?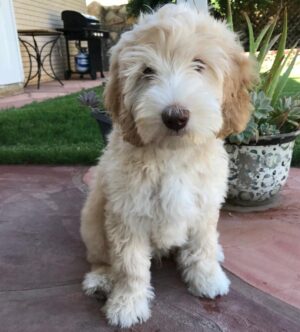 Before discussing when to spay your pet, we should probably cover what this process entails for some who may not be familiar with the term. Spaying is the process of sterilizing your female animal, so it cannot reproduce. This is a surgical process requiring a trusted veterinarian, follow-up appointments, and a healing period.
Your female Labradoodle's ovaries, fallopian tubes, and uterus are removed during the surgery. This might sound scary when you initially consider but remember that this process has been perfected and mastered by many vets throughout the nation.
We'll discuss the pros and cons of this surgery later in the article. But first, let's look at when exactly this procedure became available to us in history. Spaying and neutering became a common household occurrence in the 1970s when medical technology was advanced and available.
Before then, a large population of unwanted animals roamed the streets, reproduced, ended up in shelters, and were ultimately euthanized. Since the 1970s, shelters and many rescue groups across the nation have campaigned to bring awareness to the issue – through these efforts, the number of euthanized animals has gone down 90% since 1950.
Related: Labradoodle Coat Change Guide.
What Age Should You Spay Your Labradoodle?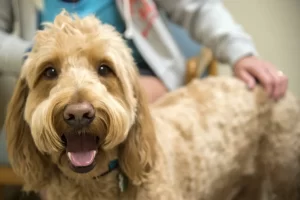 Now that we have covered what spaying means and when it became available to households across the nation, let's focus on what age you should be spaying your Labradoodle puppy if you choose to do so. According to the American Animal Hospital Association, puppies should be spayed between 5 and 15 months.
However, this opinion varies from vet to vet based on your Labradoodles size. As you may know, a Labradoodle is a Labrador Retriever mixed with a variation of a Poodle, which could be Standard, Miniature, or Toy sized. This means that the size of your Labradoodle could vary greatly.
In the opinion of some veterinarians, it is best to spay your dog before her first heat cycle. (This usually happens around 5 months, so that would fall before the recommendation from the American Animal Hospital Association). Alternatively, some vets have found that spaying your dog early leads to breast cancer tumors.
In any case, you will want to consult with your veterinarian, as spaying your dog at the wrong age can lead to many other complications, such as hip dysplasia, torn ligaments, bone cancer, and urinary incontinence. There are, of course, scenarios in our lives that may prevent us from being able to spay our dog in the recommended time frame.
If perhaps you have just adopted an older Labradoodle who is not spayed and over the 15-month mark, or maybe you would like to wait to get the surgery – you might be thinking it is too late for your puppy to undergo this procedure, right? Well, not necessarily.
It is important to speak with your vet to discuss options and what they recommend. Most will not want to perform the surgery if your female dog is in heat because blood flow is elevated during this time, which would put your dog at risk during surgery. Your vet will likely schedule the procedure based on what is best for your dog.
Related: Labradoodle vs. Goldendoodle.
Positives and Negatives of Spaying Your Labradoodle
With this being a life-changing event for not only your dog but you, you might be wondering what exactly the positives and negatives of spaying your Labradoodle are. Let's break down a few pros and cons so you can decide if this procedure will be right for you and your pet's lives.
Pros of Spaying a Labradoodle
As we mentioned earlier, during the early 1900, there were millions of unwanted animals roaming the streets without proper homes due to overpopulation which the advancement of spaying and neutering has helped keep to a minimum. In addition to this, there are also a few health and behavioral benefits of spaying your pet.
Spaying your Labradoodle helps prevent certain health conditions such as uterine infections and breast tumors. These are both fatal ailments that we want to avoid in dogs.
Your spayed Labradoodle will cease to experience a heat cycle. (Just in case you are unfamiliar with this occurrence, it is a natural animal cycle to mate and reproduce offspring, so spaying removes this occurrence from happening. Each cycle varies from dog to dog, but it can last for about four to five days every three weeks during the breeding season). As you can imagine, this can get a little tricky to deal with.
Cons of Spaying a Labradoodle
As with any surgery, especially an elective one, there are often negatives to receiving the procedure. The same is true with spaying a pet. Educating ourselves on not only the positive outcomes but the negative ones is a responsible way to make a decision. Below you will find some of the negative outcomes that can occur from spaying your Labradoodle.
Spaying your dog can increase the risk of obesity, which leads to other health conditions such as joint pain, arthritis, heart disease, etc.
Labrador Retrievers (a parent of your Labradoodle) are prone to hemangiosarcoma – deadly cancer. Spaying your dog doubles the risk of contracting this condition.
Spaying increases the risk of hypothyroidism. This is because the reproductive hormones are connected with the endocrine system. Upsetting this can result in abnormal thyroid levels, which leads to weight gain and lethargy.
Related: Australian Labradoodle vs. Labradoodle.
What to Expect After Spaying Your Labradoodle
Throughout this article, we've covered the definition and brief history of spaying, the best time to spay your Labradoodle, and the procedure's pros and cons. If you are considering going through this, you might also be interested in knowing what to expect from your puppy following the surgery.
Just like humans, undergoing major surgery with anesthesia can slow us down for a healing period, and your Labradoodle is no different. Following the surgery, your pet will take about 3 to 4 days to sleep and take it easy. This is because the anesthesia will cycle through their body, and your vet will give them pain meds to cope with discomfort.
After this initial period, your Labradoodle will return to her happy, energetic, and adventurous self. But, you will still want to limit her activity for the next 10 to 14 days, as her stitches will need time to heal properly. On top of making sure your Labradoodle does not participate in any unnecessary physical activity that could tear her stitches, you will also need to have her wear a cone, more formally known as an "Elizabethan Collar."
These common devices consist of a sheet of flexible plastic that wraps around your dog's neck and extends past their snout, making it very hard for her to lick (and possibly infect or damage) the wound and stitching area. This cone is to be worn for the duration of the healing period, about two weeks, with breaks allowed only when close supervision can be given.
Conclusion For "When to Spay a Labradoodle"
We understand that as a new or even an experienced pet parent, having your dog undergo major surgery can be quite scary and stressful. As we discussed in this article, there are many pros and cons to the action of spaying your pet. Additionally, it is important to consult your vet for their recommendation on the best age to spay your Labradoodle.
This can vary on the size of your dog and plays a large part in your dog's overall health throughout their life. Ideally, this surgery should be done between 5 and 15 months of age for all puppies, including Labradoodles. We hope you have found this article helpful and will come back for more.
For more guides similar to "When to Spay a Labradoodle," you can check out:
You can learn more about spaying your Labradoodle by watching "The Best Age to Spay or Neuter a Dog" down below: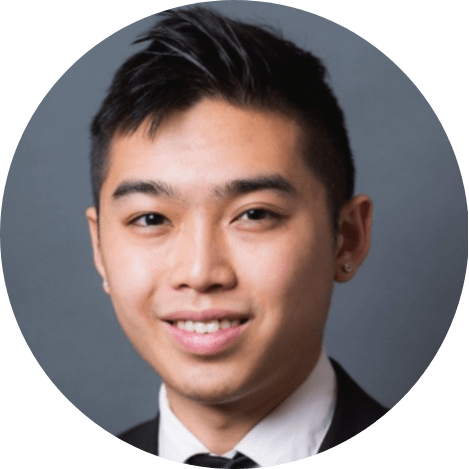 Andy is a full-time animal rescuer and owner of a toy doodle. When he's not saving dogs, Andy is one of our core writers and editors. He has been writing about dogs for over a decade. Andy joined our team because he believes that words are powerful tools that can change a dog's life for the better.
Why Trust We Love Doodles?
At We Love Doodles, we're a team of writers, veterinarians, and puppy trainers that love dogs. Our team of qualified experts researches and provides reliable information on a wide range of dog topics. Our reviews are based on customer feedback, hands-on testing, and in-depth analysis. We are fully transparent and honest to our community of dog owners and future owners.