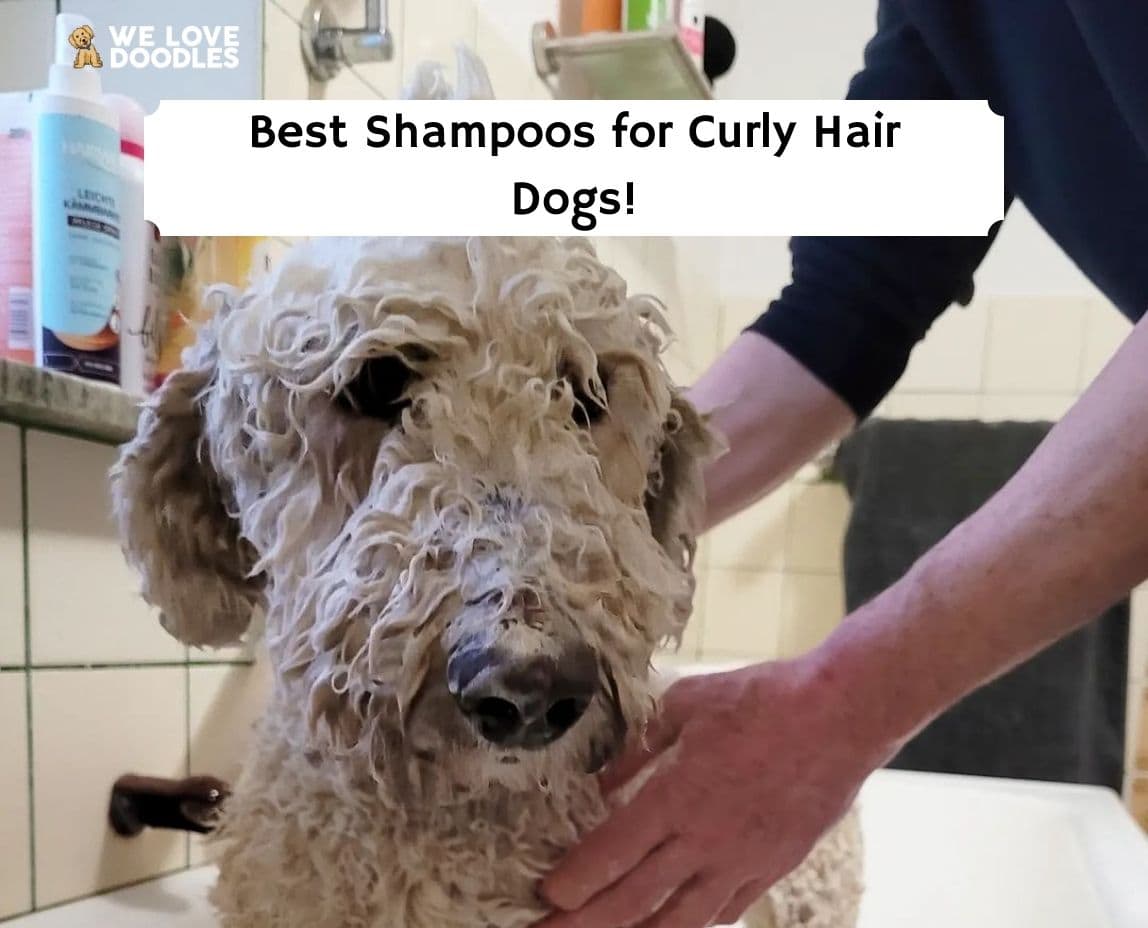 There's nothing nicer than a well-groomed dog. So if you're looking for the best shampoo for curly hair dogs, you've come to the right place. In our review for the best shampoo for curly hair dogs in 2022, we're going to give you our 7 top choices.
We've reviewed them for you so that you know what's going to work best for your dog and help you make the right choice. Washing your dog with the right shampoo for curly-haired dogs will keep their lustrous curls easy to manage. Use this buying guide for the best dog shampoos for curly-haired dogs to find the best shampoo for your puppy.
In a rush? Here are the top picks!
Image
Best Overall
Runner Up
Best Value
Product
HYPONIC Hypoallergenic Dog Shampoo
Reasons to Bath Your Curly Haired Dog
We've all been there; you see your dog running around the park with a big clump of mud attached to his fur or worse, another one of those bright yellow patches that just won't come out no matter how often you wash him.
We all know that dogs have a distinct odor when they are not washed. They are pretty smelly! Even the best smelling dog in the world will give off an unpleasant scent when they are dirty. The easiest way to combat this is by regularly washing your curly-haired dog breed, but you need to find the right shampoo.
Shampooing your dog's fur, along with being a necessity from time to time, is also an opportunity to bond with your pet. Some breeds have a hard time keeping their coats clean and tidy without a bit of help from their owners.
For those of you who choose to keep your puppy's coat long, this may result in knots and tangles that are difficult to brush through. Bathing your curly-haired dog breed with a natural dog shampoo for curly hair will help remove everyday knots and tangles, reduce shedding, and leave your dog's coat smooth and healthy.
If you love having a Poodle with gorgeous curls, you should also know how to take care of them properly. The longer you wait between baths, the more time there is for dirt, dust, odors, dander, skin cells, food particles, insects, and pollen to accumulate on your Poodle's skin and hair.
After a few days, the build-up of these environmental contaminants can cause itching, scaling, dryness, dandruff, and build-up of odors.
Bathing your curly-haired dog breed regularly is also recommended by veterinarians to remove any allergens that may be causing irritation or discomfort for your pet.
Itching caused by allergies can lead to secondary infections if left untreated. Bathing the dog regularly with the right shampoo for curly hair dogs can help reduce these symptoms considerably.
We've reviewed many shampoos made specifically to be gentle on Poodles and Oodles with curly hair. These are the best shampoo for curly hair dogs and will help protect their coat, skin, and ears while leaving them smelling fresh and clean.
The We Love Doodles shampoo was designed for curly-haired dogs because it contains detangler. As we all know, curly-haired dogs are mostly hypoallergenic and nonshedding which means that their fur is susceptible to mats and tangles. The We Love Doodles dog shampoo is designed to combat against tangles and make future grooming sessions easier.
It's being used by several professional grooming businesses around the United States and recently started selling directly to consumers in April 2022. It's a 4-in-1 dog shampoo, conditioner, detangler, and moisturizer that is designed for curly hair.
Additionally, it contains USDA-certified organic ingredients and is 98.25% derived from natural sources. It contains no harsh chemicals like synthetic dyes, parabens, formaldehyde, or sulfates. Additionally, the dog shampoo is produced by one of the largest dog shampoo manufacturers in the United States.
The We Love Doodles dog shampoo is scented with lavender and chamomile which will leave your dog smelling great after a bath. It comes with a 100% satisfaction guarantee if you or your dog doesn't like it! We highly recommend that you check it out.
 Features
Designed specifically for curly and wavy hair dogs
Reduces tangles, knots, and mats in dog hair

Affordable

Organic ingredients that are all-natural
Tested and produced in the USA
This all-natural shampoo with a gentle coconut scent was formulated for allergies and sensitive skin dogs. It contains no dyes, artificial fragrances, harsh chemicals, preservatives, soaps, or detergents which can damage your Poodle's coat and irritate their skin. Pet Care Sciences
features a professional-grade formula from naturally derived ingredients. It's a super gentle formula with no sulfates, parabens, phosphates, MEA's or DEA's. 
This shampoo restores the essential moisture in curly coats that are often lacking. The curly hair cuticles are very tightly closed traps for dirt, dust particles, dander, and other contaminants. The oatmeal found in the formula helps reduce itching and restore your dog's natural moisture barrier to relieve dry skin. This shampoo is gentle enough to use on puppies too! This product features over 1,000 positive reviews.
 Features
Affordable for multi-pet homes

Tearless

Contains naturally derived coconut

Crafted with natural aloe to revitalize skin & coat

It contains oat to soothe & nourish the skin

Specifically tailored to be gentle on skin & coat

Safe & natural formula with no chemicals

Made in the US
Buddy Wash is a vegan shampoo and conditioner that has been specifically designed for dogs. It is safe to use on puppies and older pups too. Because it contains no parabens or harsh chemicals, and only the safest and most effective ingredients, this is one of the best shampoos you can
find for your curly-haired dog breed. We like this product because it's cruelty-free and uses simple ingredients that are hydrating to skin and coat 
The Aloe Vera extracts nourish dry skin while leaving a fresh, clean scent. It rinses away entirely during the bath, so there's nothing left behind on your pup's fur or in their eyes. This 2-in-1 pet wash cleans and moisturizes with herbs and botanical extracts such as lavender, mint, sage, and
tea tree oil. This product has over 3,400 positive reviews. 
Features
2-in-1 pet shampoo and conditioner

Affordable

Crafted with herbs and botanical extracts such as

lavender, mint, sage & tea tree oil.

Formulated with a coconut base, aloe vera & vitamin

E to nourish skin and make coats velvety soft.

Lavender & mint fragrance

Over 3,400 positive reviews

Numerous formulas to choose from
This hypoallergenic, pH-balanced shampoo is excellent for all your Poodle's needs. It's a hypoallergenic shampoo that maximizes volume and shape by lifting coats for curly or wavy coat dogs. This shampoo soothes skin and redness by forming a moisture barrier to prevent moisture loss.
With a natural formula that uses essential fatty acids to moisturize skin and reduce flaking, this shampoo extracts aloe vera to soothe itchy skin. It's soap-free, deodorizing, gentle enough for puppies and kittens, and saves you time by serving as both a body wash and bubble bath product. This shampoo for curly-haired dog breeds like the Poodle and Doodle does a great job maximizing volume for curly or wavy coat dogs, making grooming a breeze.
Features 
Hypoallergenic & natural

Dermatest rated awarded by the German Dermatological

Research Institute

100% EWG GREEN GRADE cleansing & hypoallergenic

ingredients 

No conditioner is needed

Long-lasting signature fragrance (excluding unscented)

Free of harmful chemicals

An extensive array of products is available

Reputable brand

Recommended breeds include: Poodle, Bichon, Pomeranian, Doodle, Spitz
This is a two-in-one shampoo and conditioner that features natural botanical cleansers, like avocado oil, to remove dirt without stripping away your furry friend's natural oils. This product is excellent for Poodles and dog breeds who suffer from allergies or inflammation. Used
regularly, the avocado oil and Omega-3 work to condition your pet's fur and give it a noticeably balanced and healthy shine.  
It works by nourishing the skin while preventing the formation of flakes. This shampoo is a PH-balanced shampoo and conditioner that works to naturally support against shedding, itching, dryness, hot spots, and odor. This shampoo and conditioner combo helps clean and protect your pet's skin against environmental damage and inflammation.
Features
Crafted with avocado oil & omega-3's

2-in-1 protection shampoo & conditioner kit

pH balanced pet shampoo for curly dog hair

No sulfates & no parabens

Cruelty-free pet product

Sustainable

Tear-free

 
Dermabliss itchy and allergy relief medicated shampoo for dogs and cats is a veterinary formulated, gentle yet effective formula that relieves itching and soothes irritated skin. This medicated shampoo features soothing oatmeal, safflower seed oil, and aloe vera that work together to hydrate your pet's skin by locking in moisture. 
It also contains oat extract with anti-itch properties to calm inflammation while also helping prevent new irritation from developing. Ingredients such as pramoxin, oat extract, and nourishing safflower seed oil work together to provide your curly-haired furbaby with the best coat.
Features
Veterinary formulated

Crafted with 1% pramoxine, safflower seed oil & oat

extract

Clinical strength formula

Anti-itch allergy relief pet shampoo

Soothing & hydrating formula

Ph balanced & soap-free 

Made in the USA 

From the makers of Glandex

Affordable

Climate Pledge Friendly
This natural pet shampoo works well for Poodle mixes with sensitive skin. It is a 2 in 1 shampoo and conditioner made from 100% pure and natural ingredients, like lavender essential oils, to keep your dog smelling great while moisturizing his skin without drying it out. The organic aloe vera will help soothe any irritation from allergies or hot spots. 
We like this pet shampoo because it contains no sulfates or parabens, which can damage your dog's skin. It also is made with absolutely artificial fragrances, perfect for owners who prefer their home to be free of any scents that aren't natural. The ingredients include jojoba, aloe,
lavender, niaouli oil, peppermint oil, and calendula oil for optimal skin & coat health in pets.
Features
Affordable for multi-pet homes

USDA certified organic 2 in 1 shampoo conditioner

New pet shampoo

The grain-free formula that works for dogs with skin

allergies

Eco-friendly

Human safe & cruelty-free

Made in the US

 Mint & lavender scent
Consider Your Dog's Coat Type
Before getting started, it's essential to know the type of coat your dog has. Breeds like the Poodle, Bichon Frise, and Portuguese Water Dog have minimal shedding. That said, minimal shedding dog breeds tend to need professional grooming unless you're motivated to learn how to trim your furbaby at home. If you're showing your Poodle, you'll need to learn how to clip like a pro into complex art forms. A gentle slicker brush and a metal comb are the tools of choice for low shedding breeds.
For Poodle breeds with a curly coat, you will want to use a gentle shampoo designed for this type of fur. It's essential to use a shampoo that will contain moisturizers and nutrients to hydrate the curls without making them too soft.
Poodle owners with Poodles with silky coats should be able to use just about any type of dog shampoo for curly hair dogs without worrying about damage or dryness.
Natural grooming products for curly-haired dog breeds
As more and more pet parents realize the benefits of organic and all-natural products, it's no surprise that companies have stepped up to create natural grooming products for dogs. For example, opting for pet parents that contain no sulfates, parabens, or harsh chemicals is both humane and kind to your puppy's sensitive skin. 
Some of these shampoos can even help treat specific issues like dryness, flaking or itchy skin from allergies, or a compromised immune system. We love how simple and easy these all-natural products are to use while still providing the same great results you expect from a grooming
product.
Eco-smart shampoos for curly-haired dogs
Concerns over harsh chemicals and potential side effects are why many pet parents favor all-natural solutions. This is especially true when treating skin conditions or calming irritated skin with a good medicated dog shampoo.
Many of these all-natural shampoos can be used to remove tear and urine stains, while some even include an oatmeal ingredient that calms itchy and irritated skin. When choosing a dog shampoo for your curly-haired dog breed, look at the environmental impact combined with safety and efficacy. Long-term use of chemicals on pets can have a negative effect on both your puppy's health and well-being.
Other articles you would like:
Frequently Asked Questions
What is the best dog brush for curly hair?
The best dog brush for curly hair is a product with the primary purpose of detangling and removing knots without pulling your Poodle's hair. Curly coated dog breeds must have a slicker brush and a greyhound comb to properly care for their coat and prevent matting. We recommend this slicker brush and greyhound comb combo. You'll find that the bent tines of the slicker brush remove mats, and the comb helps remove them and prevent them from forming again.
What is a good shampoo for Poodle or curly-haired dog breeds?
The best shampoo for Poodle dogs and curly-haired dog breeds should be a double-duty product that hydrates the skin while nourishing the coat to prevent dryness, itching, flaking, and other signs of irritation.  
We recommend using our shampoo top picks from WeLoveDoodles.com features oatmeal and aloe vera as they work to soothe skin and keep it moisturized. We also recommend using clarifying shampoos occasionally that remove any dirt, oil, or product build-up from the coat. 
How do you look after a curly coat?
You should bathe your dog at least once a month, but ideally once a week if he's active outdoors. You want to keep your dog clean. We recommend using a shampoo designed for wavy coats to help keep them healthy, shiny, and looking their best.
Once you've washed your dog with a wavy coat shampoo, make sure he's completely rinsed before applying a leave-in conditioner. This makes it easier to untangle knots without ripping his hair out. Use a detangler comb like this one to make sure his coat stays smooth and soft. Do not
over-wash your curly-coated dog breed, or you may end up stripping his coat of necessary oils.
Do curly-haired dogs need a lot of grooming?
They don't require a lot of grooming or brushing if you don't want to spend too much time on them each day. You can easily brush these dogs a few times a week to ensure their coat stays smooth.
We recommend using a slicker brush or greyhound comb to remove any big mats or tangles, especially around the ears and legs. To prevent tangles from forming again, use a spray conditioner after bathing your dog. Use an all-natural detangler that makes it easier to untangle knots without pulling your dog's hair. Always check your pup's skin for signs of infection incredibly close to where matting has taken place.
Can you cut a Poodle's hair?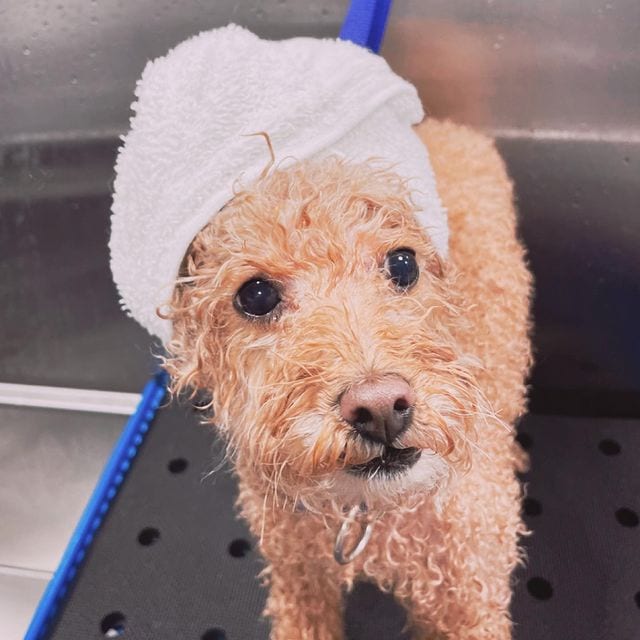 Yes, it is possible to cut your Poodle's hair yourself if he has not been professionally groomed before. Some dogs with curly coats require clipping for a faster drying time. If you're new to trimming your Poodle's coat, we recommend getting them used to the feel of a brush and clippers before making any significant changes. We recommend watching a few tutorials on YouTube to familiarize yourself with how your dog's hair should be sectioned for cutting.
Can curly-coated dogs get scruffy looking?
Yes, dogs with curly coats can get scruffy looking pretty quickly. While these breeds are considered low-shed coats, they tend to mat up reasonably quickly. Therefore, we recommend brushing once or twice daily to prevent matting and keep your dog's coat looking its best. 
Although grooming a curly-haired dog may take more time than with other dog breeds, the result is often worth it. Curly coats are effortless to maintain with daily brushing and attention paid to their coat's condition. You should never use a comb to pull out the mats, but instead, you
can untangle them manually or with a brush or deshedder to avoid pulling your pup's hair and hurting them.
It is also essential to keep your dog dry after bathing, as water left on its coat could lead to mildewing, flaking, and other issues that can be frustrating for owners.
What type of shampoo should I use on my Poodle?
There are many shampoos out there that are excellent for Poodles, but to keep his curly coat healthy, you want to find one that's designed for wavy coats. We recommend using a clarifying shampoo specific to Poodles once or twice a week, then switching back to a wavy coat shampoo that's gentle on your dog's skin and coat. 
Clarifying shampoos for dogs removes waxes, oils, resins, and build-up from the coat from conditioners and other products that weigh down the coat with regular use. You can find our favorite Poodle-specific shampoos and shampoos for dogs with curly hair.

Claudia Bensimoun is a writer who specializes in dog content and veterinary topics! Aside from writing for We Love Doodles, Claudia also writes for other major dog blogs like Fido Friendly, Animal Wellness Magazine, and the United States Dog Agility Association (USDAA). She has a ghostwritten over 50 different dog e-books. Her passions include animal welfare, veterinary research, and wildlife conservation.
Why Trust We Love Doodles?
At We Love Doodles, we're a team of writers, veterinarians, and puppy trainers that love dogs. Our team of qualified experts researches and provides reliable information on a wide range of dog topics. Our reviews are based on customer feedback, hands-on testing, and in-depth analysis. We are fully transparent and honest to our community of dog owners and future owners.